18 Family-Friendly Food Halls in NYC for an Easy, Delicious Meal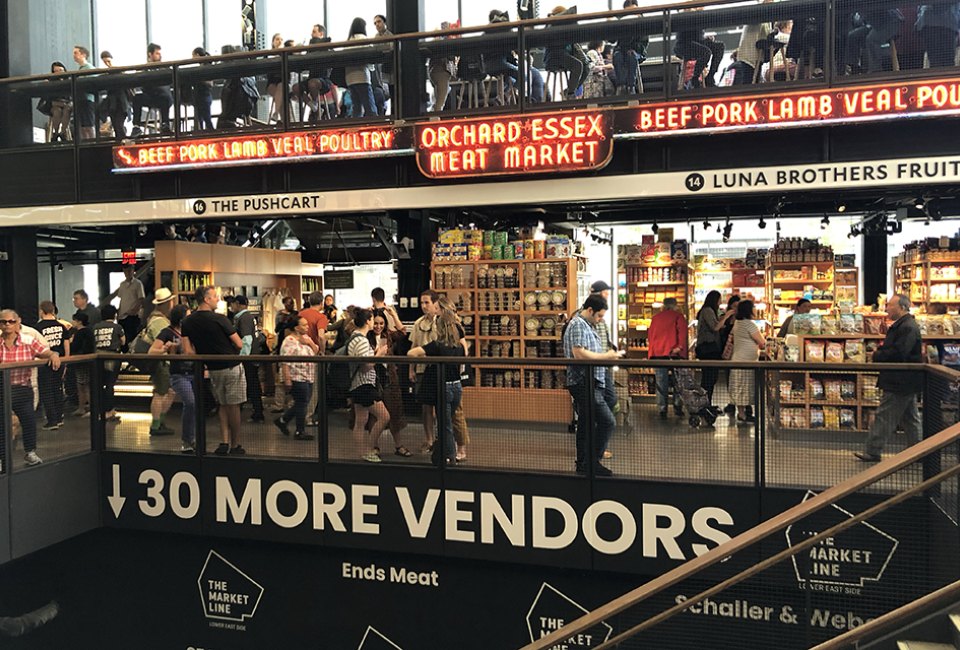 4/29/22
- By
MommyPoppins
You want to grab a bite out with the kids and the local pizza joint isn't going to cut it—but asking your wiggly, tired kids to sit quietly in a nice restaurant is like lighting a firecracker and then hoping it won't explode. New York City's diverse selection of food halls is the perfect solution.
Despite their historic mall­-culture reputation, the model of a casual food hall with multiple food options is enjoying a bit of a renaissance, and not just in suburbia. Right here in NYC, food halls are gaining major foodie clout with excellent vendors, artisan marketplaces, and appealing perks (and sweet treats) for families with kids. It's the perfect eatery for families: There's a food option for everyone, minimal wait times, multiple bathrooms, and no one notices if your kid tantrums or drops half their meal on the floor.
Read on for 18 outstanding food halls in NYC offering top-notch eats, spacious seating, and lots to do in the surrounding neighborhoods, including Battery Park, Chelsea, Midtown, Dumbo, and more.
Check out our Guide to Family-Friendly NYC Restaurants for more dining in just about every neighborhood to satisfy every finicky palate.
Subscribe to our newsletters to get stories like this delivered directly to your inbox.
Attracting some 6 million visitors annually, Chelsea Market is one of the city's original food halls, tucked among trendy shops in the family-friendly Chelsea neighborhood, just north of the Meatpacking District. Bustling and fun, the block-long market features shops and restaurants in a well-lit, industrial space. There are always family-friendly events popping up, and Food Network fans might spy a star or two slipping into the elevators on their way up to the studios in the same building.
Best bets with kids: Once you're done browsing the shops, it's time to commit to some serious eats. There are reliable standbys like Hale & Hearty, along with more adventurous eats such as Mokbar for ramen and wings. Save room for dessert! There are plenty of options, from Doughnuttery to L'Arte del Gelato and Fat Witch brownies, plus decadent super-sharable slices of cake at Amy's Bread (opt for the coconut).
Top tip: Don't want to eat indoors? Take your eats to go and dine in the closed-off streets outside, or head to Little Island or the new rooftop park at Pier 57 for an awesome picnic spot.
What's nearby: Chelsea is full of playgrounds and cool stores, while the trendy Meatpacking District offers the Whitney Museum of American Art. Inventive green space abounds, including The High Line, the aforementioned Little Island and Pier 57.
This food hall, adjacent to Grand Central Station, is a top pick for Midtown East eateries whether or not you have kids in tow. It's a great place to bring the whole family, though, with options that range from Indian street food to burgers and fries, plus a wide assortment of salads, sandwiches, grain bowls, smoothies, and giant doughnuts that may outweigh your smallest child.
Best bets with kids: Roberta's, the justly-beloved Brooklyn pizzeria, has an outpost here.
Top tip: This place caters to the corporate lunch crowd, so be prepared for mayhem if you go between noon and 2pm. Dinner is a perfect time to check the food hall out, as everyone is scurrying out of Midtown after 4pm and you'll have the place nearly to yourselves.
What's nearby: Grand Central Station is just a block away so it's a great place to stop if you're traveling through, particularly if you're tired of the food options in the train station. Check out the transformative SUMMIT One Vanderbilt for cool views. Bryant Park is close, along with other family-friendly Midtown sights.
RELATED: Times Square with Kids: Beyond the Tourist Attractions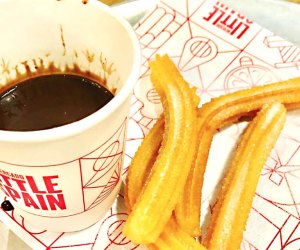 Try the churros with chocolate sauce at Mercado Little Spain. Photo by Janet Bloom
This delectable Spanish-inspired food hall from renowned chefs Jose Andres and the Adria Brothers is part of the fun in Hudson Yards. Bring the kids on a personalized tapas crawl, snacking on cured meats, cheeses, breads, and small dishes such as empanadas and savory fried potatoes.
Best bets with kids: Don't miss the churros with chocolate sauce.
Top tip: Elsewhere in Hudson Yards you'll also find sumptuous burgers and fries at Belcampo, plus coffees and pastries at Blue Bottle Coffee. We also love the fried chicken and waffle fries at Fuku, but be sure to ask for the kids' portion sans spice.
What's nearby: The Hudson Yards neighborhood boasts parks with sweeping views of the Hudson River, daredevils can visit Edge NYC or City Climb. There's mild thrills and hands-on playtime to be found at the local outpost of CAMP, plus performances and cultural activities at The Shed. There's tons more to see and do, including an outpost of Dylan's Candy Store and The High Line is just steps away.
Eataly­ – Flatiron and Financial District
The Italian food mecca now has two NYC locations in the Flatiron and downtown. The original Flatiron marketplace is stunning, bustling, and, yes, noisy. It is large enough (at 50,000­ square feet) that you may want to pick up a map from guest relations at the 23rd Street entrance to help you navigate. With a combination of restaurants, take­out spots, and retail counters piled high with jaw-­dropping displays of produce, meat and vegetables, books, and culinary trinkets, kids will find plenty to explore and taste. If you're in Lower Manhattan, visit the Eataly location at the Oculus. It's almost as large and has an awesome salad bar, as well as every kind of bread you can imagine.
Best bets with kids: While most of Eataly's restaurants offer a few simple, kid­-friendly menu options for children under 12, like pasta with butter or tomato sauce, the most family-­friendly spot is hands down La Pizza & La Pasta. With plenty of tables and high chairs, this restaurant doesn't take reservations but the line moves pretty quickly.
Top tip: To avoid the crowds, visit Eataly during the day on Monday through Thursday; Fridays and Saturdays are Eataly's busiest (as in, so crowded your stroller won't fit through the aisles). Unless your stroller is light and folds down easily, Eataly is better suited to baby carriers. Restrooms aren't spacious but they do have a changing table.
What's nearby: At the Flatiron location, there's lots to do in the neighborhood, including a visit to Madison Square Park and its playground, and the 3,500-square-­foot Lego Store, MoMath, and the flagship CAMP store. If you're at the Lower Manhattan location, consider a visit to the 9/11 Memorial and Museum or check out the views from One World Observatory.
RELATED: 20 Must-Visit Cafes, Sweet Shops, and Iconic Family-Friendly Restaurants in NYC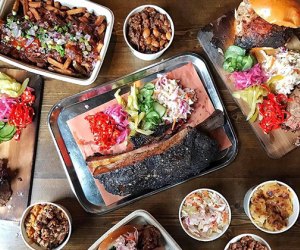 Mighty Quinn's Barbecue is the real deal.
Hudson Eats, tucked away on the second floor above the Winter Garden Atrium, is airy and modern and offers plenty of space for families to spread out, park strollers, and enjoy a variety of excellent food and sweet treats. Mighty Quinn's Barbecue leads off the kid-friendly selections in the food hall, while more adventurous palates might opt for a trip to Blue Ribbon Sushi Bar or Num Pang. No matter your pick, Hudson Eats is a fantastic indoor dining, and chilling, option.
Best bets with kids: Umami Burger's thin fries and maple bacon fries are addictive, and the basic quesadilla at Dos Toros Taqueria got a big thumbs up from my kid.
Top tip: In the winter, bundle up for some post­-lunch skating at Brookfield's ice rink, directly in front of the Winter Garden.
What's nearby: There's space to run around outdoors behind the Winter Garden Atrium, but we love the Battery Park City Library, which is just a few blocks north. And if you're in need of serious playground action, check out the Nelson A. Rockefeller Park in Battery Park City.
This bustling food hall provides neighborhood families and tourists alike with a range of delicious options for family dining. With nine vendors serving everything from ramen to pizza, there's something for every palate. With both indoor and outdoor seating, you can both enjoy balmy days and escape from the cold.
Best bets with kids: The square pizza at Corner Slice, promises to be a popular pick with the younger generation of eaters.
Top tip: Impatient kiddos can browse the selection of bikes at NYC Velo while they wait.
What's nearby: Fans of planes, submarines, and space shuttles will have a blast at the Intrepid Sea, Air, and Space Museum, which is just down the block on the waterfront.
Located at the 59th Street/Columbus Circle subway station, Turnstyle is a pretty awesome, underground market that's one full city block long and houses 19 food vendors. MetroCards aren't required to dig into dishes of paella, dumplings, or ramen.
Best bets with kids: Criolla's savory empanadas and Frankie's hot dogs are easy choices for on the go.
Top tip: If you're playing tourist in the neighborhood, this makes a great place to grab a few things to satisfy everyone's taste buds.
What's nearby: Take your mini sleuths to Spyscape or let them run around at Heckscher Playground.
RELATED: Family Restaurants in NYC With Fun Things for Kids To Do and See

Explore the culinary delights at Essex Market. Photo by Jody Mercier
This incredible market feels brand new but has roots dating back to the late 1800s when pushcart vendors sold a host of goods to local residents. The Essex Market, which was a continuous place of commerce until the 1970s when food halls of its kind fell out of popularity, was remodeled and found a new home at 88 Essex Street in May 2019. The vendors are as diverse as New York City is, ranging from grocery stalls that sell farm-fresh produce, fish, and meat, to scrumptious prepared meals from acclaimed eateries like Davidovich Bakery, Peasant Stock, Dominican Cravings, Puebla Mexican, and more.
Best bets with kids: Head to the lower level of the market to The Market Line food hall, which is jam-packed with unique vendors. We loved pizza slices from the appropriately named Slice Joint, plus the adorable cake pops from Rebecca's Cake Pops. You can't go wrong with Doughnut Plant's sweet confections, either.
Top tip: Space can get tight and crowded so off times (weekdays between breakfast and lunch or lunch and dinner) might work best to get your run of the place with kids.
What's nearby: The Lower East Side is rich with sights, parks, shops, and museums to explore. Spend an afternoon at the Tenement Museum or just walk around drinking in the old architecture and bustling streets. Follow up with a trip to the nearby old-time candy shop Economy Candy.
There's a cool new food hall located in the heart of Midtown, with ample seating that brings the outdoors inside with beautiful greenery. The Hugh has a swanky, yet chill vibe and an array of tasty restaurants that reflects the amazing diversity of New York City. Conveniently located right next to the Lexington Avenue/53rd Street subway station, you can pop in anytime from 7am-9pm, though some restaurant hours vary. A bonus is the awesome, FREE family-friendly programming to keep your little ones entertained. Enjoy engaging jam sessions, family yoga classes, puppet shows, and more!
Best Bet with Kids: When we checked out the food hall there seemed to be a real crowd surrounding Pesce LuLu which serves Mediterranean seafood. The fish tacos and sandwiches with truffle fries are winners. You really can't with pizza, so pop by PDA Slice Shop to get your fix. Have some hands-on fun, and let your kids play with their food by signing up for their pizza-making classes. Craving an authentic taste of the Caribbean? Say hi to Chef Kemis, and wake up your taste buds with flavorful beef or cheese patties from Jumieka. If you like fizzy drinks be sure to order a Ting!
Top Tip: If you're popping by during the week, or amid happy hour, expect a crowd of corporate folks looking to grab an eclectic lunch or hoping to unwind.
What's nearby: Walk a few blocks in any direction and the fun of Midtown is at your fingertips. Check out the family-friendly happenings at Rockefeller Center, soak in the culture at MoMA, or watch the trains and people go whizzing by at Grand Central Terminal.
Formerly located in the Meatpacking District, families looking for a diverse selection of eats can head downtown to The Oculus at the World Trade Center for a unique dining experience. This trendy food hall has everything from poke bowls to Peruvian dishes, and classic Italian cuisine.
Best bets with kids: Take your hungry little ones to Chick N Buns for some mouth-watering Korean fried chicken or Sammy's Taqueria for Mexican tacos and quesadillas.
Top tip: Since the Oculus is a major hub, and tourist spot, expect lots of hustle and bustle. Fortunately, there's lots of room to navigate your way through the crowds, there are plenty of bathrooms, and easy subway access is a perk once bellies are full.
What's nearby: Step outside to see if there are any events on The Oculus plaza, twirl around on iridescent fish at the Battery Park's Sea Glass Carousel, visit the newly renovated Battery Playscape, or take in stunning views of our city's skyline at One World Observatory.
RELATED: The 18 Most Insane, Must-Try NYC Desserts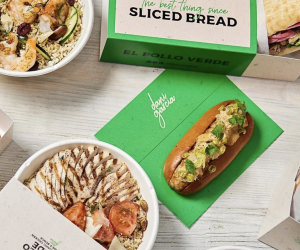 Try the food at the famous El Pollo Verde at Citizens Food Hall at Manhattan West.
Spanning eight acres, Manhattan West is a mixed-use development that holds office towers, a boutique hotel, residential spaces, retail space, and an epic 40,000-square-foot food hall. Dubbed Citizens Food Hall, it celebrates global flavors and the diversity of the people who come to visit.
Best bets with kids: Grab a juicy Umami burger, or a healthy vegan or vegetarian meal from Plant Nation, like rotisserie cauliflower. Sam's Crispy Chicken is another option you won't have to convince kids to eat, and Cindy Lou's Cookies are a super sweet treat.
Top tip: Self-service kiosks are a plus here and make ordering from a variety of restaurants a breeze!
What's nearby: Manhattan West is directly next door to Hudson Yards, so all the fun of that complex is accessible here, too. Plus, there's a fun art installation to peep and a flagship NHL store that's worth visiting even if you don't plan to spend a dime.
If you're up for a culinary adventure, this new venture in Chinatown might hit the spot. Mott Street Eatery opened in November 2021, bringing a food hall to the old Joy Luck Palace site. Still in its infancy, it's one to keep an eye on.
Best bests with kids: 89 Eatery offers classic dim sum dishes in small portion sizes, perfect for sharing a few bites with adventurous eaters. For something sweet, visit Zhen Pin Cafe.
What's nearby: Chinatown is packed with family-friendly things to do. Little ones will particularly love a visit to the Hester Street Playground for a wild romp.
RELATED: 5 Kid-Tested, Kid-Approved Restaurants for Bao Buns in NYC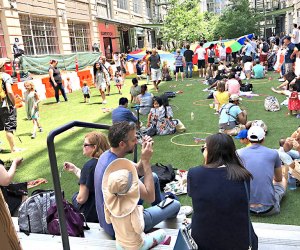 Grab some good eats then head to a green space at Industry City. Photo by Janet Bloom
Kid-Friendly Food Halls in Brooklyn
The formerly sleepy scene at Sunset Park's Industry City is booming, thanks to an influx of artists, businesses, and even the Brooklyn Nets, who practice here. Manhattan's floating bar-with-bites, the Frying Pan, opened an outpost with sandwiches and snacks, Japan Village opened in late 2018 with an eye-popping assortment of noodles, noshes, and sweets and has recently expanded, while Hometown BBQ and Sahadi's are solid standbys. Add to those the burgers, pizza, ice cream, pastries, dumplings, and tacos that already had a foothold here, and you have a family's dream picnic in the making: Everybody gets what they want.
Best bets for kids: Blue Marble ice cream, of course. Watch employees at the company's flagship manufacturing plant create ice cream magic and then step into the shop to sample the goods. If your little ones enjoy a good taco, Taco Mix's al pastor taco is not to be missed. And a deconstructed Colson Patisserie's chicken club sandwich scored big points with my kids. Stop by One Girl Cookies on your way out for, you guessed it, yummy sweet treats.
Top tip: The Frying Pan's game room is a great deal: $8 for all-you-can-play skeeball, mini golf, ping-pong, and old-school arcade games.
What's nearby: While we often visit Melody Lanes when we're in the neighborhood, we also like Sunset Park for its big stretches of green, its revamped playground, and its spectacular views. Of course, there's enough family-friendly things to do at Industry City, you really don't need to stray far.
RELATED: Outdoor Restaurants in Brooklyn With Kid-Friendly Backyards and Patios

There are plenty of kid-friendly dining options at DeKalb Market Hall.
This huge Brooklyn food hall opened in June 2017, bringing even more kid-friendly dining options to the picturesque Fort Greene neighborhood. Housed at City Point, the 60,000-square-foot food hall has more than 40 vendors serving a diverse range of culinary delights, from pho to pierogis, and it is also home to the first outpost of Katz's Deli.
Best bets for kids: Head to Eight Turn Crepe for easy noshing with little hands, and enjoy wrapped goodness featuring bacon, egg, and cheese, or crepes stuffed with bananas, strawberries, and Nutella. Keep it simple and pop by BK Jani for staples like burgers and chicken sandwiches.
What's nearby: Catch a movie at Alamo Drafthouse, which is right there in the City Point complex or visit the local outpost of CAMP.
Since opening in May 2019, Time Out Market's food hall has been a welcome addition to Brooklyn's waterfront scene. With 21 local vendors offering a rich array of culinary selections, there's something for everyone in the family to eat. From ramen to pasta to pizza to burgers, plus adventurous must-try dishes, this is a food hall that offers the best of both worlds: Easy, accessible eats plus award-winning dishes from the city's most adventurous chefs.
Best bets for kids: Kids love slurping their way through ramen from Mr. Taka or grabbing a wood-oven slice at Fornino. Stop by Sugar Hill Creamery for some unique seasonal treats.
Top tip: Visit for breakfast one morning (the hall opens at 8am) and hit up Clinton Street Baking Co. for its famous pancakes.
What's nearby: Brooklyn Bridge Park, the historic Jane's Carousel, and some of the best vistas of Manhattan are right outside.
RELATED: Kid-Friendly Waterfront Restaurants in NYC for Dinner With a View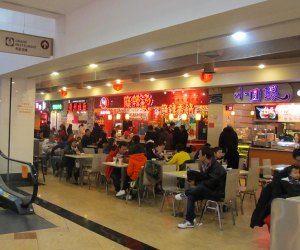 Choose from more than 32 vendors at the New World Food Court.
Kid-Friendly Food Halls in Queens
While it may seem overwhelming at first, the New World Food Court can't be beaten when it comes to inexpensive and authentic Asian food. Located on the lower level of the New World Shopping Center in Flushing, this food hall has more than 32 vendors offering a range of kid-friendly options like dumplings, scallion pancakes, and of course, plenty of noodles.
Best bets for kids: Dumplings are usually a safe bet for kids and are offered at many of the stalls in the food court.
Top tip: Arrive before noon to get a table. It gets very crowded later.
What's nearby: Shop for Asian snacks to take home at the Jmart on the main level of the mall.
At this curated collection of eateries, foodies can enjoy delicious cultural dishes conceptualized by celebrated chefs from across the boroughs and served in the culturally diverse enclave.
Best bets for kids: Freshly made hand rolls at Tamakse, thin-crust pizza from Beebe's, and baos and buns from Jia are all yummy choices. For anyone with a sweet tooth, there are decadent pastries to choose from at Ghaya, and bubble teas at Biao Sugar.
Top tip: If you're local and don't want to venture out, delivery is available from any of the eateries.
What's nearby: Visit the Noguchi Museum on nice weather days, let the kids burn off some energy at Hunters Point Park South, or stroll through the Museum of Moving Image.
A little mall with a hugely diverse selection of Asian comfort food, Queens Crossing offers all kinds of kid-friendly fare. The 10,000-square-foot space is located on the second floor of the mall and houses around 12 vendors, serving everything from ramen and dim sum to bubble tea and ice cream.
Best bets for kids: What could be more kid-friendly than a pastry-covered hot dog? If you're curious, try them for yourself at Paris Baguette.
Top tip: Stop at the ATM on the way. Many of these spots only accept cash.
What's nearby: Check out our Flushing Kids Neighborhood Guide for more activities in this bustling neighborhood.
A version of this article was first published in January 2016. Additional reporting by Danielle Wilson.
Unless otherwise noted, photos courtesy of the restaurants/food courts
Click Here to Sign Up!
i