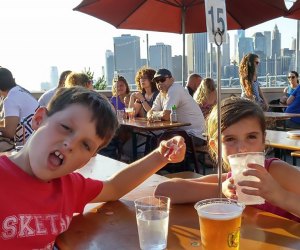 Brooklyn Restaurants with Kid-Friendly Backyards and Patios
Brooklyn boasts its share of restaurants with sidewalk tables, but those of us with kids enjoy those eateries with more spacious outdoor dining. A backyard, picnic tables, roof decks, or sometimes even a bit of grass? We're sold!
Just in time for summer, we've rounded up of our favorite spots from across Brooklyn that feature ample outdoor space, serve delicious food, and welcome families with children. If you're in the mood for variety, we've included a mix of cuisines: Japanese, Mexican, Cuban, Southern comfort and, of course, pizza, BBQ, and New American.
Headed to Brooklyn from a surrounding area? Browse our Brooklyn Kids Guide to take full advantage of the borough while you're there, or peruse our NYC Restaurant Guide for more family-friendly eats.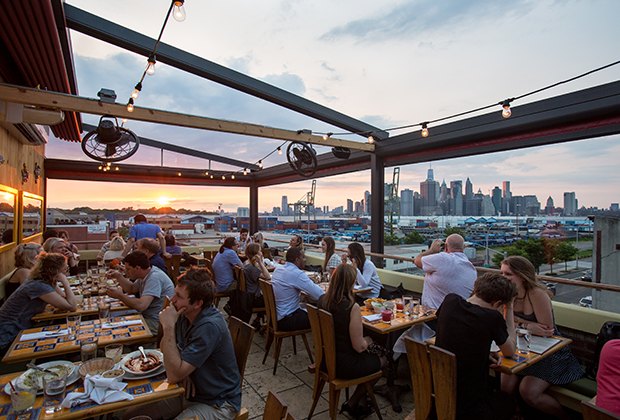 Adults and children will thrill at the stunning views of Manhattan from the rooftop deck at Alma.
Alma — Columbia Waterfront
187 Columbia Street
With its year-round roof deck offering breathtaking views of the Manhattan skyline, this Mexican restaurant is a favorite outdoor destination. Its three stories include a full bar on the first floor, but you'll want to head to the roof terrace for the views. Menu favorites include guacamole, fajitas, and tacos. Kids' menu offerings include quesadillas and rice-and-bean combos. Alma does not take reservations for its roof terrace in spring and summer, so get there when it opens to avoid waiting in line. High chairs are available, but there are no changing tables in the small bathrooms. Strollers must be left on the ground floor as the steps up to the roof are narrow and steep.
RELATED: Kid-Friendly Brooklyn Beer Gardens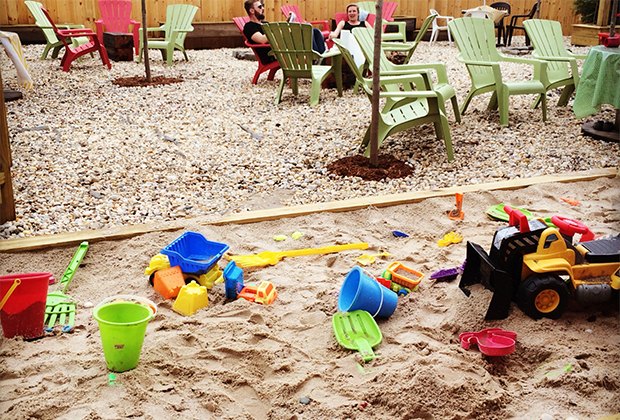 Parents can relax and chill while kids play in the sandbox, or at the mini-golf course, at Brooklyn Crab.
Brooklyn Crab — Red Hook
24 Reed Street
Parents-in-the-know head to this seafood spot loaded with rustic charm in the warmer months for its "Reed Park" section, which offers outdoor seating in its generous backyard, including Adirondack chairs and an impressive sandbox for kids. There's even an eight-hole mini golf course, a beanbag toss, and more games. The year-round bar and restaurant offers an abbreviated menu in Reed Park, but there's still plenty to choose from for the kids, including the standard hot dogs, chips, and chicken fingers. Crab rolls, New England beers, and oysters are available for the grown-ups. It's all served up with a view of the New York harbor. Reed Park is open only seasonally so double check that they are open before you head that way. Seating is first come, first serve, but there are often plenty of picnic tables up for grabs in other sections of the multilevel restaurant.
Calexico — Greenpoint
645 Manhattan Avenue
This particular location of the mini-chain features a delicious intersection between southern Californian and Mexican cuisine and has a lovely backyard area where kids can let loose while you enjoy their top notch guac and an ice-cold margarita. High chairs are available, as well as a convenient kids menu that includes your slam-dunk cheese quesadillas with a side of steamed broccoli. Bonus: the kid's menu doubles as a coloring book and comes with crayons for some pre-dinner distraction.
RELATED: Brooklyn and Queens Cafes and Coffee Shops with Kid Play Spaces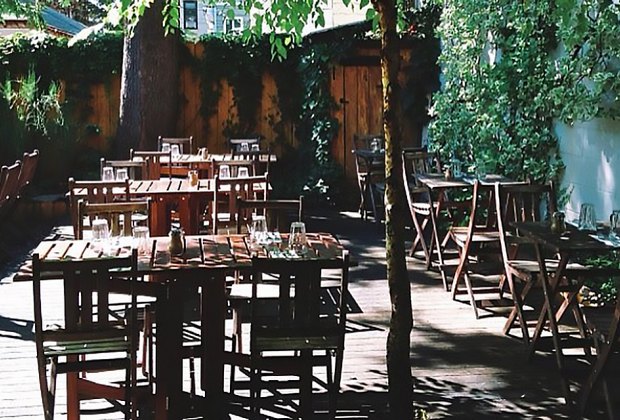 You might feel like you're in the country in the backyard at Farm on Adderley.
Farm on Adderley — Ditmas Park
1108 Cortelyou Road
Despite its location deep into Ditmas Park, Brooklyn, the Farm on Adderley has been drawing brunch, lunch, and dinner crowds from all over the borough (and Manhattan) with its focus on fresh, seasonal ingredients and farm-to-table ethos. Its rustic garden is perfect for the warmer months. Kids can choose from grilled cheese, buttered noodles, or a burger or order items from the regular menu such as chocolate bread or French toast.
Fornino — Brooklyn Bridge Park
Pier 6, Brooklyn Bridge Park
A go-to for pizza, this location is nestled right along the water of Brooklyn Bridge Park near the epic string of hidden playgrounds right off of Atlantic Avenue. Come early so the kids can expend their bountiful energy on the slides and swings (or splash park) then head to Fornino's rooftop restaurant to enjoy the sunset with views of Manhattan and the Statue of Liberty over brick-oven pizza. Note: The restaurant is open seasonally only (weather permitting, April–October).
Greenwood Park — South Park Slope
555 Seventh Avenue
Families flock to this South Park Slope beer garden that sits in a former gas station and boasts a combined 13,000 square feet of indoor and outdoor space. Parents can enjoy 60 beers on tap while kids can play bocce or beanbag toss. The menu offers everything from classic tater tots to Greek salads. Their warm pretzels are a big hit with the kids. This place does fill up, and it is strictly 21 and older after 7pm.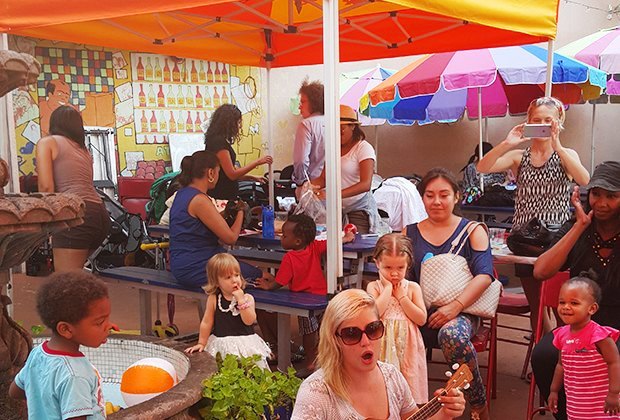 Habana Outpost, a Mexican and Cuban restaurant in Fort Greene, hosts kids events all summer.
Habana Outpost — Fort Greene
757 Fulton Street
Billed as NYC's first "eco-eatery," this popular family spot in Fort Greene serves Mexican and Cuban cuisine with a large backyard gathering space for artists, kids, and families. The environmentally friendly elements include solar panels, recycled building materials, compostable utensils and plates, and rainwater collection systems. Service is fast and friendly, and the menu offers a selection of sandwiches, tacos, burritos, and combination plates at reasonable prices. The grilled Mexican corn is a family favorite. During warmer months, Habana Outpost shows movies in its backyard and has a variety of activities for kids, including creative workshops and Tuesday morning craft time. Check its calendar for a full listing. It's a great space for play dates, birthday parties, and other family meals.

Tucked away in Gowanus, Lavender Lake has a great backyard to enjoy when it's sunny out.
Lavender Lake — Gowanus
383 Carroll Street
This awesome little restaurant along the edge of the Gowanus canal boasts a gorgeous backyard area with picnic tables and a small menu that appeals to kids, too. Grab a cocktail and a spot out back to enjoy some fried chicken. For something lighter, we recommend the hummus or Brussels sprouts. There is always shade to be found—umbrellas make this a solid destination even during peak sunny hours.
Layla Jones — Cobble Hill
214 Court Street
This laidback spot is the perfect place to enjoy spaghetti and homemade meatballs, while letting your kids roam around in the communal atmosphere. The kid's menu offers all of the favorite pasta options, along with a chicken and mozzarella pressed sandwich.
Lobster Joint — Greenpoint
1073 Manhattan Avenue
What is a better way to ring in the warmer months than digging into lobster rolls on a patio? The large picnic tables are welcoming of families and kids will love the menu just for them, featuring fish sticks and chicken fingers.
Morgan's Barbecue — Prospect Heights
267 Flatbush Avenue
The saucy BBQ on the menu at Morgan's practically requires bibs for kids and adults (or at least a bunch of napkins). Ample outdoor seating makes this an awesome warm weather destination. Try stopping by for brunch, but makes sure you show up hungry. The portions are not for the faint of heart, and the whole family may need a nap afterward!
Osaka — Cobble Hill
272 Court Street
This solid Cobble Hill neighborhood spot is one of our NYC editor's favorites. The staff is super-friendly and the backyard is spacious. Go early and it will feel as if you're in a private backyard. Sushi gets rave reviews for its freshness and creativity. Kids can ring the gong and fill themselves with rice and tempura. High chairs are available. The bathroom is tiny.

The huge outdoor space and super family-friendly vibe at Pig Beach will make this place a favorite!
Pig Beach — Gowanus
480 Union Street
BBQ-lovers, this is the place for you! Order at the counter for some finger-lickin' delicious brisket, or mac and cheese for the low-key BBQ fans. Dogs are welcome here, which is a huge plus for animals lovers. It has an extensive beer list for the parents, and peanut butter and chocolate cookies for the kids. It is closed on Mondays and mornings—so make sure you check the website before you head over.
Popina — Columbia Waterfront
127 Columbia Street
This special Italian spot features a menu full of delicious pastas and, for the grown-ups, they bottle their own negroni. The backyard is quite magical with tables nestled under a massive tree and a giant bocce ball court that will keep the whole family entertained.
Prospect Bar and Grill — Park Slope
545 5th Avenue
I can't say enough good things about this warm neighborhood pub. The food is delicious and the staff is accommodating and laid-back. The back patio is the perfect place for kids to play while parents enjoy a beer. We usually have a drink outside (while the kids tucker themselves out) and move inside for dinner. Start with a pretzel (be wary of the mustard—it's very spicy!) and enjoy the decadent mac and cheese. A generous happy hour and great tunes make this the perfect spot to bring the kids on a nice day.
RELATED: NYC Restaurants Where Kids Eat Free

Enjoy pizza outdoors at Roberta's backyard in Bushwick.
Roberta's Pizza — Bushwick
261 Moore Street
What's better than eating pizza outside? This famed Bushwick pizzeria has a large outdoor garden where seating is communal at large wooden tables and the atmosphere is casual, cool, and hipster Brooklyn. Kids love to see their pizzas cooking in the wood-burning ovens. Roberta's offers walking and tasting tours of its garden. Reservations are not taken for parties of fewer than 10 people so be prepared for long lines, especially on weekends. But it's worth a trip to Bushwick, at least once. Or better yet, score weekday lunch with the kids over the summer for a more family-friendly crowd (and wait).
Threes Brewing — Gowanus
333 Douglass Street
This super-hip brewery boasts a huge outdoor space and a food residency program in which different restaurants take over the kitchen. Parents can enjoy a drink from the vast selection of handcrafted beers and cocktails and join kids in trying cuisine from Insa Korean BBQ, Roberta's Pizza, Franny's, or Buttermilk Channel, just to list a few. High chairs are available; strollers must be left out in front.
A version of this article was first published in 2016, but it has since been updated. Katie Nave Freeman contributed additional reporting.