Cobble Hill, Carroll Gardens, Boerum Hill: Best Things to Do with Kids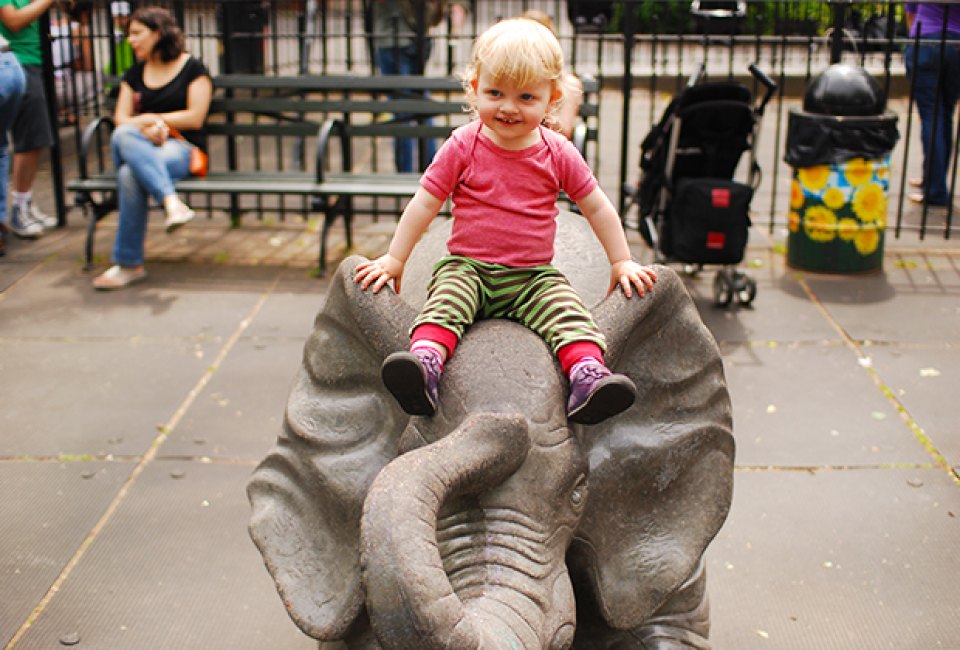 5/2/17
- By
Mariko Zapf
1. Delight your little one with an afternoon at the beloved playground in Carroll Park, home to loads of FREE activities, including the annual Carroll Park Fair. There are sprinklers in the summer and separate play areas for big and little kids, plus ball courts and room to run.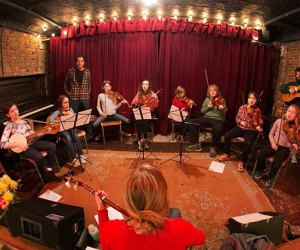 Jalopy Jr. Folk Ensemble Recital.
2. Enjoy children's classes and performances at Jalopy Theatre and School of Music, where husband and wife duo have made music from around the world accessible to the community for over a decade.
3. Play with the train set and then pick up a gift or birthday balloons at the family-run Pizzazzz Toyz and Kidz, or pick up strollers, wraps, and more baby gear at its baby store just a few doors down on Court Street.
4. Make your tot smile at Curiosity on Court, an impressive indoor playground.
5. Enjoy the ride-on toys, slides, and more equipment at the sweet, under-the-radar playground on Henry Street at Pacific Street, often referred to as the LICH Playground, because it's technically on the beleaguered hospital's grounds.
6. For toys or gear, head to Area Kids. Better your odds for a tears-free trim (and new shoes) at sister store Area Kicks & Cuts.
7. Check the Smith Street Stage calendar for a local, family-friendly production, including outdoor theater.
8. Peruse the awesome kids' section at the Carroll Gardens Library and enjoy free programs for all ages, starting with babies. The storytimes are very popular, so get there early to snag a FREE ticket.
9. Enjoy inexpensive open play during the winter with Sundays@Senesh, hosted at the Jewish day school on Smith Street, Hannah Senesh (typically November through March).

10. Stroll through the mini Cobble Hill Park, grab a bench, or let the kids hit the sandbox or slide. The park is home to many community events and holiday parades, too.
11. Drop into analog gaming mecca The Brooklyn Strategist where families can bond over every imaginable board game (and they host awe-inspiring birthday parties).
12. Take part in the super sweet Cobble Hill Halloween Parade.

13. To mark a celebration—or cope with a bad day—look no further than this trifecta of candy and cookie stores: Nunu Chocolates, The Chocolate Room, and One Girl Cookies.
14. Enjoy imaginative, multimedia exhibits at the Invisible Dog Art Center, just down the street from Van Leeuwen homemade ice cream.
15. Stop by the neighborhood Kidville for classes in art, dance, movement, and music (try one of their free classes before committing).
16. Take your little maker to Pixel Academy for after-school classes and summer camp where they can learn coding and explore sophisticated digital tech projects.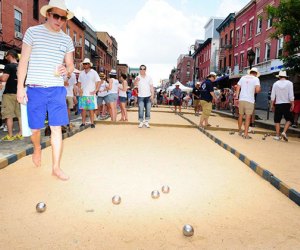 Play pétanque in the streets on Bastille Day.

17. Join the Bastille Day celebration at family-friendly Bar Tabac's annual fete featuring frites, foosball, and a pétanque tournament.

18. If you haven't yet had the fortune of stumbling upon Susan Gardner's bejeweled Mosaic House on Wyckoff Street, it's worth a special trip.

19. Discover the hidden fun at the DiMattina Playground (Rapelye Street between Hicks and Henry Streets). This narrow slip of a spot, includes a playground for big kids with some serious slides, water sprinklers, and a toddler-sized play area, plus swings.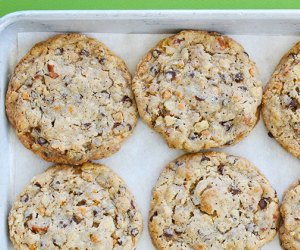 Try the compost cookies at Milk Bar.

20. Pop into the charming Transit Garden before indulging in a scrumptious compost cookie at Milk Bar.

21. Load up on books or enjoy an children's author meet-and-greet at the just opened Books Are Magic.
22. Cool off with Italian ice from Uncle Louie G on Smith Street, or load up with cookies for your next playdate from one of the Italian bakeries that line Smith Street. (We always favor those by at F Monteleone Bakery & Cafe, which also whips up inexpensive birthday cakes.)
23. Your budding Parkour enthusiast will go bananas over Everyday Athlete, which also offers climbing, skateboarding, and gymnastics classes, and summer camp.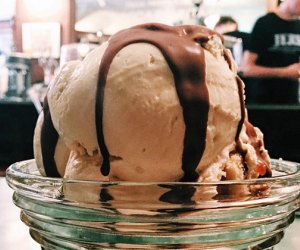 Order a mouth watering dessert at Brooklyn Farmacy & Soda Fountain. Photo by staceyyjoan via Instagram.

24. Indulge in a classic egg cream served up right at the charming Brooklyn Farmacy & Soda Fountain, a restored 1920s pharmacy that feels like stepping back in time.

25. Head just south of all the action at Brooklyn Bridge Park, to Van Voorhees Playground, which boasts shade, lots of space to scooter, and awesome sprinklers in summer.

26. Sign up for the FREE Inventgenuity festival put on by the neighborhood's Beam Center, another hot maker spot for classes and camps.

27. Catch the latest flick at Cobble Hill Cinemas, which offers $9 admission on Tuesdays and Thursdays.

28. Stock up for the week on fresh produce at the Carroll Gardens Greenmarket, which is open on Sundays year-round. It even offers a recycling bin for outgrown clothes.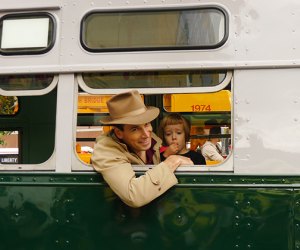 Board vintage buses at Atlantic Antic's Bus Festival. Photo courtesy of the New York Transit Museum.

29. Mark your calendar for the awesome Atlantic Antic, NYC's largest annual street fair filled with FREE music, yummy food stalls, pony rides, and a Bus Festival courtesy of the New York Transit Museum.

30. Boerum Park is everything you would expect from a smaller neighborhood playground. My daughter loves racing through the play structure, which she can do while I sit in the shade.

31. Introduce your kids to legit NYC bagel game at Shelsky's on Court Street at Atlantic Avenue. Go for a "Member of the Tribe" and a cucumber salad side for the the grown-ups.
32. Sign your big kid up for one of the excellent classes or summer camps at Gotham Archery.
33. Just down the street, although technically just off our map, are a handful of very cool thrill-seeker delights: Brooklyn Boulders, Homage Skateboard Academy, Brooklyn Fencing, all of which offer after-school programs and summer camps.
34. Take a breath at Yogasana Center, which hosts lovely Sunday afternoon classes for children.

35. If someone needs pancakes, look no further than the Cobble Hill Coffee Shop, where we love to sit at the counter like in the "olden days." Other popular coffee spots in the hood for parents (and kid noshes) include Smith Canteen, Cafe Pedlar, Konditori, and Blue Bottle Coffee. Most have limited seating, but newcomer Court Street Roasters looks to be more spacious and offers a full menu.
36. Enroll your active kiddos in one of the wonderful after-school classes at Brooklyn Brazilian Jiu-Jitsu, or sign budding ballerinas up at Cobble Hill Ballet.
37. Score serious French croissant, which will literally melt in your mouth, at NYC cult-favorite Bien Cuit or at the French-speaking, family-owned Provenance en Boit cafe (both on Smith Street).
38. You'll find something for everyone at Yesterday's News, a treasure trove of antiques, or score gently used children's clothes at Union Max. Tweens might prefer the tiny but carefully curated girls' clothing shop B'tween.
39. Head to The Bike Truck for new and used bikes, plus tips to responsibly navigate the roads of NYC.
40. Peruse the impressive collection of used books at neighborhood favorite Freebird Books, which has a sweet backyard when the weather is warm.

Make a masterpiece at the Painted Pot.

41. Create and glaze your own treasures at the Painted Pot (weeklong summer camps are also terrific).
42. Pick up an adorable pair of shoes at children's boutique Runnin' Wild Shoes.
43. If gorgeous, handcrafted wooden toys are your thing, you will be enchanted at Acorn, a Brooklyn Toy Shop.
44. Gumbo is a sanctuary for new parents, as well as a children's boutique that hosts daily kids' classes in multiple languages.
45. Take little ones to the fenced-in playground known as Mother Cabrini Park (President and Van Brunt Streets), an underused gem for younger kids.
Read all of our posts about exploring Cobble Hill and Carroll Gardens with kids.
Top photo: Kids love to climb the elephant statue at the toddler playground in Carroll Park. Photo by Thomas Angermann/CC BY-SA 2.0. Unless otherwise noted, photos courtesy of the venues.