Best of Brooklyn: 50 Things To Do in the Family-Friendly Hipster Haven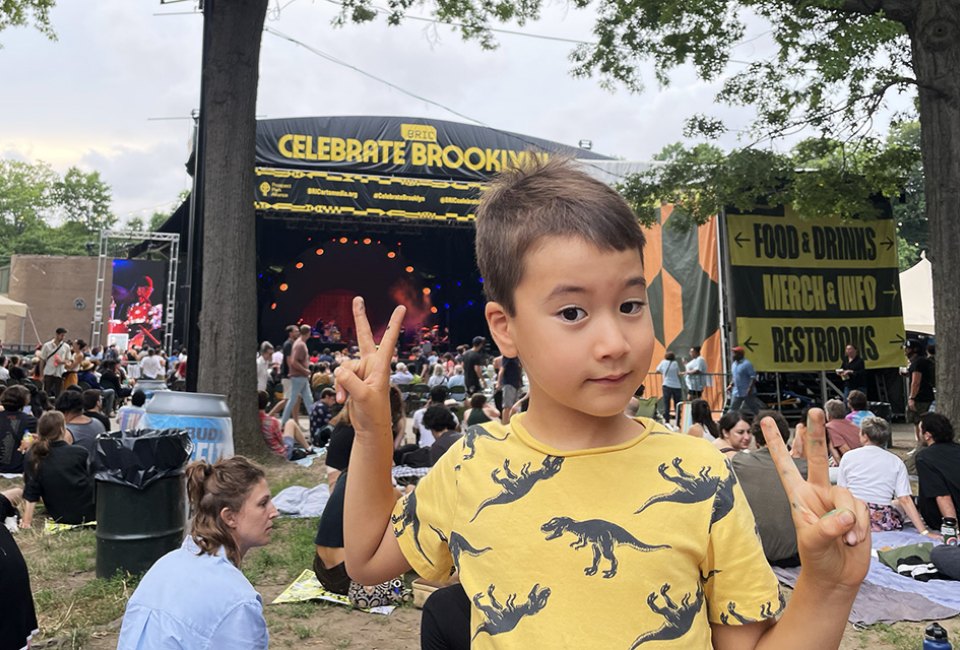 8/14/22
- By
Diana Kim
When it comes to things to do in Brooklyn, the borough has it all for families—great schools, iconic landmarks, great parks and playgrounds, eclectic dining, and the most interesting stores and museums. While we've covered a lot of our favorite things to do in Brooklyn and the borough's top neighborhoods in our Neighborhood Guides, ranging from the top things to do in Park Slope to the best of Bay Ridge, Brooklyn Heights, and beyond, consider this our best-of-Brooklyn list. Below, we've rounded up our top 50 best things to do in Brooklyn with kids. Our picks are a mix of old favorites and new classics.
Read on to discover our picks for Brooklyn's top attractions, the best playgrounds in Brooklyn, our top picks for family-friendly Brooklyn restaurants, museums, and the best things to do in Brooklyn with kids.
Subscribe to our newsletters to get stories like this delivered directly to your inbox.



Pose for a photo on a walk across the famous Brooklyn Bridge.
Top Attractions and Things To Do in Brooklyn
1. Walk the Brooklyn Bridge
Take a stroll over the world's most iconic bridge, stopping for Instagrammable shots along the way before you arrive in the family-friendly enclave of Dumbo and all the happenings in the adjacent Brooklyn Bridge Park.
2. Ride a Historic Carousel
Enjoy the stunning views while riding the century-old Jane's Carousel.
3. Spend the Day at Coney Island
There are so many things to do at the world-famous Coney Island, including the beach, the boardwalk, the amusement parks, and baseball games, to name a few.
4. Visit the New York Aquarium
While you're visiting Coney Island, drop by the New York Aquarium to see sharks, sea lions, and other sea creatures.
RELATED: 100 Things To Do in NYC With Kids Before They Grow Up

Escape city life in the lush Brooklyn Botanic Gardens.
5. Stroll Through the Brooklyn Botanic Garden
Colloquially known as "Brooklyn's backyard," the Brooklyn Botanic Garden is a great respite from urban life. Take in the splendors of cherry blossoms, roses, large oak trees, and myriad family-friendly events and classes.
6. Visit the Prospect Park Zoo
The Prospect Park Zoo is perfectly sized for young kids, who love the petting zoo, the sea lion show, Discovery Trail, and its cheeky pack of Hamadryas baboons.
7. Catch a Show at the Barclays Center
The Barclays Center hosts kid-friendly shows such as Disney On Ice, touring circuses, and plenty of concerts. Plus, it's home to a pair of pro hoops teams: the NBA's Brooklyn Nets and WNBA's New York Liberty. We've got picks for the best family-friendly restaurants nearby to grab a bite before or after your outing.
8. Hang Out at Industry City
Industry City in Sunset Park is a Brooklyn cultural hub where you can shop, dine, experience public art, and enjoy many family-friendly programs, holiday events, and kids-friendly concerts.
9. Attend a Show at the Brooklyn Academy of Music
For cutting-edge theater, film, music, and dance, BAM is the place to go. There are often kid-friendly events and programming like its annual BAMkids Film Festival and the borough's best Halloween shin-dig, BAMboo.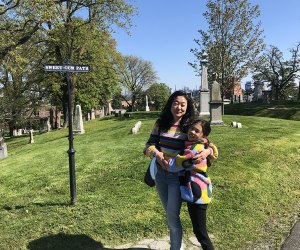 Explore the history of Green-Wood cemetery,
10. Tour Green-wood Cemetery
You can stroll through Green-Wood Cemetry's 478 acres of landscaped hills, paths, and ponds to stumble upon the grave of a famous person or partake in one of its many activities like the Battle of Brooklyn Day, which commemorates the famous Revolutionary War skirmish.
11. Attend a Performance at Kings Theatre
The historic Kings Theatre always has kid-friendly shows in its lineup, and its ornate, French Baroque architecture is itself worth a visit.
12. Brooklyn Children's Museum
We love the Brooklyn Children's Museum, nestled in Crown Heights, with its interactive exhibits, hands-on programs, and charming World Brooklyn exhibit.
13. New York Transit Museum
Head underground for the kid-friendly New York Transit Museum, where little ones can board vintage train cars and interact with buses and trolleys.
14. The Brooklyn Museum
Older kids can appreciate an outing to the Brooklyn Museum. It's got a rich permanent collection and a rotating array of exhibitions that are always worth checking out. Past exhibits that kids really enjoyed include the recent Kaws exhibition and Christian Dior: Designer of Dreams.
RELATED: Best Children's Museums in NYC for Families to Visit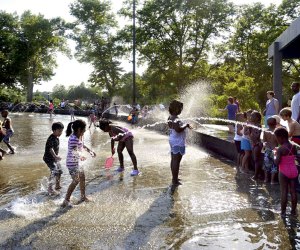 Splash around in the LeFrak Splash Pad. Photo by Martin Seck
Fun Things To Do in Brooklyn's Prospect Park
15. Zucker Natural Exploration Area
Kids have to rely largely on their imagination when playing on the logs and trees salvaged from Hurricane Sandy at the Zucker Natural Exploration Area, which is what makes this playground so unique.
16. Splash Pad at the LeFrak Center at Lakeside
Kids cool off in the jets of shooting water along the border of LeFrak Center's outdoor skating rink at the Splash Pad. LeFrak is also home to wintertime ice skating, summer roller skating, and tons more family-friendly fun.
17. Vanderbilt Playground
Families with kids in multiple age groups especially like this playground, near Prospect Park Lake, which offers play structures for little ones and bigger kids.
18. BRIC Celebrate Brooklyn!
Catch a show during the BRIC Celebrate Brooklyn! Festival concert series in the Prospect Park Bandshell, which includes lots of family-friendly options annually.
Find all our top picks for things to do in Prospect Park with kids.
More Top Parks and Playgrounds in Brooklyn for Families
19. Owl's Head Park
This Sunset Park green space is packed with things to do. We love heading to Owl's Head Park to romp in its playgrounds, walk its scenic trails, enjoy epic sledding hills, hit the basketball courts, skate park, dog run, and enjoy its wide-open spaces for picnicking and birthday parties.
20. Betsy Head Park and Playground
Brownsville kids and families enjoy Betsy Head Park not only for its playground but also for its state-of-the-art athletic field, amphitheater, skate park, parkour fitness course, climbing wall, and outdoor pool.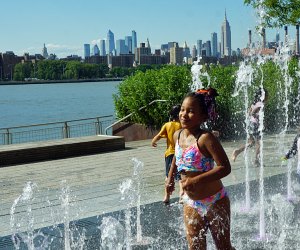 Romp in the picture-perfect sprinklers at Domino Park. Photo by Jody Mercier
Things To Do in Williamsburg, Brooklyn
21. Domino Park
Built on the site of the old Domino Sugar Factory, Domino Park features a tri-level play structure and is one of our favorite play fountains in all of NYC. Its skyline views are tough to beat.
22. Smorgasburg
Sample a variety of delicious foods from more than 35 vendors at Smorgasburg, an open-air food market in Williamsburg and Prospect Park.
23. Brooklyn Bowl
Have some fun in your spare time at the Brooklyn Bowl where you can bowl, watch shows, and grab some food.
24. City Reliquary
Take a step into the past at the City Reliquary, which displays New York City artifacts and features community collections, and puts on annual cultural events.
Find more things to do in Williamsburg with kids.
RELATED: Top Attractions in NYC: Best Things To See and Do With Kids

Kids of all ages gather at J.J. Byrne to play! Photo by Al DiIngenis
Things To Do in Park Slope, Brooklyn
25. J.J. Bryne Playground
Families flock to J.J. Bryne Playground with its multiple swing sets, play structures for little and big kids, and a large AstroTurf field for kids to play ball and run around.
26. Jintana Thai Farmhouse
One of our favorite restaurants in Park Slope, Jintana Thai Farmhouse serves authentic Thai food using farm-fresh ingredients. Its array of kids' specials includes fried omelet rice and Thai spaghetti.
27. Enjoy a Movie Night
Catch a flick and dinner at NiteHawk Cinema.
28. Watch a Puppet Show
Kids love the puppet shows at Puppetworks where some beloved classics like Pinocchio, Goldilocks, and Sleeping Beauty have been adapted.
29. Old Stone House
Not just a museum, the Old Stone House is a historic site and a community hub for events, gatherings, and educational programming.
30. Brooklyn Superhero Supply Co.
A one-stop shop for all your superhero needs, the Brooklyn Superhero Supply Co. also serves as a front for a writing program.
Bookmark our Park Slope Neighborhood Guide for more top things to do with kids.

Sandbox Village at Pier 6 is one of the biggest sand areas in the city!
Things To Do in Brooklyn Bridge Park and Dumbo, Brooklyn
31. Explore the Pier 6 Playgrounds
With a Water Lab, Sandbox Village, and Swing Valley, the playgrounds at Brooklyn Bridge Park's Pier 6 are among the best in the city.
32. Go Rock Climbing
Brooklyn has some of the largest and most versatile rock climbing gyms in NYC including The Cliffs at Gowanus and Brooklyn Bouldering Project. You can also climb outdoors at The Cliffs at Dumbo.
33. Brooklyn Flea
Choose from an eclectic array of goods and wares from local artisans at the Brooklyn Flea which sets up shop in Dumbo on the weekends.
Find all our top picks for exploring Dumbo with kids, plus 35 things to do in Brooklyn Bridge Park.
RELATED: Best Brooklyn Bridge Park Playgrounds (Ranked!)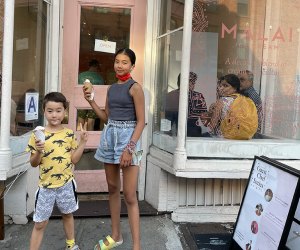 For a treat try ice cream with Indian flavors at Malai.
Things To Do in Cobble Hill and Carroll Gardens, Brooklyn
34. Malai
Serving unique Indian ice cream flavors like Sweet Roti and Ghee, Masala and Chai, and Turkish Coffee, Malai is one of our favorite ice cream shops in Brooklyn.
35. Have Family Game Night
The Brooklyn Strategist is a favorite spot to play all manner of board games. Kids and adults flock to the store for camps, classes, and adults-only gatherings.

Take in a magic show or try a class at The Magic Shop.
36. Brooklyn Magic Shop
Learn some amazing sleight of hand tricks at the Brooklyn Magic Shop which offers classes, camps, and puts on kid-friendly magic shows.
Bookmark our Guide to Cobble Hill and Carroll Gardens with Kids.
More Can't-Miss Destinations Brooklyn
37. Head Indoors to a Play Space
There are some phenomenal play spaces in Brooklyn for when you want to escape the heat or cold.
38. East Harbor Seafood Palace
This is one of our favorite dim sum restaurants in Sunset Park, aka Brooklyn's Chinatown. With reasonable prices and fast service, East Harbor Seafood Palace also has traditional Chinese food.
39. Shoot Pool and Play Pingpong
Ocean's 8 at Brownstone Billiards is a great family hang-out for pool, pingpong, air hockey, and video games.
40. Pig Beach
Kids and adults love this outdoor barbecue joint right next to the Gowanus Canal. Pig Beach serves an extensive array of delicious meats, beer, and kid-approved items like mac and cheese, brownies, and rice crispy treats. It's also one of our favorite restaurants with outdoor space in Brooklyn.
41. Take a Swing
There are several mini-golf courses throughout Brooklyn. Practice your putting skills at our favorite courses including Shipwrecked and Vale(mini)Golf at The William Vale.
42. Roberta's Pizza
This famed Bushwick pizzeria is family-friendly with its large outdoor garden and communal wooden tables. Kids love seeing Roberta's cook its pizzas in wood-burning ovens.
43. Visit the Local Library
The Brooklyn Public Library offers tons of family-friendly programming and we're particularly crushing on its newly renovated and reopened branches, including the environmentally focused Greenpoint branch and the picturesque Dumbo outpost.
RELATED: Best Free Annual Parades in New York City for Kids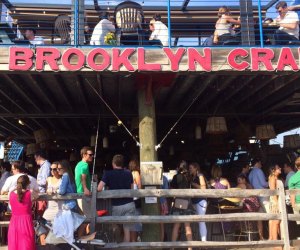 Brooklyn Crab is one of the most unique outdoor dining destinations in NYC for two reasons: crabs and mini golf. Photo courtesy of Brooklyn Crab
44. Brooklyn Crab
One of our favorite waterfront restaurants for kids, this uber family-friendly restaurant serves seafood like crab legs, lobster rolls, and mussels, plus standard fare like hot dogs, burgers, and fries. Brooklyn Crab has a large, multi-level backyard where kids can roam, play in the sandbox, and even play mini golf while waiting.
45. Habana Outpost
Habana Outpost is an "eco-eatery" serving Mexican and Cuban cuisine, that's home to a large backyard gathering space for artists, kids, and families. It's a great spot to host play dates, birthday parties, and other family gatherings.
46. Go Roller Skating
Skate your heart out at the roller skating rinks in Prospect Park and Brooklyn Bridge Park.
47. Olmsted
Fine dining can be had even with kids, especially at Olmsted, where the staff is warm and friendly. Kids can hang out in the lush backyard while waiting to nosh on farm-fresh dishes like carrot crepes and fro-yo for dessert.

Area 53 NYC's Adventure Park has a few little-kid-friendly attractions, like this close-to-the-ground mini ropes course.
48. Play Laser Tag and Paintball
Head to Area 53 where you can play laser tag, paintball, and have fun at its indoor adventure park.
49. Discover New Brooklyn Artists
Experience Gowanus Open Studios where you can get an insider's look into the work and studios of more than 400 artists and venues.
50. Brooklyn Navy Yard
Building 92 at the Brooklyn Navy Yard houses a museum dedicated to preserving and showcasing the history of the country's first naval shipyards. Check its calendar for children's programs and special exhibits.
Unless noted, photos by the author
Click Here to Sign Up!
i