5 NYC Cemeteries to Visit During Halloween... or Anytime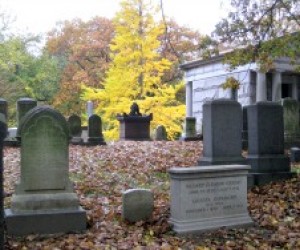 When you think about going on a fun family outing, hitting a cemetery probably isn't at the top of your destination list (unless your last name happens to be Addams). But perhaps it's time you reconsidered. New York City is home to many historic and surprisingly beautiful cemeteries that are open to the public and enjoyable to explore, especially as the fall leaves are changing. Some also come alive through tours and special events that take place throughout the year.

My family and I attended an awesome concert and picnic at Brooklyn's Green-Wood Cemetery this past spring and had a blast walking through the gorgeous grounds. So now that my kids' favorite holiday, Halloween, is nigh, I decided to find out what was happening at five New York City burial sites to help get you into the spooky seasonal spirit.
Green-Wood Cemetery – Sunset Park
500 25th Street
At 478 lovely acres of landscaped hills, paths and ponds strewn amongst graves and mausoleums, Green-Wood is New York City's largest and most activity-packed cemetery. Although it suffered more than half a million dollars in damage last year due to Hurricane Sandy, this National Historic Landmark is celebrating its 175th anniversary in 2013 in a big way. There are more than a dozen events in October alone, including a series of Spirited Strolls with visits to the graves of the Wizard of Oz, George Washington's dentist and other famous residents, as well as the Catacombs, usually off-limits to the public. Got young kids? Green-Wood hosts two annual events that are great for all ages: Battle of Brooklyn Day in August, a commemoration of the famous Revolutionary War skirmish, and a Memorial Day Concert. Regular walking and trolley tours are also offered throughout the year, though they're best for tweens and up.

Maple Grove – Kew Gardens
127-15 Kew Gardens Road
A real community hot spot, Maple Grove hosts a slew of family events throughout the year. In honor of Halloween, you can see a "Spirits Alive" presentation on Saturday, October 12, go on special walking tours on Sunday, October 13 and enjoy Room for One More, a Murder Mystery Dinner Theater on Saturday, October 26.

The Evergreens Cemetery – Bushwick
1629 Bushwick Avenue
Founded in 1849 and located right on the Brookyln-Queens border, this cemetery spans more than 225 acres and is the resting place for more than 526,000 people. It feels more like a park than a burial site and is known as a prime bird-watching spot. Although there are no special Halloween events, themed tours are offered throughout the year. But with kids it's probably better to just wander around.

The Trinity Cemetery & Mausoleum – Washington Heights
770 Riverside Drive
Opened in 1697, Trinity Church's uptown burial ground is the only cemetery in Manhattan still taking on permanent residents (that's how the late Mayor Ed Koch recently ended up there). While it doesn't have the same bucolic charm as its outer borough counterparts, it's a pretty amazing experience to walk through the rows of graves right in the middle of the city. You can download a map on the website and go on a DIY walking tour.

Woodlawn Cemetery – the Bronx
517 East 233rd Street
NYC's second largest cemetery boasts 400 acres and has that same relaxing, day in the country feel as Green-Wood. Lots of celebrated New Yorkers are interred here, including Duke Ellington, Irving Berlin, Herman Melville and many survivors of the Titanic. Visitors are welcome to wander the grounds and take pictures (perfect Halloween photo op), though other recreational activities are restricted out of respect for the dead.

Also worth mentioning: the New York Marble Cemetery and the New York City Marble Cemetery, yes, two different places located within a block of each other in the East Village.

To learn about more New York City cemeteries, check out Forgotten New York, which has in-depth posts about grave sites throughout the five boroughs.

Find more ways to celebrate the season in our jam-packed Halloween Guide.