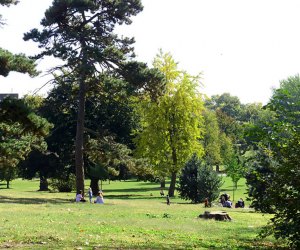 10 Underrated NYC Parks to Visit Now
Please note that, while we've attempted to provide highlights of these parks at their best, some of the features and events listed below are canceled or closed due to COVID-19. Find an updated list of all NYC Parks Department service changes.
Central Park, Prospect Park, Brooklyn Bridge Park—even if you only just arrived in NYC, we probably don't need to tell you that these are all must-see green spaces, but they're also popular and crowded. Fortunately for us, according to the NYC Department of Parks and Recreation, 14 percent of the city is parkland. That's more than 30,000 acres! So, in this new age of social distancing, if you're looking to find a new-to-you outdoor destination to explore, we've got 10 off-the-beaten-path parks worth putting on your NYC family bucket list.
Some are massive and boast a wide array of attractions for all seasons; others are small but picturesque. With weeks of school closures ahead, and many indoor venues closed, check out this list and visit some of the city's best hidden outdoor gems.

Kids can challenge themselves to an obstacle course at Alley Pond Park in Queens.
635 acres
Once you tell your tweens this park's got a zip line, you probably won't need to sell them on it. At Alley Pond Park Adventure Course, a trained professional leads athletes ages 8 and up through a series of team-building challenges, including a low- and high-ropes course, a climbing wall, a trust-fall station, swings, nets, balance platforms, and, oh yes, that zip line. Best of all, the course is FREE and open to the public on a first-come, first-served basis on Sundays May through November (though you need to enter an online lottery in July and August). Too intense for you? There are lots of mellower attractions, including face time with cool creatures at the Alley Pond Environmental Center, rural hiking trails, a trio of playgrounds, athletic fields, and some special events, mostly in summer, such as puppet shows and birding. Note: Even though this park is sprawling, it's nowhere near the subway or even a bus. So be prepared to drive.
OUR LATEST VIDEOS
25 acres
For years, this was the ratty green space you passed while rushing to make your ferry to Staten Island or Governors Island. But Battery Park—rebranded as simply The Battery—has a lot of attractions to go along with its new name. For kids, the one-of-a-kind SeaGlass Carousel is the hands-down favorite, but there's also a refreshing Spiral Fountain for cooling off, manicured gardens, an urban farm that hosts a seasonal storytime, and the impressive looking Castle Clinton, which is also the starting spot for New York Classical Theatre's FREE summer Shakespeare productions. Of course, The Battery's transformation into a family destination is still in progress. Its old playground across from the merry-go-round is currently being transformed into a so-called PlayScape. Ground broke earlier this month on the project and judging from the plans (which include a puppet theater, a jungle-gym-style playhouse, and climbable Adventure Bluffs), it's going to be jaw-dropping. As of now, completion is set for 2021.
RELATED: Coronavirus Guide For Parents: 100s of Activities and Resources
7 acres
When in Williamsburg, most everyone goes to the amenity-filled McCarren Park. But if that green space gets too crazy, head a few blocks west to this waterfront park. While you can see the wear and tear on this concrete-heavy spot, it still boasts lots of open space, fantastic views of Manhattan, picnic tables, a sandy beach (for lounging, no swimming allowed), and a rustic playground. In summer, the eclectic food market Smorgasburg sets up here on Saturdays, and there are occasional movie nights and festivals, too. It's worth an afternoon ferry ride from Manhattan or one of the other river neighborhoods in Brooklyn or Queens.
12 acres
What Brooklyn Bridge Park is to Kings County, Gantry Plaza State Park is to Queens. Home to the iconic Pepsi sign and its namesake gantries, this stunning waterfront park offers breathtaking views of Midtown Manhattan from its piers, along with landscaped gardens, a mist fountain, and some fun romping spots. It's a great place to fish, assuming you have a license (just don't eat what you catch!) or to throw an outdoor party (you can rent picnic tables or sit on one of the lawns). There are events throughout the warmer months, like art in the park and a fishing clinic, and the neighboring Hunters Point Park Conservancy hosts activities like weekly music performances and yoga. The adjacent Hunters Point South Park adds 10 more acres of green space to check out. Plus, the city recently extended the public green space even further with a "wilder" look and feel, including a nature trail and more space for your little one to burn off some extra energy. Make your outing even more memorable by traveling to and from the parks via the NYC Ferry, which has two terminals along the Long Island City waterfront at opposite ends of the park.
RELATED: NYC-Area Coronavirus Closings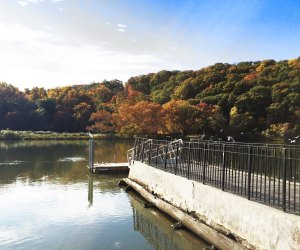 A visit to Inwood Hill Park feels like a true escape from the city. Photo by Jody Mercier
196 acres
We love this upper Manhattan park, home to three romping spots, including the renovated Indian Road Playground and its exceptional and clean sandpit. For more intrepid visitors, you can try DIY bouldering, go bird-watching at the salt marsh, or see what kind of outdoor program is happening. Although Inwood Hill Park's Nature Center has been closed for years due to Hurricane Sandy damage, the Urban Park Rangers still host overnight camping, canoeing, eagle watching, and other exploratory sessions in season. There are also frequent family art and exercise offerings, including yoga, drumming, and running. Every June, Inwood Hill Park honors its Native American history with Drums Along the Hudson, an annual multicultural celebration with ethnic entertainment and eats. And in summer, you can enjoy FREE outdoor productions of the Bard courtesy of the Inwood Shakespeare Festival.
RELATED: Coroanvirus Guide: 100s of Activities and Resources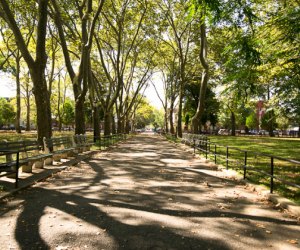 Tall trees line the walkways of Msgr. McGolrick Park, adding to the charm of this quiet Brooklyn spot. Photo by Erin via Flickr.
9 acres
Msgr. McGolrick offers another alternative to the popular McCarren Park. This quaint, but lovely, green space possesses a charming neighborhood vibe. In addition to the playground, there's a year-round bathroom (yay!), grassy lawns, and no crowds. There's even a dog run so that you can bring Fido along on your family outing.
24 acres
Home of Bay Ridge's big annual Halloween Haunted Walk & Fairytale Forest, this green space is well-loved by the community year-round. This waterfront favorite features two playgrounds, scenic walking trails, epic sledding hills, ball courts, and a popular skate park. There's also ample space for picnicking, an impressive variety of trees (pines, locusts, oaks, maples, corks, beeches), and breathtaking views of lower Manhattan.
2,772 acres
Sure, you've heard of NYC's largest public park, but when's the last time you visited (if ever)? Time to fix that! This huge Bronx green space has plenty of playgrounds and sports fields and other attractions that make it a beautiful staycation destination. It's home to Orchard Beach, also known as the "Bronx Riviera," which offers sand, surf, a small concession stand, a seaside playground, and even seal watching (all in season of course). There are also some bucolic hiking trails and fairly easy bike paths, too. Extra special activities include going for a horseback ride with the Bronx Equestrian Center, playing mini-golf at the Turtle Cove Golf Center, getting up close with critters at the modest but free nature center, and visiting the historic Bartow-Pell Mansion Museum, which hosts frequent family events. You could spend a whole weekend exploring all Pelham Bay Park has to offer and still save something for your next trip.
RELATED: 25 Exercise Games and In-Home Activities to Get Kids Moving

Scoot along the fantastic pathways at Riverbank State Park and take in the views of the Hudson River. Photo by Jody Mercier
28 acres
NYC's only elevated waterfront park has it all: tennis, basketball, and handball courts; an Olympic-size indoor pool and a smaller seasonal outdoor pool; a covered rink for ice skating in winter and roller-skating in summer; a pair of modest playgrounds; a fitness center; an amphitheater; lots of picnic tables; and a funky kid-designed carousel. Since Riverbank is built on a sewage treatment plant, as you approach, you'll see some pretty ugly industrial-looking structures. But once you arrive, you'll forget all about them thanks to the gorgeous views of the Hudson River and the George Washington Bridge. The one downside to the park? No one ever answers the phone. So if you want to register for any of its inexpensive classes or camps, find out about its arts and culture programming, or buy a membership to the fitness center, you're best off visiting in person. The indoor pool, rink, and other facilities have minimal fees. In warm weather, you can easily spend the entire day here.
1,146 acres
Why rent a car to travel to the country when you can get to this Bronx park by subway? Journey down one of its multiple hiking trails, and you'll be so immersed in nature, you won't believe you're still in NYC! While less than half the size of Pelham Bay, Van Cortlandt boasts many similar unique attractions, including horseback riding at Riverdale Stables, a nature center for hands-on learning, and the historic Van Cortlandt House Museum, which always gets decked out for the holidays. Of course, you'll find the typical playgrounds and athletic courts here, too, plus something Pelham doesn't have: a seasonal outdoor pool. Our only complaint is that its ice skating rink has been permanently shuttered. Still, with a calendar jam-packed with family programming year-round, including alfresco flicks, birding, and a track club, you'll never be at a loss for something to do.
A previous version of this post was published in 2016; it has been updated. Allison Steinberg contributed additional reporting.