Pelham Bay Park with Kids: Bike, Hike, Play in the Sand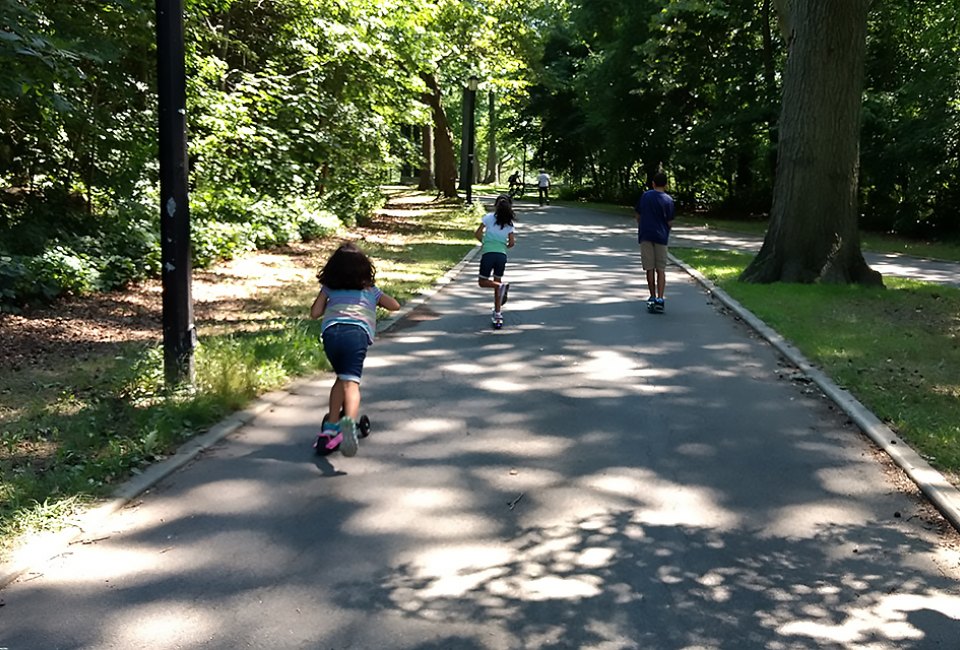 6/18/18
- By
Sonia Gonzalez
Pelham Bay Park is the crown jewel of the Bronx. At nearly 3,000 acres, Pelham Bay Park is three times the size of Central Park, and packed with awesome family attractions including Orchard Beach, four playgrounds, miles of paths to bike or hike, tennis courts, mini golf, two nature centers, a horseback riding stable, and a historic 19th-century mansion-turned-museum. How many other NYC parks boast all that? None!
My family and I are lucky enough to live nearby, but even though we've been to Pelham Bay Park countless times, we never tire of visiting. There's so much to do here, you can't possibly cover it all in one day. We've highlighted the best activities and attractions in the park for families in our top 12 ways to enjoy Pelham Bay Park with kids.

Orchard Beach offers plenty to do, no matter what the season.
Hit Orchard Beach (All Year Round!)
Affectionately known as the Bronx Riviera, Orchard Beach has a lot to offer beyond swimming and sunbathing. There are two playgrounds plus handball, basketball, and volleyball courts, all with stunning waterfront views, and the large promenade is great for strolling or biking. From Memorial Day weekend through Labor Day when the beach is open for swimming, it can get pretty packed, especially on weekends, and parking fees apply during the summer. All summer long the beach hosts (crowded) concerts and special events, and the overpriced concession stands are open—but trust me, bring your own grub. The playgrounds and other attractions make Orchard Beach a fantastic year-round destination: My family frequents the playgrounds off-season.
RELATED: Top 8 Beaches for a NYC Staycation

The Playground for All Children is always a big hit
Romp in a Playground
My kids' favorite playgrounds in Pelham Bay Park are the Playground for All Children, part of the Aileen B. Ryan Recreational Complex, and the Pelican Bay Playground at Orchard Beach. There's a smaller play structure on the sand, known as Orchard Beach Playground, but it's pretty underwhelming. Pelham Bay Park's final romping spot is the Sweetgum Playground near Wilkinson Avenue and the Bruckner Expressway. There's also a recently renovated dog run so Rover can play, too.
RELATED: 15 Best Playgrounds in NYC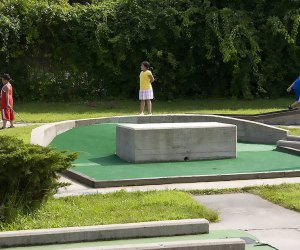 Play a round of mini golf at Turtle Cove Gold Center. Photo by Julienne Schaer for NYCgo
Play Golf or Mini Golf
Pelham Bay Park has not one but two golf courses. The Pelham Bay & Split Rock Golf Courses has the only 36-hole course in all of NYC. It's aimed at grown-ups who are serious about the sport, so this isn't the place to bring the kids. Instead, hit the family-friendly Turtle Cove Golf Center, which offers mini golf, junior lessons, and even a summer golf camp. Turtle Cove also has batting cages.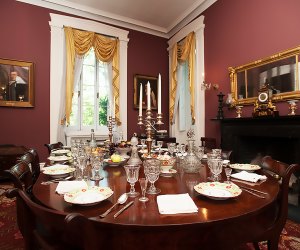 Bartow-Pell Mansion is full of exquisite mid-19th-century rooms. Photo by Julienne Schaer for NYCgo
Explore a Historic House
Step back in time at the Bartow-Pell Mansion Museum and discover what life was like in mid-19th century New York. The interior is stunning and authentically maintained with period furniture, paintings, and books. My daughter loves looking at the little girl's room complete with a tea set, child-size rocking chair, porcelain doll, and vintage outfits. Behind the mansion, you'll find a sweeping manicured garden. Take in the view from the benches or stone steps surrounding the centerpiece fountain, which is stocked with live fish. Then explore the grounds, which are surrounded by woods. The Mansion hosts many events throughout the year, some of which are kid-friendly, like the monthly First Fridays! with the Bronx Seaside Trolley.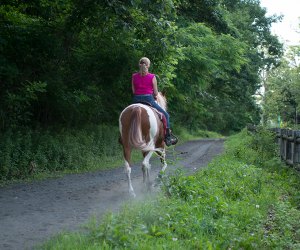 Take a trail ride at the Bronx Equestrian Center. Photo by Julienne Schaer for NYCgo
Go Horseback Riding
The Bronx Equestrian Center offers guided horseback rides for grown-ups and big kids (there's a height requirement). Younger children can enjoy a pony ride. Lessons are also offered—there's even a one-off crash course in which kids can learn horse-riding basics in three hours.
Try Fishing or Boating
Pelham Bay Park features 13 miles of coastline, great for experienced and novice fishers alike. Children under 16 can try catch-and-release fishing, while grown-ups need to have a valid fishing license. Note: Fishing isn't permitted at Orchard Beach during beach season. There's also a launch site for kayaks and canoes at Pelham Bay Park Lagoon.
Play Sports
No matter what game you're into, you'll probably find a spot to play it in Pelham Bay Park. The Aileen B. Ryan Recreation Complex features tennis courts, baseball diamonds, basketball courts, and even bocce ball courts. You'll also find a quarter-mile, rubber-coated running track with a playing field in the center (for soccer or football), long-jump sand pits along the side, and bleachers for your adoring fans. And remember, Orchard Beach has the aforementioned basketball, volleyball, and handball courts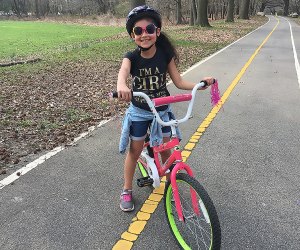 Take a leisurely bike ride on the 5 amazing miles of cycling paths.
Bike on a Cycling Path
There are five miles of designated cycling paths that wind through wooded areas and connect the beach with other parts of the park. You'll also find paved and dirt trails throughout Pelham Bay Park.
Hike a Nature Trail
There are three nature trails in Pelham Bay Park: the Kazimiroff Nature Trail, the Siwanoy Trail, and the Split Rock Trail. As you hike through the trees and rocky terrain, you won't believe you're still in NYC. It feels like wandering through the forest!

Learn about the history of Glover's Rock at Pelham Bay Park.
Go on a Monument Scavenger Hunt
Search for all of the historic monuments in Pelham Bay Park, including the Bronx Victory Memorial, the American Boy sculpture, and Glover's Rock. There are lots to find, so get hunting!
Visit a Nature Center
Pelham Bay Park has two nature centers. The Orchard Beach Nature Center is located on the promenade and the Pelham Bay Nature Center can be reached by entering the park at Bruckner Boulevard and Wilkinson Avenue. The Urban Park Rangers run activities at both throughout the year, including seal and owl watches, birding, and trail hikes. Note that the Orchard Beach Nature Center is currently closed for construction, but is scheduled to re-open in Summer 2018; the Pelham Bay Nature Center is only open for events.
Have a Picnic or Barbecue
Designated picnic areas are located on the north and south lawns surrounding Orchard Beach, and on two sites in Pelham Bay Park South. Barbecue grills and picnic tables are available at both, but arrive early to claim your spot!
Pelham Bay Park is located in the northeast Bronx between the Hutchinson River and Long Island Sound, from the Bronx County Line to Middletown Road.
A version of this story was first published in 2014; it has since been updated.
Photos by the author unless otherwise noted
Click Here to Sign Up!
i