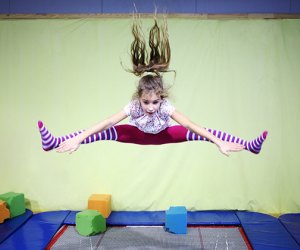 Gymnastics Classes for Westchester Kids
Kids love to run, jump, flip and play. Not so great when its your sofa, their bed or each other that they're jumping on. Looking for a class to channel that energy into something more constructive? My father was a gymnast in high school and college and was still tumbling on the lawn or in the park up until my teens, much to the delight of my friends (it never got old for me, either). I didn't follow in my father's gymnast footsteps, however when my kids showed an interest, I jumped on the chance to sign them up for classes. Gymnastics can be a great way for kids to exert some energy, learn how to safely jump, flip and roll, increase confidence and discipline and yes, show off to their friends. There are lots of great options for gymnastics in Westchester, and we've rounded them up for you here. For more gymnastics options, see our post on gymnastics classes in Lower Hudson Valley.
Gymcats - Yonkers
1 Odell Plaza
I enrolled my 9 year old son and 5 year old daughter at Gymcats and they had a blast! I tried a class for my 3 year old but she wasn't quite ready, although the staff was so friendly, patient and helpful with her, shy as she was. They even let me stay on the mat with her for the entire class. Still, it was clear she needed more time before joining the fun. She did, however, enjoy watching her big brother and sister on the mat, bars, trampoline and rings. By the end of the 3 month session, my son almost mastered a handstand and my daughter was doing flips on the trampoline. They loved it and look forward to taking classes again. Gymcats offers classes from tots to teens. They also offer private sessions and a cheer class.
YMCA White Plains and Central Westchester
515 North Street
With a dedicated 8,000 square foot, fully equipped gymnasium, the White Plains YMCA offers a year round program including a drop in program for toddlers as young as 10 months old and a Tumble & Splash class where tots' time is split between supervised gymnastics and swimming instruction. Kid and teen programs range from beginner to invitation-only advanced classes. Check their schedule for more details.
Rye YMCA - Rye
21 Locust Avenue
The Rye YMCA offer gymnastics and cheer classes for everyone ages 2 1/2 and up.
ISG Gymnastics - Harrison
151 Crotona Avenue
ISG offers classes for everyone including Tumble Bunnies, Gyminy Crickets and Chipmunks for toddlers all the way up to recreational and competitive team classes for older kids. They also host birthday parties and offer vacation camps.
World Cup Gymnastics - Chappaqua
170 Hunts Lane
With a huge 19,000 square foot facility, World Cup offers specialized preschool equipment as well as state of the art equipment for advanced learners. In addition to recreational classes, World Cup participates in competitions and offers summer camp programs. They also offer free trial classes.
Jodi's Gym - Mount Kisco
25 Hubbels Drive
Jodi's Gym has a location in NYC as well. Their Westchester outpost in Mount Kisco offers gymnastics fun for ages 9 months to 8th grade. They also offer private lessons, summer camps and birthday parties.
Gymnastics City - Cortlandt
2121 Crompond Road
From "tiny tots" as young as 18 months to "Junior Olympians" up to 18 years old, Gymnastics City offers classes for all ages. In addition to gymnastics, they offer a gymnastics dance program and a cheer program.
Westchester Gymnastics - Hawthorne
5 Skyline Drive
With over 40 years in Westchester County, Westchester Gymnastics offers classes from tots to high school competitive level. They also have a competitive team, offer a cheer program and host birthday parties.
The Little Gym - Scarsdale
777 White Plains Road
This international chain has an outpost in Scarsdale which offers gymnastics, dance and karate for ages 4-12 and parent/child programs starting as young as 4 months. They also have Parents' Survival Night so Mom and Dad can get away for an evening and kids will have too much fun to notice.
If you know of any other fantastic gymnastics spots in Westchester, please let us know!