9 Awesome Gymnastics Classes in Westchester for Kids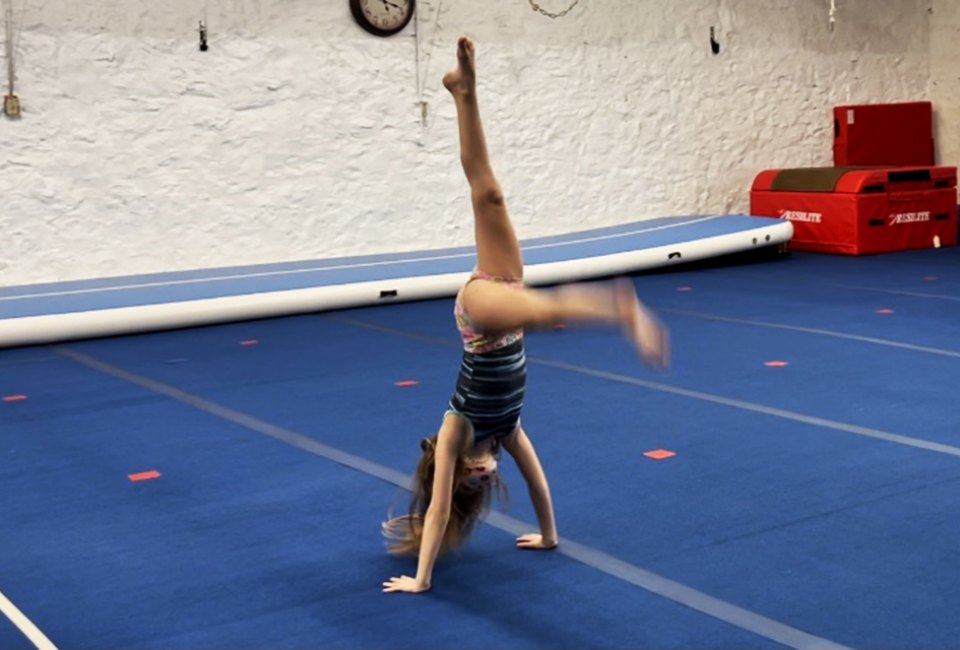 9/8/21
- By
Sonia Gonzalez
Kids love to run, jump, flip, and play. Not so great when it's your sofa, their bed, or each other they're jumping on. Looking for a class in Westchester to channel that energy into something more constructive?Gymnastics can be a great way for kids to exert energy, increase confidence and discipline, and yes, show off to their friends.
There are plenty of great options for gymnastics classes in Westchester, and we've rounded them up for you here. And for more options, see our post on gymnastics classes in the Lower Hudson Valley.
By the way, my father was a gymnast in high school and college and was still tumbling on the lawn or in the park until my teen years, much to the delight of my friends. It never got old for me, either. I didn't follow in my father's gymnastics footsteps, but once my kids showed an interest I jumped on the chance to sign them up for classes.
Gymnastics Classes for Kids in Westchester
With close to 7,000 square feet of gym space, this Yonkers mainstay—it has been around for 25 years—offers classes for kids starting at 20 months, separating them into "Tiny Cats," "Little Cats," "Big Cats," etc. Big Cats starts at 6½ years of age and provides kids with all the gymnastics know-how. Kids can also have birthday parties here, as well as take classes in the summer at its camp.
From "Baby Stars" as young as 6 months to recreational classes and a "talent team," Gymnastics City offers classes for all ages. In addition to gymnastics, it offers a number of special events (cartwheel-a-thon, pajamas party), summer camp, and even an indoor playground that's free for members.
For close to 50 years this Harrison studio has been offering gymnastics classes for kids starting at 3 years old. (Not to mention a baby-and-me class for little ones.) Along with preschool and elementary-level classes, there are advanced and tumbling options, too, as well as birthday parties and summer camp. Fun bonus for little ones? The studio breaks out the bounce house on the last day of class of the semester.
Starting at age 2½ with its "Twisting Tikes" class, kids can move on to all sorts of fun gymnastics classes, including a series of progressive classes for girls and boys. Private lessons are also available. Note: The gym's first floor received considerable flooding from Tropical Storm Ida, and the Y is expected to be closed until mid-September.
Kids as young as 9 months can get in on the gymnastics fun at this studio's "Tumbling Tinies" class, with slightly older kids being able to take the "Parent & Toddler" class. From there, it offers a series of classes, including tumbling. Camps and summer options are also on the agenda.
This international chain has an outpost in Scarsdale, which offers gymnastics instruction for kids from 5 to 12 years old and other classes for those even younger. There are parent/child programs for kids as young as 4 months old.
With more than 40 years in Westchester County, Westchester Gymnastics offers classes from tots to high school competitive level. It also has a competitive team, offers a cheer program, and hosts birthday parties.
With a 19,000-square-foot facility, World Cup offers specialized preschool equipment as well as state-of-the-art equipment for advanced learners. In addition to recreational classes, World Cup participates in competitions and offers summer camp programs.
With an 8,000-square-foot, fully equipped gym, the White Plains YWCA offers a year-round program, including parent-and-me classes for kids starting at 2 years old, a tumbling class, and even a class specifically for 6- to 10-year-old boys. Kids and teen programs range from beginner to invitation-only advanced classes, along with a popular summer camp.
A version of this post was first published in 2013. Writer Marisa Iallonardo contributed to this 2021 update.
Sign up for the Mommy Poppins Newsletter today!