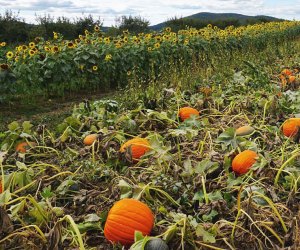 11 Pumpkin Patches in Westchester and the Hudson Valley
While you can buy pumpkins from the supermarket or your local nursery, if you're looking for a more authentic experience, nothing beats a visit to one of these pumpkin patches in Westchester and the Hudson Valley. At these nearby farms, you'll also find fun, seasonal activities like hayrides, corn mazes, petting zoos, and more.
Looking for more fall activities? Consult our Fall Fun Guide.
We recommend contacting the farms before heading out to confirm hours of operation and availability. Bring face masks and plan to practice social distancing, too.
Family-Friendly Pumpkin Patches in Westchester County

Pick the largest pumpkin you can carry at Harvest Moon Farm & Orchard.
2020 update: There will be no fall festival activities this year. The pumpkin patch this fall is located near the farm stand. Weekend visits require reservations, which can be booked up to 10 days in advance.
This family-run farm offers pumpkin picking daily. On weekends through October, enjoy fall festivals with apple picking, farm animals, pony rides, bouncy castles, hayrides, apple cannons, and more. The farm also offers homemade doughnuts, cider, produce, and fresh eggs for purchase.
2020 update: While there are no hayrides or picnic areas available, the pumpkin patch is open.
Snag a pumpkin and enjoy tractor-pulled hayrides on the weekends, fresh cider doughnuts, apple picking (other fruit as well, depending on the timing of your visit), a farm store, and a picnic area.
RELATED: Best Corn Mazes for Kids in Westchester and the Hudson Valley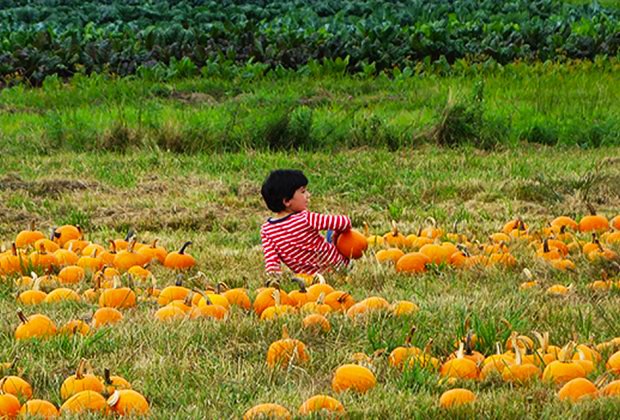 Stroll through the fields to find the perfect pumpkin at Outhouse Orchards. Photo by Susan Miele
2020 update: Outhouse Orchards is open for the pick-your-own season and pumpkin picking. The corn maze is also open for the fall season. Reservations are required for weekends, and tickets can be purchased on its website.
It's a one-stop-shop for apple and pumpkin picking. Besides a farm store and 15-minute hayrides, this site offers the added appeal of a full-fledged corn maze.
2020 update: Wilkens Fruit and Fir Farm's pick-your-own pumpkin patch opens Friday, September 25. The corn maze is also open.
Wilkens Fruit and Fir Farm is open every day but Tuesday; call ahead to confirm hours. While you're there, check out the farm market for homemade cider, freshly baked pies, doughnuts, and strudel sticks. The Country Market store sells gifts and decor items. There's also a corn maze for added fall fun.
Family-Friendly Pumpkin Patches in Orange County
2020 update: Pierson's Farm's fall fun includes a pumpkin patch, mazes, and a petting zoo. The season runs from Saturday, September 19-Sunday, November 8. No reservations are required, but there is a $10 admission fee per person.
Primarily a beef and poultry farm, Pierson's begins its 2020 pumpkin-picking season Saturday, September 19. In addition to selecting that orange beauty, families can have the full farm-fun package with two corn mazes, a petting zoo, play area, hayrides, a farm store, and more. The shop offers Halloween decor, local honey, produce, and more.
RELATED: Best Places for Apple Picking With Kids in Westchester and the Hudson Valley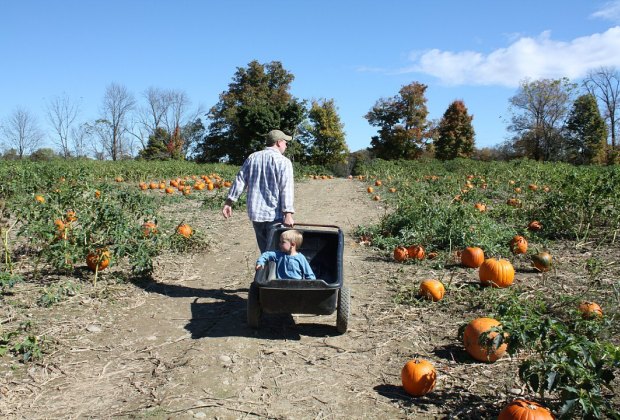 Take a free hayride to the pumpkin patch (or catch a ride in a wagon) at Wright Family Farm. Photo by Lisa Johnston
2020 update: Wright Family Farm opens for the fall season Saturday, September 5. Its a corn maze and barnyard pumpkin patch are open through Saturday, October 31. Reservations are not required, but online purchases offer a discounted admission fee.
This family-friendly farm offers free hayrides to its pumpkin patch, which is open on Fridays, Saturdays, and Sundays (plus Columbus Day) from Saturday, September 19-Saturday, October 31, 2020. For an additional fee, you can take a trip through the 5-acre corn maze, play in the corn box, ride the pedal carts and cow train, slide down the tube slide, play pumpkin bowling, and more.
​Family-Friendly Pumpkin Patches in Dutchess County
2020 update: Barton is open for the pick-your-own season. Reservations are not required during the week. Fall festival weekends begin Saturday, September 12, and run through Sunday, November 1. The petting zoo is open daily. Hayrides, a corn maze, and the Fun Park are open during festival weekends; the midway and the petting zoo are open daily. Pumpkin picking begins soon.
The scope of activities offered at Barton Orchards allows for hours of fun beyond pumpkin picking. When we reviewed this for our readers, we exhausted ourselves before we could indulge in all the activities, which include extensive produce-picking, a large-scale corn maze, the family Fun Park, an awesome playground, a farm store, and more. Fees per attraction vary.
2020 update: Dykeman Farm opens for pumpkin picking season Saturday, September 26-Saturday, October 31.
About one hour north of central Westchester, Dykeman Farm offers pumpkin picking, free tractor-pulled hayrides, corn pits, cutout photo ops, and face painting. The shop offers fresh-picked produce, local honey, and fall decor. Open all October weekends, plus Columbus Day. Credit cards are accepted, but dependent on the cell service in the field.
2020 update: Fishkill Farms is planning on hosting pumpkin picking this fall season by reservation only. Hayrides are offered on weekends. Most fall festival activities have been canceled. The farm store is open for grocery shopping and offers contactless grocery pickup.
Just under an hour from central Westchester, Fishkill Farms uses natural growing practices. Weekend fall festivals offer a corn maze, tractor-pulled hayrides, live music, pumpkin picking, and farm animals. Food is available for purchase, and the farm store offers pies and other treats. See our full write-up for everything you need to know about this eco-friendly farm.
Family-Friendly Pumpkin Patches in Ulster County
2020 update: Dubois Farms is open for pick-your-own pumpkins through Wednesday, November 25. In addition to the pick-your-own, its family-run farm stand and cafe are currently open. Hayrides are available on weekends, and other family-friendly attractions may open as the season progresses.
In addition to picking pumpkins, apples, and other produce, families can enjoy a 2-acre corn maze, wagon rides, farm animals, baked goods, cotton candy, apple cider doughnuts, weekend barbecues, and the "Tiny Town" play area. Pumpkins are available from mid-September through Thanksgiving. Admission and parking are free.
RELATED: Fall Day Trips for Westchester Families

Grab a wagon and take home an array of gourds after conquering the corn maze at Hurds Family Farm.
2020 update: Hurds Family Farm begins pumpkin picking season starting late September. The Big Apple Cafe is open for visitors. Visitors are also welcome to picnic on the farm. Family Fun Activities are open Wednesdays-Saturdays. Activities include an obstacle course, giant slide, corn maze, duck racing, and more. Reservations are required for weekend visits and can be made online.
There's an extensive list of things to do along with pumpkin and apple picking at Hurds. Purchase a wristband and enjoy corn mazes in two sizes, a hayride, a rubber-duck derby, a giant slide, and more. Attractions not requiring a fee are the playground, picnic tables, farm animals, and others. Kids under age 3 go free. Consult the Hurds calendar of events for special activities throughout the season.
This post was originally published 2013 and has been updated since.
Unless noted, photos courtesy of the farms.