Fishkill Farms: Eco-Friendly Apple Picking in Lower Hudson Valley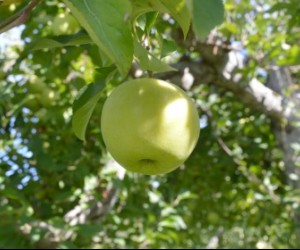 Apple picking season is still in full swing and though there are plenty of orchards that offer the chance to pick your own apples and pumpkins in upstate New York and New Jersey, it was really important for my family to choose an organic orchard. Turns out, truly organic farms are harder to come by than I thought.
I did a little digging and found Fishkill Farms a few years back and since then, my family has made the annual apple-picking pilgrimage to this lovely farm that practices ecologically-sustainable farming and offers low-spray apple varieties in addition to a growing number of organic ones. An hour and half from Midtown Manhattan and an hour from central Westchester, Fishkill Farms makes for a great day trip.
RELATED: 39 Fall Day Trip Ideas for NY Families
Fishkill Farms has been in the Morgenthau family for more than 100 years. It's a large farm with 60 acres of apple trees, 20 acres dedicated to mixed vegetables and 17 acres for summer fruit and berries. Fishkill is eco-certified by EcoApple for its sustainable practices, and all of its orchards have been free of synthetic fertilizers and herbicides since 2008. (Learn more about the farm's eco-farming practices here.)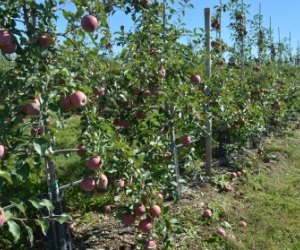 Beautiful apples are ready to be picked at Fishkill.
Fishkill offers a wide variety of apples for picking: on an early October visit we scored classics like Golden and Red Delicious apples, as well as possibly lesser-known (though equally delicious) Jonagold, Staymans and Idareds. The apples are covered with a fine, white clay-like substance called Kaolin Clay. This substance helps protect the fruit from insects, but is nontoxic and washes off pretty easily.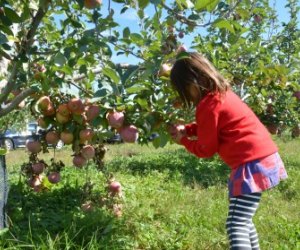 Searching for the perfect apple takes patience!
Because the farm is so large, we never felt it was too crowded even at the height of the season. Upon arrival we were given a handy map that clearly identified the different varieties. The low-hanging branches were just the right height for my daughters, and we quickly filled two 20-pound bags with apples in an hour. (I see a lot of apple pies in our future!)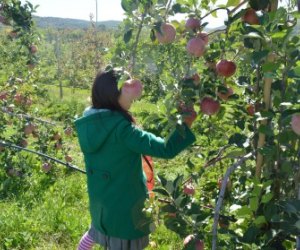 Many of the apple branches were low enough for my young daughters to reach the fruit on their own.
Once you've completed your haul, head to the farm store where you'll find all the staples: apple cider doughnuts (amazing!), fresh-pressed cider, pies, pickles, vegetables and drinks. It can get crowded, especially during peak weekends, but the kids will stay entertained by gawking at the rabbits and chickens (no petting is allowed) and scaling the bales of hay.
The farm also serves up hot dogs, barbecue chicken, hamburgers, veggie burgers, grilled farm vegetables and local handmade ice cream. Picnic tables are available to enjoy all the good food, and on most weekends during apple picking season, the farm offers free hay rides and live music.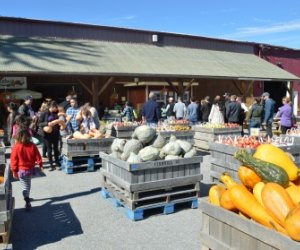 The farm store offers food, refreshments and vegetables.
Know Before You Go
Picnicking is allowed but no barbecues, loud music or alcohol. We saw many people with blankets and food between rows of apples, enjoying the beautiful fall weather.
Portable potties are your only bathroom option at Fishkill. Sinks with running water for hand-washing are available outside but no changing tables.
The orchard's terrain is smooth enough for sturdy strollers.
As with all local farms and orchards, be sure to call ahead. Many local farms unexpectedly close for a day.
Visit the farm's website or check its Facebook page before you visit.
Fishkill Farms is located at 9 Fishkill Farm Road in Hopewell Junction. The grounds are open for picking 7 days a week from 9am-6pm, offering seasonal fruits and vegetables from June to November. The farm changes $5 per car (this covers parking and admission) on weekends only during the peak apple-picking season. Visitors always pay for what they pick, too. The farm provides bags for picking apples. For apples, a full 20-pound bag costs $30. Too many? Pick what you want and pay $1.89 per pound. Pumpkins are 80 cents per pound and are available in the patch or at the farm market.
Fishkill Farms is very close to downtown Fishkill which has a small cluster of cute restaurants and cafes. For a complete day trip, head over to the nearby town of Beacon and check out Dia:Beacon which is a great contemporary art museum. Storm King Art Center is a 40-minute drive from Fishkill and a wonderful place to visit for both the large-scale outdoor art installations and to enjoy the lovely fall foliage.