Free STEM Summer Camp from Girls Who Code Opens Registration 2023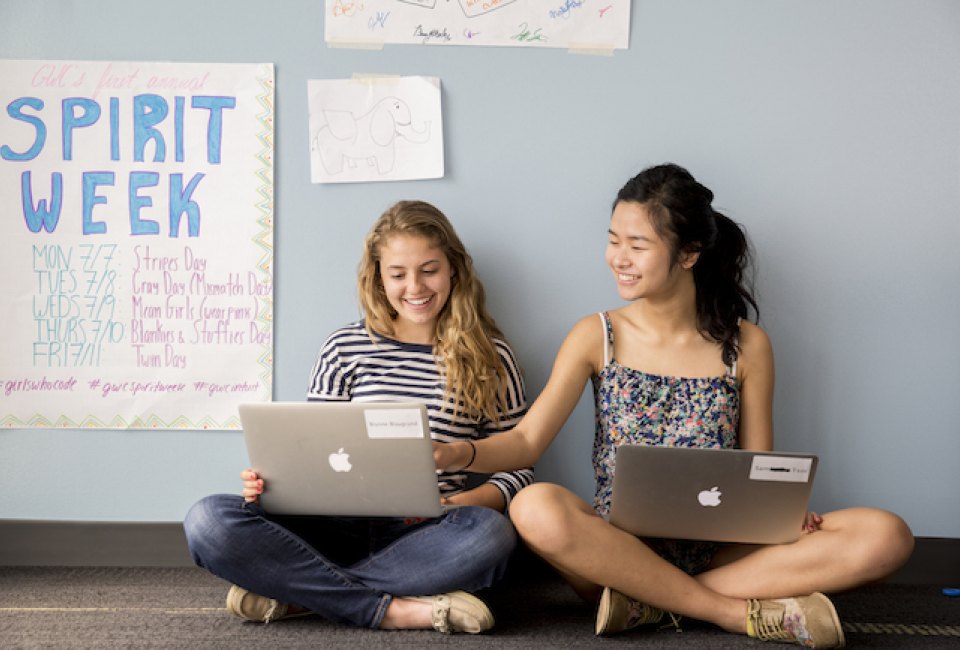 1/26/23
- By
Tara D
Looking for more than mindless hanging out and screen time for your teenage daughter this summer? Girls Who Code, a nonprofit that aims to increase the number of women in computer science fields, is once again offering its FREE summer immersion program for girls entering their sophomore, junior, or senior year of high school. The 2- or 6-week STEM summer camp is completely virtual again this year, and accepting applications now.
Keep reading to find out who is eligible, how to apply, and when these Girls Who Code STEM summer programs are happening in 2023. Hurry, because the early application period for this FREE summer program is already open.
Find more STEM activities in our Science and Tech Guide for Kids, or check out more summer programs for teens and kids in our Camp Guide. You can also find free coding for kids websites and apps.
What: The Girls Who Code Summer Immersion Program pairs two or six weeks of intensive instruction in robotics, web design, and mobile development with career-focused mentorship, led by female entrepreneurs and engineers. Students can select either the live, virtual, 2-week introductory computer science course OR the 6-week self-paced computer science course. Self-paced program participants can choose to earn beginner-level badges in HTML, CSS, and JavaScript for web development or an intermediate-level badge in Python for cybersecurity or the brand-new data science track. And while students in the six-week program move through the classes at their own pace, there are live advisory events and other Girls Who Code activities.
Who: Teens who identify as female of all ethnic, racial, cultural, and socioeconomic backgrounds who attend school in the U.S. are encouraged to apply. No prior computer programming experience is necessary. In fact, the program is for beginners. Those who have had AP/IB computer science are not eligible. Girls Who Code does not consider immigration status but US residence is required. Non-gender conforming and non-binary applicants interested in the female-led learning environment are also encouraged.
Additionally, the applicant must be:
A current high school student
Able to commit to the entire two-week (live) or six-week (self-paced) program
Where: This year, the programs are completely virtual.
When: The program runs Monday through Friday from 9am to 4pm for seven weeks in the summer. It is not an overnight camp, so no housing is provided. The live program dates vary by session, and a self-paced option is also available.
How much does it cost? The program is FREE for all participants. For the two-week program, grants of up to $300 and tech support are available for qualifying students.
How to apply: Complete the online application, which is due February 15, 2023, for early acceptance, or March 24, 2022, for the second round of applications. The application does not require students to submit a letter of recommendation or letter grades. Students must fill out the online Survey Monkey application themselves, according to the Girls Who Code instructions. It is expected to take 20-30 minutes.
Need more info? Visit the Girls Who Code website.
This article was first published in January 2015 and is updated annually.

Sign up for our free
newsletters.
Mommy Poppins is a family activity website that helps people find things to do with kids.
©
2023
MommyPoppins. All Rights Reserved.
mp-prod4-v4.32.99
We use cookies and other data collection technologies to provide the best experience for our customers.
Learn More