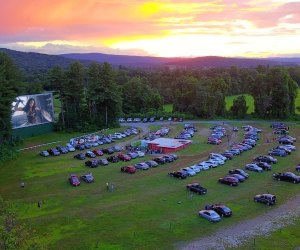 Drive-In Movie Theaters Near Boston for Kids' and Family Flicks
There are some family activities that seem to define summer: picking berries, spending a day at the beach, camping out, and, of course, watching a movie under the stars! While you could always catch an outdoor movie from a picnic blanket in a local park, taking in a drive-in movie from the comfort of the family truckster is a special treat.
Read on for everything you need to know about a family night at the drive-in, including our favorite drive-in theaters in the region and tips for enjoying your experience to the fullest. A few of them might be over an hour away, depending on where you live, but consider that a chance to pack pjs and send kids off to dreamland on the drive home.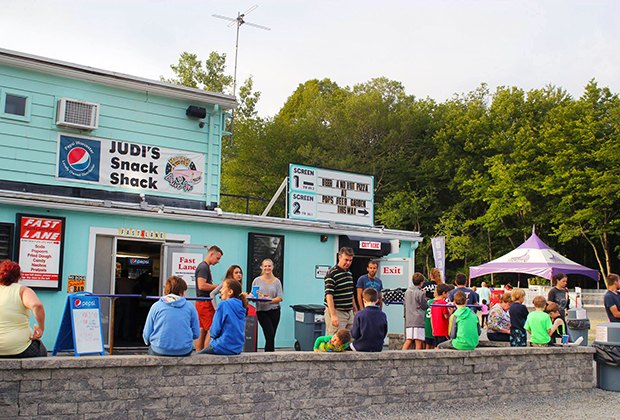 Gran some snacks and fresh air at Judi's at Mendon Twin Drive-In.
I suspect that people go to the Mendon Twin Drive-In for the food almost as much as they do for the movies, even more so now that the Andelman brothers (a.k.a. The Phantom Gourmet) own the place. The
Snack Bar
is in a very cool retro diner that has a working jukebox along with the original film projector and other memorabilia. You can get real food, including homemade Mexican dishes, in addition to the usual snacks. The staff is super friendly and helpful (especially if you need to see the ingredients). For my kids, getting ice cream from the window outside is a must. There's a new beer garden, and visitors can watch the movie from the tables. The whole place is fun and very family-friendly, with kids playing together and teens tossing footballs back and forth before the movie.
508-473-4958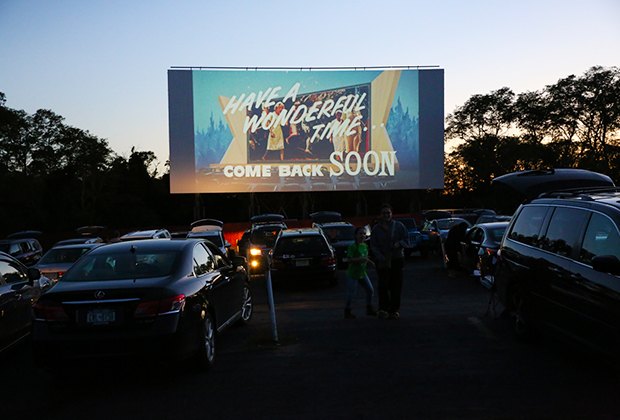 A flick at the Wellfleet Drive-in caps off a day at the Cape. Photo by Shira Kronzon
The perfect way to spend or cap off a day on the Cape, the Wellfleet Drive-in Theatre is actually a whole complex with mini golf, a daytime flea market, a playground, a cafeteria-style snack bar at the drive-in, and Dairy Bar & Grill, a full service restaurant with an outdoor patio cocktail bar. The theater has a new digital projection system, but retains many of the original mono speakers, mostly for nostalgia. You can also listen through your car stereo. Note that while most drive-ins charge per car, Wellfleet charges admission per person. 508-349-7176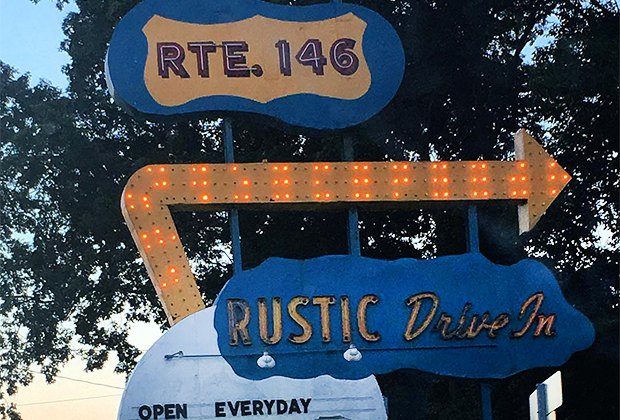 Photo by cayootiepatootiebootie via Instagram
Located north of Providence, Rhode Island's Rustic Tri-View Drive-in is actually one of the closest drive-in theaters to Boston. The authentic 1950's theater seems to always have a good selection of family-friendly movies (not always the case at drive-ins). You may want to take a break from cooking for the night and pick up pizza by the pie or the slice at the snack bar instead. The drive-in is close to
Lincoln Woods State Park
, a beautiful place for a family swimming and hiking (and a pretty good chance of seeing horses on the trails).
401-769-7601
The Leicester Triple Drive In is located west of Worcester, so it's a bit of a hike unless you live well west of town. But maybe you could pair your evening movie with a daytime visit to one of our favorite places for families, the
EcoTarium
. At the drive-in, there are three screens and an old-fashioned concession stand; serving clam cakes, grilled burgers, popcorn, nachos and candy.
508-892-4400
There's a playground at the Northfield Drive-In.
Just over the state line north of central Massachusetts, the Northfield Drive-In is unique in that its owners seek input from the customers, for everything from which movies to show together to which items should be added to the snack bar menu. The theater is in a beautiful, grassy setting and has a nice playground for the kiddos.​ 603-239-4054
6.
Milford Drive-In—Milford, NH
Milford is a bit closer than the Northfield theater, and recently updated with digital projection and Dolby sound. Expect all the favorite concession treats, plus 12 frappe flavors (from mint to tropical orange). There's a playground that closes when the movie begins, and double features after dark.
603-673-4090
7. Mansfield Drive-In—Mansfield, CT
Go on Wednesday and pay a flat rate for the carload in Mansfield, where there's a flea market in the lot by day on Sundays and movies every night in the summertime. There are double features playing on three screens at once, basic concessions (you can bring your own food, too), and a fun retro feel to the place.
Drive-In Movie Tips
1. Visit the theater's website and find out what the rules are before you go. Most drive-ins do not allow screen switching between features, glass containers, alcohol, or smoking (except in designated areas). Running your car or having your lights on during the movie is a big no-no, and bigger vehicles are usually expected to park in the back. Also, forget your Grease fantasy – people aren't allowed to sit on their cars at the drive-in.
2. Be prepared to deal with people who don't follow the rules. Whether you're inside a movie theater or outside at a drive-in, there will always be inconsiderate people, so you may need to decide whether to speak up or just let it go.
3. Bring bug spray (lots of it), lawn chairs and blankets, drinks, a flashlight, and a Frisbee or a ball. Dress the kids in their pjs before you go.
4. Get there early to get a good spot and to enjoy the festive pre-movie community atmosphere. Find out where the bathroom is and plan your walking path before it gets dark.
5. Take the night off from cooking. Many drive-ins have really good food that goes well beyond the usual movie theater fare, and food sales help keep them afloat financially.
---
Post originally published August 2013
Unless otherwise noted, photos courtesy of the drive-ins