Drive-In Movie Theaters Near Boston for Family Fun and Flicks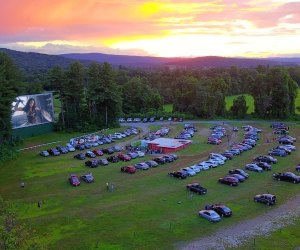 There are some family activities that seem to define summer: spending a day at the beach, camping out, and, of course, watching a movie under the stars! While you could always catch an outdoor movie from a picnic blanket in a local park, taking in a drive-in movie from the comfort of the family truckster is a special treat.
Read on for everything families need to know about a night at a drive-in movie theater around Boston. These are all favorite drive-in theaters in the region, and we have tips for enjoying the experience to the fullest. A few of them might be over an hour away, depending on where you live, but consider that a chance to pack PJs and send the kids off to dreamland on the drive home.
Gran some snacks and fresh air at Judi's at Mendon Twin Drive-In.
Drive-In Movie Theaters Near Boston
Head to this drive-in for the experience as much as for the movie itself. Swing by the onsite
Snack Bar
for dinner and freshly popped popcorn and candy or Ernie's Ice Cream for a sweet treat before the flick starts. There's also a kid-friendly beer garden where parents can grab a drink and kids can roast s'mores over a firepit—families can watch the movie from the tables there too if they prefer. There's even a 140 ft super slide for daredevils to go down before the movie starts. Tickets can be purchased in advance online.
508-473-4958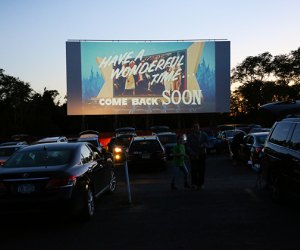 A flick at the Wellfleet Drive-in caps off a day at the Cape. Photo by Shira Kronzon
The perfect way to spend or cap off a day on the Cape, the Wellfleet Drive-in Theatre is actually a whole complex with mini-golf, a daytime flea market, a playground, a cafeteria-style snack bar at the drive-in, and Dairy Bar & Grill, a full-service restaurant with an outdoor patio cocktail bar. The theater has a new digital projection system but retains many of the original mono speakers, mostly for nostalgia. Families can also listen through theircar stereo. Note that while most drive-ins charge per car, Wellfleet charges admission per person. 508-349-7176
Photo by cayootiepatootiebootie via Instagram
Best known for the annual
Topsfield Fair
that takes place in the Fall, this fairground transforms into a state-of-the-art drive-in with a digital projector and huge screen during the Spring and Summer. Open seven days a week, the fairground offers a variety of movies—many family-oriented. Stop by the snack bar for dinner or treats—it serves everything from pizza and burgers to fair favorites like fried Oreos and traditional movie candy.
978-219-4232
Another fairground transformed into drive-in during warmer months, Marshfield is run by the same company as Topsfield, also offering a digital projector and large screen for great video quality. The onsite snack stand sells dinner items like pizza and burgers, or opt for a sweet treat like ice cream or candy. 978-219-4232
This entertainment complex hosts a drive-in Fridays and Saturdays during the Spring and Summer months. The best part is that all the movies it plays are appropriate for families. Go early to check out the arcades, grab an ice cream, and play mini-golf, which is half off on movie nights with proof of a ticket. 978-447-5459
Located north of Providence, Rhode Island's Rustic Tri-View Drive-in is actually not too far of a drive from Boston. The authentic 1950's theater seems to always have a good selection of family-friendly movies (not always the case at drive-ins). Take a break from cooking for the night and pick up pizza by the pie or the slice at the snack bar instead. The drive-in is close to
Lincoln Woods State Park
, a beautiful place for family swimming and hiking (and a pretty good chance of seeing horses on the trails).
401-769-7601
There's a playground at the Northfield Drive-In.
Just over the state line north of central Massachusetts, the Northfield Drive-In is unique in that its owners seek input from the customers, for everything from which movies to show together to which items should be added to the snack bar menu. The theater is in a beautiful, grassy setting and has a nice playground for the kiddos.​ 603-239-4054
Milford is a bit closer than the Northfield theater, and recently updated with digital projection and Dolby sound. Expect all the favorite concession treats, plus 12 frappe flavors (from mint to tropical orange). There's a playground that closes when the movie begins, and double features after dark. 603-673-4090
Go on Wednesday and pay a flat rate for the carload in Mansfield, where there's a flea market in the lot by day on Sundays and movies every night in Summer. There are double features playing on three screens at once, basic concessions (families can bring their own food, too), and a fun, retro feel to the place. Bring furry family members to join in the movie fun, too! Please note, pets are allowed at the drive-in but not at the flea market. 860-423-4441
Drive-In Movie Tips
1. Visit the theater's website and find out what the rules are before visiting. Most drive-ins do not allow screen switching between features, glass containers, alcohol, or smoking (except in designated areas). Running the car or having the lights on during the movie is a big no-no, and bigger vehicles are usually expected to park in the back. Also, forget the Grease fantasy – people aren't allowed to sit on their cars at the drive-in.
2. Be prepared to deal with people who don't follow the rules. Whether you're inside a movie theater or outside at a drive-in, there will always be inconsiderate people, so you may need to decide whether to speak up or just let it go.
3. Bring bug spray (lots of it), lawn chairs and blankets, drinks, a flashlight, and a Frisbee or a ball. Dress the kids in their PJs before arriving.
4. Get there early to get a good spot and to enjoy the festive pre-movie community atmosphere. Find out where the bathroom is, and plan a walking path before it gets dark.
5. Take the night off from cooking. Many drive-ins have really good food that goes well beyond the usual movie theater fare, and food sales help keep them afloat financially.
---
Post originally published August 2013
Unless otherwise noted, photos courtesy of the drive-ins