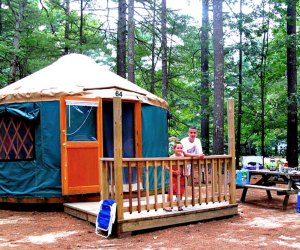 8 Special Family Campgrounds near Boston with Extras for Kids
For many families, camping is an annual ritual. For others, it's an interesting (but maybe daunting) possibility. Truth is, camping is a wonderful way to explore the outdoors while spending serious quality time with your family—and you can do it all for much less money than you'd spend at a hotel or rental home. While Massachusetts is home to many campgrounds, these go out of their way to create a kid-friendly experience that combines adventure and creature comforts—with a little something extra for tiny campers! For an even more rustic experience, check out our picks for tent camping spots.
Note: Due to COVID-19, some campgrounds are developing different activities and additional restrictions for visitors in 2020. Check with individual campgrounds for more details.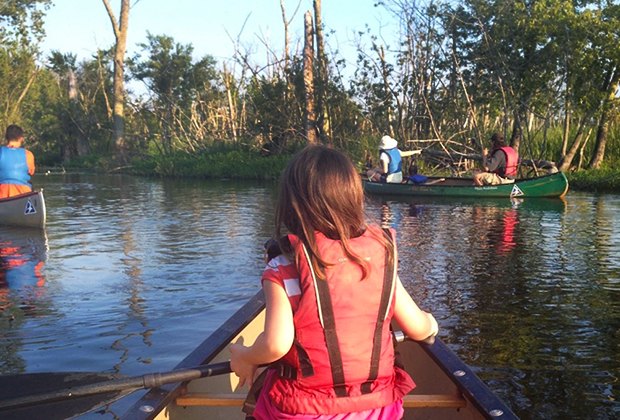 Canoeing is just one activity while camping at the Ipswich River Sanctuary. Photo by the author
1. Ipswich River Sanctuary—Topsfield
Ipswich River is an absolute gem. The sanctuary's special camping opportunities for Audubon members are covered in our tent camping post, but it's worth another mention here because it's such a great experience for first-timers. Campers will enjoy s'mores and treks into the natural surroundings of the sanctuary, either on the river or into the woods.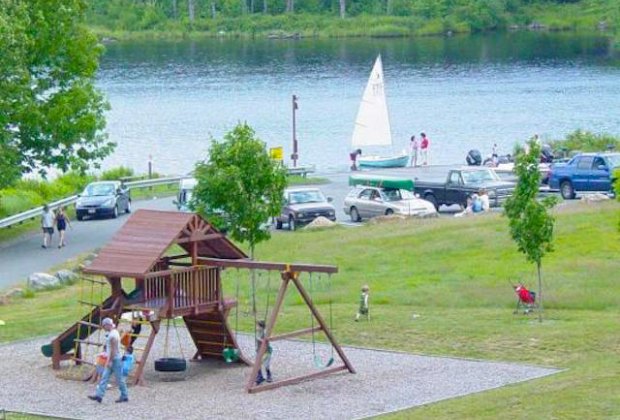 There's a playground, lawn games, and even frisbee golf—along with water fun—at Tully Lake. Photo courtesy of recreation.gov
2. Tully Lake Campground—Royalston
Tent-only Tully is located on a 200-acre lake that's only 90 minutes from Boston. Campers can rent canoes and kayaks for the lake and Tully River or try their hand at mountain biking and hiking on the campground's woodland trails. Tully Lake also offers numerous family activities, including horseshoes, volleyball, cornhole, and even disc (frisbee) golf. And if your family includes a furry four-legged friend, you'll be happy to hear that dogs are welcome! Be aware—this campground fills up very quickly, so make your reservations early.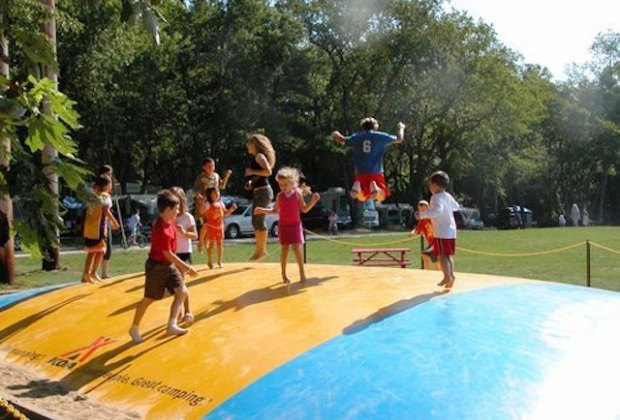 The jumpy pillow is a hit at the Boston Cape Cod KOA. Photo courtesy of the campground
3. Boston/Cape Cod KOA—Middleboro
For families who don't care to rough it, the Boston KOA offers tents and RV camping with new deluxe cabins that include a private queen bedroom, a bunk bed room, refrigerator, microwave, and private bath. Young campers will enjoy the campground's pool, along with mini-golf, a jumping pillow, arts and crafts, an outdoor cinema, and all kinds of seasonal recreational activities. Kids don't complain about the sundae bar, either!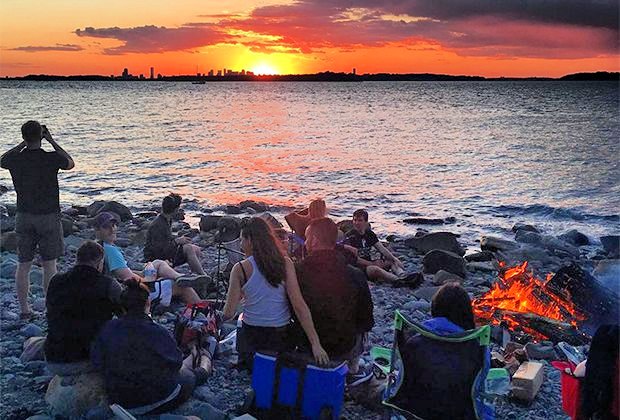 Build a bonfire on the beach at Peddock's Island. Photo by insaneydelaney via Instagram
4. Peddocks Island
For a really adventurous experience, try the Boston Harbor Islands. What's cooler than camping on an island you can get to on public transportation and ferry? Peddocks offers tent sites complete with picnic tables and grills. And if you reserve early enough, you might be able to score one of the yurts, which sleep a family in style. Be aware that it's a carry in, carry out park.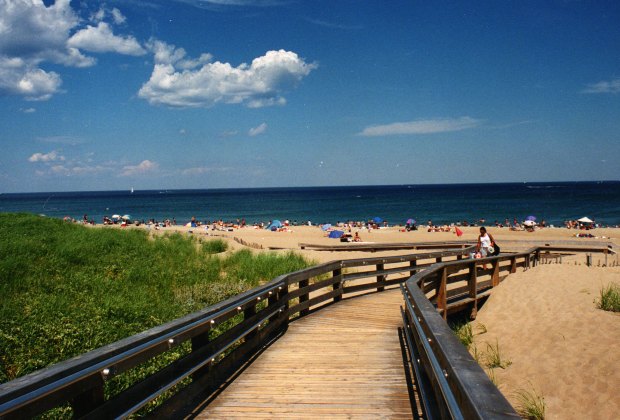 A gorgeous North Shore beach is right outside your tent at Salisbury Beach State Reservation. Photo courtesy of the Massachusetts Office of Tourism
5. Salisbury Beach State Reservation—Salisbury
You want to camp at the beach, you say? This reservation has nearly 500 campsites in more than 500 acres along a 3.8-mile stretch of beach. Salisbury offers concerts, a boardwalk, carousel, and an arcade if the beach itself isn't enough entertainment. While it's not shady and secluded like many campgrounds, it is right on the beach. Between April and mid-September, pets are welcome at the campground but not on the beach.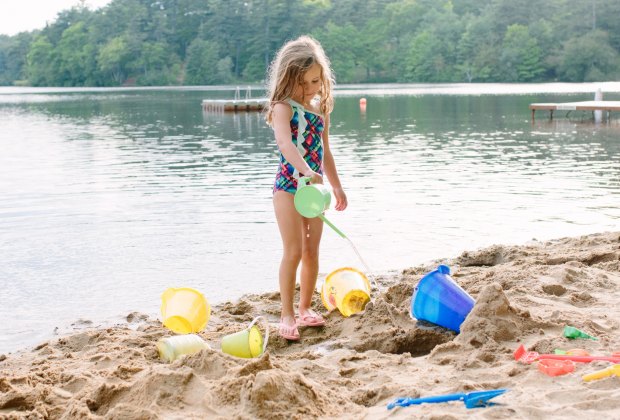 Lakefront fun is on the agenda when camping in Plymouth. Photo courtesy of Pinewood Lodge
6. Pinewood Lodge—Plymouth
Pinewood Lodge is hidden beneath 200 shady acres of pine forest. With a 50-acre freshwater lake, the Lodge's water activities are endless—swimming, bass fishing, kayaking, and canoeing are all available. And with 300 sites at the campground, visitors have the option to camp in a tent, RV, yurt, cabin, or even a house. Pinewood Lodge also provides a store, on-site laundry, and even—wait for it—a cocktail lounge. For families interested in some history with their camping, Plimoth Plantation is just 20 minutes away, while families with tiny train enthusiasts may find nearby Thomas Land a must visit!
7. Pine Acres Family Camping Resort—Oakham
A little over an hour from the city will bring you to Pine Acres, located on Lake Dean. BYO your own tent or RV, or choose to rent a cabin or RV for your stay. Your family can enjoy boating, swimming, and fishing on the lake, or hit the pool and splash pad to cool off. As if that's not enough to keep your little ones busy, this campsite also offers bike rentals, mini-golf, an arcade, a playground, and even an old-fashioned gem mine. For families that include their pup on their travels, Pine Acres has a dog park and pet washing station.
8. Normandy Farms Family Camping Resorts—Foxboro
Considered a "luxury camping destination", Normandy Farms offers deluxe cabin and yurt rentals while also accommodating your tents and RVs. Perfect for all the sports-fan families out there, this site is a quick eight-minute drive to Patriots Place, home to the New England Patriots and Gillette Stadium This campsite has four swimming pools, two playgrounds, a bike park, dog park, and tons of fun outdoor games like horseshoe and shuffleboard. Along with their amenities, this campsite has a jam-packed calendar filled with fun family-friendly events.
Originally published in August 2017