10 Family-Friendly Boston Hotels that Make Stays Special for Kids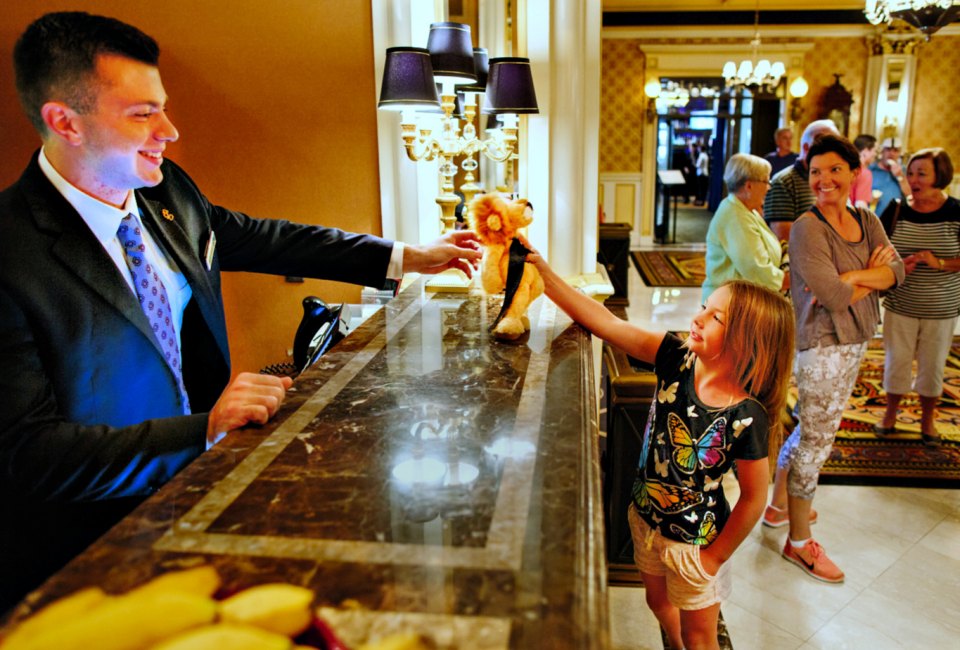 4/25/19
- By
Caitlin Dowling
Whether you're planning a little staycation or are visiting Boston on a trip, the right hotel can make a getaway feel all the more special. There are plenty of places to stay in Boston, but some hotels are better than others at making families feel comfortable and catered to. From spectacular pools to scavenger hunts, check-in goodies to cooking classes, these 10 hotels pull out all the stops to make sure tiny travelers have an unforgettable stay. And while you may be tempted to hang out in your room all day, Boston has so much to offer families, so get out and explore! Hit some museums, walk the Freedom Trail, take a spin on a carousel, or head to one of the city's awesome parks. You'll take heart knowing that a comfy bed awaits you at the end of a fun-packed day.
1. Hotel Marlowe—Cambridge
Located in historic Cambridge on the Charles River, this hotel is part of the Kimpton brand, meaning it's super pet-friendly, a big win if your kiddies love dogs and cats. Upon arrival, little guests can pick from a basket full of toys, and can find pint sized animal print bathrobes in the room. The hotel is also currently installing a "Little Library" in the courtyard so your bookworms can borrow reading material during down time. For kids and adults alike, bikes and kayaks rentals, complimentary usage of Polaroid and GoPro cameras, board games and outside games are all a huge hit. An accredited babysitting service and equipment rental options for items like strollers or a scooter make traveling a breeze for parents. And don't forget to pop across the street for free use of the telescopes at the Museum of Science observatory.
2. Westin—Copley Place
While this hotel has a major focus on business travelers, they do not slouch on the kid amenities​ either. Your little travelers will get a Westin Kids Club backpack at check-in filled with crayons and an activity book, perfect busy work for a hotel stay. Cribs, bed rails, bottle warmers, strollers—even diapers and wipes—are all free! For kiddos looking for an additional activity, you can rent a Nintendo by the hour or go for a swim in their heated indoor pool. There's even a number you can dial for your little ones to listen to a pre-recorded bedtime story. The hotel offers suite options for larger families, and is in walking distance to the Public Garden, Boston Common, and Freedom Trail.
3. The Ritz Carlton—Boston Common
While this hotel is a definitely a splurge, they will make it worth your while! The Ritz is located across from the Boston Common and offers both rooms and suites. Your kids will feel like VIP the minute they arrive and get the "Red Wagon Welcome"—literally a red wagon filled with toys to pick from. Along with cookies and a scavenger hunt through the hotel, your little ones will think this hotel was made for them. Other amenities​ include child-proofing kits, baby toiletries, strollers, high chairs, and cribs—all free of charge. The hotel can also arrange for babysitting if you're looking for a night out on the town.
The Omni Kids Crew backpack has coloring books and other things that will keep kids busy!
4. Residence Inn by Marriott—Cambridge
If you're all about having enough space, look no further than the the Residence Inn, where you can book an apartment-style studio or one-bedroom suite. This means you can feel like you're living like a local with a full kitchen (dishwasher, stove, fridge, etc) and have all the great conveniences of a hotel (hello, housekeeping!). This hotel even offers same-day grocery delivery free of charge and a free nightly happy hour with kid-friendly snacks like chicken fingers and goldfish. Make sure to pack your swimsuits to take a dip in the indoor pool.
5. The Colonnade Hotel—Back Bay
While this modern hotel attracts a hip crowd, it's also a big hit with families as it boasts the only rooftop pool in Boston. The rooftop and room service both offer a great kids menu, featuring favorites like pb&j's, hot dogs, and chicken fingers. Rooms are on the smaller side but will accommodate a crib, which the hotel will provide. Steps from the hotel will take you to the Prudential Center and Fenway Park.
6. The Lenox—Back Bay
A quick walk to the Prudential Center, this hotel has access to tons of restaurants and shops. But the big draw for your little sidekicks won't be location, but the welcome gift—cuddly stuffed animals—and chocolates during turndown service. I mean, who wouldn't love to come home to a neatly turned down bed and chocolate?! Every evening except Sunday, the hotel also has cookies and lemonade in the lobby, and you are always free to borrow complimentary crayons, coloring books, and board games. Suites and regular rooms are available with cribs and cots upon request.
7. Boston Marriott Long Wharf—Waterfront
If you're planning a trip to the New England Aquarium, this hotel couldn't get you any closer. The Boston Marriott Long Wharf is right on the harbor, so your little captains can watch the boats come and go right from your hotel room window. The hotel has an indoor pool for some water fun and an awesome breakfast buffet for your hungry travelers. For larger families, adjoining rooms can be requested, giving you a great-sized space.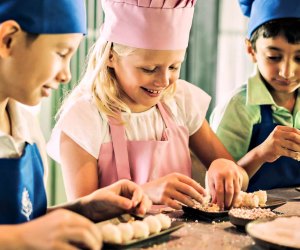 Cookie making class at the Four Seasons
8. Four Seasons—Back Bay
While the price tag is considerable, the Four Seasons is also big on kiddie perks. When checking in, your kids can pick a treat from the toy wagon; plus, there are weekly cookie making classes, kids movies, and even a "Raid the Fridge" night where your little ones can snag some late-night snacks to take back to their room. The rooms all have mini robes, and you can ask for night lights, cribs, bottle warmers, and more. Hit the indoor pool to splash around with hotel provided pool toys while enjoying awesome views of the Boston Public Garden and Beacon Hill. A babysitting service is even available if you're hoping for a night out without the littles. If you really want to splurge, check out the hotels glamping package: You can "camp out" in five-star style.
9. Omni Parker House—Theater District
This historic hotel is directly on the Freedom Trail, making it a super choice if learning more about Boston's revolutionary history is on your family's agenda. The Omni Kids Crew gives their youngest guests a backpack filled with stickers, an activity book, crayons, binoculars, and a small tabletop game at check-in. But you're kids will really feel like V.I.P. when milk and cookies are delivered to your room the first night of your stay. If you want to up the specialness factor, book the Freedom Trail Family Suite, complete with a children's sleeping nook that has bunk beds, an activity table, colonial style costumes to play dress up, and even an entire chalkboard wall. The hotel will also give you a complimentary Nintendo Wii for the length of your stay if you request it.
10. Fairmont Copley Plaza—Copley Place
Located across from the Boston Public Library, this historical hotel may not seem like a family destination at first glance, but they definitely take special care of their younger guests. Start your trip by saying hello and giving a pet to the hotel's Canine Ambassador, Carly Copley, an adorable black lab that hangs out in the lobby. You can even take Carly for a walk around the city! Your kids can then embark on a scavenger hunt in the hotel and take a pizza making class at the iconic on-site restaurant, The Oak Room. And speaking of the Oak Room, kiddos under 5 eat for free at the restaurant if they order off the kids menu, and kids ages 6 to 12 get a 50% discount off of the adult menu.
All photos courtesy of the hotels
Click Here to Sign Up!
i