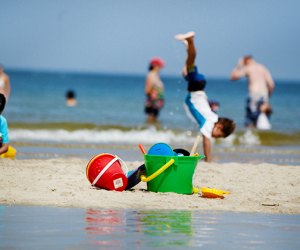 Best Beaches for Families Within an Hour of Boston
We're lucky here in Massachusetts to have so many beautiful beaches to choose from when the temperature soars. With lots of room to dig, play, and swim, a stretch of sand on the edge of the salty surf might be the perfect place to take kids in the summer. But with so many beaches to choose from, it can be tough to know which ones are really right for families. So we've rounded up ten of our favorite sandy spots to visit each summer—all within an hour of Boston!
Beaches for Families in Boston
Carson Beach—South Boston
If you want to hit the beach without ever leaving the city, Carson Beach in South Boston is your best bet for fun in the sun. There's limited free parking, or you can just take the Red Line to JFK/UMass before completing a short walk to the beach. Carson is usually hopping on nice days, with people swimming, playing volleyball, and just sunning themselves in the sand, so going on a weekday might allow for more room to spread out. Bonus: There's a renovated bathhouse with restrooms, changing rooms, and showers, which helps ensure a comfortable commute home:

Constitution Beach—East Boston
If you want a side of entertainment with your day at the beach, head to Constitution Beach in East Boston. It's the place to go to watch planes take off and land at Logan Airport. This sandy stretch of land is a popular destination for families because it has lifeguards, a bathhouse, shade shelters, and picnic areas. Take a break from the sand at the nearby playground, grassy fields, or basketball court. You can even take a train to the beach if you'd rather leave the car at home.
Beaches for Families North of Boston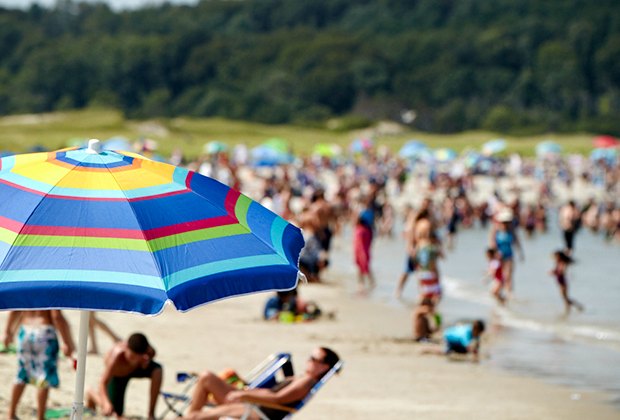 Crane Beach has lots of room to play, plus a snack bar and renovated restrooms. Photo by B Handelman

Crane Beach—Ipswich
Crane Beach on the North Shore is my family's favorite place to stake out a spot in the sand in the summer because of both its beauty and amenities. The beach is part of the Crane Estate, which is owned by the Trustees of Reservations, making it a pristine place to play. The soft sand, gentle waves, and large parking lot make it a great place to bring kids. A new restroom and changing facility is a welcome addition to the property and if you don't feel like packing lunch, just visit the well-stocked snack bar. In the off-season, try a dune hike or visit the on-site mansion.
Plum Island—Newbury
This barrier island on the North Shore is a popular destination with families in the summer. There are miles of sandy beaches to explore on Plum Island, which also means there's plenty of room to park your beach blanket and umbrella. Explore the Parker River Wildlife Sanctuary to see more than 800 species of birds, plants, and animals. Or visit Sandy Point State Park on the southern tip of Plum Island to go tide pooling. Stop into nearby Newburyport on your way out of town for dinner or ice cream at Haley's.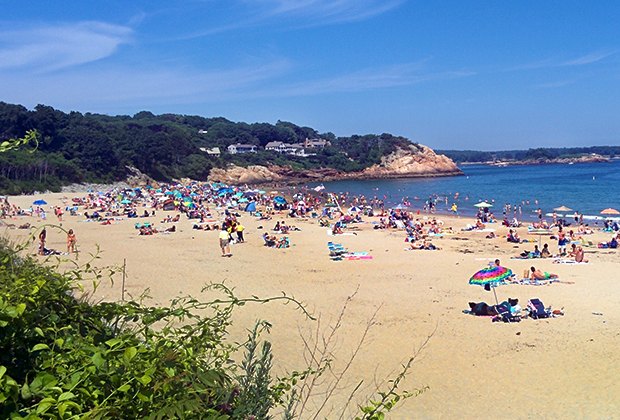 Singing Beach has sugar-soft sand and rocks to scramble on. Photo by Vitor Pamplona/CC BY 2.0

Singing Beach—Manchester-By-The-Sea
One of the area's most famous stretches of sand, Singing Beach is so named because of the squeaky sound the sand makes when you walk on it. Parking at this North Shore beach is limited, but the commuter rail isn't far away if you're up for an adventure. The half-mile-wide beach offers great swimming and lots of pretty scenery with surrounding rocks and islands. The bathhouse has restrooms, including an accessible one with a changing table, and showers. Singing Beach has a snack shack with some healthy options and is also close to a quaint downtown with great restaurants, including a convenient stop for a scoop on the road leading out to the highway: Captain Dusty's Ice Cream.
Salisbury State Beach Reservation—Salisbury
Salisbury is a well-kept state beach that overlooks where the Merrimack River meets the Atlantic Ocean. There are multiple parking lots, bathrooms, and changing rooms. After sunbathing and swimming be sure to head down the street to take a spin on the carousel and hit a classic beach arcade, Joe's Playland.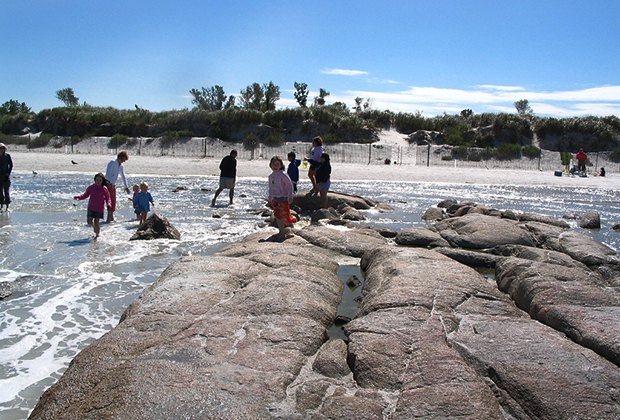 Wingaersheek Beach at low tide creates tide pools for critter searching. Photo by Matthew Oliphant/CC BY-ND 2.0

Wingaersheek Beach—Gloucester
One of the most gorgeous beaches in the area, Wingaersheek has stunning views of Ipswich Bay and the Annisquam Lighthouse. This North Shore beach is a terrific destination for families because of the sandbar that appears during low tide—check this tide chart before you go to try to time your arrival close to this mark, so you can explore the hermit crabs and other sea life in the tidal pools. Wingaersheek has a concession stand with surprisingly good food, drinks, and even beach toys. Restrooms with showers make cleaning off after a day in the sand a cinch.
RELATED: Natural Tide Pools for Kids to Explore Near Boston
Beaches for Families South of Boston
Duxbury Beach—Duxbury
Enjoy a day swimming and exploring at Duxbury Beach. Kids will love splashing in the ocean and exploring the rocky coastline for hidden treasures—make sure to bring buckets to collect! This beach has a bathhouse and snack shack, so you don't need to plan ahead!

Nantasket Beach. Photo courtesy of Hull Nantasket Chamber of Commerce.

Nantasket Beach—Hull
This South Shore beach has been a destination for city dwellers looking to escape the heat since the 19th century. Besides the usual beach activities like swimming, building sandcastles, and sunbathing, Nantasket has a 1.5-mile promenade trail that's perfect for stretching your legs. The Paragon Carousel, a throwback to an earlier era, will delight kids. The beach even offers public concerts in the summer, so it's worth sticking around as the sun goes down. Nantasket has restrooms, a bathhouse, and easy access to dining options.
Wollaston Beach—Quincy
Head to the South Shore to spend a day at Wollaston Beach in Quincy. This 2.5-mile stretch of sand has views of the Boston Harbor Islands and plenty to do other than just sitting under an umbrella all day. One end of the beach has a play area, lookout tower, and picnic tables. The beach has restrooms, some free parking, and two fried clam restaurants right across the street. Part of the Quincy Shores Reservation, the beach has lifeguards in the summer, making it a family favorite.
Top photo courtesy of B Handelman