Carousel Rides in the Boston Area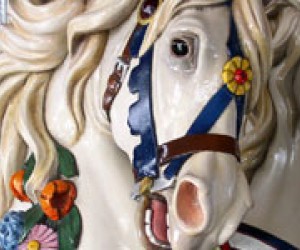 And the seasons, they go 'round and 'round, and the painted ponies go up and down... Your children can travel back in time to a simpler day on one of several carousels in the area.
---
Boston Common Carousel
Boston Common
Boston, MA 02108
http://www.bostonfrogpond.com
Carousel rides $3.00; children must be accompanied by an adult
The 20-seat carousel at the Frog Pond features horses, animals, a frog and a teacup. The carousel is open Sunday through Thursday 11:00AM to 6:00PM and Friday and Saturdays to 8:00PM.
---
Greenway Carousel
Wharf District Parks
between Atlantic Avenue and High Street
Boston, MA 02108
www.rosekennedygreenway.org
Carousel rides $3
Take a spin on the Greenway carousel in the Wharf District Parks on the Rose Kennedy Greenway every day from May-October; Sundays through Thursdays, 11:00AM to 9:00PM and Fridays and Saturdays, 11AM to closing.
---
Paragon Carousel
205 Nantasket Avenue
Hull, Massachusetts 02045
http://www.paragoncarousel.com
Carousel rides $2.25; 10-ride tickets $20
Children have been riding ponies on the Paragon Carousel, located on the shores of Nantasket Beach, since 1928. The carousel is open on weekends in the spring and fall, and daily during the summer. Check the website for times and special events that take place throughout the season.