Apple Picking Near Boston: Best Apple Orchards for Apple Picking with Kids
8/21/22
- By
Audrey Trieschman
Fall is in the air, and that means it's time for apple picking near Boston! Nothing says fall in New England like a trip to a local orchard. Families don't have to travel far to find a place to pick their own apples, from late August through mid-October. We've assembled a list of the best apple orchards for apple picking with kids. Some of these Boston-area orchards also offer children's activities that make picking apples a full day of fun.
After finding the best apple picking spot for your family and bringing home a bushel of ripe, juicy apples, try making any of these delicious apple recipes kids love. If you are looking for more ways to enjoy the crisp autumn air, go exploring with ideas from our Boston Fall Fun Guide.
Apple Picking Near Boston - Apple Orchards West of Boston

Lookout Farm has apples, a play area, rides, and animals. Photo courtesy of the MA Office of Tourism
Lookout Farm is one of the oldest continuously working farms in the country, but it's about as modern as any u-pick operation you can find, offering all the bells and whistles. Trains escort you to pick your own peaches, apples, and pumpkins in the fall. Families can also enjoy a children's play area and grown-ups might care to sample some of Lookout's hard cider in the taproom on the farm. Reservations are not required, but you can make them online and skip the lines on busier days. The outdoor restaurant on the farm serves sandwiches, flatbread, beer and hard cider and offers great views and fresh air.
Carver has a nice selection of pick-your-own apples, plus a farm store that's stocked with crafts, decorations, fresh cider, cider donuts, chicken pies, fudge, peanut brittle, and cookies. Early McIntosh apples come in during late August, with several varieties rolling ready over the course of September. This is a wonderful, no-frills, genuine New England apple-picking experience.
Not just for wine tasting, Nashoba Valley Winery boasts nearly 5,000 apple trees ripe for the picking as early as late August. Check the winery's website, updated frequently, for conditions.

Stowe Farm's petting zoo will keep the kids busy!
In addition to several apple varieties and pumpkins for picking, Stowe Farm also offers a petting zoo, pony rides, mechanical bull rides, gemstone mining, and rock wall climbing. Round out your visit by feeding the animals, crunching on a caramel apple, or getting a pulled pork sandwich. U-pick, Kids Corral ($3 admission fee for walking age and up), and the Country Store are open on weekends starting September 10.
About 8 minutes from Lookout Farm (above), Dowse Orchards offers a smaller scale, simpler alternative. Up to 20 varieties of PYO apples become available during the weekends starting in September. Their loaded farmstand, with stone fruits, corn, cider, and more, is open daily.
Honeypot's orchards contain about 12 varieties of apples, with different crops in the spotlight as they ripen throughout the season. The orchard offers other activities like hayrides, barnyard animals, and a hedge maze that's great for kids ages 4 through 11.
While this apple picking farm is a 1-hour drive from Boston, we are confident it will not disappoint. Plan to spend the day, because along with U-pick apples and pumpkins, this farm also boasts a splash pad, bounce pillow, multiple playgrounds, a tiny play town, an animal feeding area, and more. There's even a special section where little farmers can hold baby goats. Note: While the farm attractions are open daily, the U-pick area is only open on weekends.
Apple Picking Near Boston - Apple Orchards North of Boston
Pick your own apples just after the farm's peach season is over (early September), and don't forget to stop by the in-store bakery that offers cider donuts, hot mulled cider, cold cider, and coffee. There are barnyard animals to visit and feed here, too.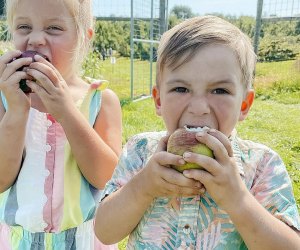 Crunch!!! Photo courtesy of Cider Hill Farm.
Though it's up by the New Hampshire border (a solid hour north of Boston), many locals feel that Cider Hill is worth the drive. Even if it's only to indulge in their award-winning doughnuts! Find Ginger Gold, Paula Red, Red Free, and Zistar are all ripe for Labor Day weekend picking, with more varieties to come throughout the month of September. The farm hosts food truck pop-ups serving great fare. The kids will be taken in by a giant sandbox, a bee observatory, and "Farmer Glenn's trike yard" playground.
Doe packs a wide variety of apples into 25 acres. Picking begins Labor Day weekend and runs daily through late October.
Boston Hill Farm offers pick-your-own apples on fall weekends and welcomes groups and schools on the weekdays from mid-September through the end of October. Apples to pick include McIntosh, Ginger Gold, and Paula Red, but there is also cider doughnuts, live music, ice cream, and a petting farm with chickens, geese, bunnies, goats, sheep, and calves.

Parlee Farms dwarf apple trees yield big, juicy apples and loads of fun with pint-sized electric tractors.
Parlee Farms' apple orchard is comprised of dwarf apple trees. Small in stature, these trees produce large, delicious apples starting in September. Varieties include MacIntosh, Gala, Honeycrisp, Early Fuji, Macoun, Cortland, Royal Empire, Decoster Jonagold, Cameo, and Golden Delicious. On weekends and fall holidays, a hayride is included as part of your purchase of an apple bag. At Parlee's farmstand you can watch apple cider donuts being made. Onsite, Annie's Animal Barns has more than 90 farm animals to feed and pet and Farmer Mark's Tractor Training Course lets kids drive around pint-sized electric tractors.
Picking opens in September, depending on how early in the month the crops are ripe. If stars are alignd, you might even be able to squeeze in one last day trip to the beach while you're in the area picking apples. Cash-only PYO apples are available daily, while hayrides are offered on weekends and live cider pressing happens only on Saturdays. Kids can see the farm animals in the barnyard, too.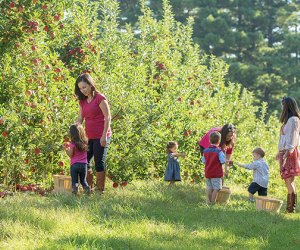 There's a "secret" orchard at Smolak Farm. Photo by Sarah Jordan Photography/Courtesy of Smolak Farm
After their berries and summer stone fruits are picked over, Smolak Farm offers plenty of varieties of apples for plucking later in September, across several demarcated orchards. Don't miss the private (secret) orchard nestled behind their Old Standard orchard. During fall weekends, enjoy the Children's Festival Area: Hop on a hay wagon ride or linger longer at a playground and petting farm.
Carlson Orchards boasts more than 14 varieties of apples to pick, from McIntosh and Cortland to Braeburn, Fuji, and Granny Smith. Consult the orchard's growing season calendar to see when your favorites are expected to make for ripe apple picking. Don't leave without a steaming-hot helping of their to-die-for apple crisp with whipped cream.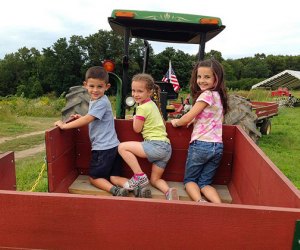 There are hayrides, tons of farm-themed kids activities, and apple picking at Connors Farm.
This farm not only offers apple picking, but also has a popular corn maze and hayrides. Connors Farm also features a large play area with unique games, giant jumping pillows, a farm stand, food vendors, and more. For teens, there's a haunted farm and flashlight maze.
Apples are available for picking starting Labor Day through early October. Enjoy live bluegrass jam sessions every Sunday. Starting in September, you can also hop on a wagon ride to the farm's pumpkin patch to pick up your Halloween Jack-o-Lantern.
Looking for more pick-your-own farms? The Mass Department of Agricultural Resources has an interactive map where you can select your location and generate a list of locations. Give it a try and let us know if you discover a great spot for apple picking near Boston with kids.
Originally published September 2013. Upated 2021, 2022.
All photos courtesy of the farms and orchards.