Best Kids Cooking Classes Near Boston: Classes, Camps, and Parties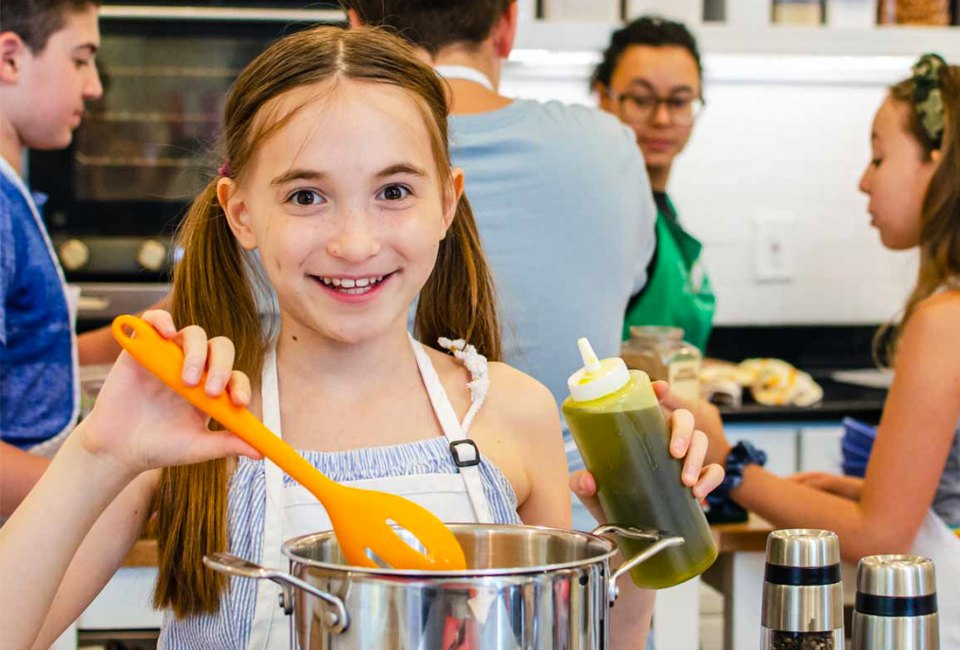 9/24/23
- By
Audrey Trieschman
The best kids cooking classes near Boston teach young chefs safe food prep, healthy eating, and nutrition. Whether our kids are adventurous eaters or too timid to try anything beyond boxed mac 'n' cheese, parents can help instill good food habits. Cooking together at home is one way to do this. There are also plenty of opportunities for instructive fun through kids' cooking classes and workshops around Boston. Many cooking classes for kids take the form of a single-class workshop or a two- to three-session program. So, even if your children have regular sports team commitments or semester-long dance or music classes, they can still satisfy their inner foodies without missing a goal—​or a beat.
Many kids' cooking classes are offered during those long school vacations or summer breaks. Cooking workshops around Boston also make fun birthday parties—best of all, no mess for the parents! We've rounded up the top places that offer kids' cooking classes and workshops in and around Boston. Get ready for your kids to cook up something great!
Best Kids Cooking Classes in Boston and Cambridge
For children and young adults ages 8–18, Cooking Up Culture introduces some of the great cuisines from around the world. During the interactive, hands-on class, kids cook with local ingredients and authentic recipes. Kids learn basic cooking techniques and enjoy a meal together. Note that classes fill up quickly—enroll via the website at least six weeks in advance.
The best kids cooking classes inspire creativity and joy! Photo courtesy of The Cambridge School of Culinary Arts
Have an older kid who's serious about cooking? The Cambridge School of Culinary Arts has a series of classes for kids ages 8 to 17. These programs introduce budding chefs and pastry chefs to the world of cooking and baking. Classes include Techniques of Cooking I & II for Teens and Techniques of Baking I, II and III for tweens and teens. CSCA also offers "Teen Tours" of international culinary specialties, with tours of Europe and Asia.
Best Kids Cooking Classes in Greater Boston

Kids Cooking Green specializes in local and healthy ingredients.
With an eye toward grounding kids in the importance of fresh, local ingredients, KCG offers the following:
5-Week Program: Elementary school children learn what is local, what is healthy and why this is all important. Each class has a nutritional component, an environmental component, and a cooking lesson. The program culminates in a nutritious meal for family and friends, all planned and cooked by the children using locally grown ingredients.
One-Day Workshops (for parties or groups): Kids Cooking Green offers a number of one-day workshops, including pasta making, cheese making, cookie baking, pie making, and more. Workshops are geared primarily for children grades 2 to 6
In these sessions, children will explore the world of food by delving into its origins. Kids learn the art of culinary preparation and seasoning. The classes also show the significance of sharing meals with others. Options include a School Vacation Week Camp and Summer Vacation Camps.
With something for everyone, Taste Buds offers camps, classes, birthday parties and single-day lessons. Kids 2 and up will learn new skills. Little chefs make recipes from scratch and get to take home tasty samples. Classes include Mommy & Me, Junior Chefs, and Gingerbread House Family Workshops.
Want to learn how to make a fondant penguin or unicorn cupcake? Need an activity for the kids on early release days? Duck Soup offers single-session and multi-class options for young chefs 8 - 12. During the summer, they offer a farm-to-table camp featuring local ingredients.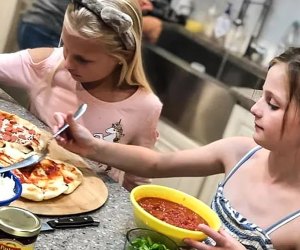 Kids can expand their mainds and delight their taste buds at the best cooking classes. Photo courtesy of Little Chefs
The Little Chefs program is dedicated to instructing children of varying ages and abilities in vital life skills. Classes emphasize the preparation and cooking of food while promoting healthy decision-making. The best part? Little Chefs will come to your home for lessons, bringing all the tools and ingredients with them. Offerings include group classes, birthday parties and (occasionally) pop-up events. They accommodate all dietary needs, allergies, and cultural preferences. Their primary emphasis is on kitchen safety, with a strong focus on proper handwashing, sanitization, and cleanliness practices.
Click Here to Sign Up!