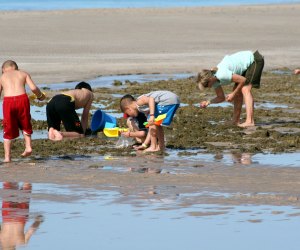 6 Natural Tide Pools Where Kids Can Explore Crabs, Sea Stars, and Marine Life Around Boston
Chances are, you've hit one of our glorious local beaches this summer to jump the waves and build sandcastles. But have you gone tide pooling yet? Kids love exploring these tiny ecosystems, usually created by outgoing tides, where they can discover crabs, sea stars, and more marine life. Bring a bucket and your curiosity, and consider a stop at a North Shore seafood shack on the way home. (Your shellfish discoveries might lead to some interesting discussions about the menu.)

Children explore the rocks at Wingaersheek Beach. Photo courtesy of Town of Gloucester
1. Wingaersheek Beach—Gloucester
During low tide, this beach reveals an awesome sand bar, large rocks to climb on, and tide pools filled with snails, tiny fish, sand shrimp, and hermit crabs. While you should check the tide schedules to plan your trip around low tide, tide pools remain exposed for at least a few hours before and after that mark, giving your little ones plenty of time to explore. And as the water returns, warm wading pools are formed, making this an ideal "swimming" beach for even the littlest beach bums.
Pro Tip: This beach is very popular, so get there early to get a parking spot in the lot. Depending on tides, you can also consider visiting later in the day, when spots begin to free up as beachgoers head home. Parking is discounted after 3pm and free after 5pm.
Local Eats: The beach has a concession stand with snacks and drinks and you can often find a local vendor selling Italian ice from a cart, but if you're looking for something more substantial, head into town where are there endless options. If you're ok with a dessert dinner (we know your kids will be fine with it) stop at Holy Cow Ice Cream Cafe for some delicious homemade ice cream and ice cream sandwiches.
Worth Stopping By: If you have little ones that are into princes and princesses, you'll want to make time for a visit to the Hammond Castle Museum. Take a self guided tour this medieval castle and the exterior grounds to see how royalty really live! Admission is free for kids under 6.
Parking: $25/weekday and $30/weekend day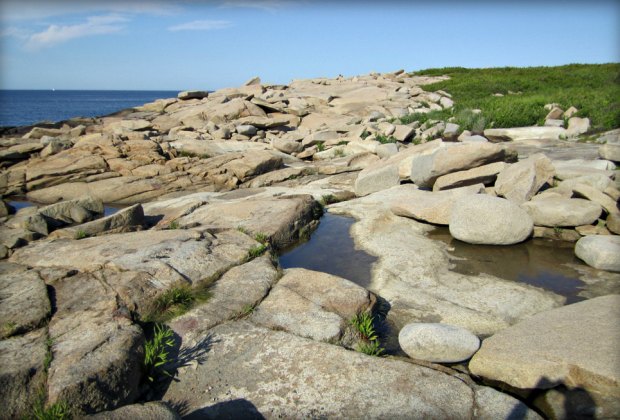 Halibut Point State Park used to be a rock quarry. Photo by Todd Van Hoosear/CC BY 2.0
2. Halibut Point—Rockport
At this state park, an old rock quarry that shut down in the 1900s, you and your children can hike an easy trail down to the water: a rocky oasis of crystal clear tidal pools filled with snails, hermit crabs and sea stars. While there is no actual beach and a firm no swim policy, you will want to dress to get wet! Pack a lunch to have on the rocks or hike back up to the visitor center to enjoy the picnic area. You won't need to worry about tide schedules for this destination, since the tide pools are always present.
Pro Tip: The State Park's visitor center is a 60 foot World War II fire-control tower that visitors can climb to the top. On a clear day you can spot Mount Agamenticus in Maine and the Isle of Shoals off the coast of New Hampshire.
Local Eats: A quick ten minute drive to the waterfront downtown will give you endless options of fresh and delicious seafood. If you're up for a wait, grab a spot in line at the famous Ray Moore Lobster Co, a small BYOB shack specializing in boiled lobsters. Or, opt for its sister location, Roy Moore Fish Shack Restaurant, if you'd prefer more of a sit-down experience.
Worth Stopping By: By far the most unique thing to do in the area is the Paper House Museum. This museum is a house made of newspaper, literally: the structure and even some of the furniture inside are made of actual paper.
Parking: $5/MA residents
3. Sandy Point Reservation—Ipswich
This beach, located on the southern tip of Plum Island, is often referred to as the Mother's Beach. The water is warmer and calmer than the rest of the island, and at low tide, reveals tide pools for little ones to play in. With breathtaking views of Cranes Beach across the water, the pools here are home to crabs, sand dollars, starfish and periwwinkles. Before or after your visit, pop into the Mass Audubon's Joppa Flats Education Center, where they have all-weather tide pooling activities, with a touch tank and activities led by naturalists.
Pro Tip: You need to get to this beach really early to be assured of a parking spot. It's a solid 20 minute drive from the guard shack to the farthest point on the reservation where this beach is located. There are only about 50 parking spots and they enforce a strict one in/one out policy, so by 10am, a line of cars are waiting to get in.
Local Eats: There are no snack shacks or restaurants located on the reservation, so you will definitely want to pack up lunch and treats for the day so as not to lose your coveted parking spot. Once you've finished exploring, make sure to stop by Bob's Lobster and indulge in a lobster roll. Try out the traditional roll or opt for one of their speciality rolls, like the Spicy or Avocado. It's located on the Plum Island Turnpike, the only road that connects Plum Island to the mainland, so you can't miss it.
Worth Stopping By: If you have time after visiting the Island, stop by the neighboring town of Newburyport, a quintessential coastal town. You'll find unique shops, restaurants, and a waterfront boardwalk to stroll and admire the boats.
Parking: Free
4. Red Rock Park—Lynn
A quick drive from Boston, this park boasts tide pools that fill with colorful marine plants and animals at low tide. An easy walkway leads down to the rocks, making it doable for even tiny explorers. Enjoy a view of the Boston skyline while searching for rock crabs, barnacles, mussels, and sea stars. When you're done with the pools, head to either of the adjacent beaches, King's Beach or Nahant's Long Beach, to swim and relax.
Pro Tip: The park is called Red Rock for a reason. At certain times red algae can be found floating in the area, giving the rocks their red color. Beware, this algae has a pungent odor.
Local Eats: For a classic North Shore roast beef sandwich or a slice, the locals hit up Seaside Pizza. If you're looking to sit down in a restaurant setting, Tides is located directly on the beach, so you can walk right over and enjoy the view.
Worth Stopping By: A quick 15-minute drive to Salem allows you to end your day at Castle Creek Adventure Land for some classic go karts and mini golf fun. Maybe propose a friendly race to see how many scoops ice creams are for dessert?
Parking: Free street parking along Lynn Shore Drive; Nahant Beach Parking: $10/MA resident
5. Chandler Hovey Park—Marblehead
Take a summer drive out to the picturesque town of Marblehead, the self proclaimed "Yachting Capital of America," and cruise all the way out to the farthest point, Marblehead Neck. Try to plan this trip around low tide, as the rocky shores do get pummeled with waves when the water is high. But when the water is low, visitors will find tide pools filled with crabs, sea stars, and anemones.
Pro Tip: This park is also known as Lighthouse Point because the Marblehead Light Tower is located here. Pack a lunch and grab a seat at the picnic tables to enjoy lunch with a view.
Local Eats: Take the short drive back to town (really the only way to head home), and grab a bite at one of two local favorites, The Landing or The Barnacle. Both restaurants are located on Front Street, overlooking the harbor so you can enjoy dinner with a view. Stroll the Old Town, filled with shops, boutiques and galleries.
Worth Stopping By: Book a boat ride with Marblehead Harbor Tour and see the town from the water. You can explore the coastline, get up close to some gorgeous yachts, and even pull in a lobster trap if you're up for it!
Parking: Free

Pack water shoes or old sneakers for Odiorne State Park! Photo by Caitlin Dowling
6. Odiorne Point State Park—Rye, NH
While technically not the North Shore, you don't need to drive much farther to cross the boarder into New Hampshire and visit this state park. Trust us: it's worth the trip for curious kiddies. Pack some water shoes or old sneakers with a good grip because this beach is mostly rocks. So while you can't swim or sunbathe here, the rocky shores make up hundreds of tide pools filled with snails, tiny fish, crabs, and more to explore. Pack a lunch and enjoy the ocean views from the park's picnic area, complete with tables and a great playground.
Pro Tip: Also part of the state park is the Seacoast Science Center, where kids can get their hands wet in touch tanks and learn about marine life. The center offers all sorts of programs throughout the day, so make sure to check the daily calendar.
Local Eats: For a classic outdoor New England seafood eatery, hit up Petey's Summertime Food and Bar down the road. Be sure to grab a cup of their award winning chowda'.
Worth Stopping By: The bustling coastal city of Portsmouth is only 10 minutes away. Drive over to grab a waterfront bite and walk the downtown area. Try out Lexie's Joint for a delicious burger or head over to Popovers on the Square. Stroll over to waterfront Prescott Park, where you might find a live music or an art performance happening in the summer months.
Parking: Admission is per person to enter the park ($4/adult and $2/child ages 6-11)
Tide Pooling Tips...
Make sure to wear waterproof shoes with a good grip. Tide pools usually form around rocks, which are slippery when wet.

Wear clothes that you don't mind getting wet, or a bathing suit if it's more of a beach setting.

Bring a towel and change of clothes.

Bring a camera or notebook to document your findings (you can look up marine life you don't recognize and keep learning at home).

Talk to your kids about respecting the wildlife. Don't poke or pull things off of rocks.

Consider teaching your little ones the "two finger" touch rule so they are gentle with the wildlife they discover.
Top photo via Bigstock