10 Seafood Spots for Dinner after a North Shore Beach Day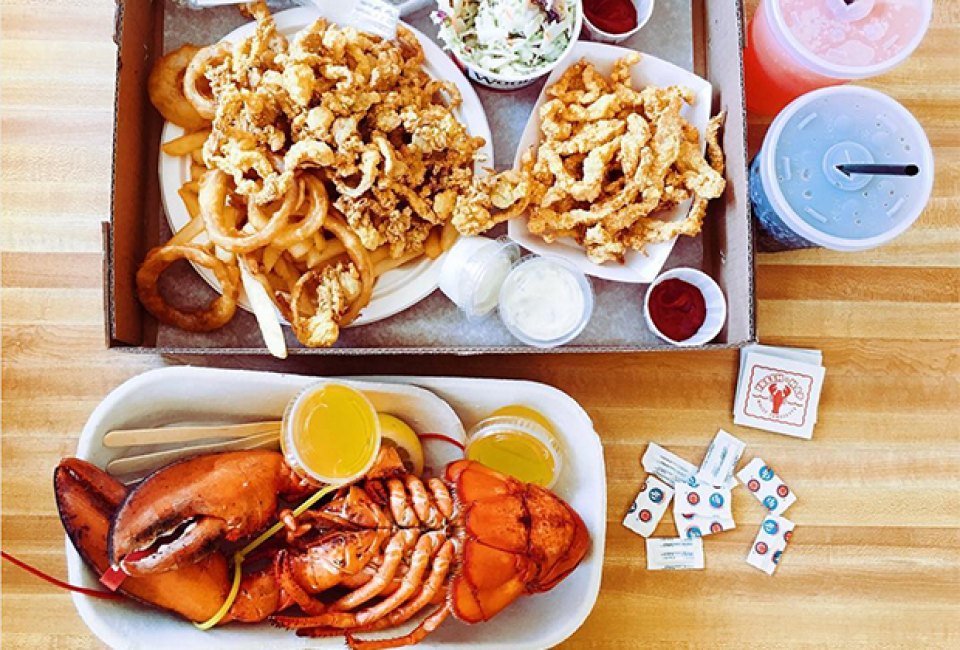 7/20/17
- By
Elizabeth Fisher
We're blessed to have so many stellar beaches around Boston: You and the kids can have your your toes in the sand and the sun shining on your faces in under an hour. But while beach days with the family can be blissful, they are also a lot of work. Once you've packed lunch, towels, toys, and the umbrella, navigated seaside traffic, parked, and then hauled your kids and gear to your spot in the sand, who wants to think about cooking dinner? Fortunately, not far from some of Massachusetts' best beaches are classic, casual seafood restaurants to cap off your day trip. The North Shore in particular has a high concentration of clam shacks, lobster lodges, and seafood shanties with everything from clam strips to grilled cheese, ensuring even the pickiest of beach bums will find something they like on the menu.
So sit in your beach chair a few minutes longer, watch the sun dip a little lower on the horizon, and let someone else do the cooking.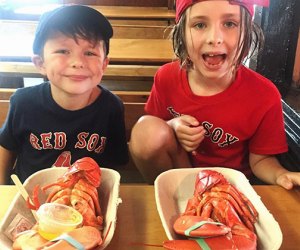 Red Sox fans know seafood. Photo by Dimitri Coats via Instagram
Woodman's - Essex
It's arguably the most well-known seafood stop in Massachusetts and is always listed as one of the best on local and national lists. Woodman's Seafood Restaurant in Essex claims to have invented the fried clam and it sets the standard for no-frills seafood dining. The secret to their success isn't an ingredient, it's experience. The family-run operation has been filling bellies for more than a century. While Woodman's specializes in fried clams, there are plenty of other options of the surf and turf varieties, as well as family style boxes. Save room for dessert: Woodman's also sells ice cream.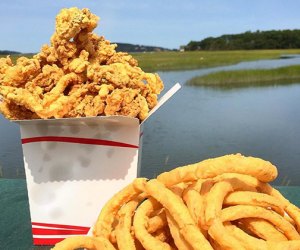 Enjoy your clams with a view at J.T. Farnhams. Photo by Morgan Kimball via Instagram
​J.T. Farnhams​ - ​Essex
Not to be overshadowed by nearby Woodman's, you can't beat the scenery at J.T. Farnhams. If you're lucky enough to be spending the day boating along the Merrimack, drop your anchor and unload the crew for a dinner along the banks. Whether you arrive by boat or car, you'll leave satisfied after enjoying some of the many signature homemade menu options, including seafood chowder, crab cakes, and coleslaw.
​Essex Seafood - ​Essex
Rounding out Essex's "clam mile" is Essex Seafood. This spot's claim to fame is that it shucks all its clams on site for better taste, texture and overall freshness. This is a tidy, simple spot to park at a picnic table and chat about all the fun you had at the beach. It bears mentioning that Essex Seafood is BYOB. If the line is too long or your kids are more fried than the clams after a day in the sun, there's also a giant lobster tank and fish market so you can grab a fresh local catch to go.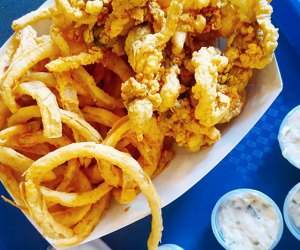 The Clam Box has great eats...in a restaurant shaped like a crustacean, to boot. Photo by Randi Erin vis Instagram
The Clam Box ​- Ipswich
While Woodman's claims to have invented the fried clam, The Clam Box in Ipswich boasts that it perfected it. And many diners would agree. Beachgoers, locals, and fried seafood connoisseurs have been lining up at this North Shore landmark for decades. And you have to give props to a clam shack that dresses the part. The Clam Box is shaped like a...clam box! Kids really seem to dig this special feature. Indoor and outdoor dining options are available.
​The Causeway Restaurant - ​Gloucester
If you're lucky enough to score a parking space at one of Gloucester's great beaches, wrap up your day with a stop at The Causeway. This place is all about the food, and portions are huge so consider splitting entrees, unless you want leftovers. Along with delicious seafood fare, the kitchen specializes in Italian cuisine. This is another North Shore BYOB establishment.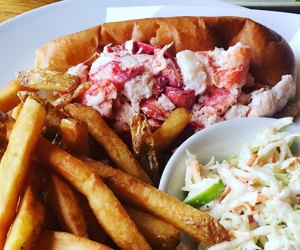 The lobster roll (with fries and 'slaw) is special at Lobsta Land. Photo by Bonnnie Kaplan Goldsmith via Instagram
Lobsta Land - Gloucester​
Also in Gloucester is Lobsta Land. They specialize in, you guessed it, lobsters. The unique thing about this seafood restaurant is that it's open for three meals a day. So whether you're craving a pre-beach Lobsta Land omelet or a post-beach lobster quesadilla, you will find what you are craving when you want it. This is more of a traditional restaurant than seafood "shack" but don't be deterred by the gimmicky name. This place is serious about fish.
Top Dog of Rockport​ - Rockport​
If you're having trouble selling seafood to the aprés beach crowd, take them to Top Dog of Rockport. It's part hot dog shack, part clam shack. With more than a dozen styles of hot dogs plus some fried seafood classics, mac and cheese, and chicken fingers, you're sure to find something on the menu for everyone. There is a giant chalkboard to keep kids from getting antsy while you wait for your meal. Seating can be limited, so if there's no room at a table, take your food out to the jetty and dine seaside.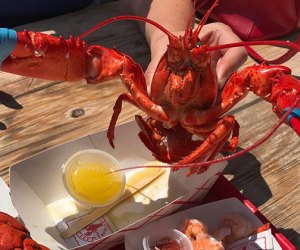 Roy Moore's seafood is as fresh as it gets. Photo by Ric Francis via Instagram
​​Roy Moore Lobster Co.​ - Rockport
As you head down Bearskin Neck in Rockport, look for the giant red lobster and likely a line out the door. People who have been to Roy Moore Lobster Co. rave about the fresh food and the friendly service. Seating can be tight so be prepared for a little bit of a wait if you're with a group. If Mama needs a glass of wine with her clam chowder, keep in mind that this seafood spot is also BYOB. It's not only family friendly, but dog friendly too. Fido might even score a bite of smoked salmon while you wait.
​Bob Lobster - Newbury
​After basking in the Plum Island sun, grab a bite a Bob Lobster in Newbury. This popular establishment has new owners who made one promise to customers...not to change a thing. The menu offers everything you would expect at a classic New England seafood eatery. The picnic tables overlook the nearby marsh and harbor. If you opt for a scoop of Richardson's ice cream at the end of your meal, you might have found the recipe for the perfect beach day.
Belle Isle Seafood - Winthrop​
For a lobster roll with a view closer to the city, head across the causeway from East Boston to Belle Isle Seafood in Winthrop. Set on a marina with the Boston skyline in the distance, you'll want to score a table on the deck or at least a window seat to soak up the views, particularly in the evening. If your pint-sized dinner dates need a little distraction, they can watch the planes coming in for a landing at nearby Logan Airport.
Top photo: Woodman's is famous for its fried clams, but the menu is packed with other tasty dinner options, too. Photo by Jessica Wong via Instagram