Mother's Day Weekend Fun for Boston Kids: May 6-8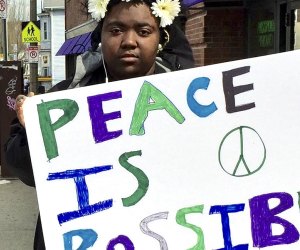 While some moms may be content with a nice breakfast in bed, I'm sure many also want to be with their nearest and dearest for some Mother's Day weekend fun–in addition to a special breakfast, of course! This weekend, families can eat, shop, and be entertained steampunk-style, Make Way for some extremely cute Ducklings, and Discover a Story Walk. Hopefully, the weather cooperates for Yoga with the beautiful sculptures in the park. But if not, we've just learned: the MFA is opening its doors for free on Mother's Day!
We hope you get out and just have some fun this Mother's Day weekend. Our spring fun guide has even more ideas for embracing mother (nature), and our event calendar this weekend (really, the whole month of May), is packed with seasonal, kid-centric activities. Now, get out there and celebrate mom, family, and spring!
Whatever family activity you choose, we here at Mommy Poppins wish you all the love, pampering, and sleep you deserve. Happy Mother's Day!
Need more family fun ideas? Check out our full events calendar.