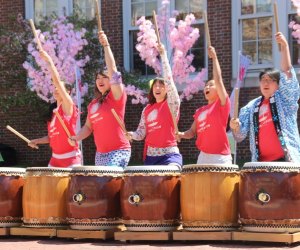 30 Spring Activities We Can't Wait to Do With Kids around Boston
We're always delighted to welcome spring to Boston. It's the season when everything comes alive and each day brings a small and wonderful surprise. The city's green spaces are vibrant centers of color and activity, and it's the perfect time to get outdoors with the kids to reconnect with nature or celebrate at a fair or festival. Here are our picks for Boston's best activities for families in springtime.
For even more ideas for making the most of the season, check out our Boston spring fun guide.
Spring Activities with Kids: Parades and Festivals around Boston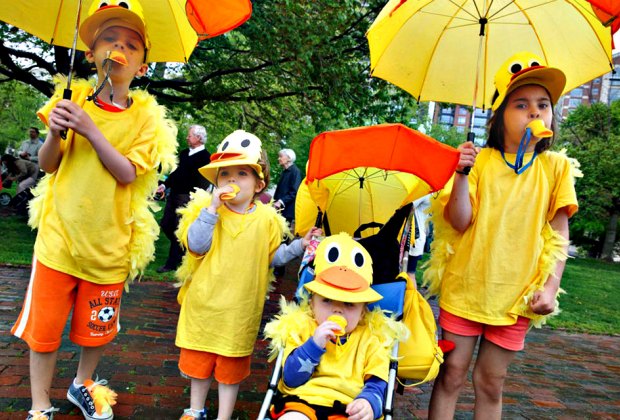 Yellow attire and accessories are encouraged at the Duckling Day Parade. Photo courtesy of Friends of the Public Garden
1. Don your beaks and tails for the annual Duckling Day Parade in the Public Garden.
2. Celebrate art and fresh flowers at the MFA's annual Art in Bloom Festival. For extra family fun activities, plan your visit for Community Day on April 28th.
3. Show your kids how cool science, technology, engineering and math (STEM) can be during the Cambridge Science Festival.
4. Pack a picnic on Mother's Day and take it to the Arnold Arboretum for Lilac Sunday.
6. Celebrate art and music with plenty of kid-friendly activities at the Cambridge Arts River Festival.
7. Enjoy all kinds of free performing and visual arts at the Harvard ArtsFirst Festival.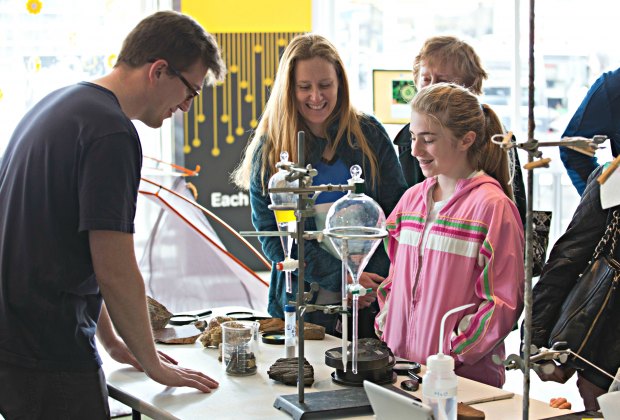 Kids are encouraged to interact with the science experiments on display in Cambridge. Photo courtesy of Cambridge Science Festival
Spring Activities with Kids: Farms, Nature Centers, and Parks around Boston
8. Get the first sweet taste of spring at a maple sugaring festival or farm.
9. Greet new baby animals at Drumlin Farm.
10. Learn all about the flowers and animals of the season at a nature center.
11. Witness Boston's unofficial kickoff to spring on Swan Boats Opening Day.
12. Get outdoors and help one of our local wildlife sanctuaries during the Mass Audubon Statewide Volunteer Day.
13. Visit, feed, pet—and sometimes even hold!—animals at a petting zoo.
14. Hop on the uniquely Boston Greenway Carousel for a spin and then explore the Rose Fitzgerald Kennedy Greenway.
15. Don't wait until summer to get your first lick! Visit a ice cream farm stand and treat your littles to a cone. Most open up for the season in the spring.
16. Just like us, animals are coming out of hibernation, so take your kiddos to get wild out one of our great local zoos!
Spring Activities with Kids: More Outdoor Adventures around Boston
17. Explore our beautiful local trails with an easy hike with your kids.
18. Pack lunch and go on a picnic.
19. Start cycling with your kids in celebration of Bay State Bike Week.
20. Spring means amusement parks are back in business! Go for a spin or dare to ride a rollercoaster!
21. It may not be time to swim quite yet but you can still pack up the shovels and buckets and hit the beach to dig, explore, and play.
22. Join the quest to see whales frolic in their natural habitat on a whale watching cruise.
23. It's time to get outside to play! Explore some of these great playgrounds in the area.
24. Have your cake and sunshine, too: Dine al fresco at a kid-friendly restaurant with outdoor seating.
25. Challenge the family to a game of putt-putt at one of these great mini golf courses.

Lexington's battle reenactment is a Patriots Day tradition. Photo courtesy of Lexington Historical Society
Spring Activities with Kids: April Fools, Patriots Day, Earth Day, and Easter around Boston
26. Surprise your kids with a fun April Fool's Day prank.
27. Cheer on runners at the annual Boston Marathon.
28. Step back into history and watch a battle reenactment at the annual Patriots Day Parade.
29. Discover how easy it is being green and show some love for our planet at this Earth Day celebration.
30. Learn how to decorate some beautiful eggs in anticipation of Easter.
This post was originally published in March 2014