23 Things To Do This Spring in Boston With Kids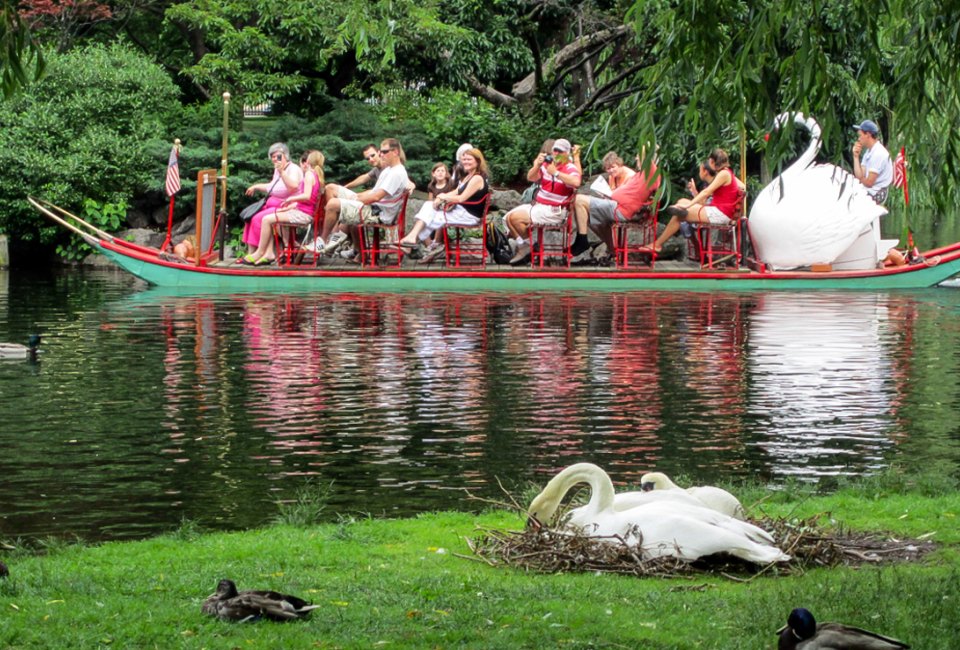 3/3/23
- By
Tara D
We're always delighted to welcome spring back to Boston each year. It's the season when everything comes alive and every day brings a small and wonderful surprise. The city's green spaces are vibrant centers of color and activity, and it's the perfect time to get outdoors with the kids to reconnect with nature on a farm or at a park. From Swan Boats in Boston to the Harvard ArtsFirst Festival in Cambridge, here are our picks for the best spring activities around Boston to look forward to this season.
For even more ideas for making the most of the season, check out our Boston spring fun guide.
Spring Activities in Boston
2. Just like us, animals are coming out of hibernation, so take your kiddos to get wild out one of our great local zoos!
3. Join the quest to see whales frolic in their natural habitat on a whale-watching cruise.
RELATED: Top Attractions in Boston: Best Things To See and Do with Kids

Seeing spring in bloom is a great activity for kids. Photo courtesy of the Arnold Arboretum
4. See the gorgeous spring blooms and hike the rolling hills at Arnold Arboretum. It's one of the top places to see Cherry Blossoms and wildflowers near Boston.
5. Spend a spring afternoon touring Fenway Park and get excited for a new season. The park runs tours every day, and the 2023 Red Sox season starts March 30.
6. Take the kids to one of Boston's Playgrounds for brain-boosting fun!
7. Find a time for a free museum visit with the kids in Boston. From the Isabella Stewart Gardner Museum to the Museum of Fine Arts, Boston has so much to explore.
Spring Activities Near Boston
8. Get the first sweet taste of spring at a maple sugaring festival or farm.
9. Explore the hiking trails, observe baby animals, and hop around a natural playscape at Drumlin Farm.
10. Find some holiday joy at an Easter Egg hunt or festival in the area.
11. Visit, feed, pet—and sometimes even hold!—animals at a petting zoo.
12. Take a spring day trip near Boston for a fun and easy getaway with the family!
13. Challenge the family to a game of putt-putt at one of these great mini golf courses. Most are open by late spring.
14. Experience music, dance, and art-making opportunities at the Harvard ArtsFirst Festival (April 27 - April 30, 2023).
RELATED: 55 Things To Do in Newport, RI with Kids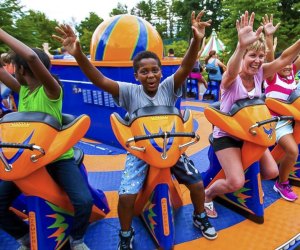 Get out for a wild ride at New England's family-friendly theme parks! Photo courtesy of Lake Compunce
15. Get out for opening day of one of the Great New England theme parks.
16. It may not be time to swim quite yet but you can still pack up the shovels and buckets and spend a day at the beach to dig, explore, and play.
17. Have your cake and sunshine, too: Dine al fresco at a kid-friendly restaurant with outdoor seating.
18. Explore our beautiful local trails with an easy hike around Boston with your kids.
RELATED: Boston Restaurant Guide

They'll scream for an oversize cone from Greater Boston's ice cream stands. Photo courtesy of Kimball Farm
19. Don't wait until summer to get your first licks in! Visit an ice cream farm stand and treat your littles to a cone. Most open up for the season in the spring.
20. Watch the sheep head over to the baa-baa shop at the 36th Annual Sheepshearing Festival (April 22, 2023).
Spring Activities To Do at Home
21. Surprise your kids with a fun April Fool's Day prank.
22. Have some family fun in the back yard with 40 classic outdoor games!
23. Get in some hands-on outdoor learning with 20 outdoor activities in nature.
Originally published in 2016 and updated annually

Sign up for our free
newsletters.
Mommy Poppins is a family activity website that helps people find things to do with kids.
©
2023
MommyPoppins. All Rights Reserved.
mp-prod4-v4.32.99
Click Here to Sign Up!
i