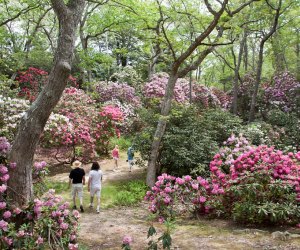 10 Spring Family Day Trips That Boston Kids Will Love
If there's a season when Bostonians are itching to get out and explore, it's spring: After a long, cold New England winter, it's liberating to pile the family in the car and discover someplace new, preferably one that showcases flora and fauna in kid-friendly ways. We're blessed to be in driving distance of many beautiful places fit for a weekend escape, but sometimes, you don't have multiple days to spare. All of these places offer unique ways to celebrate the season, and clocking in at around or under two hours from city limits, make for a fine springtime day trip.

"Bulb river" is a must-see in Sandwich. Photo courtesy of Heritage Museums & Gardens
1. Sandwich, MA
A little over an hour from city limits, Cape Cod's oldest town is loaded with history as well as some uniquely picturesque destinations. Check out glassblowing destinations at the Sandwich Glass Museum, stroll along the Sandwich Boardwalk, and be sure to set aside plenty of time for the Heritage Museum and Gardens. Along with the famous "bulb river," bursting with grape hyacinths in the warm months, check out its natural playscape (Hidden Hollow). There's also a popular (and awesome!) climbing and zip line course, Adventure Park; as of press time in mid-April 2019, the park was in the process of getting a permit renewal and temporarily closed; check website for updates.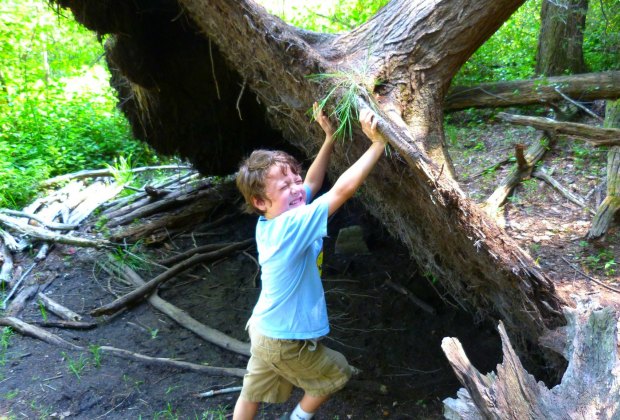 Explore oddities of nature at Ipswich River Sanctuary. Photo by Sean Benham/CC BY 2.0
2. Topsfield, MA
Many people associate Topsfield with the fall state fair, but this Essex County gem, just a half hour or so from the city, is filled with natural beauty that really shines in springtime. Start at the Bradley Palmer State House, a cobblestone former estate now surrounded by gently winding paths and rolling meadows. There's a spray deck and wading pool there that opens in mid-June. You can continue along the adjoining river to explore the 12 miles of trails making up the Ipswich River Wildlife Sanctuary (the Audubon Nature Festival is held there on June 3). Look for birds and turtles in your journey, and don't miss the Nature Play Area at the visitor's main entrance—kids can build a log cabin, scale a miniature observation tower, balance on log balance beams, and more.
3. Newburyport, MA
We've sung Newburyport's praises here before, and we're big fans of visiting this pretty coastal town (45 minutes from Boston) when buds are blooming and the ocean breezes start to warm. Don't miss the Joppa Flats National Wildlife Refuge, one of the state's best places for bird watching. If you're feeling adventurous, cross the river to Plum Island. Walk the Hellcat Interpretive Trail and pay a visit Sandy Point State Reservation, located at the tip of the Island, a great place for collecting shells and sand dollars.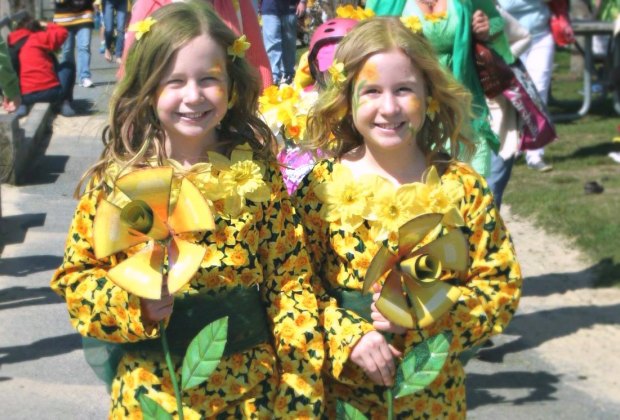 Nantucket unofficially opens for the season with the Daffodil Festival in late April. Photo courtesy of Nantucket Chamber of Commerce
4. Nantucket, MA
A day trip to Nantucket with kids in tow? Yes, it's doable! Catch a morning "fast" (one-hour) ferry out of Hyannis—entertainment in itself, with a fun snack bar and views galore—and arrive in time for lunch at the Fog Island Cafe, a few blocks from the harbor. Follow that with a tour around the Whaling Museum (open year-round), a stop at the Sunken Ship for a trinket or souvenir, and then catch a taxi or the Wave Shuttle to nearby Children's Beach or Jetties Beach to run around the sand and hit the playground. For maximum charm, go during the Daffodil Festival on the last weekend of April.
5. Mystic, CT
Less than two hours from the city, the seaside hamlet of Mystic is especially fun in early May, when the sailing season kicks off and downtown hosts a spring stroll weekend. Visits to the Mystic Aquarium (and three baby beluga whales!) and the Denison Pequotsepos Nature Center (with an onsite natural history museum with live animals) are musts.
6. Manchester, NH
A town you might have passed through on the way to the ski slopes, Manchester is worth a full stop in the springtime. Start with a visit to the Currier Museum of Art, where you and the kids can get creative during family workshops (they also offer a great Mother's Day brunch). When you've all had your fill of art, indulge in ice cream flavors like Charlie's Chocolate Factory or Raspberry Fudge Truffle at the legendary Puritan Backroom's ice cream window. Afterwards, take a walk, enjoy looking out over the water, and relax on a bench while the kids burn off all that sugar on the playground at Crystal Lake Park.
7. Newport, RI
While Newport is an obvious summertime destination, spring is a super time to explore the area and beat the heat. Hike the cliff walks, tour some amazing mansions, and go for a spin on a vintage carousel overlooking the beach. If you plan your trip in May, hit up the Oyster Festival and dare your kiddos to give them a try! For pickier kiddies, a trip to Ben's Chili Dog is always a treat, or make it an ice cream for dinner kind of night and stop at the Newport Creamery before leaving town.
8. Portland, ME
It may sound far away, but Portland is less than two hours from Boston. Known as a culinary mecca, you'll have no shortage of delicious food. If you're there in time for breakfast, pop into the Holy Donut to choose one of their ever changing flavors. The secret ingredient that makes these tasty donuts stand out? Mashed potatoes! Then spend the day strolling through town, take a ferry ride to Peaks Island to explore, or hop on a sailboat to just enjoy the water. For train lovers, go for a ride on the Maine Narrow Gauge train and then explore the nearby waterfront walking trails. And because your in Maine, make sure to grab a lobster roll. The waterfront has tons of options, but a local fave is the Portland Lobster Co., where you can sit down or grab one on the go.
9. Plymouth, MA
Located right before you take the bridge over to Cape Cod, the coastal town of Plymouth offers tons of family fun. If you're looking to learn a little history, a visit to Plimoth Plantation is must. Your kiddos can check out a replica of the Mayflower II and learn what village life was like for early settlers. But if adventure is what you're looking for, roll on over to Edaville Family Theme Park to go for a spin on some carnival rides, visit with animatronic dinosaurs at Dino Land, and for little conductors—visit the one and only Thomasland! Make sure to visit the town's waterfront to grab some fresh seafood, stroll through town, and just enjoy the view!
10. Lincoln, MA
A quick drive, or even train ride, out of the city will bring you to this quaint town. A must-visit is Drumlin Farm, where your city slickers can feed the farm animals, take a hayride, and just hang out on a farm. Spring is also the perfect time to visit the deCordova Sculpture Garden and Museum where, unlike many museums, kids are encouraged to touch and interact with the art. Make sure to schedule in some time to stop into Dairy Joy in neighboring Weston, a seasonal spot offering up delicious ice cream and New England seafood!