25 Spring Day Trips from Boston that Kids Will Love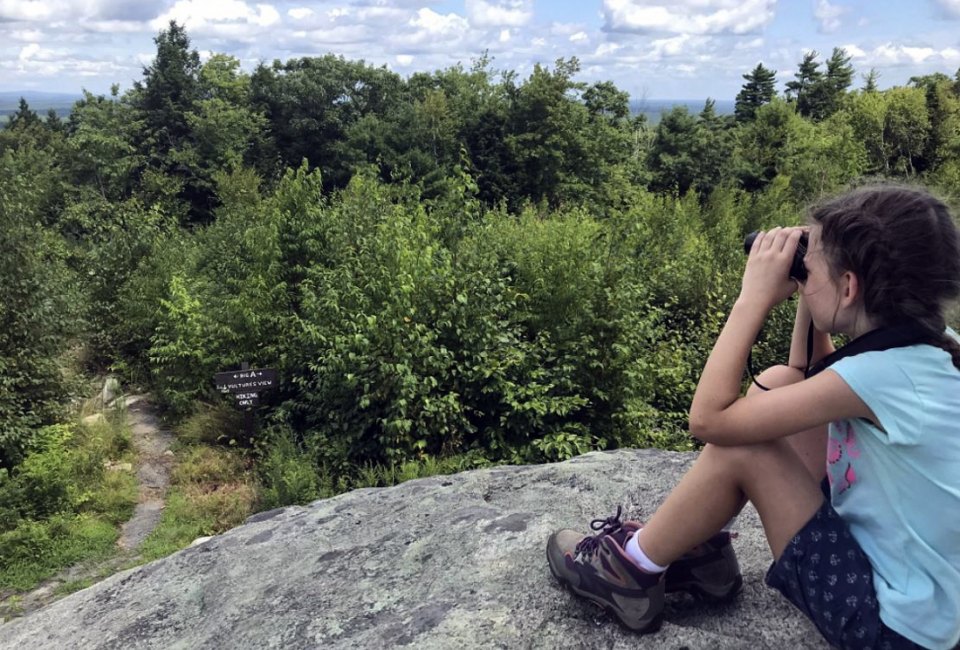 3/11/22
- By
Kelley Heyworth
If there's a season when Bostonians are ready to get out and explore, it's spring: After a long, cold New England winter, it's liberating to pile the family in the car and discover someplace new, preferably one that showcases flora and fauna in kid-friendly spaces. We're blessed to be within driving distance of many beautiful places fit for a weekend escape, but sometimes, you don't have multiple days to spare. That's when a spring family day trip in Greater Boston does the trick.
All the following places offer unique ways to celebrate the season in ways kids will love. You'll find these spots under two hours away, making them fabulous spring day trips from Boston. And when you're staying close to the city, check out our guide to Top Attractions in Boston: Best Things To See and Do with Kids.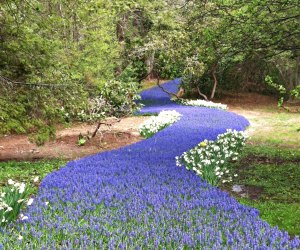 Spring day trips from Boston show kids nature's beauty. Photo courtesy of Heritage Museums & Gardens
1. The Heritage Museum and Gardens
Visit The Heritage Museum and Gardens in Sandwich to see whats in bloom. Star Magnolias stir in March. April sees daffodils, crocusses, and pansies May flowers include colorful Rhododendrons. Save plenty of time to play in the natural playscape (Hidden Hollow) where kids can happily spend a whole day.
2. Joppa Flats National Wildlife Refuge
Head to Newburyport for a visit to Joppa Flats National Wildlife Refuge, one of the state's best places for bird watching. Make sure to check the website calendar as the refuge frequently offers fun activities and programs for kids.

The Children's Beach playground on Nantucket Island offers spring fun. Photo courtesy of nantucket.net
3. Nantucket
Hop aboard a ferry and spend the day on Nantucket admiring the island's blooming daffodils and building sandcastles at Children's Beach. Traditional and high-speed ferries depart from Hyannis daily.
4. Denison Pequotsepos Nature Center
Take a drive to Mystic, CT to visit the Denison Pequotsepos Nature Center featuring an onsite natural history museum with live animals! Over 10 miles of trails include a new meditation walking path for quiet reflection.
5. The Oyster & Chowder Festival at Bowen's Wharf
Head to coastal Newport, RI in May for their annual Oyster & Chowder Festival at Bowen's Wharf. Double dare your kiddos to give the tasty mollusks a try! The free feast is scheduled for the weekend before Memorial Day, and details are forthcoming. But any time you're in town, be sure to visit the Tennis Hall of Fame, and tour some of the historic mansions.
6. Ipswich River Wildlife Sanctuary
Explore the 12 miles of trails making up the Ipswich River Wildlife Sanctuary. Look for birds and turtles in your journey, and don't miss the Nature Play Area at the visitor's main entrance—kids can build a log cabin, scale a miniature observation tower, balance on log beams, and more.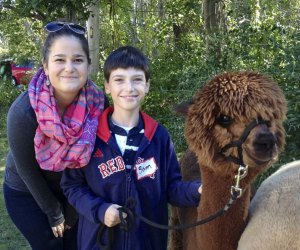 Visit Island Alpaca to meet baby Alpacas. Photo courtesy of Island Alpaca Farm Blogspot
7. Martha's Vineyard
Take a ferry ride to Martha's Vineyard, where more than just the beach awaits families. Visit Island Alpaca to meet baby Alpacas, play frisbee golf, and hike miles of trails at the Felix Neck Wildlife Sanctuary.
8. Plimoth Pawtuxet Museums
Head south of Boston to climb aboard the Mayflower II, a full-scale replica of the real deal. Then tour the recreated villages of Plimoth Pawtuxet Museums (formerly Plimoth Plantation) to see how the pilgrims and the Pawtuxet natives lived centuries ago.
9. Ride the Swan Boats
Celebrate the season with a spin around the pond in the Public Garden on the Swan Boats, which open for the season on April 16. Then stroll through the park to take in the spring flowers, and complete your outing with a walk down Newbury Street for a scoop of the best ice cream in the world.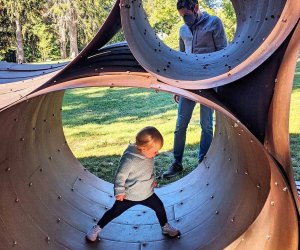 Kids can explore on a spring day trip to the deCordova Sculpture Park. Photo courtesy of The Trustees
10. The deCordova Sculpture Garden and Museum
Spring is also the perfect time to visit the deCordova Sculpture Garden and Museum in Lincoln where, unlike many museums, kids are encouraged to touch and interact with the art.
11. Davis Farmland
Davis Farmland in Sterling opens on April 13, and this massive farm and fun center is worthy of a day trip—yes, you will need the entire day. Hold baby goats, play with kittens, go for a pony ride, bounce on a giant pillow, and so much more.

Arnold Arboretum offers families a day trip full of natural splendor. Photo by John Hetman, courtesy of arboretum.harvard.edu
12. Arnold Arboretum
Arnold Arboretum is in full bloom during the spring, making it a must-do trip. The main attraction? The beautiful smelling lilacs that blossom mid to late season.
13. Discovery Museum
While the inside of the Discovery Museum in Acton is a trip in itself, a visit in the warmer weather will definitely have your kids playing outside at the Discovery Woods exhibit, complete with a huge treehouse and nature play areas.
14. American Museum of Bird Art
The birds are singing at the American Museum of Bird Art in Canton. Hike the property in search of birds, play nature bingo, and take part in a nature scavenger hunt.

Kelleher Rose Garden makes an ideal day trip for Boston locals. Photo courtesy of @onlyinBOS, Twitter
15. Kelleher Rose Garden
Stop and smell the roses at Kelleher Rose Garden in the Fenway. The gardens open in May, and the flowers bloom in late spring. Explore the parks and playgounds allong the Fens, or take a tour of historic Fenway Park.
16. Larz Anderson Park
Larz Anderson Park is bustling in the spring with 64-acres of picnic areas, a dog park, trails for walking, and a playground. Make sure to climb the park's big hill for spectacular views of Boston.
17. York's Wild Kingdom Zoo and Fun Park
Cross the border into Maine for a visit to York's Wild Kingdom Zoo and Fun Park. Along with zoo exhibits featuring animals like tigers and alligators, there's also the Butterfly Kingdom and a duck pond. Once you're done with the animals hit the amusement park rides. Save this trip for later in the spring, as the zoo opens Memorial Day weekend.
18. Blue Hills Reservation
Lace up your hiking boots and go for a hike at Blue Hills Reservation just south of the city in Milton. Make sure to check out the Trailside Museum at the base while visiting.
19. The Amazing World of Dr. Seuss Museum
Another museum that is open year-round, but brings a little something extra when the weather shifts to spring, is Springfirld's Dr. Seuss Museum. Along with its interactive experience inside, the museum has a sculpture garden featuring over 30 bronze statues ranging from famous characters like the Cat in the Hat to Dr. Seuss himself.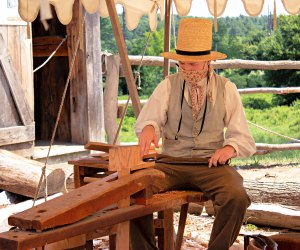 A cooper makes a barrel on a spring day trip to a bygone era. Photo courtesy of Old Sturbridge Village
20. Old Sturbridge Village
You don't have to drive too far to travel back in time—just take a drive to Old Sturbridge Village. This outdoor living history museum really starts to come to life after a long cold winter with live animals, gardens, and demonstrations.
21. Harold Parker State Forest
Over 35 miles of trailss for hiking, biking, and more make Harold Parker State Forest a great destination for a spring day trip from Boston. Grab a reel and some worms and spend a day basking in the spring weather while casting a line at Sudden Pond.

Worcester's science center encourages spring fun at the Nature Explore exhibit. Photo courtesy of EcoTarium
22. EcoTarium
While the EcoTarium in Worcester offers up year-round fun, a visit in the spring brings added adventures. The museum's outside spaces are filled with hiking trails, live animals, a nature playground, and even a train that circles the property.
23. Robbins Farm Park
Feel like you've been there, done that with all the city playgrounds? Hop in the car and take a ride to Arlington to race down dueling slides at Robbins Farm Park.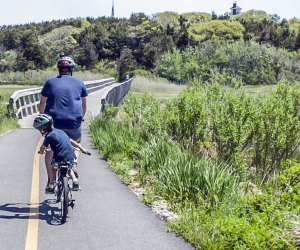 The Cape's bike pats provide miles of spring fun. Photo courtesy of the Cape Cod Chamber of Commerce
24. Nickerson State Park
Throw your bikes in the car and head to Nickerson State Park in Cape Cod to cruise along the 22-mile long bike trail. Pack a picnic or plan a stop at Colby's, attached to the trail, for lunch or ice cream!
25. Treetop Adventures
Looking for a soaring excursion? Spend the day zipping through the forest in Canton at Treetop Adventures zipline course. Mark your calendar, the zipline course opens April 15.