55 Things To Do in Newport, RI with Kids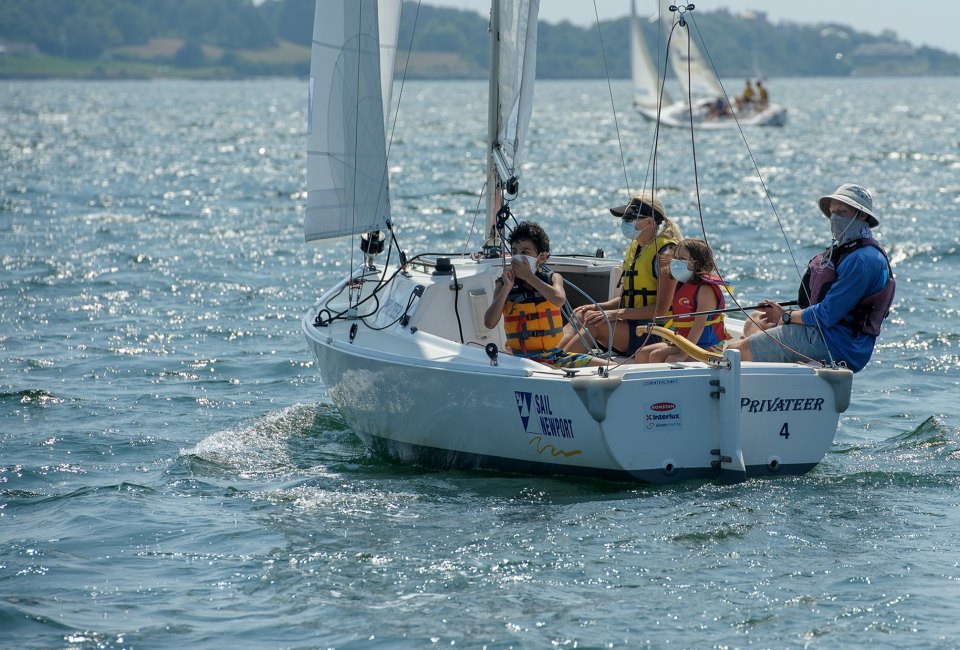 9/18/21
- By
Allison Tibaldi
Newport, Rhode Island, has a reputation as a summer playground for the elite, but in truth, it makes for a great family vacation. Yes, you will see fabulous Gilded Age mansions on the cliffs and expensive sailing yachts in the harbor, but coastal Newport also has lots of budget-friendly family fun and even free things to do for kids of all ages.
See our Rhode Island Travel Guide for more local family activity ideas.
In summer, there are lots of low-cost public boating opportunities, free beaches and nature sanctuaries, a rich lineup of outdoor concerts, and easy hikes that capture the area's natural beauty. In winter months the public skating rink, free holiday festivities, and annual winter festivals provide cold weather fun. There are casual restaurants and Newport, RI, hotels that cater to families; and the city's manageable size makes it a wonderful walking town.
Here are the top things to do in Newport, RI, for families, along with our favorite Newport restaurants and Newport, RI, hotels for those traveling with kids.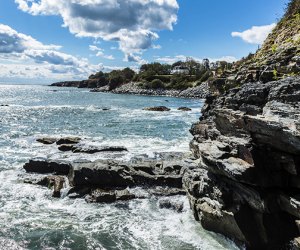 Enjoy the dramatic scenery on The Cliff Walk, Newport, RI. Photo by Adrian Scottow/CC BY-SA 2.0
Fun Things To Do in Newport, RI, with Kids
Newport's most famous outing is the 3.5-mile path that provides a glimpse of the city's golden age mansions, from their front lawns which face non-stop breathtaking ocean views. The first half of the Cliff Walk trail is paved; some later sections involve trekking lightly across rocks. Choose a piece or do the whole thing, but don't miss the Cliff Walk in Newport, RI, one of the most beautiful walks in the country.
Wander the historic grounds, watch a few matches, visit the museum, or reserve a grass court to play where the stars play. It's a fun stop whether or not you're not a fan of the game.
Rhode Island Public Transit Authority (RIPTA) runs an old-fashioned trolley service to some of the most popular sites in town. Hopping on and off is a great way to travel between destinations and get an overview of town (look for route 67 on the map).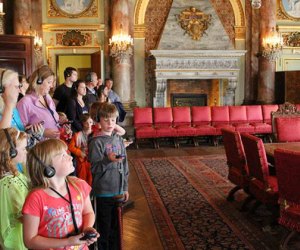 Explore the lavish Breakers mansion.
Newport's mansions (known to the residents as "cottages") were once the summer residences of the most rich and famous. Several of them are now open to the public for tours; some favorites to visit are The Elms, with a behind-the-scenes tour that gives families an Upstairs, Downstairs or Downton Abbey style perspective on the lives of servants, The Breakers which has a family audio tour just for kids, and Rough Point, where kids get in free.
Have a wander through the oldest continuously operating library in North America.
Located in the Rotunda at Easton's Beach (aka First Beach), this small, non-profit aquarium is a wealth of information about the life in Narragansett Bay and the Atlantic Ocean—with touch tanks and animal feedings that make it a memorable visit for kids.
Walk the mile-long paved loop at Sachuest—with stops along the way to clamber on rocks or check out tide pools—and enjoy the sweeping ocean views along with all the birds, bunnies, and other critters who call the refuge home. Parking and entrance are free.

There are plenty of tide pools at Sachuest Point. Photo by Roberta Brown
The oldest house of Jewish worship in North America proudly chronicles the religious freedom upon which Rhode Island was founded—and a letter from George Washington promising that same freedom of worship in the newly formed United States.
What better place could there be to try sailing lessons or treat your family to a boat rental?
If you'd prefer to let someone else steer, join in on a Seal Safari boat ride to take in the views and the wildlife.
Look at the boats docked at this famous home to fabulous sailing yachts.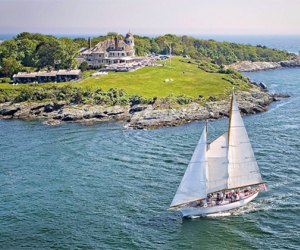 Take in the views on the Madeleine. Photo courtesy of the Madeleine
12) Scenic Cruise on the Madeleine
The sailing vessel Madeleine is a 70-foot schooner that offers scenic day cruises of the bay on a traditional 19th century vessel.
The best swimming is at Second Beach (south facing) or Third Beach (east facing, for less surf), where the water and sand are clean, and the Del's truck is always there with plenty of Rhode Island's best frozen lemonade.
Run by the Newport Historical Society, this is the place to get acquainted with the town's 300-year-plus history, with interactive exhibits.
Choose a hike on one of several trails through woods and marshes, with plenty of shorebirds to see along the way.
Learn how to blow glass and maybe even try creating something yourself at this traditional glass workshop and gallery.

Thames Street. Photo courtesy of Visit Newport
Buy souvenirs on Newport's famous shopping street, where interesting shops are interspersed with historic homes.
Take some time out to play arcade games at Ryan's.
Romp in the playground, wander the trails, or climb Miantonomi Tower to the highest point in Newport at this park named for the Narragansett sachem.
Nothing says vacation like fudge; sample the treats and watch the candy makers at work.
RELATED: 25 Things To Do in Providence, RI, with Kids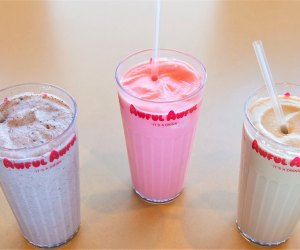 Pick up a delicious Awful Awful at Newport Creamery. Photo courtesy of the Creamery
Can you drink three Awful Awfuls to get the free one? No better place to find out (and have a cheeseburger the Creamery Way) than at Little Rhody's original Newport Creamery.
Drop by this one-of-a-kind treasure trove for miniature furniture, perfect for any dollhouse lover.
Locals love the baseball games at Cardines Field, where the home team enthusiasm and old-fashioned fun feel like everyone's favorite summertime memories.
24) Music Festivals
Between the Newport Jazz Festival, the Newport Folk Festival, and various free outdoor music festivals, Newport has a rich tradition of great music played in the sea breezes.
Catch some dinner theater and cabaret at Newport's family-friendly, family-run professional theater and restaurant.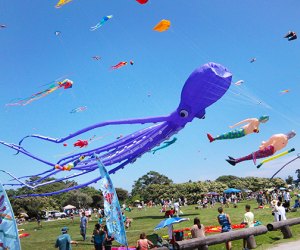 Marvel at the giant kites at the Newport Kite Festival. Photo courtesy of the festival
Brenton Point State Park's ocean views and crisp sea air make the perfect combination for kite flying—which is why you will almost always find kites in the air here. The second weekend of July the park usually hosts the Newport Kite Festival, a particularly memorable display.
Shop for fresh produce or a healthy snack at one of the local farmers markets. Don't miss native sweet corn season in August!
The famous topiary garden in Portsmouth is home to several giant, bushy green animals that never fail to delight kids.
Plan a stop to enjoy great works by Norman Rockwell, Maxfield Parrish, and others, all housed in a magnificent mansion. (Temporarily closed due to Covid.)
If you have a history buff, schedule a tour of a historic military compound with fortresses, underground tunnels, and great views of the bay.
RELATED: 50 Things To Do in Portland, Maine, with Kids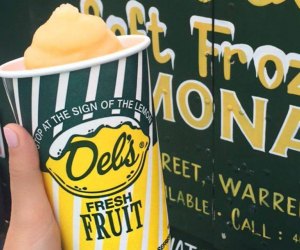 Grab a frozen lemonade at Del's on the Beach. Photo courtesy of Del's
31) Del's at the Beach
It may appear to just be frozen lemonade, but Del's Lemonade is a Rhode Island summertime institution, and you can catch the truck at any Newport beach—plus a few other spots as well.
Take a round-trip to Providence to enjoy an inexpensive and refreshing one-hour tour of Narragansett Bay. (Seasonal.)
You can't go into this Rhode Island lighthouse, but you can walk the grounds and cliffs for a stunning view of the bay.
Visit Newport anytime during the month of December to enjoy festivities, concerts, crafts, and more special holiday activities in this 50-plus-year tradition.
Rent a miniature scooter car to zip around the island's many sights.
Discover ghost ships and graveyard crypts on these year-round evening walking tours that are particularly tempting in the Halloween season.
Top Newport, RI, Festivals & Events
Newport Yachting Center is the site of this local favorite each June, with all-you-can-eat chowder samples and lots of kid-friendly activities.
Newport Yachting Center also hosts its Reggae Festival, typically in August.
39) 4th of July
Independence Day is a great holiday to spend in the historic town, and be wowed by the fireworks display over the harbor.
This is the only North American tournament played on grass, and it's held in Newport each July. Big-name players are usually in attendance.
This 10-day carnival celebrates cold weather with tons of non-stop family activities. (Canceled in 2021, expected to return in 2022.)
Taste of the freshest, most delicious local seafood at the oyster fest in May at Bowen's Wharf.
Another opportunity to indulge in great seafood at Bowen's Wharf is the fall Seafood Festival, featuring cook-offs, live music, face painting, and kids' activities.
44) New Year's Day Polar Bear Plunge
This annual event is more fun to watch than try for most of us, when the local Polar Bear club kicks off the new year plunging into the icy bay. (Canceled in 2021, hoping to return in 2022.)
Just after Thanksgiving you can watch Santa and Mrs. Claus arrive by tugboat into Bowen's Wharf.
Visit Blithewold Mansion in neighboring Bristol during spring break, which always kicks off activities celebrating more than 50,000 daffodils in bloom.
If you harbor a passion for boats, there is no better boat show than the one that takes over downtown Newport and its waterfront in mid-September.

Don't miss the great local eats at Flo's Clam Shack. Photo by Roberta Brown
Top Newport, RI, Restaurants
This age-old Newport favorite keeps it real for families with a gluten-free menu plus lots of home-style dishes for kids.
There's no arguing with Newport's best clamcakes, on a great patio with fun photo ops or upstairs with the view, right across from the beach.
Enjoy a chili dog and a cone of soft-serve along with all the locals.
For breakfast all day, this healthy cafe serves up delicious brunch items made from fresh ingredients, enjoyed outdoors or in.
Everyone loves Pasta Beach, so thank goodness there is one in the heart of Newport for that moment when kids just want spaghetti and pizza. The flavors of this extra-special pasta restaurant are a treat indoors or outside on the patio.
Favorite Newport, RI, Hotels
Pools, a kids' club, onsite restaurants, and modern rooms and suites make Gurney's a great Newport, RI, hotel pick for families. The resort offers entertainment year-round, including a seasonal ice rink.
Splurge on Prince and Princess kid's spa treatments at the in-house Spa Terre—then escape to the rooftop bar to make sure you know you're on vacation. The location is in the heart of vintage Newport.
For a classic family hotel, like we remember when we were kids, there's always HoJo's. This one is clean and friendly, with a pool and easy parking, on the quiet side of town.
For more nearby vacation ideas, check our New England Family Travel Guide.
Originally published in 2014. Additional reporting by Fiona Haley and Roberta Brown.