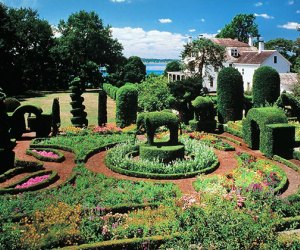 50 Things To Do in Newport, RI with Kids
Newport, Rhode Island has a reputation as a summer playground for the elite, but in truth it makes for a great family vacation. Yes, you will see fabulous Gilded Age mansions and expensive sailing yachts in the harbor. But coastal Newport also has lots of budget-friendly options.
In summer there are lots of low-cost public boating opportunities, free beaches, a rich line up of outdoor concerts, and easy hikes that exploit the area's natural beauty. In winter months the public skating rink, free holiday festivities and the annual Winter Festival provide cold weather fun. There are casual restaurants and hotels that cater to families. Newport's manageable size makes it a wonderful walking town, so if you don't have a car, keep this in mind.
See our Rhode Island Fun Guide for more Rhode Island family activity ideas. Here's what to do, where to eat and stay in Newport for families:
1) Visit the interactive International Tennis Hall of Fame—fun even if you are not a fan of the game.
2) Hop on the old-fashioned Trolley and get a great overview of town.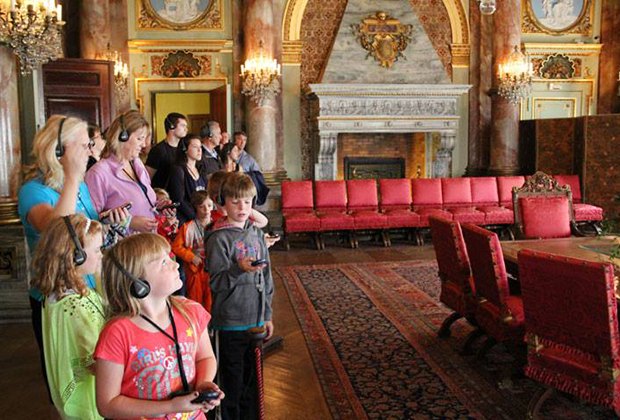 Explore the lavish Breakers mansion.
3) The Breakers mansion offers a family audio tour just for kids. It brings the 70-room estate to life with tales from the children who lived here.
4) The Elms is another appropriate mansion for kids to visit, with a behind-the-scenes tour that gives families an Upstairs, Downstairs perspective on the lives of the rich and those who serve them.
5) Rough Point is less grand than some other mansions, but is a nice visit for kids (who get in free), and the dahlias in the garden and rocky coastline are spectacular.
6) Museum of Newport History, run by the Newport Historical Society, is the place to get acquainted with the town's 300-year-plus history, with interactive exhibits.
7) Look at books at the Redwood Library, the oldest continuously operating library in North America.
8) Visit the Touro Synagogue, the oldest house of Jewish worship in North America
9) Sail Newport offers sailing lessons and boat rentals.
10) Join in on a Seal Safari boat ride with Seal Watch Cruises.
11) Look at the boats docked at the Newport Yacht Club, home to some fabulous sailing yachts.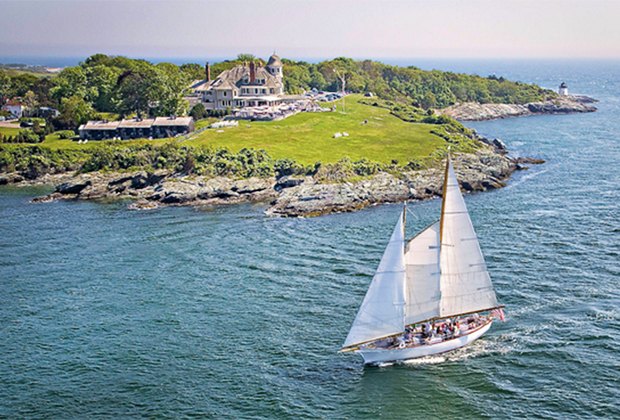 Take in the views on the Madeleine. Photo courtesy of the Madeleine
12) The sailing vessel Madeleine is a 70-foot schooner that is another fine way to view the Harbor.
13) Swim at popular Easton's Beach and enjoy a treat at the snack bar, with Newport County's best lobster rolls.
14) Ride the vintage carousel at Easton's Beach.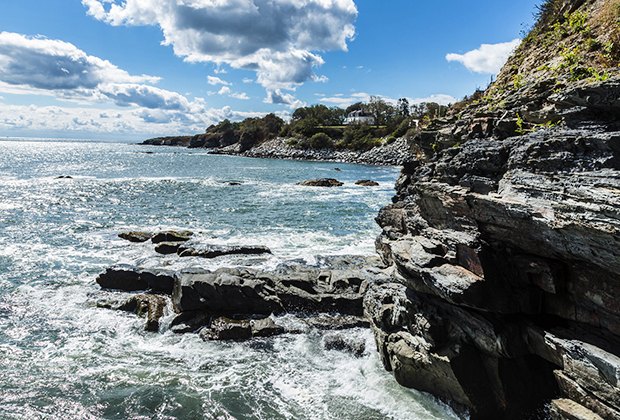 Enjoy the dramatic scenery on The Cliff Walk. Photo by Adrian Scottow/CC BY-SA 2.0
15) Hike a section of The Cliff Walk, a paved 3.5-mile path that provides a glimpse of the mansion's backyards as well as breathtaking Atlantic Ocean views. Portions of it are even stroller-friendly.
16) Learn how to blow glass at Thames Glass.
17) Buy some inexpensive souvenirs to take hom on Thames Street.
18) Play arcade games at Ryan Family Amusement Center.
19) Play in leafy Touro Park.
20) Visit Green Envy Eco-Boutique, where everything sold is organic, eco-friendly or fair trade.
21) Drop by Miniature Occasions & Dolls, a one-of-a-kind treasure trove for miniature furniture, perfect for the dollhouse lover.
22) Watch the candy makers at work at the Newport Fudgery and sample the treats.

Pick up a delicious Awful Awful at Newport Creamery. Photo courtesy of the Creamery
23) Can you drink three Awful Awfuls to get the free one at the original Newport Creamery?
24) Go to Bridgefest, which is hosting A Bridge Together, a special concert and Newport Jazz Festival "extra" that connects Jazz, African Beats, and Indian Carnatic music, featuring 17-year-old twins Riya and Sara Kapoor, accompanied by a Carnatic music orchestra featuring musicians from India. Admission is free.
25) Visit the Save The Bay Exploration Center and touch the sea creatures that live in the touch tank.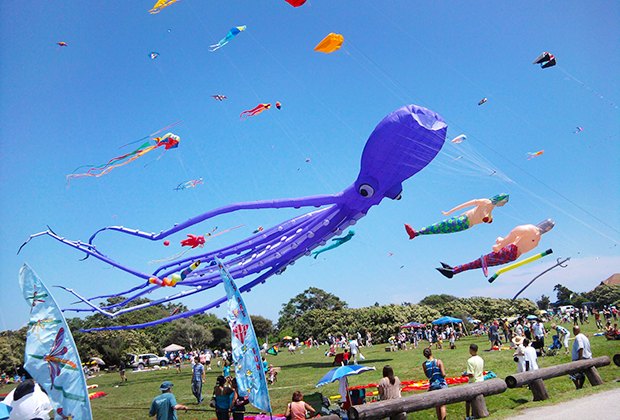 Marvel at the giant kites at the Newport Kite Festival. Photo courtesy of the festival
26) Check out the Newport Kite Festival or go kite-flying on your own at Brenton Park.
27) Shop for fresh produce for a healthy snack at one of the local Newport Farmers Markets.
28) Take in a Newport Gulls baseball game at Cardines Field.
20) Visit the Green Animals Topiary Garden in Portsmouth, just a few minutes down the road, and enjoy the giant animal topiaries.
30) Make a pit stop at the National Museum of American Illustration, with great works by Norman Rockwell, Maxfield Parrish, and others, all housed in a magnificent mansion.
31) If you have a history buff, schedule a tour of Fort Adams, a historic military compound with fortresses, underground tunnels, and great views of the bay.
Where to Eat:
32) Brick Alley Pub and Restaurant has a gluten-free menu plus lots of home-style dishes for kids.
33) Grab some pastries to go from Rosemary and Thyme Café and walk around the town.
34) Eat a chili dog at Ben's Chili Dogs, cash only.
35) Have pizza at Nikolas Pizza, a local favorite.
36) Have dinner and a show at the Newport Playhouse
Where to Stay:
37) Stay at the Hyatt Regency Newport on Goat Island, and the kids will have their own in-house Director of Fun, who plans non-stop activities like pizza making and poolside dive-in movies.
38) Stay at the Hotel Viking and splurge on Prince and Princess kid's spa treatments at the in-house Spa Terre.
When to Go:
39) Newport Yachting Center is the site of the Great Chowder Cook-off each June, with all-you-can-eat chowder samples and lots of kid-friendly activities. There is also a cool Reggae Festival here in August.
40) Spend 4th of July in the historic town, and you will be wowed by the fireworks display over the Harbor.
41) You don't have to go all the way to Wimbledon to watch tennis being played on grass. The Campbell's Hall of Fame Tennis Championship is the only North American tournament played on grass, held in Newport each July. Big-name players are usually here.
42) The Newport Winter Festival is a 10-day carnival that celebrates cold weather with tons of non-stop family activities.
43) Over 50,000 daffodils bloom at Daffodil Days at Blithewold Mansion each April in neighboring Bristol.
44) Taste of the freshest, most delicious local seafood at the Waterfront Oyster Festival, held in May at Bowen's Wharf.
45) Listen to music at the Newport Jazz Festival, held outdoors at Fort Adams State Park.
46) The Newport Folk Festival is also at Fort Adams, plus there is a cute craft fair too.
47) Bowen's Wharf is the location of the fall Seafood Festival. Seafood of all kinds is celebrated with cook-offs, live music, face painting and kid's activities.
48) The New Year's Day Polar Bear Plunge is a wacky annual event that is fun to watch, when the local Polar Bear club members plunge into the icy waters.
49) Visit Newport in December and enjoy the annual month-long festivities during Christmas in Newport. Concerts, crafts and special activities are held all month.
50) Just after Thanksgiving you can watch Santa and Mrs. Claus arrive by tugboat into Bowen's Wharf at the annual Christmas Tree Lighting.
51) When the weather turns cold, lace up and take to the ice at the Newport Skating Center.
For more Newport vacation ideas, check our Rhode Island Fun Guide or the Go Newport website. They have a good list of last minute hotel deals if you are up for an impromptu getaway.
Top photo: The Green Animal Topiary. Photo courtesy of Newport Mansions
Post was originally written in 2014, and updated by Fiona Haley in 2017.