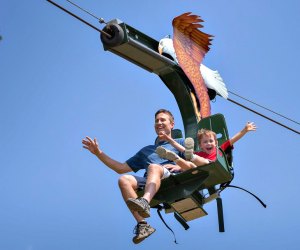 25 Things To Do in Providence with Kids
Tucked on the southern New England coast between New York and Boston, Providence sometimes gets overlooked as a family travel destination. But the self-proclaimed "Creative Capital" is a hive of kid-friendly art, American history, and waterfront fun. It's a lot less crowded and touristy than other urban centers, which helps when you have kids in tow. What's more, Providence is a short drive from some truly stunning beaches, allowing for a surf-and-turf mix of activities over the course of a warm weekend. Here's a checklist of can't-go-wrong actvities for a visit.
1. See exotic creatures at the Roger Williams Park Zoo. This summer, a rainforest exhibit will join the already exciting lineup of cool things to see at Roger Williams Zoo, one of the oldest zoos in the country and one of our favorite zoos in New England.
2. Be wowed at Waterfire. A blend of music, dancing, and, yes, flames make Waterfire one of the most exciting (and artsy) outdoor spectacles we've seen. Go during summertime to catch a show.
3. Spend a morning or afternoon at the Providence Children's Museum. Hands-on fun is this cheery museum's calling card: Water tables, a climbing maze, and a woodland play area are particularly appealing to little ones.
4. See world-class art on a dime (or just a bit more). The under-the-radar RISD Museum houses more than 90,000 works of art, from ancient Roman sculpture to colorful modern works, and is free for kids and teens ($15 for grown-ups).
5. Try to grab a brass ring. Built in 1896, the Crescent Park Looff Carousel is a beloved wooden merry-go-round with faceted glass jewels and stained glass windows. As of presstime, a restoration team was putting the finishing touches on the horses and housing; the carousel is expected to reopen sometime during the early summer 2018.
6. Pack a picnic and soccer ball to go to India Point Park. Gently rolling grassy hills along the water are home to fields, flowers, and a great enclosed playground.
7. Pedal the East Bay bike path. Starting at India Point Park, this mostly flat bike path extends 14 miles to Bristol, RI. with plenty of play area and ice cream stops along the way.
8. Catch a funny, all-ages show. Every Friday night, young improv actors take to the Everett Stage for witty improvisational shows, complete with live music.
9. Take a gondola ride. File it under must-do touristy things in Providence, particularly on a warm evening. Chatty gondoliers will take your crew on a pleasant ride along the Providence and Woonasquatucket Rivers.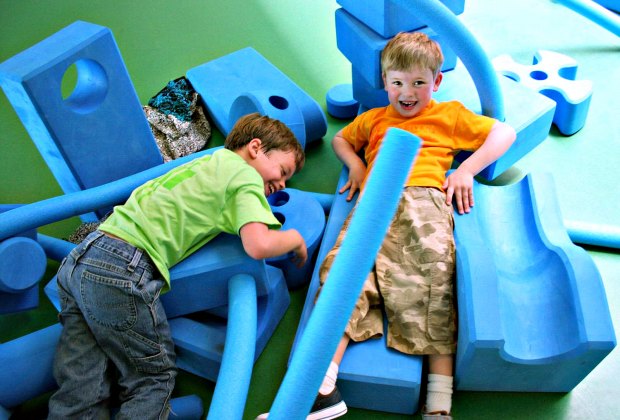 There are lots of interactive exhibits at the Providence Children's Museum. Photo courtesy of the museum
10. Explore the gardens at Roger Williams Park Botanical Center. Visit with resident goats, koi fish, turtles and frogs, and a traopical garden, year round. Yearly, in April, the fairies arrive for Fairy Garden Days. See where they live and make teeny-tiny discoveries.
11. Stock up on vacation reads at Books on the Square. Bibliophone staff at this gem of an independent book store will handpick exciting new titles for you and the kids. Little ones can cuddle up next to the store's teddy bear collection during Saturday morning stories (11am).
12. Cheer on the PawSox. As family-friendly as pro baseball gets, with lots of player-fan interaction and great snacks, the PawSox minor league team plays at McCoy Stadium in Pawtucket, just outside town.
13. Hike up to the highest point in Providence. Say it three times and hike it once: Neutaconkanut Hill, amid 88 acres of woodlands in the otherwise bustling orthwest corner of the city, offers fantastic city views. The 1.7 mile loop hike is easily doable for kids.
14. Visit Kennedy Plaza. Music, markets, food trucks, and some cool play areas (Brandon's Beach playground is one of the newest and best in the city) make this centrally located park a great place to let loose for a morning or an afternoon.
15. Eat your way through Little Italy. Whether you overlap with a fun festival—our favorite is The Feast of St. Joseph in March—or there during quieter times, sampling cream-filled pastries from the area's authentic Italian bakeries is a treat for all.
16. Sip a milkshake while perched on the fountain at DePasquale Plaza. Harry's milkshakes (spiked for adults!) are delicious to sample while making a wish at this grand fountain in the middle of Federal Hill.
17. Stroll down Benefit Street. This historic street with beautiful Victorian dwellings is home to June's Festival of Historic Homes and the Providence Athenaeum, where Edgar Allen Poe lurked during his literary heyday.
18. Take care of dinner at Chelo's Hometown Bar and Grill. This family-owned restaurant chain is a perfect spot to park your hungry kiddos for a meal.
19. See pumpkin art at Roger Williams Park. One of the most impressive fall spectacles crops up around Halloween-time in Roger Williams Park Zoo: dozens upon dozens of intricately carved pumpkins at the Jack-O-Lantern Spectacular.
20. Do bumper cars—on ice! In winter, the Alex and Ani City Center skating rink rents out on-ice bumper cars, taking seasonal ice skating outings (way) up a notch.
21. See clever films at the Providence Children's Film Festival. One of the best attended kids' film festivals in the country is in Providence, and features movies along with workshops for kids and other activities for budding cinemaphiles.
22. Discover duckpin bowling. Rather like candlepin bowling better known in Boston parts, duckpin bowling uses 10 small, squat pins and lightweight balls that are easy to handle and roll. People love BreakTime Bowl and Bar in neighboring Pawtucket.
23. Check out giant puppets. At the Nazo Lab, kids can see up close (for free!) the giant foam puppets that appear in exhibitions across the city and beyond.
24. Explore the seaside in Warwick. Oakland Beach is a favorite family beach in Warwick, just 12 miles south of the city.
25. Have extra time? Spend it in Newport! The Providence-Newport Ferry runs round trip a few times per day all summer. The delightful ride across the bay is not expensive, and can be quicker—not to mention more fun—than a drive across the state.