Ice Rink Bumper Cars? Yes, It's a Thing...And Not Far From Boston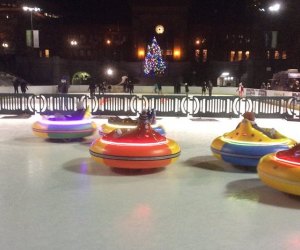 Let's face it: When you live in chilly New England, winter is a time when you can never have too many fun options for outings with your kids. And while we're fans of skiing, snow tubing, and, of course, skating, we're hooked on the idea of a brand-new way to beat winter doldrums: ice bumper cars.
About an hour away from Boston, you can try out this new phenomenon at Rhode Island's Alex and Ani City Center (which, by the way, is one of our very favorite outdoor skating rinks in the region). This downtown Providence rink, attached to a shopping center with lots of options for a kid-friendly meal, is the first rink in New England—and just the third in the US—to add bumper cars to its on-ice action. It's a great activity for those among us who are more klutz than Kerrigan on skates, and certainly adds an element of fun to your skating experience. These vehicles, which can accommodate multiple passengers, have a joystick that allows you to glide in a 360 degree radius around the rink, and seat belts and inflatable sides keep the experience safe and pretty jostle-free for all.
Of course, there are rules for the ice bumper cars. Kids need to be at least 6 years old and at least 42" tall to ride to operate a car alone. To take a passenger with you, you must be at least 16 years old (take note, siblings and sitters) and the passenger must be between the ages of 3 and 5 years old. Tickets are $12 for everyone over age 5, and are good for one 20-minute ride. Check out the rink's website for a few more rules, and, of course, hours: Bumper cars sometimes use one section of the ice (separated from skaters), and are sometimes given the full rink to roam.
Fresh air and a little action: I don't know about you and your brood, but for three active boys and me, this seems like the perfect way to spend a free winter vacation day or empty winter weekend. See you at the rink!
Top photo: There are nighttime hours for ice bumper cars, too. Photo courtesy of the Alex and Ani City Center Facebook page
This post was originally published in 2017.