Best Outdoor Ice Skating Rinks in Boston for Kids and Families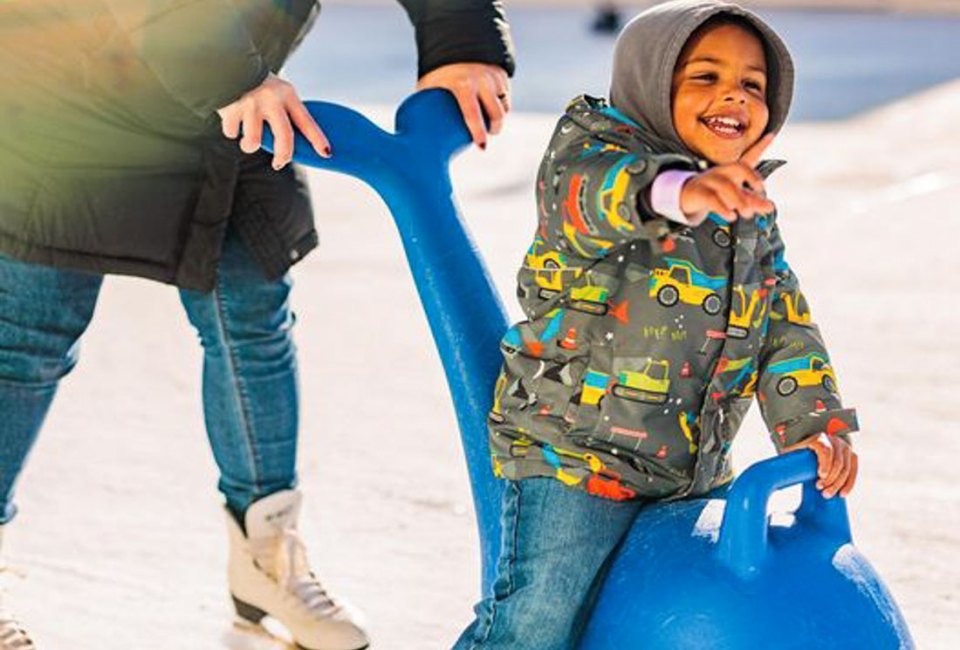 11/3/23
- By
Tara D
Whether your kids are skating first-timers or hockey players, gliding on one of the best outdoor ice skating rinks in Boston can be a fun excursion. It's also an affordable way for families to get fresh air and exercise in the wintertime. It's pretty thrilling to glide along the ice and look at the city and park scenery. Read on for our guide to the best outdoor ice skating rinks in Boston and the surrounding communities. Our list includes the beloved Boston Common Frog Pond, the Canal District Kendall Square ice rink, and Patriot Place – all of which are open this winter!
While these fresh-air rinks have a special charm, many of these free indoor skating facilities around Boston are open this winter for public skating and lessons, too. If your kids enjoy a slope as much (or more than) a rink, check out these Northeast ski mountains.
Best Outdoor Ice Skating Rinks in Boston

Show your excitement for outdoor ice skating in Boston. Photo courtesy of the Boston Common Frog Pond, Facebook
Opening Date Coming Soon!
Set in the heart of Boston Common, the Frog Pond is packed with energy and rimmed by trees and some of Boston's most iconic buildings. Skate rentals and sharpening are available. There's a café for snacking, and hot cocoa is available at the rental station. There's also a free holiday Skating Spectacular on December 1 with national and international competitive figure skaters, synchronized skating, and more.

Boston kids can learn to skate or play hockey at the Jack Kirrane Ice Skating Rink in Brookline. Photo courtesy of the rink
Opening Date Coming Soon!
Located in stately, pastoral, 64-acre Larz Anderson Park, the Jack Kirrane Ice Skating Rink offers skate rentals, therapeutic skating, skating lessons, and for kids in Metro Boston, two ice hockey programs – the Ice Mice and House League. When there's snow on the ground, there's also nearby sledding.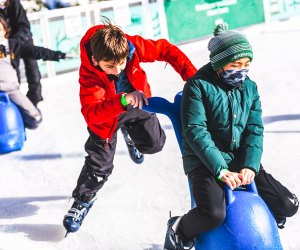 Get out with friends and family to the best outdoor ice skating rinks in Boston! The Rink at 401, courtesy of the Fenway Facebook page
Opening Date Coming Soon!
Set next to the Time Out Market, this urban outdoor skating rink offers skate rental, skating lessons, and more with nearby parking.
Opening Date Coming Soon!
Some might say that the best thing here is the price (free!), while others appreciate the family and neighborhood atmosphere. Neighborhood children practice skating to the sound of Motown and soul music pulsing out of the speakers. This volunteer-run operation offers low-cost skate rentals. Note that the 65-by-100-foot outdoor ice rink—run by the Massachusetts DCR, which runs indoor and outdoor skating rinks throughout the state—can get crowded at times.
Best Outdoor Ice Skating Rinks near Boston
Skate at Canal District Kendall offers ice skating lessons on well-groomed ice. Photo by Michael J. Maloney
Public skating is set to start mid December 2023
Tucked right off of Third Street in Kendall Square, Skate at Canal District Kendall's community rink has a modern feel with its funky-shaped rink and well-groomed ice. Amenities include locker rentals, skate rentals, skate sharpening, ice skating lessons, season passes, and a snack bar. There's also a Skating School that offers private lessons with experts.
Public skating is open on November 11, 2023, through February 24, 2024
This 50-by-100-foot rink is nestled in the middle of an upscale shopping center that includes Whole Foods, J. Crew, J.P. Licks (for the best cocoa), and more. The rink plays holiday music and is illuminated by snowflake lights at night. Skate rentals and a warming tent are available. There are lots of fun events at this location, such as the Holiday Stroll and more.
Opening date coming soon!​
Near Featherland Park's upper baseball field, this rink has no set hours of admission—which means as long as there's ice (and you've got skates), you can skate! Nighttime skaters will find lighting available. The rink opens to the public once weather temperatures are conducive to freezing, so if you're unsure if it's open, it's a good bet to call ahead.

Skate at the outdoor rink outside the Pro Shop at Gillette Stadium. Photo courtesy of Patriotplace.com
Opening date coming soon!
This local rink is located on the town common and is a picture-perfect New England skating place. In a town that hosts many recreational opportunities, such as pickleball, the skating rink is a popular winter activity. Be sure to check out the holiday tree lighting ceremony to ring in the season.
Public ice skating and ice bumper cars are open early December 2023 through February 2024
Worth the drive? Yes! Plan a day trip to nearby Providence in the wintertime and make skating at the Providence Rink a highlight. Skate aids are available for little ones who are learning, and don't miss a spin on the ice bumper cars!
Originally published December 2011. Updated Annually.
Lead photo Skating on the Boston Frog Pond, photo by Mott, Flickr
Click Here to Sign Up!