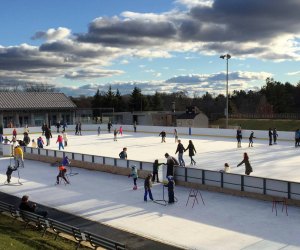 Outdoor Ice Skating Rinks Near Boston Open in 2020-2021
Whether your kids are skating first-timers or hockey players, gliding on one of the outdoor ice skating rinks around Boston can be a fun, affordable way for families to get fresh air and exercise in the wintertime. Read on for some of our favorite rinks in the Boston area—several are closed in 2020, including the beloved Boston Common Frog Pond, but some are opening, with capacity restrictions in place to promote healthy outdoor activity for area families.
And while these fresh-air rinks have a special charm, many of these free indoor skating facilities around Boston are open this winter for public skating and lessons, too. If your kids enjoy a slope as much or more than a rink, check out these Northeast ski mountains opening in 2020.
2020: We will continue adding outdoor skating rinks to our list as we learn of opening plans. Note that due to COVID-19, closures to ice rinks can happen at any time. Be sure to contact the facility before heading out, and wear your face masks, which are required for all public activities in Massachusetts.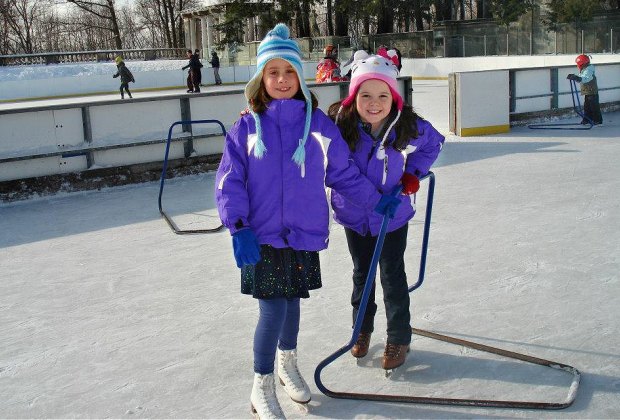 Jack Kirrane Ice Skating Rink at Larz Anderson Park, Brookline. Photo courtesy of Brookline Recreation Department
2020 update: Public skating opens December 8; sign up for a time slot, here.
Located in stately, pastoral, 64-acre Larz Anderson Park, the Jack Kirrane Ice Skating Rink offers a snack bar, therapeutic skating, skating lessons, season passes, skate rentals and sharpening. When there's snow on the ground, there's also nearby sledding.
2020 update: Public skating is scheduled for Saturdays and Sundays, beginning December 19, 2020 and ending March 7, 2021, weather permitting.
Some might say that the best thing here is the price (free!), while others appreciate the family and neighborhood atmosphere. Neighborhood children practice skating to the sound of Motown and soul music pulsing out of the speakers. Low-cost skate rentals are available. Note that the 100' by 65' rink can get crowded at times. Lessons are offered on Saturdays. This rink is run by the DCR; visit its website for a complete list of DCR indoor and outdoor skating rinks.
Kendall Square Ice Skating Rink. Photo by Michael J. Maloney
December 2020 update: Opening has been delayed, and plans to eventually open are still pending; check website for updates.
Tucked right off of Third Street in Kendall Square, the Kendall Square Community Skating Rink has a modern feel with its amoeba-shaped rink and well-groomed ice. Locker rentals, skate rentals, skate sharpening, season passes, and a snack bar are all available.
2020 update: Check for updates on Rhode Island and Massachusetts travel restrictions before heading out.
Worth the drive? Yes! Plan a day trip to nearby Providence in the wintertime and make skating at the Providence Rink a highlight. Skate aids are available for little ones who are learning, and don't miss a spin on the bumper cars!
Originally published December 2011.