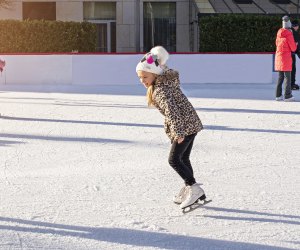 10 Places to Take Kids Ice Skating for Free in Boston
We're huge fans of the many outdoor ice rinks that open every winter around Boston, but these popular (and touristy) spots can get pretty crowded and just a bit pricey. What's a Boston mom or dad to do? Don't worry: Boston happens to have lots of public skating options that are totally free! Here's what you need to know to have a fun, no-cost time as a family at these 10 free skating rinks around town.
The first eight rinks on our list are all managed by the Department of Conservation and Recreation (DCR). The public skating schedule for each rink is listed below, but keep in mind that hours will vary on holidays and school vacation weeks. You can keep tabs on those details on the DCR public ice skating schedule webpage. If you're interested in concessions, we recommend calling the rink before you visit, as hours vary widely at each location.
1. DCR Emmons Horrigan O'Neil Memorial Rink—Charlestown
(617) 242-9728
Public skating hours: Sunday 2pm-3:50pm.; Tuesday 12:30pm-2:30pm; Wednesday noon-2pm (public stick time); Thursday noon-2:30pm.
Skate rentals: $5 (Sundays only)

2. DCR Steriti Memorial Rink—North End, Boston
(617) 523-9327
Public skating hours: Sunday 3 p.m.-6:50 p.m.; Monday noon-2:20 p.m.; Tuesday noon-2:20 pm; Wednesday noon-2:50pm and 10am-11:50am (public stick time); Thursday noon-2:20pm; Friday noon-3:50pm. and 7pm-9:50pm.; Saturday 4pm-9:50pm
Skate rentals: $5
3. DCR Murphy Memorial Rink—South Boston
1880 William J Day Blvd., South Boston
(617) 269-7060
Public skating hours: (large rink) Sunday 2 pm.-3:50pm; Tuesday noon-1:50pm; Wednesday noon-1:50pm; Thursday noon-1:50pm.; Friday noon-1:50pm and 6pm-7:50pm.; Saturday 7pm-8:50pm. // (small rink) Sunday 10am.-3:50pm.; Monday noon-5:50pm; Tuesday noon-5:50pm.; Wednesday noon-5:50pm; Thursday noon- 5:50pm.; Friday noon- 7:50pm; Saturday 10am- 7:50pm
Skate rentals: $5
4. DCR Devine Memorial Rink—Dorchester
(617) 436-4356
Public skating hours: Sunday 4pm-5:50pm.; Tuesday noon-2:20pm; Wednesday noon-2:20pm.; Thursday noon-2:20pm; Friday noon-2:20pm; Saturday 7pm.-8:50pm
Skate rentals: $5 (weekends only)
5. DCR Bajko Memorial Rink—Hyde Park
(617) 364-9188
Public skating hours: Sunday 2pm-3:50pm.; Tuesday noon-2:20pm.; Wednesday noon-2:20pm.; Thursday noon-1:50pm (public stick time): Friday noon-2:20pm
Skate rentals: Not available
6. DCR Reilly Memorial Rink—Brighton
(617) 277-7822
Public skating hours: Sunday 2pm-3:50pm.; Tuesday noon-1:50pm; Wednesday noon-1:50pm(public stick time); Thursday noon-2pm; Friday noon-1:50pm; Saturday 2pm.-3:50pm
Skate rentals: $5 (weekends only)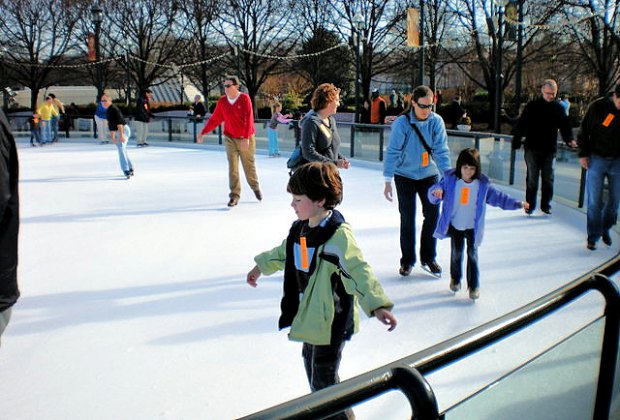 Photo courtesy of Kelly Skating Rink
7. DCR Kelly Outdoor Rink—Jamaica Plain
(617) 727-7000
Open December 10-February 28, weather permitting
Public skating hours: Sunday noon-7:30pm.; Monday noon-7:30pm; Tuesday noon-7:30pm; Wednesday noon-7:30pm.; Thursday noon-7:30pm.; Friday noon-7:30pm.; Saturday 1pm.-7:30pm.
Skate rentals: $2
8. DCR Connell Memorial Rink—Weymouth
(781) 335-2090
Public skating hours: Sunday 2pm-3:50pm.; Monday 12:30pm.-2:20pm.; Tuesday 12:30pm.-2:20pm.; Wednesday 12:20pm.-2:30pm; Thursday 12:30pm-2:20pm.; Friday 12:30pm.-2:20pm; Saturday 2pm.-3:50pm
Skate rentals: $5
9. LoConte Memorial Rink—Medford
(781) 393-2380
Opens on November 29
Public skating hours: Sunday 2pm-4pm; Tuesday 10am-noon; Wednesday 10am.-noon; Thursday 10am-noon; Saturday 7pm.-9pm (changes may occur due to hockey schedule, check website for updates)
Skate rentals: $5
10. Veterans Memorial Rink—Somerville
(617) 623-3523
Open year-round
Public skating hours: Sunday 4pm-6pm; Monday noon-3pm; Tuesday noon-3pm; Wednesday noon-3pm; Thursday noon-3pm; Friday 5:30pm.-7:30pm (hours can vary, check website for updates)
Skate rentals: $5
Top image via Bigstock
Post published 2016; updated 2019