Northeast Ski Mountains for Families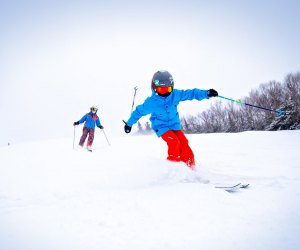 11/19/20
- By
Ally Noel
Think cool, fresh air against your cheeks, hot cocoa around the fire, and quality outdoor time with your kids: A trip to a Northeast ski mountain is the perfect cure for cabin fever and the winter doldrums in 2020 and 2021. Parents looking for a day trip or weekend escape will be excited to know that many nearby ski resorts are adopting capacity restrictions and social distancing plans to keep families safe while they hit the slopes. Here are some of our favorite ski areas where you can purchase lift tickets, make reservations, or even book ski or snowboard lessons now, including spots in New Hampshire, Vermont, Maine, Massachusetts, New York, Pennsylvania, and even one gem in Virginia.
Read on for our family ski picks, as well as important information about interstate travel restrictions and other safety policies that may guide your choice. Be sure to check out our Snow Sports Guide for the scoop on more winter fun in the great (and safe) outdoors.
When planning your ski trip, check state travel advisories, many of which require out-of-state visitors to quarantine or have a negative COVID-19 test before arrival. While some resorts are welcoming families to stay in slopeside lodging, many are encouraging visitors to boot up at their cars and treat their vehicles like a personal base lodge. The National Ski Association has published the Ski Well Be Well guide to set industry standards for all resorts this year. As expected, masks are required, families will be kept together on chair lifts, and modifications have been made to popular children's programming.
There are plenty of spots to ski (and make snow angels) among 464 acres of trails at Bretton Woods. Photo courtesy of Bretton Woods
Bretton Woods is New Hampshire's largest ski area. With many necessary changes in place to keep people distanced and safe while skiing and enjoying the lodge area, there will be skiing for the 2020-21 season. Snowmaking is planned for its 464 skiable acres. Après ski, families can enjoy renting a popular "Fat Bike" to pedal through the snow, snowshoeing through miles of trails, and tubing at the Bretton Woods Nordic Center.
You can't help but gasp once you drive 'round "Oh My Gosh" corner on way to Sugarloaf. The mountain is the second-largest resort east of the Rockies and offers an impressive 162 trails and over 2,000 continuous vertical feet of skiing. Perfect Turn, Sugarloaf's ski school, provides ski instruction with both full- and part-day options. In addition to skiing, the Outdoor Center at Sugarloaf provides tons of family fun, like an NHL-sized ice skating rink, snowshoeing, and other Nordic sports.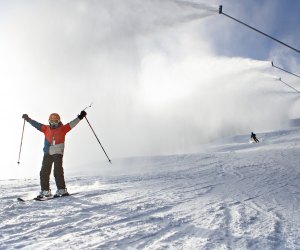 There will be plenty of snowmaking at Sugarloaf this year. Photo courtesy of Sugarloaf Mountain
Tons of easy to intermediate terrain, a charming town square, Nordic skiing, fat biking, and snowshoeing are just some of the things that make Waterville Valley beloved by generations of families around New England. Make sure to grab a copy of the Resort Insider to see what activities the resort has planned for your stay.
Loon - New Hampshire
Nestled in the White Mountains, Loon Mountain has been attracting families to its gentle slopes for decades. With 80% of Loon's terrain marked as novice or intermediate, it's a perfect choice for a family vacation. Stay slopeside at the Mountain Club, and enjoy the convenience of a ski in ski out resort. Everyone can also relax at the River Walk Resort that offers an outdoor hot tub, game room, pool, and skating rink. Definitely save some time to check out Ice Castles located in nearby North Woodstock.
Stratton has an awesome 3 mile summit to base trail called Easy Street that is a designated go-slow zone, making it easy to spend some quality time on the slopes with your family this winter. Grizzly's is a popular spot to warm up and grab a bite. Located in the base lodge, it will be open this season by reservation only. Don't miss signing up for a snow tubing session at the Coca Cola Tube Park or gliding across the ice rink in the middle of the Commons.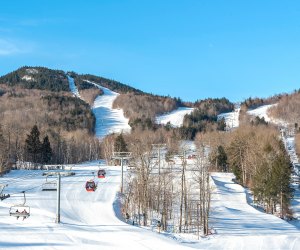 Like most ski spots this year, Sunday River is requiring that visitors ride chair lifts and gondolas only with family or their arrival group. Photo courtesy of Sunday River
There's a good reason that Sunday River is one of our favorite New England Ski Resorts. With a ton of terrain for young skiers to explore, Sunday River has long been one of Maine's most popular ski resorts for families. Twilight skiing, snow tubing, fireworks, and a bevy of slopeside sweets—think waffles and cinnamon rolls—it's easy to see why families love coming back to Sunday River year after year.
Butternut may not have all the amenities of some of the larger East Coast ski resorts, but its proximity to major metropolitan areas make it an ideal destination for a quick trip to the slopes. Situated in the Berkshires, Butternut provides a 1,000-feet vertical ski area and popular family ski programs.
It's close proximity to New York City's metropolitan area makes Hunter an obvious choice for many families. Tucked into the Catskills, Hunter's easy terrain is perfect for beginners. In addition to skiing, Hunter also has New York State's largest snow tubing park.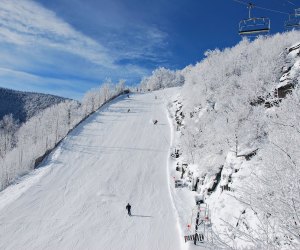 There's plenty of easy terrain to suit beginners on Hunter Mountain. Photo courtesy of Hunter Mountain
Located in the Lake Harmony region of the Pocono Mountains, Jack Frost Big Boulder offers ski school and more programs for kids. Thanks to its impressive snowmaking capacity, Jack Frost Big Boulder is traditionally the first ski area to open in the the state every year, and the last to close. The mountain is also home to a popular snow tubing park. With an impressive 20-lane snow tubing chute and two tows, families can enjoy a thrilling ride down the mountain.
Jack Frost will be offering both group and private lessons this season. Young children are encouraged to sign up for a private lesson for their family.
Camelback offers an impressive 365 days of indoor-outdoor adventures. Although many people come for all the indoor fun like Aquatopia, the popular indoor water park, arcades, zip lines, bumper cars, and more, Camelback also entertains families with 125 days of skiing and tubing. Camelback also has a full schedule of festive fun this holiday season with planned activities like Pancakes and PJs and a Giant Snowtubing Race.
Virginia's Massanutten Resort features 6,000 acres of mountain fun located in the Ridge-and-Valley Appalachians. With capacity limits in place, guests will be welcome to use many of the resort's amenities this season including snow tubing, ice skating, and the popular indoor water park. Additionally, its packed entertainment and dining schedule has been modified for the season and includes new options like Drive-In Movie Night.