Ice Castles NH: A Gorgeous Winter Playground Entirely Made of Ice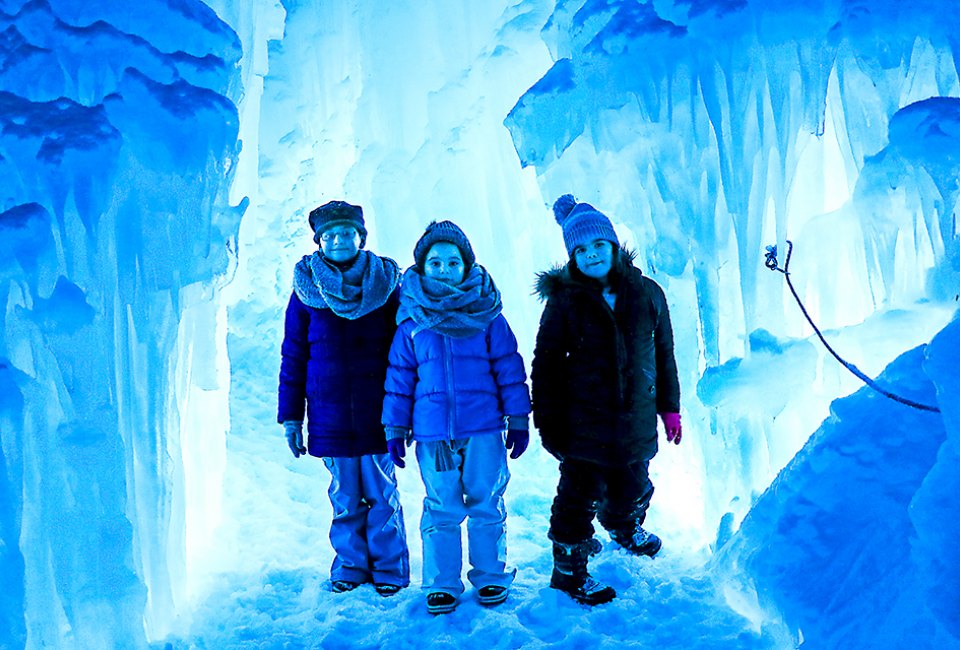 2/6/19
- By
Ally Noel
From the moment we drove down the road and saw Ice Castles NH gleaming on the horizon, it was love at frost sight. The castles are a beautifully detailed work of art that is a frigid feast for all your senses and a perfect family winter weekend getaway.
Ice Castles is a completely immersive experience that is currently located in six cities throughout North America. Professional ice artists work tirelessly to hand-place hundreds of thousands of icicles into stunning formations. The end result is a labyrinth of twisting paths that open up into gorgeous ice canyons, grand archways, and a fun surprise or two.
We visited Ice Castles NH on a Friday night to see the Fire Performances and the LED-lit sculptures in all their glory. The ground of the castle is made out of almost sand-like snow. Although it's not overly slippery, it can be a bit challenging to walk through. Because it would be impossible to push a stroller through, I saw genius parents dragging their toddler in a sled.

Ice Castles NH is a feast for all your senses.

Once we entered the castle, we were all absolutely mesmerized and didn't know where to look first. The walls are made out of gorgeous ice formations and the ceiling is lined with icicles all glowing in a range of LED colored lights. We all just stood there taking it in for a moment to get our bearings. Then, we found a tunnel to climb through and the adventure began.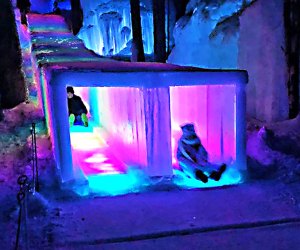 A ride down the ice slide in a once-in-a-lifetime experience.
There are several tunnels located throughout the castle that all ages can enjoy. Some require crawling through on your hands and knees, others you can simply walk through. There are several of these surprise features around Ice Castles NH that truly make it into a winter playground. You can climb towers, stand at the balcony, and - perhaps the most fun - slide through a rainbow tunnel made completely out of ice.
After a trip or two down the ice slide, it was time to warm up and grab a snack before heading over to the Fire Performance near the center of the castle. There are several fire pits set up around the concessions booth that makes for a perfect spot to warm cold little fingers.

The Fire Performances occur on Friday nights from 7:15-10:15 and last about 20 minutes. Throughout the week, the Castles have several special events. On Saturday you can enjoy a visit from the Snow Princess herself from noon-6.

Ice Castles heat up at the Fire Performance on Friday nights.
What would any modern-day experience be without your fair share of photo ops- Ice Castles does not disappoint. Aside from the dramatic setting it naturally provides, you can also sit on a throne made of solid ice and pretend you are Queen Elsa herself. Additionally, there is a photo station near the entrance where you could have a photo taken of the entire family for an additional fee.
Ice Castles NH is located in Woodstock, NH - about a 10-minute drive from Lincoln, home of Loon Mountain Resort. There are several great family hotels in the area to choose from. We stayed at the Pollard Brook Inn, a sister property of the River Walk Resort. With two bedrooms, each with their own bathrooms, and a full kitchen, an indoor pool, outdoor hot tubs, and a ton of really fun activities to choose from, the Pollard Brook Inn was definitely a great place to call home during our White Mountain Adventure.
Although each ticket has a set entrance time, there is no time restraint on your time spent in the Castle. It probably took us around 90 minutes to explore everything. "Mom, this isn't like any of our usual adventures. This is an experience!" My seven-year-old daughter is absolutely right, Ice Castles is an experience - and definitely, one that my family won't forget any time soon.
Tips:
Purchasing tickets ahead of time is strongly recommended, tickets do sell out fast and standby tickets are not guaranteed.
Let's just state the obvious: Ice Castles NH is cold, and you should definitely dress for the occasion. If you really want to take advantage of the whole experience you need snow pants, long underwear, snow boots, hats, gloves, mittens, hand warmers - the works!
Follow Ice Castes on Facebook and Instagram. Weather-related closures, special events, ticket specials are announced on their social media accounts frequently.
There are portable restrooms available for use.
There are some concessions available inside Ice Castles NH. You can purchase a cup of hot chocolate, a bag of cookies, or a yummy cinnamon bun. Outside food is not permitted in the Castles.
Photos by the author. All images © Mommy Poppins Inc. All rights reserved.