Poconos Family Getaway: Split Rock Resort and Jack Frost Mtn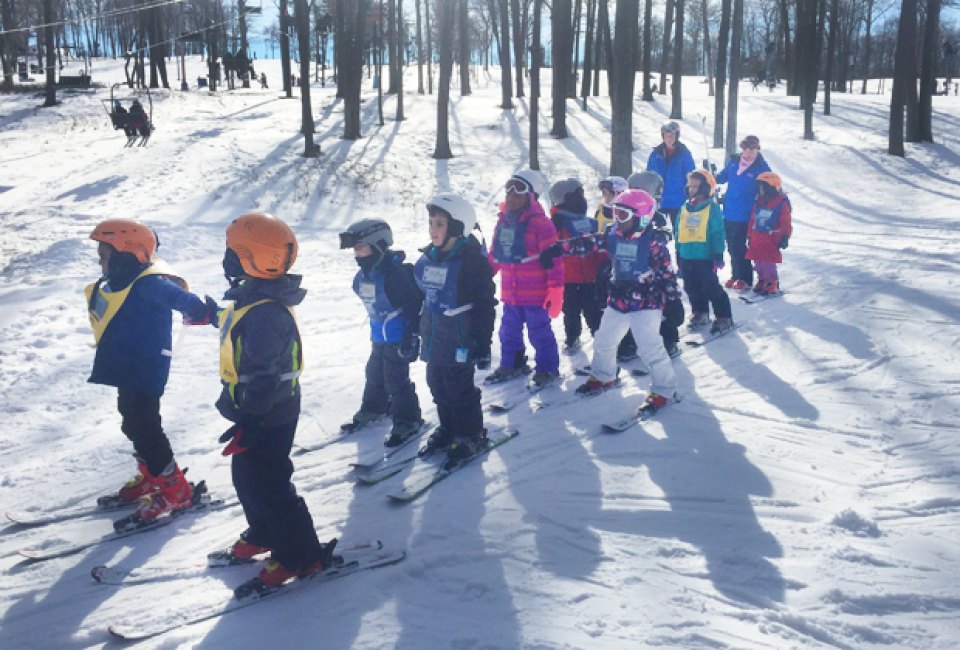 2/16/16
- By
Sona Charaipotra
If you can't escape the snow this winter, you might as well enjoy it—and there's no better way than skiing, snowboarding and snow tubing in the Poconos.

At Split Rock Resort in Lake Harmony, Pennsylvania, deep in the heart of the Pocono Mountains, the emphasis is squarely on family. Amenities such as an arcade, movie theater, indoor heated pool and indoor water park up the fun factor exponentially.

And all less than two hours from New York City? We had to get the scoop on this family getaway. Here's our parent (and kids) review, and things to know before you go.
Nestled among 1,200 acres of woods and mountains, the Split Rock Resort offers easy access to both the Jack Frost and Big Boulder ski areas, and some packages include rentals and lift tickets. Both ski resorts are kid-friendly, offering bunny slopes, lessons with well-trained instructors and plenty of food and game options for those those staying off the slopes.
Family Fun
The Town Center at Split Rock is a hub for family activities. There's an arcade, movie theater (where flicks are usually PG or PG-13), bowling alley, indoor pool, racquetball courts and an indoor water park. There's also a spa on site for massages and other treatments.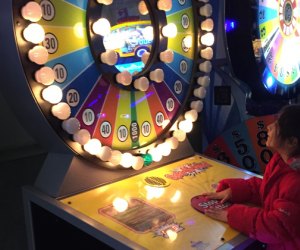 Kids can stay warm and entertained indoors at the arcade.
Non-winter activities, which we didn't get to explore, include horseback riding, golf and mini-golf, boating, fishing and jet skiing on the lake, which has its own charming little beach. Other sports include tennis, badminton, basketball, bocce and volleyball. Oh, and there's shopping at the Crossings Premium Outlets, just a few minutes drive, with more than 100 stores.

The resort is clean and well-kept, although it is in various stages of updating. Front and center is the Rock Lounge, which features activities such as scavenger hunts, bingo and other games during daytime hours. It offers live music and entertainment in the evenings. The staff is warm and friendly: We were lounging one afternoon when the kids discovered a golf set. A lovely staffer named Brenna spent 40 minutes playing with them and showing them the basics on a ramp just off the lounge.
RELATED: Camelback Mountain: A Family Weekend in the Poconos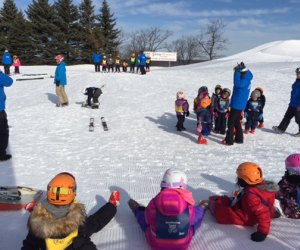 First-time skiers learn the basics on flat ground before hitting the actual slope at Jack Frost.
Snow Day at Jack Frost Mountain
We spent six hours at the Jack Frost Ski Resort (an eight-minute drive from Split Rock), where 6-year-old Kayva braved her first-ever ski lesson. Drop-off kids' lessons for ages 3 and older are offered twice a day and structured for safety. Each kid gets a tag with his or her name and a number, and parents get a corresponding tag for pickup. The three-hour lesson starts off by explaining things in kid-friendly terms, spending a good amount of time getting acclimated to skis on flat ground before hitting the slopes. Kayva was assigned three teachers and each called her by name (not number). She made two runs during the lesson and at the end happily displayed her certificate of achievement.

Skiing, snowboarding and snow tubing lessons and sessions are available for adults, too. Jack Frost Mountain boasts 21 trails, while its next-door Big Boulder Park offers a snowboarder's paradise with 15 more trails and over half of it dedicated to terrain parks. You can rent everything you need at the mountain from skis and boots to gloves and helmets. But with a toddler in tow, I spent some quality time in the lodge. A cavernous food court, with options including pizza, burgers, pasta and a bar, was jam-packed with skiers—and all their stuff. The little one was entertained by a few arcade games and a cocoa break, but there wasn't really a place to cozy up and chill by the fire.
RELATED: Skiing & Snow Sports Guide for Families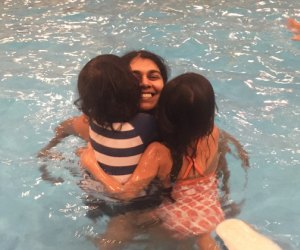 A heated indoor pool, toddler pool and Jacuzzi for adults meant we all enjoyed water playtime.
After a few hours on the mountain, we were ready to head back to the resort—and straight to the heated pool, which, though usually crowded, was clean and well-stocked with towels. There was also a toddler pool that the little one loved and a Jacuzzi for adults.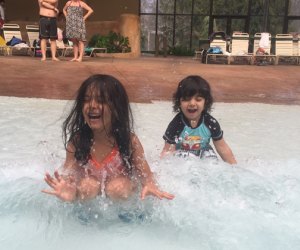 The "beach" at Split Rock's H20ooohh water park was a big hit.
Everyone Into the Water Park
A favorite activity at Split Rock, however, is the H20ooohh water park. Pool-adjacent, and open from noon to 8pm while we were there, it was bustling and busy, but didn't feel overcrowded.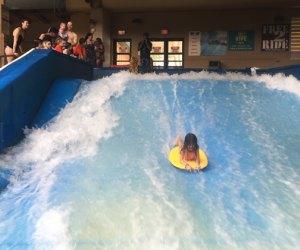 Catch some waves on the Komodo Dragon.
There is a height cutoff for bigger slides, such as the Komodo Dragon and the Viper (no toddlers allowed), but there's plenty to do for all ages. Kavya loved the simulated surf lesson (although my husband wiped out big time) and riding on the Komodo Dragon with mama.

Hungry? The water park has its own restaurant, serving up burgers, pizza, chicken fingers and even funnel cakes, plus margaritas and pina coladas for parents wanting to get their slide-side lounge on. Water park tickets run from $31 (kids older than age 2) to $36. However, some resort packages include park tickets, too.
Family-Friendly Food
While our two-bedroom suite was equipped with a kitchen, we enjoyed most of our meals at the Town Center, which offers formal and informal options. There's an old-school pizzeria offering slices, pies, calzones, strombolis and heroes, as well as ice cream, reminding you that you're in the thick of Pennsylvania. It's a decent bang for your buck with kids, and easy enough to tote back to your room for a movie night.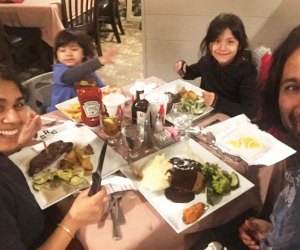 Enjoying a family meal at Split Rock Grill where steaks and seafood are available, along with a kids' menu.
The culinary centerpiece, however, is the dapper-but-casual Split Rock Grill, which offers everything from steaks and seafood to burgers and pasta, as well as a kids' menu with pizza, chicken fingers, grilled cheese and other staples. As fancy as the name sounds, the restaurant is super kid-friendly, matching the resort's family atmosphere. My adventurous eater's favorite was, of course, the sizzling strip steak, served with roasted potatoes and a lovely seasonal veggie medley.
The Grill also offers a classic buffet—always family friendly—with many options, from made-to-order omelets and waffles, cereal, fruit, bagels and a spread with eggs, bacon, sausage and the works, perfect for fueling up for a day on the slopes or in the water.
Accommodations
Here's the biggest thing to know before you go: Split Rock is sprawling. The resort consists of four separate home enclaves surrounding the Town Center. While a shuttle runs within the community, a car improves your access. For New Yorkers used to walking or using mass transit, having to drive just to grab dinner can be a surprise. We were in the Willowbrook enclave, which was easily more than a mile's drive from the Town Center (and not an easily walkable mile).
RELATED: Family-Friendly Resort Reviews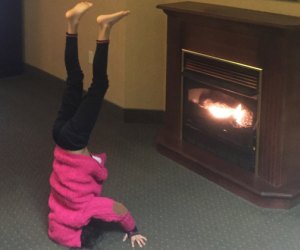 Warming up, and clowning around, in front of the toasty fireplace in the room.
All that said, accommodations—a two bedroom suite, which was actually two attached one-bedrooms (meaning two kitchens)—were lovely. With pullout couches in the living rooms, it could easily have accommodated eight people. One of our rooms had a gas fireplace, perfect for cozying up with a book and glass of wine post-skiing, as well as a giant soaker hot tub big enough for all four of us. The kids loved it, especially coming from a tight New York City space.
The other fun surprise: the quiet. While the suites were in a condo-style building that was well-occupied, it was a hushed, snowy space. We didn't turn on the TV all weekend, which was a nice change of pace. Workaholics should be forewarned: Wi-Fi is spotty.

Rooms range from $99 a night to more than $300. Size and style-wise, there's something for everyone, from a cozy cabin for a couple on a getaway to a multiple-room suite for a family with kids and grandparents. There are packages that include water park or ski lift tickets, making a Split Rock adventure more affordable.
Good to Know Before You Go
A free shuttle bus runs within the resort, but a car is key for keeping sane at Split Rock. Rooms can be a hike from the Town Center, and you don't want to waste time waiting for the shuttle. Plus, you'll need to drive to the ski resorts or shopping.
The pool and water park gets packed with kids most afternoons. Visit in the morning or evening hours for a quieter experience.
Many rooms come equipped with a kitchen. While coffee and tea are included, you'll want to bring some basics (such as cereal and milk or cocoa fixings) to really take advantage.
Ask for a room with a fireplace. Why not?
Check-in is at 4pm and check-out is at 11am, but you can stash your stuff in your car and enjoy the facilities even if your room isn't ready.
Portable cribs are available.
Split Rock Resort is located at 100 Moseywood Road, Lake Harmony, Pennsylvania, about two hours from Manhattan.
All photos by the author.
Places featured in this article:
Click Here to Sign Up!
i