10 Family-Friendly Ski Areas Near NYC For Your Next Winter Getaway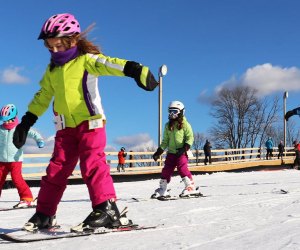 1/7/22
- By
Anna Fader
Embrace the chill of winter by getting out and hitting the slopes at one of these family-friendly ski areas near NYC. We've rounded up 10 nearby options sure to entertain any family, whether you're bringing along beginners, looking for an all-inclusive weekend away, or want entertaining perks beyond the slopes.
A winter sport like skiing is a great way to get outdoors as a family. Read on to find out which of these family-friendly ski areas near NYC matches your skill level and interest.
Want more family-friendly ski areas or picks for other snow sports? Check out our skiing and snow sports guide, which offers more options in the tristate area, New England, and even California. We've also got picks for the best snowboarding parks and snow tubing spots nearby.
When planning your ski trip, be sure to check each venue's rules about COVID-19 testing, masking, and vaccination requirements.



Experts love expansive Mountain Creek in New Jersey, but there's plenty for beginners here, too.
1. Best All-Around Ski Area: Mountain Creek – Vernon, New Jersey
Mountain Creek is a great all-around option for a family ski trip, with 46 runs, the largest terrain park in the area, snow tubing, and a vertical drop of about 1,000 feet. Plus, it's just over an hour from Manhattan. We visited and had a great time. Ski and snowboarding lessons for kids and adults are offered in a substantial ski-school area. For the 2022 season, masks are not required but are recommended for indoor settings. It is recommended to purchase tickets online.
2. Best Ski Area for Beginners: Mount Peter – Warwick, New York
If you're a newbie and want to dip your toes in the sport without laying out a large sum for rentals and lessons, Mount Peter offers FREE beginner lessons (with the purchase of a lift ticket) multiple times a day on the weekends for skiers ages 6 and older. Customizable mommy or daddy-and-me or family lessons are also available. If you've got a toddler or preschooler dying to be on the slopes, check out Pete's Pals lessons for potty-trained kids ages 3-4. With all the little kid programs, it's no wonder we consider it one of the "friendliest" mountains we've visited. If your kid is a seasoned skier and interested in joining a team, Mount Peter offers five different racing teams for various ages and experience levels. For 2022, tickets must be purchased ahead of time, and masks must be worn in lift lines, on lifts, and inside. The ski team program is substantially limited this season. Guests are asked to use their cars as base lodges this season to boot up. Base lodges are restricted to 50% capacity with a 30-minute per table time limit.
RELATED: Family Ski Resorts Close to Connecticut

Nearby Campgaw is great for the littlest skiers.
3. Closest Ski Area to NYC: Campgaw Mountain – Mahwah, New Jersey
Jump in the car and be on the slopes in less than an hour from NYC. Campgaw Mountain is a tiny slip of a slope about 20 miles north of the George Washington Bridge, so it's perfect for a day trip. Campgaw is an excellent destination if your kids are young or just learning to ski. There's a designated beginner area with magic carpets for transporting little (or big) kids back up the hill. Individual and group lessons are available, and there's a children's program for ages 4-6. Campgaw can get busy, but it's not as crowded as some of the larger resorts. For 2022, masks are required indoors and tickets should be purchased online.
4. Best Bargain Ski Resort: Belleayre – Highmount, New York
State-run Belleayre Mountain is economical—midweek lift tickets can be had for as low as $49 (and $28 for kids) who have a frequent skier card—and there are loads of other money-saving deals for those who want to make multiple trips throughout the season. Another perk? It's just the right size to give tweens freedom to ski on their own. For 2022, tickets, lessons, and rentals have to be bought and/or booked online before you head to the mountain and masks must be worn indoors. Daycare is not available this season. Lessons are being offered only for beginners for two hours on the weekends and holidays.
RELATED: Family-Friendly Skiing and Snowboarding Spots Around NJ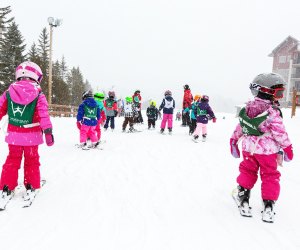 Windham Mountain is known for its top-notch ski school.
5. Best Ski School: Windham Mountain – Windham, New York
Your kids will be in good hands at Windham's Children's Learning Center, which provides lessons for ages 3-14. Children ages 2-6 can be dropped off at the center for half- or full-day supervision, too, while you freely explore the 54 trails. Windham is a family-friendly resort with exceptional amenities, including an adventure park, full-service ski shop, multiple dining facilities, and nearby lodging. It's a welcoming choice for a weekend getaway. Masks are required for indoor settings in 2022 and proof of vaccine is required for guests entering the spa. Group lessons are available for kids 3-12. Lodge capacity has been cut in half.
6. Best All-Inclusive Ski Area: Rocking Horse Ranch – Highland, New York
Looking to escape and indulge in some wintertime pampering? Rocking Horse Ranch, just 90 minutes from NYC, has plenty to keep your family busy, including skiing, tubing, ice skating, sleigh rides, and even an indoor water park. We loved this all-inclusive resort when we visited. Lodging, meals, activities, and entertainment are all covered in the price. Rocking Horse also offers a nursery for ages 0–5 and a day camp for ages 6–12 if parents want to visit the spa or take a nap. For 2022, the kids' program and child care are closed. Masks must be worn indoors. The resort also recently installed a new air purification system.
RELATED: Best Ice Skating Rinks in NYC for Kids and Families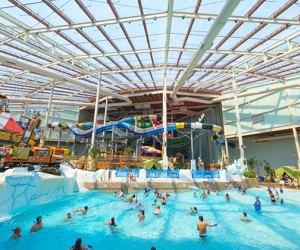 Can't decide between the ski resort and water park? Camelback Mountain offers both.
7. Best Ski Area for Non-Skiers: Camelback Mountain – Tannersville, Pennsylvania
Recommending a ski resort for non-skiers is a puzzler, but if your family can't agree on one snow sport, why not head to a resort where you can experience a variety of winter fun? Camelback Mountain in the Poconos offers trails for skiers of every level. It's also home to the largest snow tubing park in the country, which offers night-time "galactic tubing." For more thrills, try the mountain coaster. When you're tired of winter sports altogether, head inside to Aquatopia Waterpark at the Camelback Lodge and Resort. For the 2022 season, it is recommended that tickets and rentals be purchased in advance. Other precautions are in place, including mask-wearing, additional sanitizing, and social distancing.
8. Best Ski Area for a Weekend Escape: Split Rock Resort – Lake Harmony, Pennsylvania
We enjoyed an incredible family getaway at this resort and the neighboring Jack Frost/Big Boulder ski areas. Between the daytime skiing, snow sports, and family-friendly amenities, there is plenty of entertainment for all. Combo packages can be purchased to save money on lift tickets and the Split Rock water park. For 2022, the hotel's water park remains open. Lift tickets for the Jack Frost/Big Boulder ski resort should be booked in advance. Masks must be worn indoors and proof of vaccination is required for indoor dining.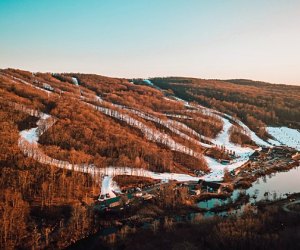 Shawnee Mountain offers a wide range of trails, plus plenty of fun on the tubing hill, too.
9. Best Small Poconos Ski Resort: Shawnee Mountain – Poconos, Pennsylvania
Nestled in the family-friendly Pocono Mountains, Shawnee Mountain offers great skiing for skiers of all levels. There's a wide range of programming for kids, from group classes to private lessons. There's also a large snow tubing park that offers adult and child tandem tubes. Its location, near the Delaware Water Gap, makes it an easy, family-friendly day trip from the New York City metro area, New Jersey, and even Philadelphia. For 2022, masks must be worn indoors and snow tubing tickets must be purchased in advance.
10. Best Ski Area via Public Transportation: Thunder Ridge – Patterson, New York
If you thought not having a car would limit your wintertime recreation to exploring the city's best sledding hills, think again. Thunder Ridge is accessible via Metro-North's Harlem Line. The shuttle is waiting on weekends and holidays, but midweek skiers can call the resort upon arrival at the station for an on-demand ride; the resort is only a mile away. Purchase the Thunder Ski Package to get a discounted round-trip train ticket and lift ticket. There's a free shuttle from the train station that takes you to the resort. It runs at 9am, 11am, and 3pm.
All photos courtesy of the resorts. This article, originally published in December 2008, is updated annually.