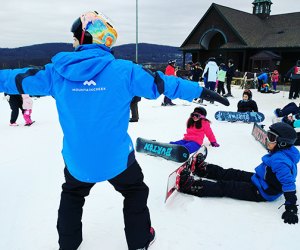 Family-Friendly Skiing and Snowboarding Spots Around NJ
Inspire your kids with a lifelong love of skiing, snowboarding, and other snowy sports with a family day on the slopes. We've rounded up some nearby ski resorts in and around New Jersey where your family can enjoy time on the mountain with minimal time in the car. We've also included safety tips for skiing and snowboarding from respected professionals.
If you're looking for winter fun that's a bit less strenuous, snow tubing might be just the thing! And for even more outdoor options, check out our Ski & Snow Guide.
Skiing and Snowboarding in New Jersey

Campgaw Mountain offers group ski lessons for kids.
Campgaw is great for the whole family, from first-timers to seasoned skiers. Campgaw offers five beginner/intermediate trails, a terrain park, two double chair lifts, and three "magic carpet" lifts (a lift in the middle of a small hill that resembles an escalator; it moves kids up a mini-mountain). Campgaw offers group and private lessons for kids, including a group lesson for ages 4–6. Mountain amenities include night skiing, tubing, a freestyle terrain park, children's programs, and racing programs for competitive-level skiers and boarders. Kids' tubing parties are also available.
Mountain Creek is home to eight lifts, four mountain peaks, and 46 trails—as well as a large snow tubing park, multiple zip lines, and an alpine coaster. All ski equipment can be rented from the on-site rental center, located on the first floor of the Red Tail Lodge. This resort is quite popular with tweens and teens, but there is plenty for younger kids here as well. Children as young as 4 can take private or group ski lessons from experienced, patient instructors, while budding snowboarders age 5 and under can take lessons at the on-site Ringlet Park. Other on-site amenities for those lodging at Mountain Creek (as opposed to just coming for the day) include a full arcade, bowling alley, fire pit, and laser maze.
Skiing and Snowboarding in Pennsylvania
Located about 45 minutes from the NJ/PA border, Blue Mountain is worth the drive. This smaller, more intimate mountain allows you to bypass the crowds at larger venues and is a gentle introduction for young kids and beginners of all ages. There is no on-site lodging at the moment—though there are plans for it in the future—but there are many family-friendly places to stay nearby, such as the Hampton Inn Lehighton – Jim Thorpe and The Lodge at Woodstone Country Club. Blue Mountain offers skiing, snowboarding, and snowtubing, which is extremely popular here. In fact, Blue Mountain is the only mountain in the Poconos with family-size tubes. This is a fantastic activity for those who want some winter family fun without the skiing. In total there are 28 trails, including many green (beginner), as well as 10 ski lifts, plus 24 tubing lanes and two lifts. Need a break from the kids? There's babysitting!
RELATED: Top Snow Tubing Spots for New Jersey Families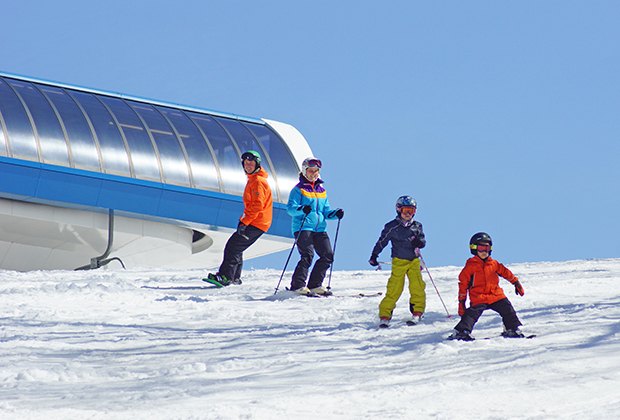 Shawnee Mountain offers Mommy & Me ski lessons, on-site babysitting, and other perks.
This Poconos ski resort, located right on the border of NJ, is known for being very family-friendly and packed with child-approved amenities. Shawnee has 23 slopes, many of them green, and offers many types of kids' lessons, including daily morning, afternoon, and full-day programs led by specially trained staff. There are even Mommy & Me ski lessons—and on-site babysitting for when mom and dad need a little break. There's also a video game room, pizza parlor, food court, and snow tubing park. The Crossings Premium Outlets are nearby if you want to get some shopping done after a long morning of skiing, too. (If you have the energy, of course!) On-site lodging is available for families. Check Shawnee's website for seasonal discounts and more.
Skiing and Snowboarding in New York
With four separate faces, this Catskills mountain has terrain for all levels and abilities. Already a favorite winter destination for skiers and snowboarders, Hunter was recently renovated to include high-speed lifts and more intermediate and advanced trails. The 320-acre resort is the second-most visited ski spot in New York, so it can get crowded on weekends, but lines should be shorter with the new lifts. Families with young children can head to the Learning Center for one-stop shopping on daily kids' lessons, lift tickets, and rental gear.
Beloved by beginners, this Hudson Valley destination offers FREE lessons three times a day for beginners age five and older. Family lessons are also available, and the two-hour Pete's Pals program is ideal for toddlers and preschoolers dying to get on the slopes. Known as "the friendly one," Mount Peter also has racing teams for seasoned ski kids and two small lodges to warm up with hot chocolate. With 14 trails in total, this family favorite is a great place to start kids on skis.
Skiing Safety
From Bob Zega, NJ Ski & Snowboard Council
The best age to start:
Kids have to be able to walk well and have a sense of balance, so anything below age 2 is unreasonable. They should be able to listen and follow instruction to some degree. I've spoken to a lot of parents on the slopes on this subject and find very few who start kids skiing at age 2. When my own children were young, I started my daughter at age 3 and have seen a number of 3–5-year-olds in ski-school. Age 3–5 should be the earliest starting point for a child to ski because they can walk, they usually don't mind being away from mom and dad, and by this time they have an idea of knowing right from wrong.
Safety tips:
1. Children must be taught to follow the Skiers Responsibility Code while on the slopes.
2. Children must use properly fitted equipment suited to their ability level.
3. NO POLES until they have been skiing for 3–4 years and are proficient enough to handle them.
4. Children must be taught to understand and obey trails signs, including beginner (green) and expert (black) trails.
5. The danger of skiing on too advanced a slope before they are ready must be fully understood.
6. If you plan to self-teach, your child should be tethered to you for the first season or two.
7. Safety vests with a handle on the back are now available for children, making it easier for parents, instructors, or anyone riding a lift with young kids to grab them if needed.
Clothing and gear:
Make sure your child is properly dressed for a day in cold weather. This includes long underwear, GOOD gloves/socks, and clothing suitable for mountain conditions vs. going to school. Turtleneck shirts are mandatory to keep a child warm (scarves don't do a good job). Kids fall, and eventually gloves and socks get wet, so a parent should bring extra gloves, socks, and pants in case a child needs a change by lunchtime to stay warm. If spending a day on the snow, ski goggles are a MUST.

Ski instruction:
Ski Instructors are certified professionals who are knowledgeable about the latest ski instruction techniques. They have to take annual training to retain their certification. A parent may know how to ski, but a professional ski instructor is trained to teach children on the child's level. It may cost more, but children will have a better time in class with their own ski peers than trying to keep up with mom and dad on the slopes. Mom and dad will have a better time, too, and children are likely to progress faster when taught by a professional.
Snowboarding Safety
from Kayla Dowd, snowboard instructor at Vermont's Okemo Mountain
The best age to start:
7 or 8. Snowboarding requires significant muscle memory that can be difficult for younger children to master.
Clothing and gear:
When your child is learning to snowboard, it is important that they come prepared with a helmet, googles, face mask, and appropriate undergarments, such as thermals. Additionally, if your child is renting boots and a board, you want to make sure all the equipment works, and is the right size prior to the lesson.
Safety tips:
1. Make sure your child wears a helmet. This is particularly important when children are learning to snowboard, as they are more prone to head injuries during this time.
2. Instill the importance of mountain awareness. This includes knowing safe and appropriate places to stop on a trail that does not put them or other skiers in danger. This also includes knowing how to merge onto trails, maintaining the appropriate speeds for different trails, and keeping a safe distance from other riders.
3. Go over a trail map with your child before hitting the slopes. Resorts make them readily available, so grab one before heading out.
Unless noted, photos courtesy of the resorts.
Originally published on January 4, 2012, and updated regularly.