Hunter Mountain Expansion Offers New Family Skiing in New York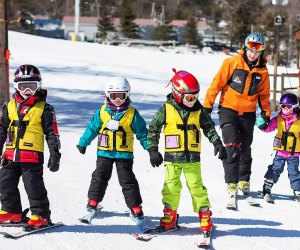 2/11/19
- By
James Smith
It's expensive to expand a ski resort. The folks at Hunter Mountain invested $9 million to construct an 80-acre addition to New York's second most-visited ski destination.
Did they get their money's worth without compromising all that made Hunter one of the top ski destinations for families near New York City?
After visiting the now 320-acre Catskills resort that is 2½ hours north of the city, one is tempted to say, yes.
Eager to expand its intermediate/expert terrain, last April Hunter initiated an eight-month construction project, its first major such initiative since building a full-service instructional facility about 15 years ago.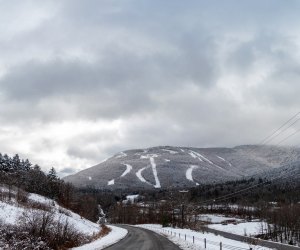 Hunter boasts a 1,600-foot vertical drop; the expansion area added five new trails and a six-person lift.
The new expansion, in the Hunter North area, included the addition of a high-speed six-person chairlift and five new trails. Gifted skiers will love the added terrain; novices benefit from shorter waits at the lifts servicing Hunter's beginner and intermediate runs. There is one novice trail — "Rusk Road" — in the expansion area.
The expansion opened on Christmas Eve, in time for one of Hunter's biggest weeks of the season.
"The [project] is really going to open up Hunter to a whole new, up-and-coming generation of skiers and riders," said Brendan Ryan, vice president of projects at Peak Resorts, Hunter's parent company. "It's designed for those who, after mastering their skills on Hunter East and who are comfortable with intermediate to advanced intermediate terrain, are looking to explore new trails around the mountain."
Metro area residents might be surprised to learn Hunter is not the state's most-visited resort. That honor belongs to Holiday Valley, in Ellicotville, about an hour south of Buffalo.
RELATED: Parent-Rated Guide to Ski Resorts in Vermont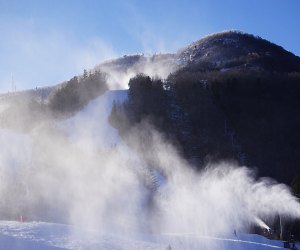 Hunter's snowmaking skills almost always guarantee skiable terrain.
But Hunter is, of course, the mountain of choice for many in Westchester, New York City, Long Island, and even New Jersey. Much of that is due to accessibility. The resort is about a 40-minute drive from New York State Thruway Exit 20 along mountain roads that can get congested on weekends, but are almost always drivable. Hunter, which opened in the 1950s, also has a well-earned reputation for great snowmaking.

The view of the mountain, including the Hunter North expansion area, from the mountain access road.
We visited on a day more suited for pitch-and-putt than winter activities, but still found the mountain, particularly the expansion area, highly skiable. Lift lines were short and the snow was a bit slushy, almost daring us to challenge the mountain's 1,600-foot vertical drop. Views from the summit of the expansion area extended all through the Catskill Mountains.
"From the last day of last season, the crew worked diligently to able to have [the expansion area] ready by Christmas Eve," said Katie O'Connor, Hunter's director of marketing. "It's been helpful to add a couple more blue (intermediate) squares and blue-black (advanced intermediate) trails."
RELATED: Top Snow Tubing Destinations near NYC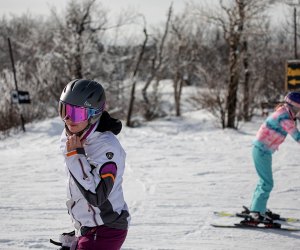 The resort offers some of the East's best skiing, less than three hours from Manhattan.
The expansion added four new gladed runs through Hunter's woods for advanced skiers. Sought after for their solitude and beauty, gladed runs also tend to preserve ungroomed snow longer thanks to shade provided by trees. Hunter now boasts seven glades in all over its 320 acres.
But again, Hunter officials are quick to remind visitors the mountain remains committed to family skiing with a particular emphasis on its learn-to-ski program. Hunter's Learning Center offers a unique one-stop destination for novices interested in lessons, lift ticket purchases and equipment rental. Children's lessons are offered daily; private lessons and adult group lessons are available as scheduled.
RELATED: Visiting Mount Peter, a Family-Friendly NY Mountain for Beginners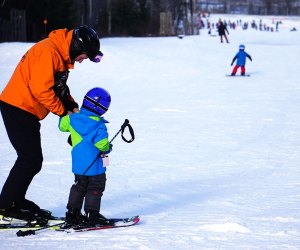 Hunter remains committed to family skiing.
"For children (12 and younger) it's one stop for lessons, gear and lift tickets," O'Connor said. "Skiing and snowboarding is a great lifestyle for families and a great way to get outside and stay healthy."
Getting there
Hunter Mountain is located on Route 23A in Hunter, in Greene County. From the south, take the New York State Thruway to Exit 20 (Saugerties, Woodstock). Follow Route 32 north to Route 23A west and the resort. Round-trip bus service is available from Manhattan, Brooklyn, and North Paramus, New Jersey.
All photos courtesy of Hunter Mountain