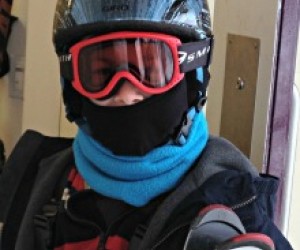 Vermont Ski Resorts: A Parent-Rated Look at the Best Skiing
There's no better place on the East Coast for a family to hit the slopes than Vermont. With dozens of downhill and cross country ski resorts, the state offers more options for skiers of every age and ability than anywhere else. But some are especially well suited for families, with ski and board lessons, special family activities just for kids, and child care options for parents.
Okemo, Stratton, Sugarbush, Smuggler's Notch, and Stowe are the big names in Vermont skiing, but there are some lesser known gems too. With a parent's eye to what families are looking for, we've reviewed the top ten best mountain resorts for family ski vacation in the Green Mountain State. Find all our ski reviews in our Ski and Snow Sports Guide.
The main base lodge area offers everything you would expect from a full-service resort: day care for young kids, several family-friendly dining options, accommodations, trailside overnight ski-check, and the adorable village where kids can hit Mountain Sweets candy shop on the way the out.
In addition to skiing, the Sun Bowl Activity Center offers a tubing park, a Nordic center with groomed cross country and snowshoeing trails, rentals, and lessons. You can also explore the resort's latest attraction: Ice Castle, a magical frozen water sculpture with dazzling ice waterfalls, enormous towers, and frozen tunnels and archways.
Okemo Mountain Resort
This large family-run resort with 5 alpine areas is known for its innovative terrain park which, this winter, debuts a new hi-tech half pipe experience for boarders and freestyle skiers. They've also added a heated six-seater lift that will keep your whole family toasty all the way to the peak. Okemo's 120 trails are evenly split between the levels, but the mountain is particularly sweet for intermediate skiers.
Like most ski resorts in the area, Okemo offers slopeside lodging and dining, equipment rentals, a Nordic center, ski and board lessons, and childcare. What makes Okemo really stand out for families is the fun apres-ski (or maybe even instead-of-ski) possibilities. Zip down Jackson Gore at 25 mph on the Timber Ripper Mountain Coaster or slide down an inflatable tube in the tubing park, swim and slide in the pool complex, take a night time snowcat excursion or try one of Okemo's brand new snowmobile tours with kid-sized rides. You can also explore Ludlow, the charming New England town below the mountain, where you will find additional dining, lodging, and activity options.
Mount Snow
This 60-year old mountain resort is best for more accomplished skiers, with the majority of runs designated as intermediate or above; but Mount Snow also has ski and boarding lessons for first timers, and more experienced kids can improve their sport. The resort features 4 distinct alpine areas, each with a different vibe and ability level, including Carinthia, its 100-acre terrain park (Vermont's largest).
Mount Snow is a full-service resort with lots of lodging options, from the swanky Grand Summit Resort Hotel to the economical, slopeside Snow Lake Lodge. Other amenities include a shuttle service to the slopes or nearby towns like Brattleboro, a spa, snowshoeing, a tubing park, and childcare. The ski area is well known for its night life, and moms and dads don't have to miss out on the apres-ski fun at the music bar Snow Barn, if they drop the kids off at kids apres, with fun activities and snacks for the junior set.
Bromley
We've written that Bromley's seasonal summertime Adventure Park is a fantastic warm weather activity for families, but the resort is a family favorite for snow sports too. The smallest of all the southern Vermont ski areas, Bromley, is a perfect resort for kids. Its small stature is less intimidating for beginners than some of the other mountains, the kids-only after hours snowboard learning area is great for little shredders, and Bromley's single base lodge is a simple rendezvous point for families. Bromley's southern exposure means it's sunny and warmer than other resorts in the area. As a bonus, Bromley offers free try-it-out days several times a season for first timers.
The resort boasts 46 trails and 9 lifts, a terrain park, ski and boarding school, childcare, and slope-side accommodations; but you won't find a slew of other activities here. A short trip into the town of Manchester, however, can set you up with ice skating, horse drawn sleigh rides, dog sledding, Nordic centers, and outlet shopping to round out your stay.
Killington
Killington's not called the "Beast of the East" for nothing, the biggest ski area on the coast offers an unprecedented number of trails, nearly 200 of them across 7 alpine areas. One lift ticket grants you access to both the ski area at Killington and its sister resort Pico Mountain, just a short, complimentary shuttle ride from any of the base areas. The resort also has a impressive terrain park for snowboarding or free styling with 50 features and a couple of half pipes.
Killington is home to Juggernaut, the longest ski run on the East Coast, a beginner's trail checking in at 6 miles. Killington also offers ski and snowboard camps and lessons for all ages and abilities and child care for children up to 12 years. When not tearing down the mountain, there are lots of other things to do here, including guided snowshoe hikes designed just for families, a snow tubing area, fun dining destinations on and off the mountain (some even with complimentary shuttle service to and from town.)
Northern Vermont
About six hours in a car from midtown Manhattan and four from Boston
Smugglers Notch
My extended family and I spent a week at Vermont's largest mountain resort last February and, honestly, the ease of skiing, wide variety of amenities, and family activities available may have ruined all future ski vacations for me. A perfect resort for all abilities, the Morse Mountain area is just for beginners and even has a small snowboarding starter area with some features for kids to learn,. Madonna and Sterling mountains are for the more advanced skiers and shredders. Lessons at Snow Sports University are guaranteed to improve your kids skiing or boarding ability; if they don't, you can ask for your money back!
Smuggs is loaded with amenities of every ilk, several styles of lodging for all family sizes, indoor pools, a 4-season zip line, a rustic Nordic center with cross country skiing and snowshoeing, and an outdoor ice rink. But, the best amenity for families is the shuttle, which will pick up you and your gear and drop you where you want to go. No more tromping around with skis, boots, helmets, and whiney kids!
The resort has tons of organized activities. A highlight for the adults in my group was our snowshoe adventure, a BYOB dinner at the summit followed by a slightly tipsy snowshoe hike down the trail, all while my son was safely entertained in their child care facility. There is so much to do at Smugglers' Notch, it is almost hard to find time to hit the slopes.
Jay Peak Resort
Jay Peak is so far north it is practically in Canada, creating winter conditions for skiing and riding straight through May! Powder-seekers find more of the white stuff here, covering 78 trails, 20% of which are greens. The resort also offers four terrain parks and miles of cross country trails.
Jay Peak is a fun resort for adrenaline-seeking families who want to fly down a snowy mountain and zoom through a wet and wild water slide, thanks to the resort's Pump House, a balmy, indoor water park. The resort also offers ice skating, group and private ski lessons and many ski-in/ski-out lodging options, including a full service hotel.
Stowe Mountain Resort
The picturesque Mount Mansfield, Vermont's highest peak, is part of Stowe Mountain Resort and the place to find some serious skiing in northern Vermont. While 75% of the trails are described as intermediate or expert, beginners can focus on Spruce Peak or take the winding 3.7 mile Toll Road all the way from the top of Mansfield. There are six freestyle terrain parks for boarders and 90 miles of cross country trails.
Luxurious Stowe Mountain Lodge offers family Get Out and Go Packages to add unique experiences to your getaway, a spa and construction is underway to add an ice skating rink/community center. the big draw here is the downhill skiing and boarding. Stowe Mountain Resort has slopeside dining and lodging options along with a ski school, child care and equipment rentals. The quaint, walkable town of Stowe is nestled in a mountain valley, reminiscent of the Alps, and teems with shopping, family friendly restaurants and other accommodation options. Check out our review of Stoweflake resort.
Sugarbush
The larger of the two resorts in the popular Mad River Valley is a best bet for families. With six distinct peaks, Sugarbush offers 2000 acres of skiing, including 24 beginner trails. Families love the relaxed, uncrowded slopes. It's also the only place you'll find cat skiing in the east.
The full-service mountain resort is home to the Adventure Learning Center, developed by legendary skier John Egan, so it's a great place to take up the sport or hone your skills. For tots they offer a fully licensed day care center and plenty of non-skiing alternatives for anyone who doesn't want to hit the slopes, including self-guided or group nature walks and indoor tennis lessons right on the mountain. There is a hop on/off shuttle to transport you and your gear around the mountain and lots of pursuits for active families, before or after hitting the slopes. Join in an early morning ride with the groomers in the snowcat, guided snowshoe walks, and fireworks on the mountain during peak vacation periods.
Mad River Glen
Named for the nearby Mad River, this historic co-op resort for skiers is one of the few mountains where snowboarding isn't allowed and natural snow is preferred over manmade. The relatively small, old school resort features some of the best skiing in the state with varied terrain, steep hills, tree skiing, and runs one of the last single rider chair lifts in the country. Although Mad River offers a top ski school, it's not for beginners. Mad River is best for the families that are looking for a challenge and want a traditional New England ski experience without a lot of bells and whistles, or crowds.
For more skiing reviews and recommendations check our our Ski and Snow Sports Guide.