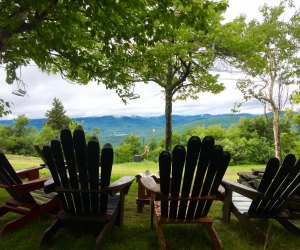 Be Cool: Bond with Teens & Tweens at Hunter Mountain in the Catskills
With a tween and a teen in the household, it's not easy for my family to find activities we can all get excited about. And planning a trip together? Fugghedaboudit. However, we recently discovered the sweet spot where we can adventure together as a family and have plenty of space for relaxing at the end of the day (because, as we're learning, teens need LOTS of space): Hunter Mountain in New York's Catskills. With an itinerary of ziplining, hiking, swimming, Skyriding and lounging in our suite, we were all very happy campers. There's much on Hunter Mountain and in the surrounding area to appeal to both parents and older kids. Here are some highlights, including outdoor adventures, special dining-shopping hybrids and ample opportunities to chill out (or whatever the kids say these days).
Where to Stay
As my brood gets older, I'm realizing the secret to an enjoyable family trip is having plenty of space. Kaatskill Mountain Club nails it with two-bedroom suites where families can hang out together in the dining and living room areas, then go separate ways for a little bit of peace and quiet—one room has a Jacuzzi tub and the other a sitting area for teenagers to practice the fine art of lounging. The kitchen is a huge bonus, especially when voracious teenagers and food allergies are in the mix, and there's a grocery store not far from Hunter Mountain for replenishing food supplies.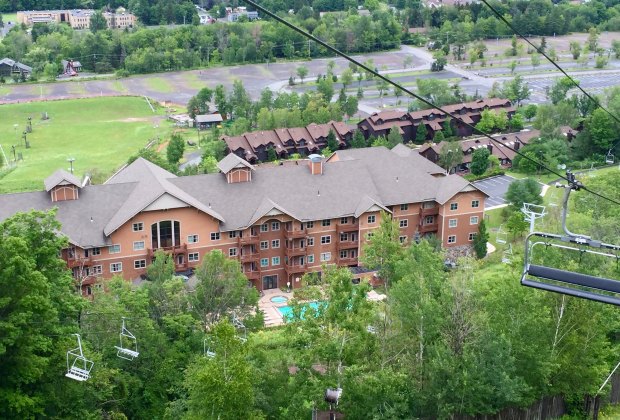 The Kaatskill Mountain Club is like a home away from home, but better. Much better.
As spacious and comfortable as the rooms are, there are compelling reasons to explore the rest of the hotel. The four-season, heated outdoor pool is the big draw, especially for families. Two hot tubs, a spa, a fitness center, an on-site restaurant and a small arcade round out the hotel's offerings.
What to Do
Hunter Mountain is a haven for thrill-seekers, even when there's not a snowflake in sight. With New York Zipline Adventure Tours, Hunter is the springboard for exhilarating ziplining tours. For teens and adults who meet the weight requirement and are looking for extreme adventure, there's Summit Skyrider, criss-crossing, twin-line zips that traverse peak-to-peak to another mountain and back again.
For those of us who are less daring and have kids who weigh under 110 pounds, there's the Mid-Mountain Tour, a series of short ziplines and swinging bridges tucked in the forest. With a safety-first approach and a little stand-up comedy on the side, our guides made the tour safe and fun. My kids laughed at their jokes almost as much as they laughed at my less-than-graceful landings. Tip: For the ladies, the ideal ziplining attire is long, snug-fitting pants and a long-waisted, fitted shirt. A pocket that zips or buttons closed is nice for phone storage, too.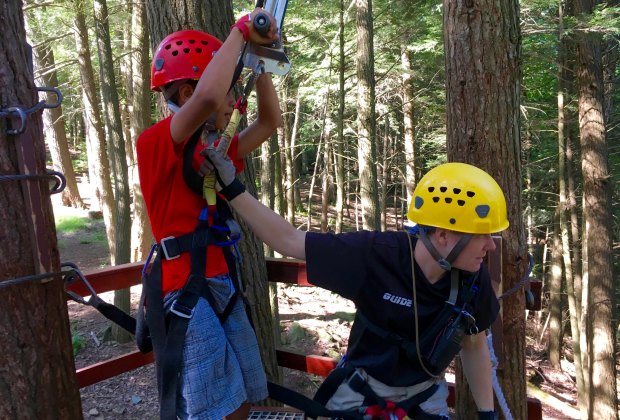 Ready to zip!
Back at the base of the mountain, younger kids and adults who prefer not to zip through the air at high speeds can get their thrills on the Adventure Tower's four stories of climbing, rope bridges and cable walks.
There's nothing like a challenging hike to promote family bonding, and the Catskills is a hiker's paradise. Hunter Mountain itself is home to the highest fire tower in New York, boasting unmatched views and a brag-worthy hike. The hike from the summit is about three hours round trip, so pack snacks and plenty of water.
With dark clouds looming overhead, we chose the easier, less adventurous plan (and I don't regret it one bit): Take the Scenic Skyride up to the summit of Hunter Mountain for spectacular views, a gorgeous wedding venue, and a nod to the master napper, Rip Van Winkle. After the relaxing ride up and strolling around the grounds at the summit, we were primed for our own naps. I suggest packing a lunch to enjoy at one of the picnic tables while fantasizing about having a wedding at the summit.
About 10 miles from Hunter Mountain are the magnificent, two-tiered Kaaterskill Falls. Although the hike up to the bottom of the Falls isn't long, it is fairly steep and rocky. Awe-inspiring views, the sound of the rushing water and a pool for dipping toes into are among the rewards awaiting climbers. This hike is best for older kids and teens, and truly is not a good choice for younger children. Note: The walk along Route 23A to get from the parking area to the trailhead is a little scary—we almost turned around—but includes a bonus, up-close view of Bastion Falls. An alternative to parking down and across the street from the trailhead is to park on Laurel House Road and hike down to the top of the Falls. Tip: Understandably, Kaaterskill Falls is a popular spot. Go in the late afternoon, when crowds have begun to thin.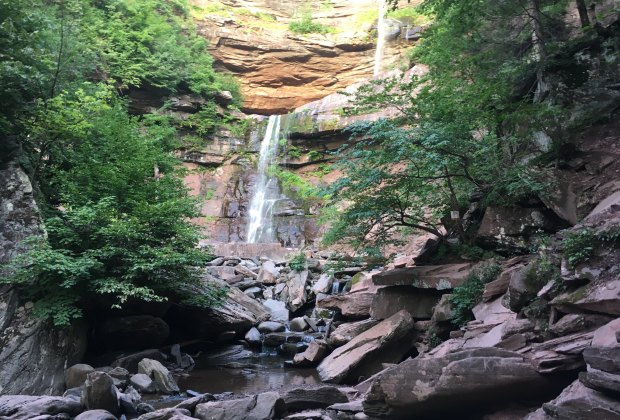 The view of Kaaterskill Falls is well worth the hike.
Where to Eat. Stroll, and Shop All in One Spot
Just a short jaunt from Hunter Mountain, Tannersville has a cute, eclectic Main Street bursting with shops and dining, sometimes in the same establishment. Last Chance Cheese and Antiques Café, for example, is a fun dining-shopping combo with antiques, a nice array of adult beverages, cheese by the pound, loads of candy, a bar and family-friendly dining. Noshing on nachos at a pub table was a big hit with my kids.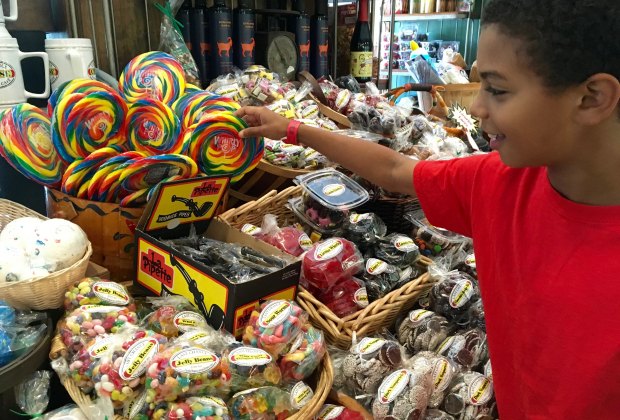 Like a kid in a candy shop. Actually, this is an antique shop and cafe.
In Palenville—not far past Tannersville and Kaaterskill Falls—lies a gem of a shop and eatery, Circle W Market. The friendly staff whips up whoppers of sandwiches (gluten-free bread is available) while vacationers and locals alike browse the carefully curated selection of outdoor gear, books and natural foods in the funky store with a rich history.
The author was hosted by Hunter Mountain, but all opinions are her own.
Photos by the author.
Places featured in this article: