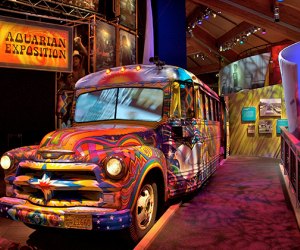 Cute Catskills Getaway: 13 Things To Do in Sullivan County with Kids
As the temperatures warm up and we shake those winter blues away for good, many of us are itching to plan travel and explore new destinations. Sullivan County, located about 90 minutes from White Plains and two hours from Midtown Manhattan, is an easy weekend getaway that's rife with natural beauty, quaint little towns and oh-so-much family fun. Regardless of the season, there are year-round kid-friendly activities in this rustic Catskills area if you know where to find them.
Once best known as a popular vacation area for NYC-ers escaping the city in the summer, Sullivan is also the location of the 1969 Woodstock Festival, and hippies (and hipsters) still make the pilgrimage to the hollowed grounds in Bethel. We've rounded up a baker's dozen of some of our favorite things to do with kids in the area, whether there's snow on the ground or you're looking to swim.
Looking for more family-friendly destinations? Consult our Travel Guide and sign up for our newsletters!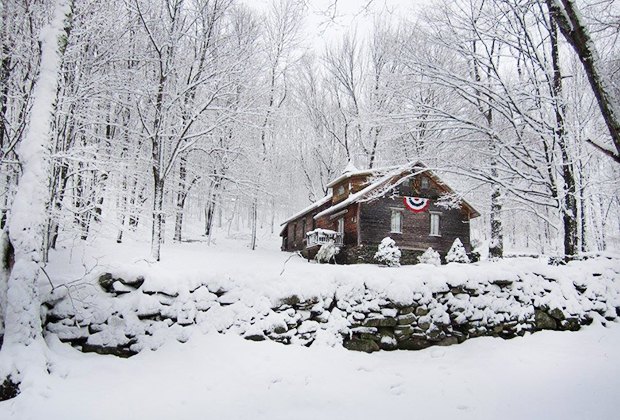 The Carriage House at Stone Wall Acres Bed & Breakfast is spacious enough for a family of four. Photo courtesy of Stone Wall.
1. Stone Wall Acres Bed & Breakfast - Youngsville
Book a weekend at Stone Wall Acres Bed & Breakfast and ask to stay in the Carriage House. This adorable stand-alone loft sleeps four and comes stocked with coffee, snacks, cereal, milk, juice and more. (Don't be put off by the "inflatable mattress" in the description—my kids said it was more comfortable than their beds at home.) You can ice skate on the pond and sled on the gentle hills in the winter, or you can go swimming in the saltwater pool in the summer. The grounds are truly stunning, and the privacy and spaciousness of the Carriage House was enough to convert this non-B&B-er into someone eager to return. You'll have to walk over to the Main House for breakfast, but the homemade waffles are so worth it.
2. Bethel Woods Center for the Arts - Bethel
Held at the site of the 1969 Woodstock Festival (no, it wasn't actually in Woodstock, N.Y.), Bethel Woods features an interactive museum and a performance pavilion. It also holds family-friendly festivals and craft shows throughout the spring, summer and fall. Bethel Woods is closed in the winter and will reopen April 1, 2017.
3. Bridle Hill Farms - Jeffersonville
After you've finished exploring Stone Wall's picaresque grounds, book a horseback riding lesson at Bridle Hill Farms, located less than a mile down the road. (It's muddy, so don't forget your boots!) This year-round facility offers riding lessons and pony rides, and can accommodate up to 12 people on a trail ride. They provide lessons for every skill level—from first-timers (like my son) to experts. They even have half-day summer camps that you can book for a day or a week. Sessions are held rain or shine, and there's a beautiful, gigantic indoor barn during inclement weather. After riding, kids have the chance to play in the giant hay loft—which my 5-year-old liked even more than the horses.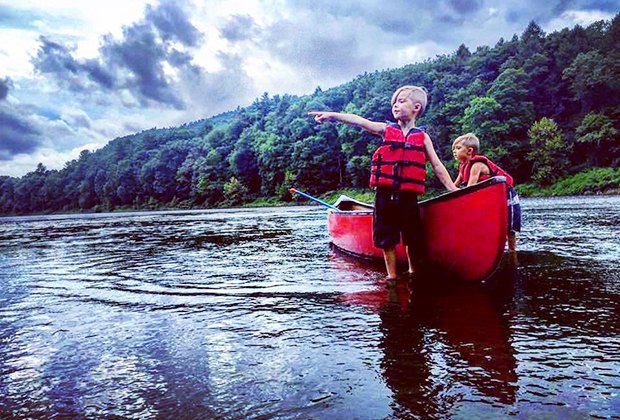 Go exploring on the river. Photo courtesy of Elisa Byrne.
4. Kittatinny Canoes - Barryville
You can't mention Sullivan County without bringing up rafting, tubing and kayaking, all of which Kittatinny can provide. While it has multiple locations along the Delaware River, the Kittatinny Adventure Center in Barryville features ziplines, eagle watching and paintball in addition to ample boating, rafting and tubing opportunities. While it was far too cold for us to attempt on our visit, we definitely plan to return to Sullivan in the spring or summer to try the warm-weather activities available.
5. Monique's Books Boutique - White Sulphur Springs
It's not easy to find a bookstore these days, much less a full-fledged used bookstore like Monique's. Featuring a nicely stocked children's section with both big-kid and little-kid bookshelves, Monique's also has a variety of unique gift items and other tshotschkes. The store accepts used books in exchange for store credit, so bring along your extras.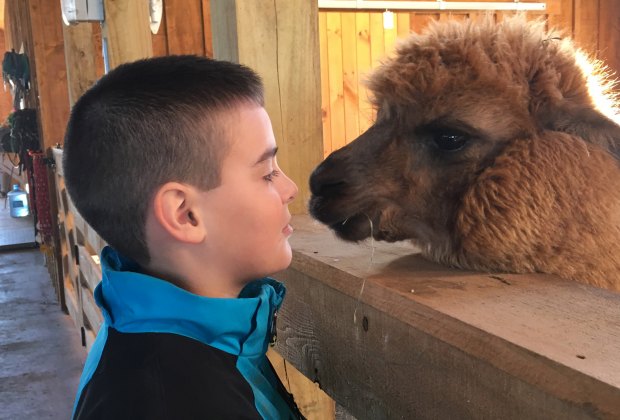 Learn all about the care and keeping of alpacas at Buck Brook Farms. Photo taken by the author.
6. Buck Brook Farms - Roscoe
Book a FREE farm tour at Buck Brook Alpacas, where kids can receive an up close and personal introduction to these curious camel decedents. The owners will educate on the feeding and care of alpacas, and visitors can pet and even try feeding them apple slices. Be sure to visit the on-site farm shop to pick up handmade hats, gloves, scarves, all made with the impossibly soft alpaca wool.
7. The Arnold House - Livingston Manor
This low-key tavern and restaurant offers an amazing brunch on the weekend that's served by a friendly staff. There's a pool table available if you're so inclined. Get the chicken wings—you won't regret it.
8. Morgan Outdoors - Livingston Manor
Livingston Manor is one of the cute walkable hamlets in Sullivan County, and you can find several explore-worthy stores and restaurants. Stop in at Morgan Outdoors, a store featuring everything you need to enjoy the outdoors during all four seasons. In addition to things like hiking shoes, walking sticks and clothes, you'll find kid-friendly books, interesting outdoor toys and useful trail maps.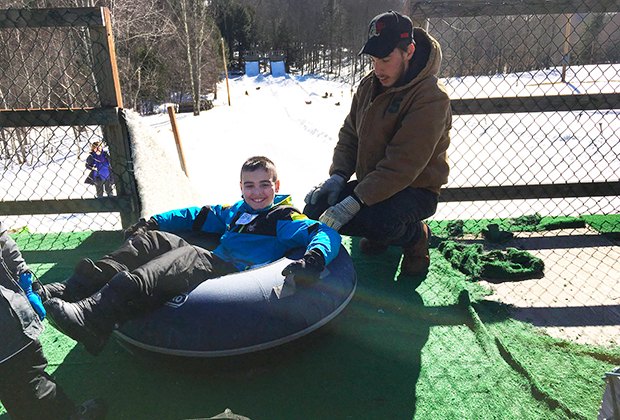 Go snow tubing at Villa Roma. Photo by the author.
9. Villa Roma - Callicoon
This family-friendly resort offers just about any activity you can think of: indoor and outdoor swimming, bowling, bumper boats, a game room and a playground, horseback riding, bocce ball—you name it. You don't need to be a guest to participate in all of the activities, but those who stay on site can take advantage of the supervised Kids Program, which features such things as scavenger hunts, color wars, face painting and more. Winter guests can ski or snowboard on two small trails (there's a chair lift), and we were able to give snow tubing a try. Activities can be purchased a la carte, or you can buy an Unlimited Fun pass.
10. Oscar Brown's - Liberty
Eat dinner at Oscar Brown's, where kids can play pinball, Pac-Man and darts while they wait for their food. (The owners have turned the pro shop into a small game room.) In addition to a children's menu, the restaurant, located at the Sullivan County Golf & Country Club, offers tasty American fare at reasonable prices.
11. Go Antiquing - Multiple Locations
Sullivan County is well-known for its abundance of antique stores, and you'll find at least one in nearly every town. While younger children may not be interested in the rare and quirky finds to be had, you can show your teens what vintage really means.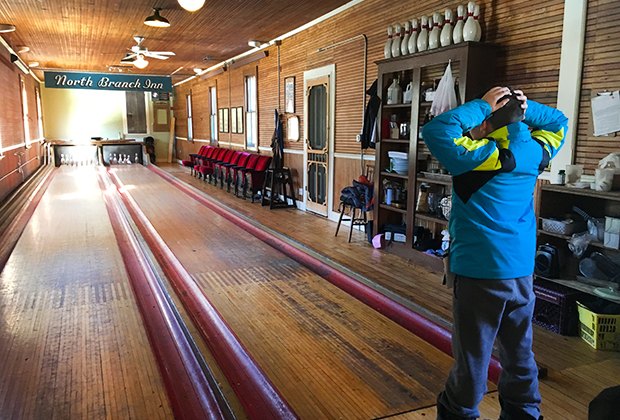 Bowl at an antique lane at the North Branch Inn. Photo by the author.
12. North Branch Inn - North Branch
In addition to serving as a bed & breakfast and a full-service restaurant, the North Branch Inn also features a two-lane antique bowling alley. While most people bowl a few frames while they're waiting for their food, the staff was nice enough to let us check it out while we were exploring the area. There is a variety of small and large bowling balls; scores can be kept on a chalkboard, and the games are free! While you're bowling be sure to check out the row of theater seats from Radio City Music Hall.
13. Holiday Mountain and Fun Park - Monticello
Holiday Mountain prides itself on being a great place for beginner skiers and snowboarders—its official motto is "Where Great Skiers Begin"—and it offers rentals and private or group instruction. It has seven trails, two chair lifts and a magic carpet, and there is also snow tubing. In the summer, visitors can drive go-karts and bumper boats, bounce on the bungee trampoline, or go for a ride on the Choo Choo Charlie Train, among many other kid-friendly activities. Unlike Villa Roma, Holiday Mountain doesn't offer lodging.
Top photo: Climb aboard a psychedelic bus at Bethel Woods Museum. Photo courtesy of the museum.