Catskills With Kids: 35+ Family-Friendly Finds in Sullivan County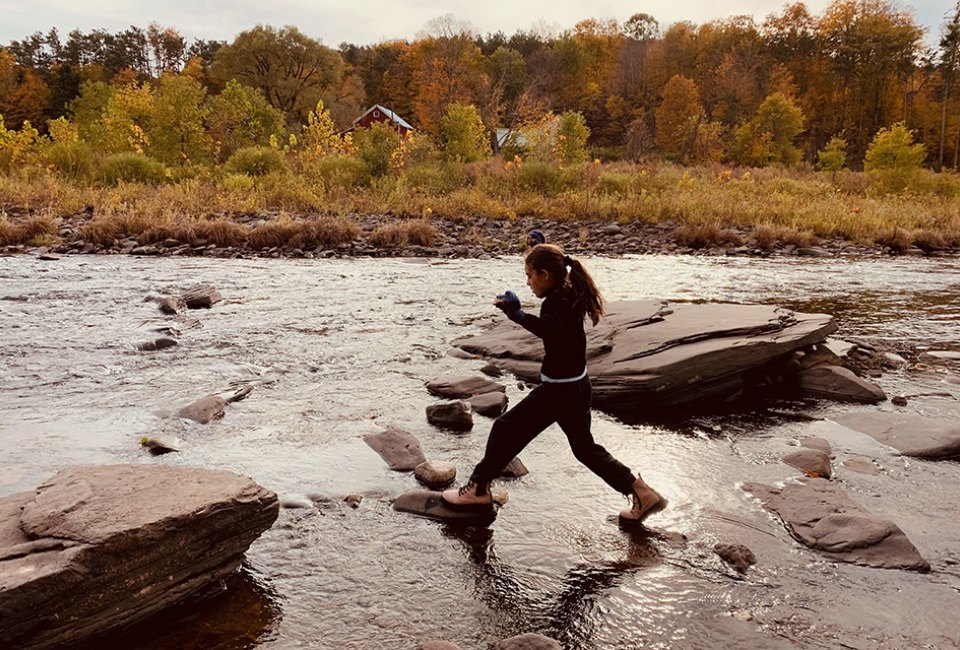 9/28/21
- By
Rose Gordon Sala
An escape to the Catskills is always a cozy retreat for my family. And while the Catskills towns closer to the Hudson River seem to attract all the splashy press (New Paltz! Woodstock!), there are quite a few hip little towns hiding out in the Sullivan County section of New York's Catskills, which leans up against the Delaware River.
Sullivan County towns like Narrowsburg, Callicoon, Cochecton, Roscoe, and Livingston Manor are filled with things for families to do on a quick weekend away, including adorable main streets and shops, great restaurants and breweries, family-friendly farms, rail trails for biking, and cozy boutique hotels with hiking trails and amazing taverns.
This area is also home to the 1969 Woodstock Festival, and hippies (and hipsters) still make the pilgrimage to the hallowed grounds in Bethel, New York. That focus on peace, music, and the arts permeates much of the area.
Read on for the best things to do in this Catskills county with kids, whether there's snow on the ground or you're looking to swim.
Top Things To Do in the Catskills (Sullivan County Edition) With Kids
Located at the site of the 1969 Woodstock Festival (No, it wasn't actually in Woodstock, New York.), Bethel Woods features an interactive museum where kids can learn about the '60s, as well as a performance pavilion. It also holds family-friendly festivals and craft shows throughout the spring, summer, and fall. Don't miss the weeks-long fall Harvest Festival and foodie mart. Come winter, enjoy a brightly lit holiday drive-thru.
2. Bike the Rail Trails – Multiple Locations
We loved the easy, paved "Milk Train Trail" that we picked up right in downtown Hurleyville next to a playground off of Main Street. It's nearly completely flat, and of course, there's no traffic, so it's the perfect spot for a family bike ride. The tree canopy and several creeks and streams made for a peaceful ride. This O&W trail stretches through a big section of the Catskills, so you can pick it up in several towns. The gravel Parksville Rail Trail is another local favorite, but it's unpaved, so we prefer it for walking.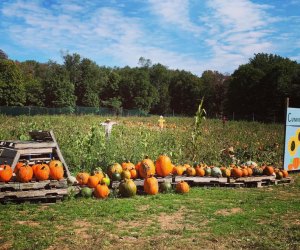 Enjoy a day on the farm at Cunningham Family Farms.
Pick a pumpkin from the pumpkin patch at this Catskills farm, which is open to the public in the fall. It also offers outdoor games, sunflower picking, a corn maze, and Halloween activities.
See how many of these peaceful, '60s-inspired dove art installations you can spot as you tour the Catskills. The Dove Trail (download a map) includes more than 50 dove sculptures, scattered around the area celebrating the spirit of Woodstock.
5. Hiking – Multiple Locations
There are so many hiking trails in the Catskills that the options are nearly endless. We highly recommend visiting Morgan Outdoors (see below) for personal recommendations to suit your family. That said, these are some popular options in the area: Red Hill Fire Tower Trail (steep but pretty); Tusten Mountain Trail (steep but great views); Alder Lake Loop (easy walk around a lake); Mongaup River Trail (flat, along a river); and the popular Trout Pond and Mud Pond Loop that includes a waterfall sighting if you make it that far! Find even more Catskills hike suggestions.
RELATED: Sleep in a Lighthouse and More Hudson Valley Family Resorts and Hotels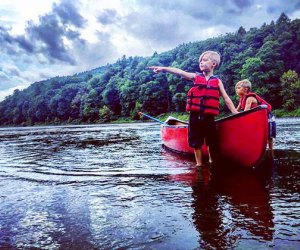 Go exploring on the river. Photo courtesy of Elisa Byrne.
You can't mention Sullivan County without bringing up rafting, tubing, and kayaking, all of which Kittatinny can provide. While it has multiple locations along the Delaware River, the Kittatinny Adventure Center in Barryville features zip lines, eagle watching, and paintball in addition to ample boating, rafting, and tubing opportunities.
Float down the river in an inner tube or brave some minor rapids by kayak, raft, or even canoe. This river outfit also provides all types of small watercraft!
Join a farm "walkabout," tour, or program just for kids at the Apple Pond Farm where they can learn about raising chickens or sheep and even perform farm chores. There's even a farm stay option here.

Learn all about the care and keeping of alpacas at Buck Brook Farms.
Book a FREE farm tour at Buck Brook Alpacas, where kids can receive an introduction to these curious camel decedents. The owners educate visitors on the feeding and care of alpacas, and you can even try feeding them apple slices. Be sure to visit the on-site farm shop to pick up handmade hats, gloves, and scarves, all made with impossibly soft alpaca wool. The farm even has family photo sessions this year where you get to pose with a friendly alpaca for that holiday card!
Livingston Manor is one of the cute walkable hamlets in Sullivan County, and you can find several explore-worthy stores and restaurants. Stop in at Morgan Outdoors, a store featuring everything you need to enjoy the outdoors during all four seasons. In addition to things like hiking shoes, walking sticks, and clothes, you'll find kid-friendly books, interesting outdoor toys, and useful trail maps. Honestly, stop here first to ask for hiking recommendations!
Take in live outdoor concerts at this free music festival showcasing local musicians and bands who play at a variety of pop-up locations throughout the town.
RELATED: 100 Things to Do in New York State with Kids Before They Grow Up

Enjoy a family trail ride at Bridle Hill Farms in Jeffersonville.
Take a trail ride or family horseback riding lesson at Bridle Hill Farms. (It's muddy, so don't forget your boots!) This year-round facility offers riding lessons and pony rides and can accommodate up to 12 people on a trail ride. There's a beautiful indoor barn for lessons during inclement weather. After riding, kids have the chance to play in the giant hayloft.
It's not easy to find a bookstore these days, much less a full-fledged used bookstore like Monique's. Featuring a nicely stocked children's section with both big-kid and little-kid bookshelves, Monique's also has a variety of unique gift items and other tchotchkes. The store accepts used books in exchange for store credit, so bring along your extras.
14. Go Antiquing or Thrifting – Multiple Locations
Sullivan County is well-known for its abundance of antique stores, and you'll find at least one in nearly every town as you explore. While younger children may not be interested in the rare and quirky finds, you can show your tween and teens what vintage really means by popping into the local thrift store.

Enjoy seasonal treats from the Hurleyville General Store.
15. Shop the General Stores – Multiple Locations
We picked up freshly baked pies, craft brews, and a hard-to-find salami at the Narrowsburg Proper general store. Later, we devoured sandwiches and picked up souvenirs and kids' toys at the Hurleyville General Store that has a full-blown hippie vibe and delicious eats.
16. Swimming Holes and Lakes – Multiple Locations
Families with young children often swim at Lake Superior State Park (Bethel), Sand Beach (Highland Lake), Mongaup Pond (Livingston Manor), or even during a rafting trip! Just remember to keep life jackets on everyone when you're in the river as currents change quickly and so can the depth.
Holiday Mountain prides itself on being a great place for beginner skiers and snowboarders—its official motto is "Where Great Skiers Begin"—and it offers rentals and private or group instruction. It has seven trails, two chair lifts, and a magic carpet, and there is also snow tubing. In the summer, visitors can drive go-karts and bumper boats, bounce on the bungee trampoline, or go for a ride on the Choo Choo Charlie Train, among many other kid-friendly activities.
RELATED: 20+ Fall Weekend Family Getaways Near NYC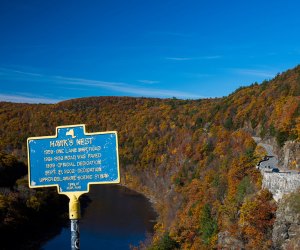 Stunning vistas and fall foliage await if you time your visit right.
Take the scenic way back, especially if you're driving home in the fall. Route 97 follows along the Delaware River for a curvy stretch of road that goes from Hancock, New York, to Port Jervis, New York. You can also just map your GPS to the Hawk's Nest and come away with some great views of the fall foliage and river.
Catch classics and new releases at this historical theater that plays just one flick at a time on its single screen.
20. Visit a Farmers Market – Multiple Locations
Scoop up some of those awesome eats from Catskills entrepreneurs and farmers at a variety of farmers markets in the area, including the ones in Callicoon, Narrowsburg, and Rock Hill. Many offer seasonal festivals, music, and, of course, treats that the kids will enjoy.
Best Restaurants in Sullivan Catskills
It's pretty hard to choose our favorite Catskills restaurants even just those in Sullivan County. This is foodie New York, after all, so we're giving it a try:
Another favorite in downtown Narrowsburg with both indoor seats and outdoor river views, The Heron's biscuits, fried chicken, mac and cheese, and brunch are all delicious. (Temporarily serving only takeout due to staffing issues.)
You might just drive by this building and do a double-take as we did! The towering, brick Pump House looks abandoned at first glance. It has no roof and sits among the vegetation just back from the busy Route 97. However, it's an active bar, music venue, and restaurant that's been refurbished in the last year or so. Kids enjoy the picnic tables, food truck atmosphere, twinkly likes, and outdoor space.
Kids will thrill to take their oven-baked goodies to go from this renovated firehouse that specializes in brick-oven cooking, from mac and cheese to skirt steak. The cocktails are a must for those who imbibe as are the egg creams for first-timers.
RELATED: 35 Things To Do with Kids in the Hudson Valley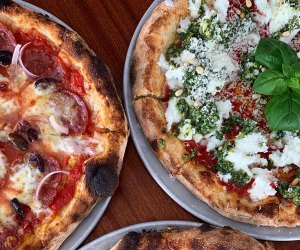 The Laundrette is known for its specialty pizza and river views.
Lunch at The Laundrette in downtown Narrowsburg is hard to beat with the most decadent pizza and outdoor seating overlooking the river.
The beer garden at Roscoe Beer Company is home to family-friendly games, wide-open spaces, and special events, making for an idyllic night out as a family where everyone gets what they want for dinner!
Grab a taco, vegan burrito, or chips and guac from this roving food truck that can most often be found at the Catskills Brewery.

Dig into homey breakfast and delightful desserts at The Tusten Cup.
Grab your coffee and scones here in the morning and come back for ice cream cones for the kids in the afternoon. Located right at the bridge in downtown Narrowsburg.
Take your espresso drink, hot chocolate, and scones to go from this heavenly bakery, or stay awhile for in-house breakfast, including omelets, French toast, and avocado toast.
Expect the freshest sandwiches, salads, and soups at this bespoke cafe in Livingston Manor. Snag a coffee and pick up a carton of local eggs, too.
RELATED: 14 Cool Hotel Pools in New York for Family Vacations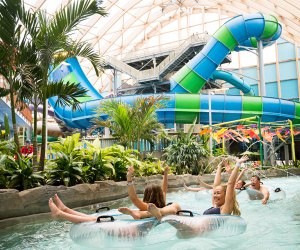 The recently reopened Kartrite Resort boasts a spectacular indoor water park.
Catskills Hotels and Places to Stay in Sullivan County
We loved our stay at this resort and water park hotel when it first opened and can't wait to go back. It's, of course, made for kids, so all activities and accommodations include the very best family-friendly perks.
31. Campgrounds – Multiple Locations
There are several popular campgrounds dotting the Catskills, from a Jellystone location to more bespoke glamping cabins. You can hop right onto the river from campgrounds like Lander's in Narrowsburg or enjoy kid-friendly entertainment, including zip lines, rafting, and campfires at the Kittatinny Campground.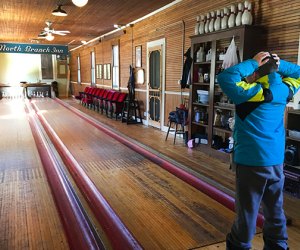 Bowl at an antique lane at the North Branch Inn. Photo by Lisa Johnston
Kids love the old-fashioned antique bowling alley at the pretty North Branch Inn bed-and-breakfast, which is just one of many old-timey pursuits, including fire pit s'mores and walks through the garden and streams. Families will want to book the room with two double beds, or the king suite that includes a futon. There's complimentary breakfast on-site and a full-service restaurant and bar for dinner.
OK, so this new hotel is actually in Pennsylvania, but truly it's just over the bridge from Narrowsburg, making it a great jumping-off point for exploring Sullivan County. We love the connecting suites with bunk beds here for a stay with the full family, and all the modern touches that still make it feel like a grown-up getaway. There are fire pits, walking trails, games, hammocks, and mid-century design to gawk at throughout. There's a bar and snacks menu but no restaurant on-site.
RELATED: 6 Alpaca Farms to Visit in the Hudson Valley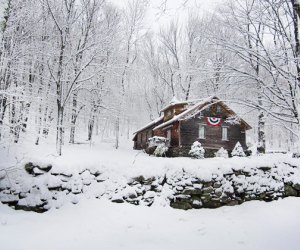 The Carriage House at Stone Wall Acres Bed & Breakfast is spacious enough for a family of four. Photo courtesy of Stone Wall.
Ask to stay in the Carriage House for your weekend at Stone Wall Acres Bed & Breakfast. This adorable stand-alone loft sleeps four and comes stocked with coffee, snacks, cereal, milk, juice, and more. (Don't be put off by the "inflatable mattress" in the description—we spoke with kids who said it was more comfortable than their beds at home.) Ice skate on the pond and sled on the gentle hills in the winter, or swim in the saltwater pool in the summer. The grounds are truly stunning, and the privacy and spaciousness of the Carriage House makes it feel more private than the typical B&B.
This family-friendly resort offers just about any activity you can think of: indoor and outdoor swimming, bowling, bumper boats, a game room and a playground, horseback riding, bocce ball—you name it. You don't need to be a guest to participate in all of the activities, but those who stay onsite can take advantage of the seasonal supervised Kids Program, which features scavenger hunts, color wars, face painting, and more. Winter guests can ski or snowboard on two small trails (there's a chair lift), or try snow tubing.

Stay in the Pool House at Callicoon Hills.
This Catskills hotel immediately landed on all sorts of "must-visit" lists when it debuted in June 2021, and for good reason. The hotel gives off a hipster vibe but remains focused on simple pursuits like a great hike, a swim, and excellent food. Enjoy mealtime indoors or on the porch. A kids' menu keeps things simple with grilled cheese, chocolate chip cookies, and more fan favorites. The second floor of its "pool house" building offers family-friendly multi-room options.
We love the low-key country vibe of this small inn, another top-notch Foster Supply Hospitality-founded Catskills hotel like The North Branch Inn and Hotel Darby. The tavern offers an amazing brunch on the weekend that's served by a friendly staff. There's a pool table indoors and outdoor games and hiking trails are available, too. Most rooms offer a solo king or queen bed, but families can opt for adding on the room with two twins, two queens, or booking the split-level garden suite.
Originally published in 2017 with additional reporting by Lisa Johnston
Click Here to Sign Up!
i