Kartrite Resort & Indoor Waterpark: Next-Level Family Fun in New York's Catskills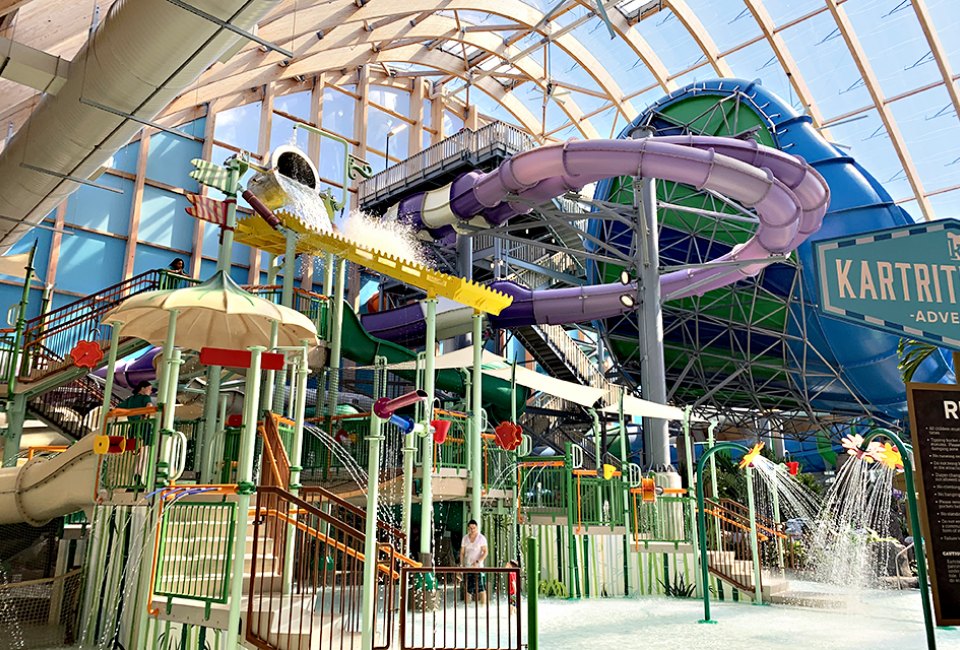 6/1/19
- By
Margaret Hargrove
Billed as the biggest indoor water park in New York state, the Kartrite Resort & Indoor Waterpark is finally open!
Since we first learned about this exciting new indoor water park in the Catskills more than a year ago, our New York-area families have been anticipating its grand opening, which took place in April.
Eager for a weekend getaway, I recently visited the family-friendly resort for an overnight stay with my 5-year-old daughter. Sitting on two beautiful acres, with 318,000 gallons of water running through it, and 80,000-square-feet of water attractions—plus lots of splashes and sprays—the Kartrite does not disappoint.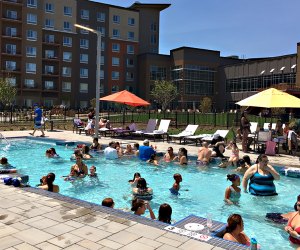 Guests can access the water park and pools starting at 9am on the day of check-in. Photo by the author
Arrive Early to Enjoy the Water Park, Pools, and More
Check-in isn't technically until 4pm, but the good news is that Kartrite guests have water park access from 9am on the day of check-in until 9pm on the day of check-out. With this in mind, we wore our swimsuits under our clothes for the drive, so we could go straight to the water park upon arrival.
While we only had to wait on line about 15 minutes to check in, I had read quite a few online reviews before our trip that said wait times can be much, much longer. It might depend on the day you go.
Luckily, the lobby features a cozy seating area with plush sofas and chairs, as well as games such as Connect 4 and Jenga, to keep kids occupied while you take care of business and collect wristbands.
Good to Know: Lockers (starting at $15 per day for the smallest size) are available at the water park to store your valuables while you wait for your room to be ready.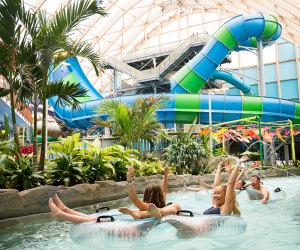 Relaxing on the lazy river never gets old!
All the Best Water Slides, Rides, and Rivers
After a quick elevator ride downstairs, my daughter shed her street clothes and made a beeline for Kartrite Island, a giant climbing and slide structure surrounded by knee-deep water. Just be sure you don't get caught standing beneath the dumping bucket like I did! She even enjoyed splashing around in the toddler water area designed for kiddos 48-inches and under.
I don't remember exactly how many times we floated around the lazy river on an inner tube—it had to be at least 10 times across our two-day stay. Another favorite: Later Gator Crossing, which challenged her to balance while trying to "walk" across slippery floating logs and lily pads from one side of the pool to the other.
Surprisingly, the sauna-like pool turned out to be a crowd-pleaser. Affinity Springs, with its half-inside and half-outside location via a swim-out door, attracted just as many kids as adults to lazily float in the wonderfully warm water.
Older thrill-seekers will love the water park's signature slide—the Nor'Easter literally shoots riders high above the rest of the park. There's also a racing slide, a Flowrider surf simulator for those who want to pretend they're shredding waves somewhere in the Pacific, and aqua basketball hoops with floating balls.

Good to Know: It's always a warm 84 degrees inside the water park, no matter the season.
RELATED: Kid-Friendly Hotels in NYC with Extra Perks for Families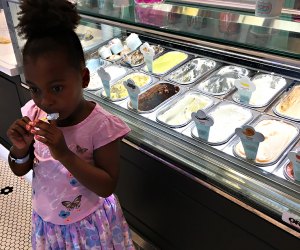 Restaurants at the indoor water park, include quick stop treats, such as gelato, lattes, and more. Photo by the author
Restaurants, Spa, and more Perks
Although water parks are traditionally thought of as family zones, the Kartrite offers plenty of options for grown-ups, too. The mezzanine level allows you to get away from the water park splish-splashers to soak up some sun under the transparent Texlon roof. There you'll also find Bar Mezz, where you can enjoy a quiet drink or bite to eat with the best view of the water park below.
In case lounging under an (indoor) sunny sky isn't relaxing enough, there's also a full-service spa offering a menu of services, from massages to sugar scrubs. Sadly, I didn't get a chance to indulge, but there's always next time! Kids who want some pampering can choose between a milkshake-themed facial or a manicure and pedicure.
Good to Know: Private cabanas on the water park's mezzanine level also provide a retreat from the action. A full-day rental costs $249-$399, depending on the time of year, and comes with a fruit basket, a mini-fridge stocked with drinks and snacks, and seating for up to eight people.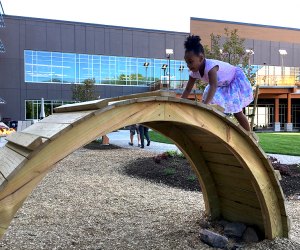 The outdoor play area at Kartrite includes climbing structures and more. Photo by the author
Indoor and Outdoor Family Activities
Even on "dry land" at the resort, the family fun doesn't stop. My daughter squealed when she saw that the arcade had her favorite game, Skee-Ball. I loaded up a play card with $25 worth of credits and she went to town, bouncing from game to game. A separate section for toddlers has a mini carousel and fire truck and police car ride-ons. Once she was ready to cash in her "tickets," she was able to browse The Vault to select her prizes (a Ring Pop and sticker).
Before dinner, we bowled two games at Van Winkle's Alley ($6 each). The red balls are all small and lightweight, making it easy for kids of all ages to play. A ropes course, climbing wall, laser tag, and virtual reality experience (prices range from $7-12 each) might appeal to bigger kids and adults.
When you check in, be sure to grab a copy of the resort's weekly calendar for a list of activities. There was sand art and doughnut decorating (additional fees apply) on the weekend we visited. Or slip on your PJs and head to the lobby at 8pm to catch a movie (we saw The Cat in the Hat) on a big projector screen that drops down from the ceiling.
Good to Know: There's also an outdoor play area with climbing structures and a spider web-like net. I forgot to pack sneakers, but my daughter still managed to enjoy the playground in her flip-flops.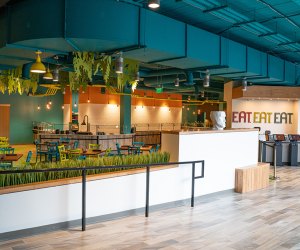 The main restaurant offers a family-friendly breakfast or dinner buffet.
Eat.Eat.Eat. at the Buffet
That's the name of the Kartrite's family-friendly buffet, which serves breakfast and dinner (kids 6 and under eat free). Just watch out for the plates—they're smooth and very flat, and we saw lots of chicken fingers and fries go flying as kiddos carried food back to their table. Still, you can't beat a buffet with kids, especially if you have a picky eater on your hands, and we both loved the omelet station at breakfast.
Bixby's Derby offers a bit more upscale, though still family-friendly, dining. Keep it casual at Harvey's Wallbanger, a restaurant at the resort where we enjoyed a chicken quesadilla and spaghetti and turkey meatballs. Stop by Pop's Sweet Shoppe for cotton candy ice cream or a gigantic chocolate chip cookie that's literally the size of your head after dinner. Or, if you're a coffee-lover like me, the Highline cafe makes a fantastic almond milk latte.
Outside food and beverages are not allowed inside the water park, but Surfside Grille serves up pizza, burgers, hot dogs, and more inside the park, so you don't have to leave to eat.
Good to Know: Buy a s'mores kit ($5) from the front desk and roast marshmallows around the two outdoor fire pits. You'll get enough graham crackers, chocolate, and marshmallows to make three s'mores.
RELATED: 100 Top Things to Do in New York State with Kids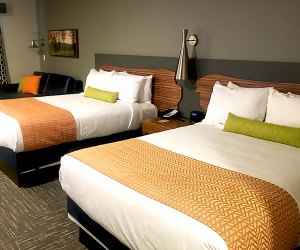 A variety of suites aim to fit all family sizes from a Junior Suite, such as this, to a Family King Bunk Suite.
Sleep Tight in Your All-Suite Room
The resort has 324 all-suite rooms for any family size, whether you've got a big clan or are just a duo like my daughter and me. We comfortably shared a Junior Suite with two queen beds. Traveling with extended family? Two- and three-bedroom suites provide tons of space and privacy. Or there's the Family King Bunk Suite, which has built-in bunk beds in a separate space in addition to a king bed and pull-out couch. Rooms are spacious enough to chill in after a busy day and all include mini-fridges, a microwave, and Keurig machine (with coffee pods!). Upgrade to a balcony (or walk-out patio on the first floor) for an extra-restful retreat.
Good To Know: Your wristband doubles as your room key, so you never have to worry about remembering or looking for a keycard.
Getting to the Resort & Costs
Located about two hours from midtown Manhattan in Monticello, New York, the Kartrite is an exciting alternative to farther-afield indoor water parks in the NYC area. Rooms start at $249 during the low season (generally whenever school's in session), and are $449 and up during peak times. There's a 20% discount on reservations made 90 days in advance, so you might want to block out Columbus Day weekend or November break pronto. Discounts are also available for members of the military, AAA, and AARP.
Local Sullivan County residents get 10% off day passes or 15% off a room reservation. Reservations booked this summer can take advantage of up to 50% off a Family Bunk Suite, so invite a few friends and make an even bigger splash!
A limited number of day passes are available online from $59–$99 (kids 2 and under are free with the purchase of one splash pass), which might make this a great day trips for those in the city. But really, we enjoyed the chance to play all day at the indoor water park and pools without having to hop back on the train or in the car at the end of the day. It was nice to just sink into our cozy resort beds.
Photos by the author except where noted
Places featured in this article:
---
The Kartrite Resort & Indoor Waterpark
Click Here to Sign Up!
i