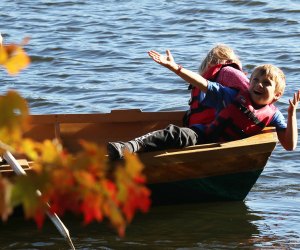 13 Perfect Fall Weekend Getaways Near NYC for Families
Fall in the Northeast is a lovely time of year for a family getaway. The crisp air, fall colors, and outdoor activities are hard to resist for most kids (and grown-ups). New Yorkers can experience that magic right in the city's gorgeous parks, some of which feel almost like a countryside retreat during a foliage walk. But for a weekend away, perhaps over those fall school holidays, consider a weekend trip to fully immerse the family in fall fun.
We've rounded up 13 options, from a luxury retreat in Connecticut to glamping in New Hampshire to an Adirondack wilderness retreat where you can really unplug.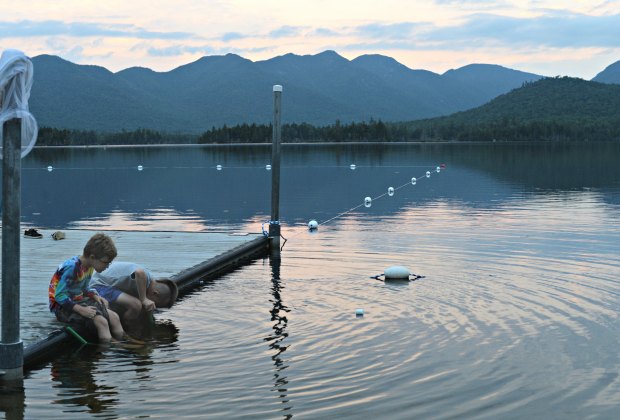 Enjoy an Adirondacks hideout at Elk Lake. Photo by Michael Martineau courtesy of Elk Lake Lodge
Elk Lake Lodge — North Hudson, New York
If you're seeking a digital detox, Elk Lake Lodge should be on your radar. This family-owned property is immersed in a 12,000-acre forest high in the Adirondacks. The lodge offers six small rooms and eight individual cabins of varying sizes. It presents a timeless retreat and opportunity to commune with nature with no televisions or cell phones to distract.
Many activities revolve around pristine Elk Lake with its 30 scattered islands and many coves and inlets to explore. Grab a kayak or canoe, jump in for a late-season swim, or fish for speckled trout. There are scores of hiking trials fringed with a rainbow assortment of leaves. Low-key activities include listening to the call of the loons, watching the leaves change colors next to the sparkling water, catching frogs, and helping to ring the dinner bell at 6pm.
Rates include a hearty breakfast and dinner plus a packed lunch. Local ingredients are featured and the fresh tastes should appeal to kids. Meals are served in the lodge overlooking Elk Lake, so you'll dine with a view. Open seasonally through mid-October.
The Roxbury — Roxbury, New York
The Catskill Mountains offer fall outdoor options like biking, hiking, fishing, kayaking and zip-lining, with phenomenal leaf-peeping to sweeten the deal. The Roxbury, a funky boutique motel where each room boasts its own whimsical thematic design, is a far cry from the traditional, rustic Catskills mountain resort. There are 19 rooms, many with double beds or sofa beds, and nine spacious suites. The attention to detail will knock your socks off. Book "Genie's Bottle," inspired by the television show I Dream of Jeannie and enjoy the spherical bathroom with its Japanese soaking tub. If you like red velvet, Miss Kitty's Saloon is for you. For the Trekkie that lurks in you, The Final Frontier is a nod to Star Trek.
The historic town of Roxbury is fun to walk, or take in the foliage on a train ride with the Delaware and Ulster Railroad, which departs from a historic depot in Roxbury. Mini day trips from the area include Cooperstown and the Baseball Hall of Fame (an hour away).
RELATED: Top Hudson Valley Hotels, Resorts, and Even a Lighthouse for Families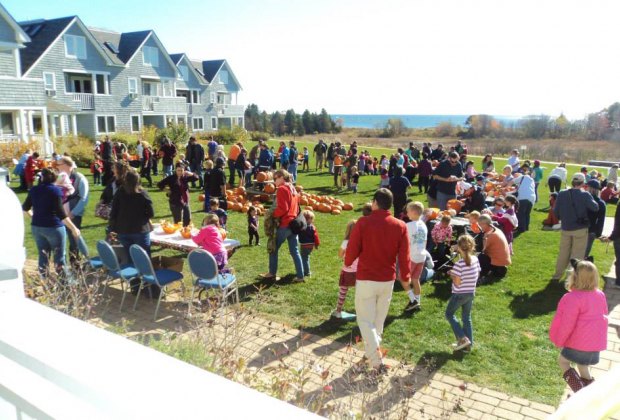 The Inn by the Sea has a fun-filled pumpkin fest in the fall. Photo courtesy the inn
Inn by the Sea — Cape Elizabeth, Maine
Coastal Maine is peaceful in the fall as the majority of tourists have packed up and headed home. If you're considering a long weekend getaway that combines the best of town and country, add the Inn by the Sea to your list.
This Cape Elizabeth hotel looks like a peaceful painting, yet it's only a 15-minute drive from the hipster haven of Portland, brimming with top restaurants, shops, and family activities including a children's museum. The hotel's privileged location on Crescent Beach provides a private boardwalk that leads through a wildlife sanctuary to a mile of unspoiled sand where kids can build sand castles and might even glimpse a seal or two. The view is enchanting in fall, with subtle touches of color blending with the seascape. The 61 contemporary rooms include spacious one-and-two-bedroom suites and traditional rooms with fireplaces. Suites have fully equipped kitchens and sofa beds.
The inn offers programs to connect visitors with the surroundings. Venture out onto Casco Bay on a working lobster boat, participate in a garden tour, take a guided nature hike, or visit the historic Portland Head Light, the oldest lighthouse in Maine, surrounded by space for kids to run and explore. The Inn's Sea Glass restaurant offers a dining experience with an eco-emphasis on serving underutilized, yet delectable, Gulf of Maine seafood. If your children don't care for fish, there's a standard kids' menu. The inn is also one of the most pet-friendly hotels anywhere, so bring the pooch for some canine pampering.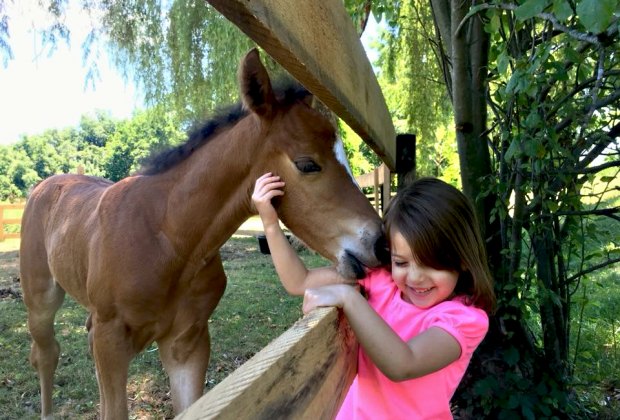 There's lots of love from the animals at the Pine Ridge Dude Ranch. Photo courtesy of the Pine Ridge Dude Ranch
Pine Ridge Dude Ranch — Kerhonkson, New York
Just 90 miles from New York City, Pine Ridge Dude Ranch offers an off-the-beaten path experience with all-inclusive convenience. You'll see fall foliage from a unique viewpoint here: On horseback, as a trail ride is included in stays for all visitors ages 9+. Younger buckaroos can enjoy pony rides daily. If equines aren't your thing, consider all the other activities the ranch has to offer from fishing, to rock wall climbing, swimming, a petting zoo, and more. Big-time off-season discounts mean kids can stay for half-price, or even FREE, many weekends in fall. Despite the low price, the activities don't take a break. There are special harvest weekends, a line-dancing weekend, Halloween activities, and more. Enjoy farm-fresh produce during the weekly Sunday-morning farmers markets.
Beyond the ranch, you can explore the nearby Minnewaska State Park Preserve for a mild, jogging-stroller-friendly hike, or visit New Paltz for some family-friendly fun.
RELATED: 7 Favorite Upstate New York Getaways for Families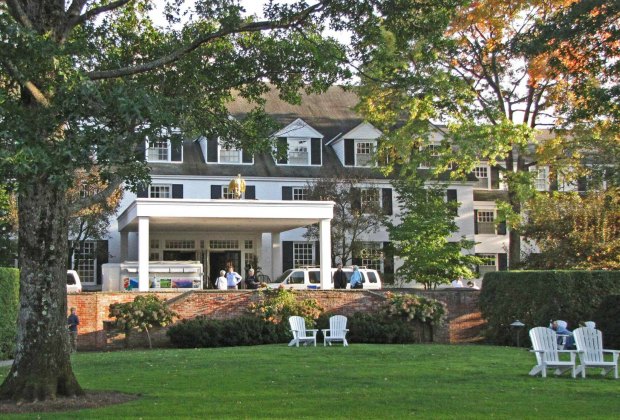 Stay at the Woodstock Inn, then tour the area for farm fun, foliage, and wildlife. Photo by Sultry/Sulky/Silly/CC BY 2.0
Woodstock Inn — Woodstock, Vermont
Vermont is loaded with charming villages and covered bridges, but even in state that's chock-full of quaint, Woodstock stands tall. Nestled in majestic mountains, it's a top spot to view the fall foliage, which will greet you around every bend.
The Woodstock Inn is the essence of New England hospitality, and a great jumping off point for family fun in the area. The 142 spacious rooms and common areas are loaded with cozy touches like home-baked cookies served each afternoon. Complimentary bikes, large indoor and outdoor pools, and hiking trails provide hours of fun. Kelly Way Gardens, the resort's onsite garden, provides a holistic food supply to the resort's restaurants.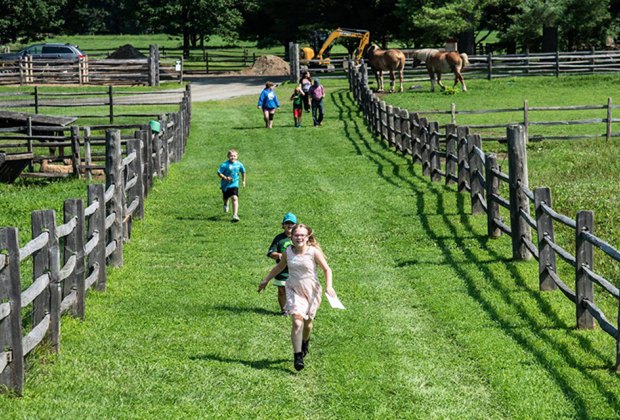 Billings Farm and Museum in Woodstock, Vermont is the perfect place for making treasured memories with kids. Photo courtesy of the farm
Don't miss a visit to the Billings Farm & Museum. It's a fully operating dairy farm where you can get up close with the cows at the milking barn and explore the 19th century farmhouse and creamery. Educational programming is excellent and hotel guests enjoy free visits. F.H. Gillingham & Sons is Woodstock's general store, owned and operated by the same family since 1866. They sell an eclectic range of goods, many produced locally, but quality is the unifying factor. Kids will also enjoy a trip to VINS Nature Center, a rehabilitation center for birds of prey, many of which are on display, that offers educational activities and even shows for kids, plus nature trails. On your way, stop to gawk at the majestic Quechee Gorge, which is sure to stun the whole family into silence (for a moment or two).
RELATED: Berkshires with Kids: Top Things to Do on a Family Vacation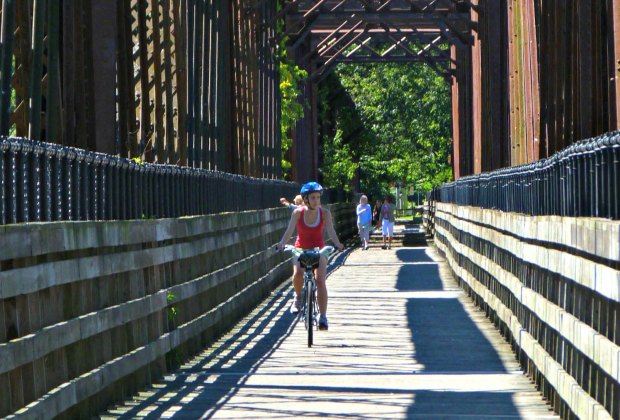 Bike along the Norwottuck Rail Trail in Northampton, Massachusetts. Photo by Rusty Clark/CC BY 2.0
The Hotel Northampton — Northampton, Massachusetts
Hampshire County in Massachusetts is blend of artsy villages, progressive college towns, and agricultural landscapes. Northampton is home to Smith College, where the garden-filled campus is great for a stroll, and a visit to the Smith College Museum of Art is worthwhile. The small art collection is impressive but just as memorable are the museum's decorative public bathrooms. Even if nature doesn't call, don't miss these bold, creative functional works of art.
The historic Hotel Northampton offers 106 guestrooms, gracious public spaces, and friendly service, all walking distance from everything. Rent bikes at Northampton Bicycle and cycle the flat, 11-mile, car-free Norwottuck Rail Trail to Amherst. It's fringed with a canopy of colorful fall leaves and is just right for most school-aged kids to handle at least a section. The trail offers lots of snack options along the way, including luscious ice cream at Maple Valley Milk Company and Farm Store.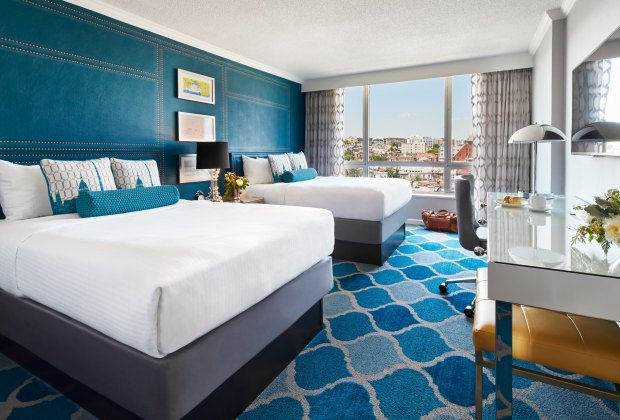 Chasing those warmer temps? Retreat to the Embassy Row Hotel in Washington. Photo courtesy of the hotel
The Embassy Row Hotel — Washington, DC
Autumn is a fine time to travel to Washington if you're looking to make summer linger a little longer. DC boasts a wealth of cultural treasures and parks. Stay in Dupont Circle and live like locals at the boutique Embassy Row Hotel. Its location puts you in the heart of the area's museums, eateries, and people watching. At the Sunday farmers market, dozens of vendors sell fresh fruit, veggies, meats, artisan cheeses, and baked goods, so plan on a picnic.

Enjoy farm fresh produce at the DuPont Circle Farmers Market. Photo courtesy of the market
Other Dupont Circle gems include neighborhood institution Kramerbooks and the modern art at the Phillips Collection. Venture out of the neighborhood to explore the phenomenal National Museum of African American History and Culture. The Embassy Row Hotel is a magnet for locals thanks to its rooftop yoga classes (open to the public) and casual eatery, Station Kitchen & Cocktails. Kids should enjoy a dip in the rooftop pool, open through September, weather permitting. Rooms are colorful and comfortable. Rollaway beds and cribs are available on request. The hotel's Underground Playground is a fun spot for families to spend time playing foosball, ping-pong, air hockey, and other games.
RELATED: 100 Things to Do in New York State with Kids Before They Grow Up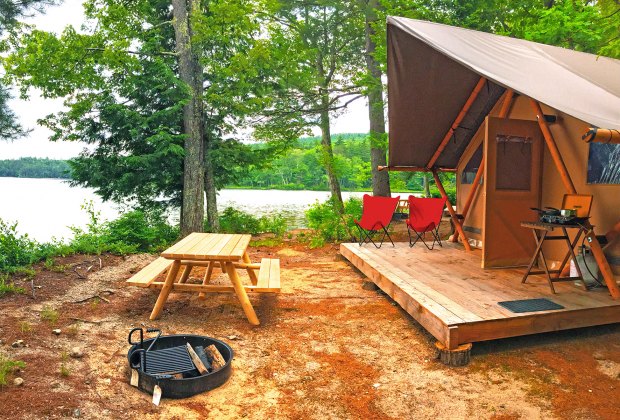 Glamp in the White Mountains of New Hampshire for the full fall effect. Photo courtesy of Huttopia Camping
Huttopia Camping — Albany, New Hampshire
Camp without sacrificing comfort in the White Mountains when you stay in glamping-style tents that are loaded with homey amenities. Huttopia, open seasonally until mid-October, is ideal if you want a low-stress camping experience. It provides kitchen supplies, bedding, and more. The Trapper's Tent sleeps up to five on real mattresses and includes a bathroom. Book the Chalet and you'll stay in a two-bedroom wooden cabin that sleeps up to six and includes a kitchen and bath. Fish in the lake or take a nature hike. There are low-key organized activities for kids in summer, and a few sporadic ones continue into the fall. If you crave the 21st century, head to North Conway, just 10 miles away.
Looking for more local camping spots? Try Tentrr.com, a glamping alternative that supplies the tent, bed, and more for you, or one of these campgrounds with extra perks for kids.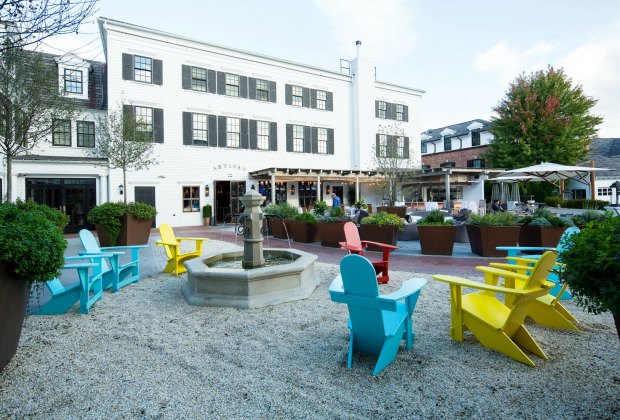 For a quick New England getaway, consider a stay in Southport, Connecticut's Delamar. Photo by Julie Bidwell for the hotel
Delamar — Southport, Connecticut
Southport is the sort of all-American town that brings to mind parades and ice-cream cones. The cobblestone streets are lined with stately homes and charming shops, giving it a Norman Rockwell feel. It's located on a swath of Connecticut shoreline around 90 minutes from Manhattan. The Long Island Sound's water usually stays warm enough for a dip into early October and the coastal influence means leaves usually change a bit later in the season than they do inland.
The Delamar Southport is just minutes from the beach. It offers 44 rooms loaded with luxuries. A complimentary gourmet buffet breakfast and bubbly drinks at check-in are a few of the perfect perks. The onsite Artisan Restaurant, Tavern & Garden features New England-inspired farm-to-table dining. The spa is top-notch, so try to sneak in a treatment. It's pet friendly, too. The hotel is just a short distance from the Maritime Aquarium in Norwalk and the Beardsley Zoo in Bridgeport.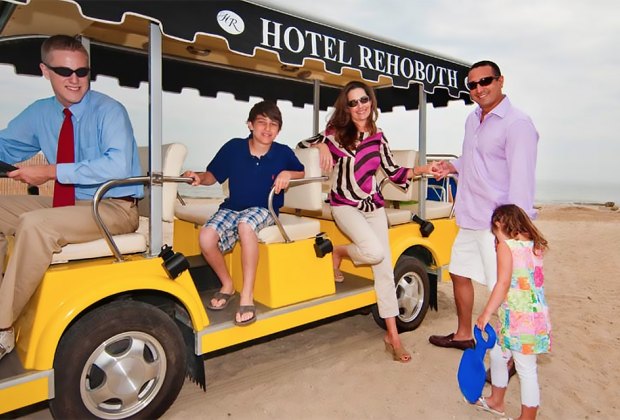 Hotel Rehoboth is the perfect family spot for late-season beaching. Photo courtesy of the hotel
Hotel Rehoboth — Rehoboth Beach, Delaware
Nothing beats a beach town in the fall. The crowds are gone, but the water is still warm. Delaware's Rehoboth Beach is the perfect spot for some late-season beaching, with tons of other activities to keep the family occupied...like a kid-friendly brewery! Check out the Crooked Hammock for a brew, some awesome food, and a playground in the back where big kids can happily entertain themselves. There's also Dogfish Head, the iconic Rehoboth brewery that is kid-friendly and has tons of great beers and food to sample. Stop by Funland, a kid-friendly destination that lives up to its name, with 19 different rides that are sure to thrill even the amusement park skeptic. For animal enthusiasts, check out Fisherman's Wharf and hop on one of the dolphin-watching cruises. Hotel Rehoboth, a newish upscale hotel that's close to the boardwalk, is a sleepy charmer during the off-season, where a family can feel indulgent without breaking the bank.
Think Big! A Tiny House Resort — South Cairo, New York
New Yorkers are used to small-space living, but you've never seen anything like this tiny house resort. There are nine tiny houses on site, each sleeping 2-7 people. Each home has a flush toilet (no small feat in the tiny house world!) and a working kitchen, plus an outdoor porch with gas grill and fire pit. Patrons are welcome to visit the on-site flock of chickens to collect eggs for breakfast, or harvest fresh veggies from the garden. More farm fun includes goats, bunnies, and ducks to interact with and enjoy. Looking for other entertainment? Hop in the heated pool, go for a hike, or borrow a kayak to paddle your way along the streams. Nearby, you'll find plenty of forestland to explore, and if the snow flies early, you're not too far from some of the region's best skiing.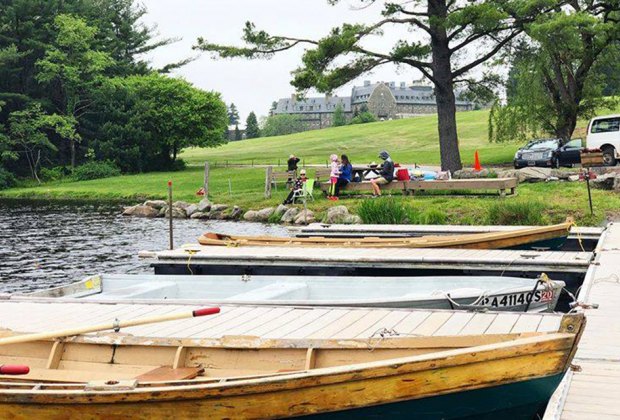 Skytop Lodge in the Poconos is full of fun family-friendly fall activities. Photo courtesy of the lodge
Skytop Lodge — Poconos, Pennsylvania
The picturesque Poconos are chock-full of family fun. Whether it's warm or cold out, there's plenty to keep the kids busy. At the Skytop Lodge, choose from a room in the historic lodge or a cabin nearby, and take your pick of delicious dining options over the course of your stay. Downstairs, there's a game room with ping-pong, mini golf, and arcade games for kids and adults alike. In the fall, enjoy nature walks, lawn games, and boating. Older kids (10 and up) can take advantage of the year-round TreeTop Adventure Course. Each weekend there is a Grand March, a big family-friendly dance event in the gorgeous main hall. The hotel offers swimming in any weather—there's an indoor pool if it's cold, and an outdoor pool in case you come in warmer weather.
The Whaler's Inn — Mystic, Connecticut
You don't have to go far from NYC to experience classic New England vibes. The Whaler's Inn offers history and scenery in equal amounts in Mystic, Connecticut. Mystic is just a few hours by car from NYC and offers all the seaside scenery you crave. Get your tickets online for the Mystic Aquarium, which is not to be missed. It has everything from seals to sea urchins, and even an exhibit on dinosaurs! Continue your seaside-themed weekend with a snack at the Sea View Snack Bar, which offers low-key eats in a family-friendly environment. Take the family on a cruise by sailboat, motorboat, or steamboat, and wrap up the weekend with a visit to the Mystic Seaport Children's Museum, geared toward kids 7 and under. Dress up like a sailor, cook in the galley or swab the deck in this fun, interactive space.
A version of this story was published in 2017; it has since been updated. Louise Finnell and Jody Mercier contributed additional reporting.