Family-Friendly Hotels in the Hamptons and North Fork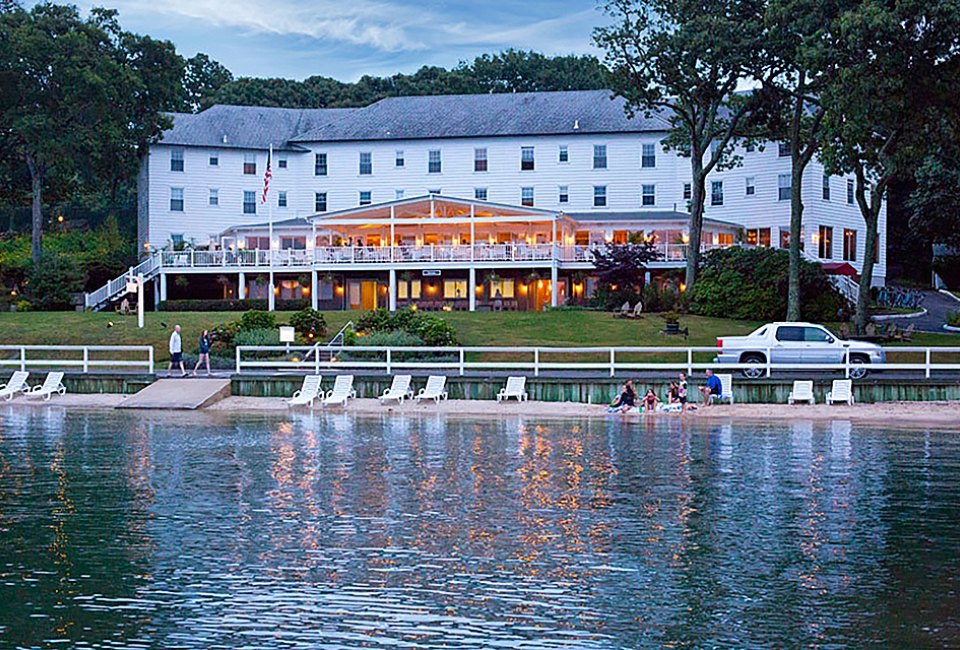 7/15/22
- By
James Smith
If you've ever visited the Hamptons and North Fork on Long Island, you know there are hotels in the Hamptons and nearby to fit every need. There are family-friendly hotels near fishing resorts, country inns near golf courses, and bed-and-breakfasts within walking distance of the North Fork's celebrated wineries. Families visiting the East End have options, too, from chain hotels near kid-friendly attractions to mom-and-pop guesthouses with private beaches and pools. We've rounded up some of our favorite family-friendly hotels in the Hamptons, plus a selection of North Fork hotels, motels, and guesthouses for families.
Find more places to stay and get away in our Guide to Family Day Trips and Weekend Getaways.
Subscribe to our newsletters to get stories like this delivered directly to your inbox.
Some of these family-friendly hotels in the Hamptons and nearby even have their own mini-golf courses and sports facilities for those who prefer more all-inclusive family entertainment. Most are easily accessible from the region's major roads or via the Long Island Rail Road.
Be advised, however: Lodging on the East End is at a premium during peak months, which are July and August for hotels in the Hamptons and August and September on the North Fork. Book early for the best prices and monitor hotel and motel websites for last-minute specials. Once you've booked your stay, bookmark our Guide to Family Fun in the Hamptons and North Fork for all our top picks for things to do.
Family-Friendly Hotels and Motels on the North Fork
This family-run motel has been serving visitors to Greenport for more than six decades. Recently renovated rooms begin at $230 per night in season and the motel is hard to miss en route to the Village of Greenport or Orient Point-New London ferry. Visitors enjoy access to the family-run Tick Tock Miniature Golf and the recently opened eatery and dessert destination Jennies at Drossos.
More a business hotel than a family resort, the main attraction for kids at the Hilton is access to Splish Splash water park in Calverton, one of Long Island's most popular summer destinations. The Hilton boasts two pools, but would it surprise any parent if the kids made an immediate beeline to the multi-attraction water playground less than a mile and a half away? Summer rates average $232 per night with discounts for frequent Hilton visitors.
This true-blue home away from home gives you insider access to the best family-friendly Riverhead attractions. Its location is also close to Splish Splash and guests can enjoy a five-minute drive to attractions such as the Long Island Aquarium or back-to-school shopping at Tanger Outlets. Kid-friendly amenities at this family-friendly hotel include an outdoor pool, and parents will appreciate the luxurious on-site fitness center and spa. Hotel Indigo even allows guests to bring one dog overnight. Live music adds a special touch to your stay on select nights.
RELATED: 50 Fun Summer Things to Do With Kids and Families on the East End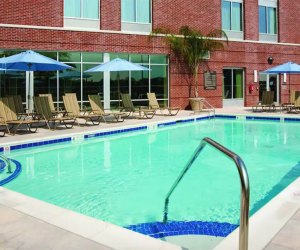 Take a dip in the pool at the Hyatt Place Long Island East End.
451 E. Main Street
Ideally situated in downtown Riverhead at the branch of the East End's two forks, the Hyatt boasts indoor and outdoor pools and spacious rooms. Most importantly for kids, it is next door to the Long Island Aquarium, whose sea lion and penguin shows, shark tank, and butterfly exhibits thrill thousands annually. There is an adjacent marina and families can enjoy a long walk along the Peconic River. This family-friendly hotel offers easy access to the Tanger Outlets for those in need of retail therapy. Stay and explore packages for the aquarium are available. Don't miss its Atlantis Explorer tour boat, which offers seasonal exploration of East End waterways. Room rates average $300 per night in season, but are considerably cheaper after Labor Day.
As the name says, the hotel offers breathtaking views of Long Island Sound. This Greenport hotel is a healthy distance from downtown but comes with some lovely perks. Kids can enjoy a guests-only beach, lovely pool, tennis and basketball courts, a putting and chipping area, and a selection of restaurants, including the poolside Jack's Shack and seafood-focused The Halyard. Prime-time rates at this newly renovated hotel are pricey, starting at $500 and going up from there.
Greenport's renaissance as a family destination is one of the great North Fork stories. The Greenporter offers a heated pool, beach access, and nicely adorned rooms, plus daily continental breakfast. The village carousel is across the street at Mitchell Park, the unofficial village square, and is open daily during school summer vacation. Overheated children can cool down in Mitchell's sprinkler park, which transforms into an ice rink in the wintertime. The Greenport skate park is an easy walk away for kids eager to pull down some big air. Enjoy boat charters from Greenport's harbor, or take the Shelter Island ferry to experience life on the Island for a mere $2. In-season room rates average about $280 per night.
RELATED: The Best Beach Playgrounds in the Hamptons and North Fork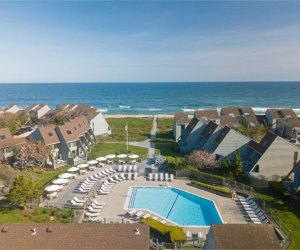 Kids will thrill to the pool and nearby beach at the Surf Club Resort in Montauk.
Family-Friendly Hotels in the Hamptons
This Montauk favorite includes easy access to adorable shops, pristine beaches, and tasty family-style restaurants. There's a jam-packed activity calendar, so you'll never be bored here. Of course, there's plenty of room for downtime. You're steps from the beach or a beautiful pool. These stunning amenities, like Gurney's, come with a high price point.
Sun, sand, and everything to do in Montauk—that's more or less what to expect from Gurney's, the only four-season beachfront resort in the Hamptons. There's an indoor saltwater pool year-round, a summertime kids' club with activities for toddlers through teens, and babysitting. Montauk's celebrated attractions include several state and county parks, public tennis and golf, horseback riding at Deep Hollow Ranch, boating and fishing charters, and, of course, the Montauk Point Lighthouse. Commissioned by President George Washington, it is the fourth-oldest lighthouse in the country. Gurney's is costly and probably not the best choice for families on a budget.
RELATED: The Best Things To Do in Bridgehampton With Kids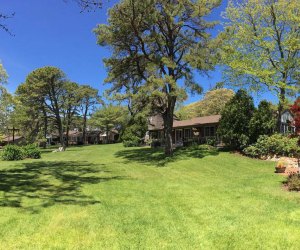 The Hampton Maid features memorable breakfasts and an expansive property.
Kids who love breakfast will find no peer on the East End to The Hampton Maid. Locals even have been known to make the post-church run on Sundays for the inn's top-shelf biscuits, muffins, fresh fruit, and, of course, pancakes. The inn sits on a bluff on Montauk Highway, just beyond the Hampton Bays downtown and a few minutes from the village of Southampton, whose history (it's LI's oldest English settlement) and culture provide year-round infotainment. There's a lovely pool, gentle bay beach across the street (careful crossing Montauk Highway), and, of course, the trademark windmill, an ideal meeting point for large groups. In-season room rates begin at $340 per night.
Shelter Island marches to its own beat. Locals are proud of being neither Hamptonites nor North Forkers. The Island is, in fact, its own township isolated from both regions by water and accessible only by ferry. The Pridwin, along Crescent Beach, is perhaps the best family resort on the island and is fresh off a two-year renovation project. It offers a pool, tennis courts, water sports, and more. Other family activities include kayaking, bicycling, and hiking at nearby Mashomack Preserve, a must-see for nature lovers. In-season rates are a splurge, starting at about $800 per night.
RELATED: Kid-Friendly Nature Walks in the Hamptons and North Fork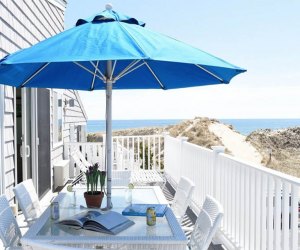 The Sea Crest Resort is just a short walk from Hither Hills State Park.
2166 Montauk Highway
Sailing tours, bowling, and paddleboarding in Amagansett are only a short drive from this elegant resort. On-site amenities include a heated pool, private beach, picnic area with grills, and cabana service. The hotel is also only a few minutes from Montauk. In-season rates start at about $500 per night.
A more affordable option than Gurney's, Briney Breezes is a Montauk institution especially popular with cost-conscious families. The motel is footsteps from the beach and a short walk from downtown. Each room has a balcony or patio and the property's expansive lawn is perfect for an impromptu game of Wiffle ball or touch football. Then, of course, there is the pool, open from Memorial Day through Columbus Day. Expect to pay about $500 per night in-season, half that off-season.
Originally published in 2019.
Photos courtesy of the hotels
Sign up for the Mommy Poppins Newsletter today!