Kid-Friendly Nature Walks in the Hamptons and North Fork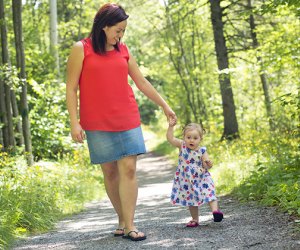 From North Fork trails that wind through wine country, to mountain walks in Montauk, the East End lets families explore nature's diversity. Flowers bloom, rare birds soar and seals bond with curious onlookers, all in a mile-long stretch by the shore.
Parents hoping to foster a love of Mother Nature in their kids should check out some of these family-friendly hikes around the East End. Here you'll find walks suitable for all ages, from young children through teens. Just remember: stay hydrated and be wary of ticks!
And for the best in family fun out East this summer, check out our Hamptons & North Fork Family Guide.
Kid-Friendly Nature Walks on the North Fork
Downs Farm Preserve
23800 Main Road, Cutchogue
631-765-1283
Across from Pellegrini Vineyards on Main Road, Downs Farm sits on 51 acres that includes the site of Fort Corchaug, a Native American fort listed on the National Register of Historic Places. A series of recreational trails meets up with productive farmlands and wetlands near the creek. Downs Farms is known for its variety of nesting birds, including orioles, wrens, blackbirds and warblers. Bring your binoculars.
Laurel Lake Preserve
5501 Main Road, Laurel
631-765-5182
At nearly 500 acres, Laurel Lake is the largest preserve in Southold Town, and its 2-plus mile trail features a panoply of tree and animal species. The forest is dominated by oak, hickory, beech and maple, but don't miss the mixed forest, where the hardwoods share space with evergreens. Of course, where there are trees, there are woodpeckers, often heard hammering away for food. Other wildlife include owls, foxes, deer and squirrels. Laurel Lake, from which the preserve draws its name, provides a habitat for waterfowl, amphibians and reptiles, including turtles.
Kid-Friendly Nature Walks on the South Fork

Elizabeth A. Morton National Wildlife Refuge
2595 Noyack Road, Sag Harbor
631-725-7598
Set on 187 acres on the peninsula separating Noyack and Little Peconic bays, the Morton refuge boasts an exceptionally diverse habitat. Wooded bluffs overlook the bays and Morton's forests and marshes are home to a variety of wildlife, including deer, chipmunks, turkeys, turtles and frogs. Up in the skies, sighting of ospreys, ducks, terns and other water birds are common. Piping plovers, a threatened species of seabird, arrive in March and April for nesting.
Long Pond Greenbelt
Sagaponack
631-745-0689
This 1,100-acre stretch of interconnected ponds, woods, and wetlands extends nine miles from Ligonee Brook and Otter Pond in Sag Harbor south to Sagg Pond and the shore in Sagaponack. Rare plants and animals dot the trails, making the Greenbelt one of the most ecologically significant areas in New York State, according to experts. A key feature is a collection of 13 pond shore communities, considered rare and vulnerable to extinction. More than 100 bird species have been identified in the Greenbelt, many of which depend on these pond shore communities.
Quogue Wildlife Refuge
3 Old Country Road, Quogue
631-653-4771
A 300-acre preserve on the eastern edge of the Long Island Pine Barrens, hikers enjoy up to seven miles of trails in a diverse habitat that includes ponds and forests showcasing the rare dwarf pine. The refuge houses permanently injured wildlife that require human care to survive, including bobcats, owls, falcons, eagles, foxes and more.
Kid-Friendly Nature Walks in Montauk

Ogdens Brook Trail
50 South Fairview Avenue, Montauk
631-668-3781
Part of the 125-mile long Paumanok Path, Ogdens Brook follows Montauk's famous Oyster Pond. At Ogdens Brook at the base of Oyster Pond, a footbridge takes the trail over an Adirondack Mountain-like stream and into wetlands and a maritime forest protected from natural disturbances. Experienced and novice hikers alike marvel at the variety of tree species, including beech, black tupelo, red maple and shadbush.
Seal Haulout Trail
50 South Fairview Avenue, Montauk
631-668-3781
Beginning at Montauk State Parkway about a mile west of Montauk Lighthouse, this popular trail heads north to Block Island Sound, where cold-weather hikers can observe harbor seals sunning themselves on the offshore rocks. Summer hikers will find a diverse ecosystem and abundant flora.
Kid-Friendly Nature Walks on Shelter Island
Mashomack Preserve
47 S. Ferry Road
631-749-1001
At 2,100 acres comprising one-third of Shelter Island, Mashomack is the crown jewel of East End preserves. It is one of the richest osprey breeding grounds on the East Coast and is popular also with red-tailed hawks and Eastern bluebirds, New York's state bird. Mashomack features 10 miles of coastline, tidal creeks, woodlands, fields and salt marshes. The pine swamp area at the preserve's western edge is a freshwater wetland "of unique local importance" according to the state Department of Environmental Conservation.
Photo via Bigstock