55 Fun Things To Do in the Hamptons this Summer with Kids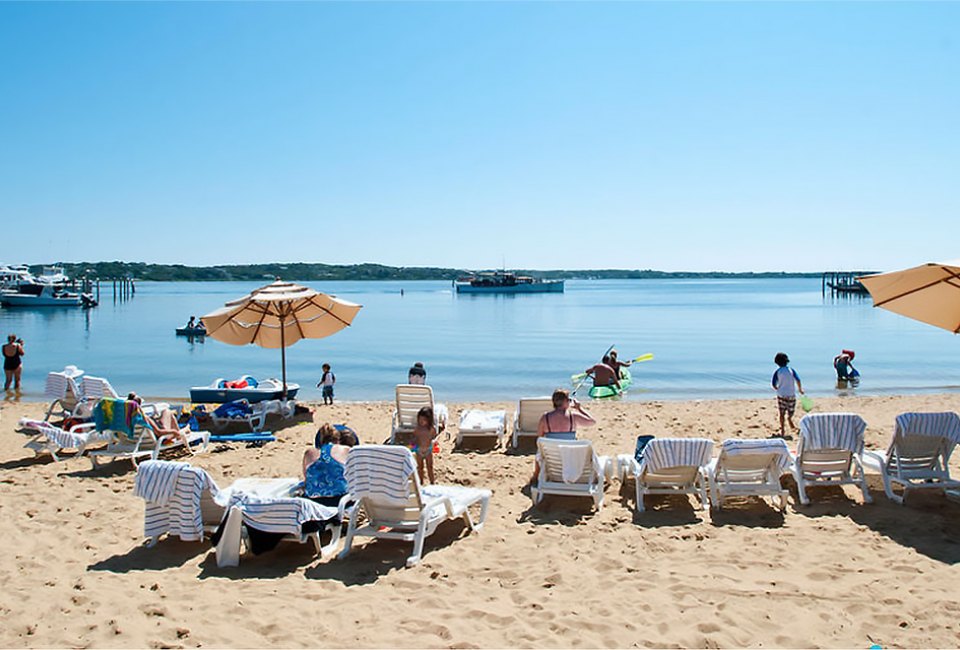 6/9/23
- By
James Smith
So much to do, so little time: That's an often-heard summer refrain on Long Island's East End, where vacationers and residents alike struggle to pack as many things to do as possible into the 80-odd days between school years. We're here to help with our list of the best family beaches, state and county parks, pools, mini-golf courses, and even indoor options to explore in the Hamptons and North Fork this summer.
So, whether you're visiting the East End for the first time or are part of a well-established local family, have a look at this kid-friendly list of great summer activities. While you're at it, check out our Famly Guide to the Hamptons and North Fork, and find more seasonal must-dos in our Ultimate Long Island Kids Summer Vacation Guide.
Sign up for our FREE newsletters to get posts like this delivered to your inbox.
Unique Family-Friendly East End Activities and Institutions
1. Long Island Aquarium
The Long Island Aquarium is a must-do when visiting Riverhead and it's one of our favorite East End destinations. Say hello to the penguins, stingrays, exotic and native fish, and sharks (from a safe distance, of course).
2. Children's Museum of the East End
Take command of the indoor tugboat or fire engine, then enjoy a game of mini-golf at the Children's Museum of the East End in Bridgehampton. The museum is open for timed admission every day but Thursday.
3. Pollock-Krasner House
Speaking of art, why not visit the former home of LI's great Abstract Expressionist painter, Jackson Pollock? The East Hampton studio is a National Historic Landmark.
4. Carriage House Museum
Don't overlook the Roy K. Lester Carriage House Museum and the Amelia Cottage Museum in Amagansett. What child wouldn't love the collection of horse-drawn carriages and buggies? The museums are on the National Register of Historic Places.
Things to Do on the Water with Kids in the Hamptons and North Fork
5. The Beaches
The East End of Long Island is home to some of the finest family beaches in the entire nation. Sandy bottoms and ocean surf delight beachgoers on the South Fork. On the North Fork, expect calmer waters but a rockier bottom in the Long Island Sound. Water shoes are a good investment if you plan to swim in the Sound. Regardless of your destination, lifeguards are usually on site daily between Memorial Day and Labor Day at town beaches.
RELATED: East End Mini-Golf, Batting Cages, and More for Kids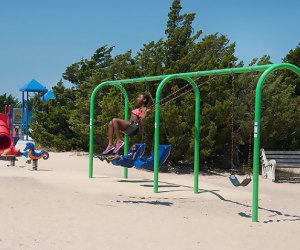 Enjoy swings, tunnels, and more at beach playgrounds on the East End. Photo by John Williams for New York State Parks
6. Beach Playgrounds
The sun and surf are fun, but what kid doesn't appreciate a playground? These East End beach playgrounds are perfect for youngsters who prefer a little adventure on their beach afternoons.
RELATED: 50 FREE Things To Do With LI Kids This Summer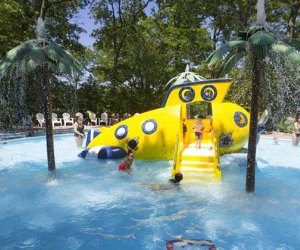 Little water park lovers are thrilled by the Yellow Submarine at Splish Splash. Photo courtesy of the park
7. Splish Splash
Come a warm day, we know you'll want to cool off at Splish Splash in Calverton, Long Island's premier waterpark. Kids under age 2 are FREE, and there are discounts for older children and seniors, too.
8. Whale Watching
If you are in Montauk, treat the kids to a whale-watching cruise. Trips pass the famous Montauk Lighthouse in search of whales, dolphins, turtles, and seabirds. A marine biologist is on board to answer all of your questions.
9. Visit a Lighthouse
You can immerse yourself in LI's maritime past at its three East End lighthouses; Horton's Point in Southold, "Bug Light" in Greenport, and Montauk Point in, you guessed it, Montauk Point.
RELATED: Family-Friendly Hotels on Long Island's East End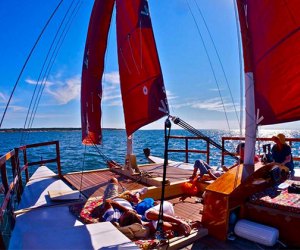 Set sail aboard a classic schooner at Montauk Yacht Club. Photo courtesy of the club
10. Set Sail
Families can hire a sailboat for a private daytime cruise through Montauk Harbor and Block Island Sound.
11. Kite Flying
With steady breezes, East End beaches provide some of the best conditions for kite flying. If you fancy a stylish kite for your little one, consider Kites of the Harbor in Sag Harbor.
12. Ferry Excursions
For an inexpensive day on the water, head to Greenport on the North Fork and jump on the North Ferry to Shelter Island. Leave the car behind; passenger fares are a mere $3, and it's FREE for those 9 and younger.
13. Kayaks and Paddleboards
You can canoe, kayak, or paddleboard your way through the East End's local waterways. Instruction and gear are available for novices.
Things to Do Outdoors with Kids in the Hamptons and North Fork
14. History Walks
Get your history on with a walking tour of the Village of Southampton, courtesy of the Southampton History Museum. Several of these inexpensive tours welcome children old enough to endure the walk.
15. Ghost Tours
While at the History Museum, sign up to take a ghost walk through Southampton. Paranormal tours of the Rogers Mansion are offered on select Saturdays, July-October. They're fun and not too scary, but still better suited for tween and teenage kids.
16. Outdoor Concerts
Pack a lawn chair and picnic basket and enjoy a twilight concert in Southampton. The Southampton Cultural Center hosts free concerts on Wednesday or Thursday nights at Agawam Park or Cooper's Beach in Southampton, or at Good Ground Park in Hampton Bays.
17. Bike Rides
Here is a great bike excursion for eager families on Shelter Island: Start at the North Ferry terminal and ride a few miles across the island to the South Ferry, which connects to North Haven and Sag Harbor.
18. Riverhead Raceway
Riverhead is home to a host of sports, including NASCAR. Kids will get a thrill out of watching the races. And, while you're next door, check out Tanger Outlets for some early back-to-school shopping.
19. Street Festivals
Riverhead's Alive on 25 street festivals bring together musicians, artists, vendors, food trucks, and, of course, the public in an outdoor celebration of East End life.
20. Farm Fun
Farm activities for the family are not just limited to the fall. If you're near Riverhead, check out Garden of Eve Organic Farm or any of the Harbes farms, where kids can interact with chickens, sheep, goats, and other "residents." The nonprofit Amber Waves farm in Amagansett features an education facility and plenty of kid-themed fun.
21. Summer Berry Picking
It's berry season all summer across the East End. Late July is the ideal time for blueberries and raspberries. Blackberries ripen in August. Pick your own at these East End berry farms.
22. Cheer on the Runners
On the final weekend of summer each year, fans line the streets of Southampton to salute the competitors in the Hamptons Marathon and Half-Marathon. Montauk does the same in July at the annual Montauk Lighthouse Triathlon.
23. Outdoor Movies
Watch a classic movie outdoors in East Hampton, Peconic, Montauk, and elsewhere.
24. Community Barbecues
Get into the civic spirit and celebrate with your neighbors at one of the region's many community barbecues, often held by the local fire department or church. Imagine a community-wide tailgate party.
25. Hampton Classic Horse Show
Who said equestrian sports had to be expensive? The Hampton Classic brings the world's top riders and horses to Bridgehampton. It has kid-friendly events all week and a special day dedicated to them.
26. Hamptons Collegiate Baseball
See amateur baseball at perhaps its highest level. Hamptons Collegiate Baseball plays games through August at fields across both forks.
27. Mini-Golf
You can try your hand at miniature golf at the Clubhouse in East Hampton, Drossos in Greenport, Hamptons Mini Golf in Southampton, or Whale's Tale on Shelter Island.
28. Maritime Festival
Kids shouldn't miss the Greenport Maritime Festival in September. Celebrate the village's maritime heritage with parades, storytimes, classic boat exhibits, and kids' fishing competitions.
29. Explore the Night Sky
Got a star-gazer in the family? Visit the Custer Institute and Observatory in Southold, the region's only outdoor observatory.
30. See Stargazer
That reminds us, have you seen the Stargazer sculpture on Route 111, the gateway to the Hamptons? It's another example of roadside art that dots the Hamptons' landscape.
Things to Do Indoors with Kids in the Hamptons and North Fork
31. Family-Friendly Wineries ...
Enjoy the East End uncorked at a family-friendly winery. Here are 15 of our favorite kid-friendly destinations in East End wine country.
32. ... And Breweries
If you fancy a beer, check out the family fun at Greenport Harbor Brewing Company, Jamesport Farm Brewery, Long Island Farm Brewery, or Peconic County Brewing. The vibe is equally family-friendly at Riverhead Ciderhouse.
33. Barn Dancing
Head to the Annual Barn Dance at the Hallockville Museum Farm. No experience is necessary, and all ages are welcome. The agricultural museum and outdoor classroom also serves as an East End Ellis Island, chronicling the lives of the region's immigrants.
34. Train Rides ...
If you have train-loving kids, hop on the Long Island Rail Road at, say, Westhampton and travel east to Montauk. From the North Fork, board the LIRR at Riverhead and travel to Greenport. Take in the scenery along the ocean and Long Island Sound coasts.
RELATED: Public Pools for Kids on the East End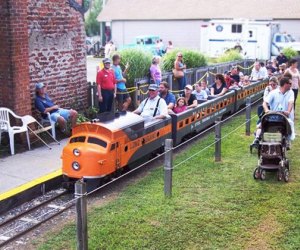 All aboard the mini train at the Railroad Museum of Long Island. Photo courtesy of the museum
35. ... And the Railroad Museum
Those same train-traveling kids will love the Railroad Museum of Long Island in Riverhead and Greenport. The museum hosts events most weekends with other regional train clubs, and kids can get a close-up look at some historical trains.
36. Axe Throwing, Paint Splattering
The former Mattituck Cinemas has been converted to the diverse entertainment center Axe & Smash, where guests can engage in the medieval art of ax tossing or the very modern art of paint splattering. Rest assured, it's all safe, but probably best for older kids.
37. Kid-Friendly Reads
Explore an independent bookstore — remember those? — such as Burton's in Greenport or Canio's in Sag Harbor. Both boast children's sections where your kids can search for their new favorite beach read.
38. Go Bowling
Knock a few pins down at The All Star in Riverhead, where kids can bowl on one of the 22 lanes featuring auto-bumpers. Older children will love the large-screen televisions that dot the venue.
39. Vintage Movie Theaters
It's never a bad time to take in a movie. The East End boasts a vintage movie theater in East Hampton. More contemporary ones dot the landscape, too, including in Sag Harbor.
RELATED: 25 Fun Things To Do in Montauk With Kids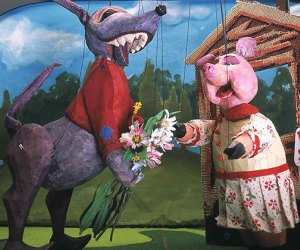 Puppet shows come alive at Goat on a Boat theater in Sag Harbor. Photo courtesy of the theater
40. Puppet Theater
Because not every summer day in the Hamptons is sunny, we recommend Goat on a Boat puppet theater for younger kids.
41. Shakespeare in the Hamptons
If the play's the thing for your kids, the Hamptons Shakespeare Festival offers kids ages 8-15 the chance to work with trained Shakespearean instructors.
Other Places to Explore with Kids in the Hamptons and North Fork
42. Mashomack Preserve
While you're on Shelter Island, take a hike through Mashomack Preserve for a view of the East End's natural world. More than 200 species of birds pass through Mashomack, and 80 call the preserve home. How many can you spot?
43. Lavender By the Bay
Lavender By the Bay in East Marion, on the North Fork, immerses visitors in acres of natural fragrances. And the land takes on a lovely purple hue early in the summer when its signature flower blooms. Walk through the fields, visit the gift shop, or just enjoy the solitude.
44. The Big Duck
Sure, it's kitschy, but the Big Duck in Flanders is an example of the beauty of roadside art. And it's FREE, but you'll want to visit the gift shop.
RELATED: Bridgehampton With Kids: Top Attractions for Families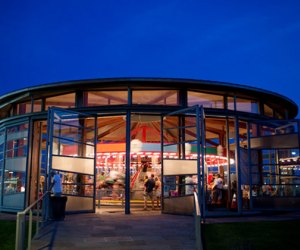 Take a spin—or two—on Greenport's carousel. Photo courtesy of the carousel
45. Greenport
Daredevils will want to check out the Greenport Skate Park, where boarders can drop in on one of several ramps. Helmets and safety gear are required. Those favoring a slower pace might prefer the antique carousel, Either way, delight in this charming harbor community.
RELATED: Great Outdoor Restaurants for Long Island Families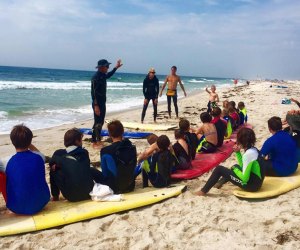 Hop aboard a surfboard at an East End surfing school. Photo courtesy of Island Surf School
46. Montauk
Montauk is a community unique to itself, and we've written plenty over the years on its kid-friendly entertainment options. Stroll through a state park—there are five in Montauk—take a surf class with the kids, or maybe enjoy a fishing trip.
47. Sag Harbor
Take a trip to Sag Harbor, on the South Fork, and return to the days of whalers and sailors. Admission to the Sag Harbor Whaling and Historical Museum is just $3 for kids under 12.
RELATED: Kid-Friendly LIRR Stops for Family Fun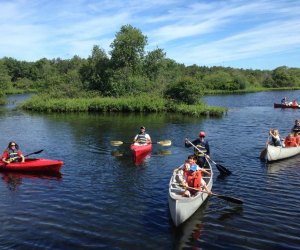 Explore nature on water or foot at the Quogue Wildlife Refuge. Photo courtesy of the refuge
48. Animals Aplenty
Kids can glimpse Long Island wildlife at destinations throughout the East End, including at the Quogue Wildlife Refuge. Farther east, the Elizabeth A. Morton Wildlife Refuge in Noyac is home to seabirds, amphibians, and more. Take a hike and explore the salt-marsh ecosystem.
49. Natural History Museum
A few miles south of the Morton refuge is the South Fork Natural History Museum in Bridgehampton, which houses a butterfly garden, touch tank, nature trails, wildflower garden, and more.
50. Hallockville Museum Farm
For a peek into the East End's agrarian past, visit the Hallockville Museum Farm in Riverhead. The agricultural museum and outdoor classroom also serves as an East End Ellis Island, chronicling the lives of the region's immigrants.
51. Cutchogue Green Historic Buildings
Take a trip back to the North Fork's Colonial period at the Cutchogue Green Historic Buildings. Tour the 1740 Wickham Farmhouse and the Old House, a registered national landmark that dates to 1649. The Old House is considered the state's oldest English-type frame house.
Dining Options and More with Kids in the Hamptons and North Fork
52. Outdoor Dining
Crabby Jerry's, a family-friendly restaurant in Greenport, is perhaps the North Fork's best location for people-watching. It's one of hundreds of outdoor or waterfront restaurants on the East End.
53. Pizza
There is no shortage of pizza destinations in the Hamptons and North Fork. A few we like: Roadhouse in Riverhead, Dive Bar in Amagansett Francesca's in Hampton Bays, and Michelangelo's across the North Fork.
54. Ice Cream
The East End has a host of gourmet ice cream parlors and frozen yogurt shops. Magic Fountain in Mattituck and Snowflake Ice Cream Shoppe in Riverhead make their own. Buddhaberry in Sag Harbor offers an edible cookie dough.
RELATED: Old-Fashioned Ice Cream Parlors Long Island Kids Will Love

Enjoy an ice cream "Tateswiche" at Tate's Southampton bakery. Photo courtesy of Tate's Bake Shop
55. Candy and Sweet Treats
Indulge your sweet tooth at one of the East End's many gourmet cookie or candy shops. Popular destinations include Tate's Bake Shop in Southampton, Grindstone Coffee and Donuts in Sag Harbor, Dylan's Candy Bar in East Hampton, and the Main Road Biscuit Company in Jamesport.
A version of this article was first published in June 2014 and was updated in 2023. Kristen Markel contributed additional reporting.
Click Here to Sign Up!
i