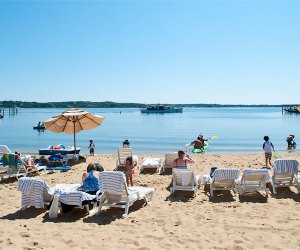 50 Fun Summer Things to Do with Kids and Families in the Hamptons and North Fork
Please note: The coronavirus pandemic may have affected operating seasons and hours for 2020. Please click through to each location to verify operating hours before visiting.
So much to do, so little time. That's a popular refrain on Long Island's East End, where vacationers and residents alike struggle to pack as much adventure as possible into the 80-some days of summer. Which is where we come in, of course. Our Mommy Poppins experts have updated their list of the best fun things to do this summer with great family-friendly events in the Hamptons and North Fork. We've researched family beaches, state and county parks, pools, and even indoor options just in case Mother Nature doesn't cooperate.
So if you're visiting the East End, have a look at this kid-friendly list of great summer activities. While you're at it, check out our guide to this unique region, home to farms, museums, wineries, and even the trendy celebrity or two. Who knows: While you're here, you might even scratch an item or two off our list of 100 must-do things with LI kids. Hurry, time's a-wasting.
Sign up for our FREE newsletters to get posts like this delivered to your inbox.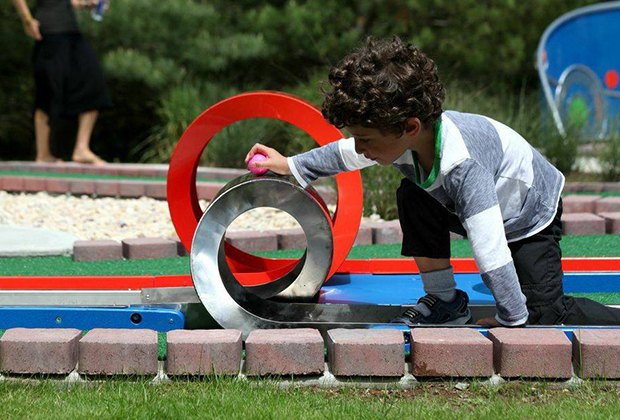 Hit the "links" at the mini-golf course at the Children's Museum of the East End. Photo courtesy of the museum
1. Enjoy a game of mini-golf at the Children's Museum of the East End in Bridgehampton, then "take command" of the indoor tugboat or fire engine. This year, take advantage of cultural events such as a performance of Peter and The Wolf performed by the Hampton Ballet Theatre School, and a Friday Night Drop-Off Dance Party for kids ages three and up.
2. Get your history on with a walking tour through the villages of Southampton or East Hampton. Several of these inexpensive tours welcome children old enough to endure the walk.
3. Pack a lawn chair and picnic basket and enjoy a twilight concert at Agawam Park in Southampton or at the village squares in Southold or Montauk.
4. For an inexpensive day of "boating," head to Greenport and jump on the Shelter Island ferry. Leave the car behind; passenger fares are a mere $2 and it's FREE for those 9 and younger.
5. If you're really ambitious, take your bike aboard the ferry and tour a few miles across the Island to the South Ferry, which connects to North Haven and Sag Harbor.
6. While you're on Shelter Island, take a hike through Mashomack Preserve for a view of the East End's natural world.
RELATED: East End Mini-Golf, Batting Cages, and More for Kids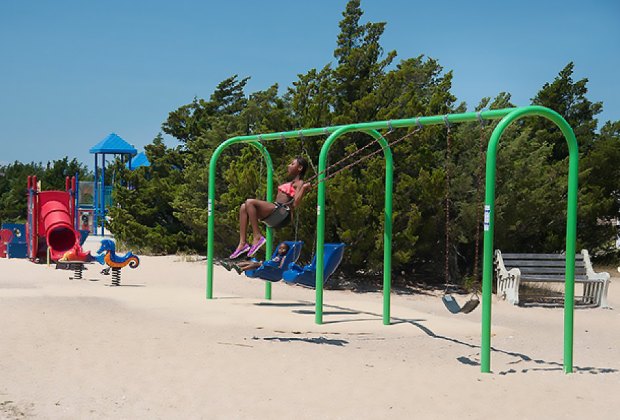 Enjoy swings, tunnels, and more at a beach playground on the East End. Photo by John Williams for New York State Parks
7. Of course, you'll want to hit the beach: These East End locations boast our favorite beach playgrounds.
8. Enjoy the East End uncorked at a family-friendly winery.
9. Baiting Hollow Farm Vineyard is a premier winery with a horse rescue facility on site, where kids can learn about equine culture, riding, and more. Or consider these stables for children's riding lessons or even horse camp. The vineyard is also picnic- and dog-friendly, so feel free to pack a lunch for the kids and Rover.
RELATED: 50 FREE Things to Do With LI Kids This Summer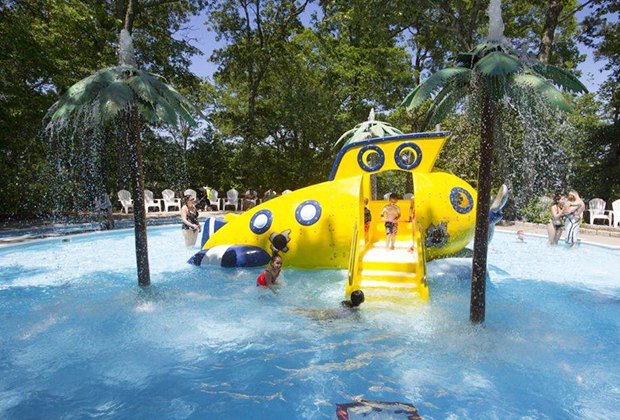 Water park lovers will thrill to the Yellow Submarine at Splish Splash. Photo courtesy of the park
10. We just know you want to visit Splish Splash in Calverton, right? On both weekdays and weekends, enjoy discounted tickets for tots younger than 2, juniors less than 48 inches tall, and seniors older than 60.
11. The East End is home to a host of sports, including NASCAR. Kids will thrill to the races in Riverhead. And while you are there, check out the outlets for some early back-to-school shopping.
12. See a bit of the East End by rail. Take the Long Island Rail Road from Speonk to, say, Montauk. Take a walk and catch the return trip.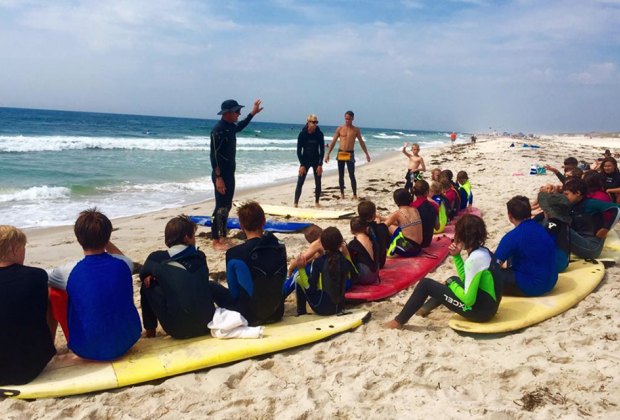 Hop aboard a board at an East End surfing school. Photo courtesy of Island Surf School
13. Teach your kids to catch the waves at one of the region's nationally recognized surfing schools.
14. Several East End towns, including Southampton, offer free or low-cost swimming lessons each summer guaranteed to conquer littles ones' fear of the water.
15. Canoe, kayak, or paddle board your way through the waterways.
16. Crabby Jerrry's, a family-friendly restaurant in Greenport, is perhaps the North Fork's best location for people watching. Enjoy burgers, seafood, and more along the harbor.
RELATED: Old-Fashioned Ice Cream Parlors Long Island Kids Will Love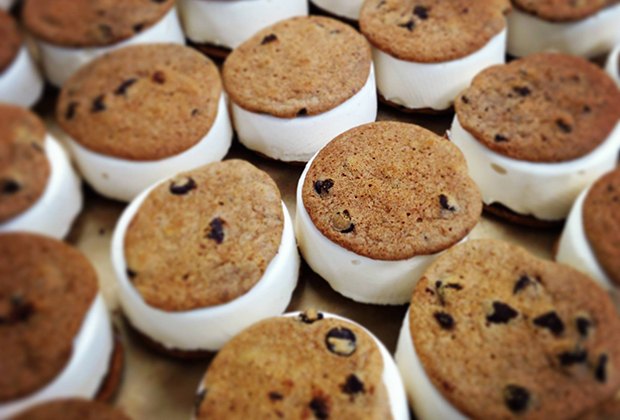 Enjoy an ice cream "Tateswiche" at Tate's Southampton bakery. Photo courtesy of Tate's Bake Shop
17. Indulge your sweet tooth at one of the East End's many gourmet cookie or candy shops. Popular destinations include Tate's Bake Shop in Southampton, Grindstone Coffee and Donuts in Sag Harbor, Dylan's in East Hampton, and the Main Road Biscuit Company in Jamesport.
18. For that matter, the East End has a host of gourmet ice cream parlors and frozen yogurt shops. Buddhaberry in Sag Harbor even has vegan options.
19. It's berry season all summer. Late July is the ideal time for blueberries and raspberries. Blackberries ripen in August. Pick your own at these East End berry farms.
20. Sure, it's kitschy, but the Big Duck in Flanders is an example of the beauty of roadside art. And it's FREE, but you'll want to visit the gift shop.
21. Immerse yourself in LI's maritime past at its three East End lighthouses, Horton's Point in Southold, "Bug Light" in Greenport, and Montauk Point in, you guessed it, Montauk Point.
22. While you're at it, take a trip to Sag Harbor and return to the days of whalers and sailors.
RELATED: 8 Kid-Friendly LIRR Stops for Family Fun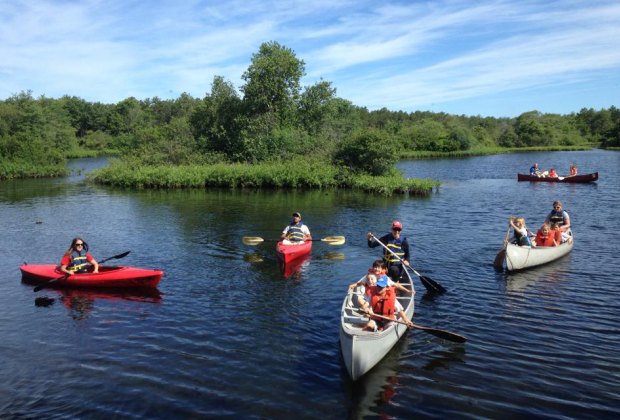 Explore nature on water or foot at the Quogue Wildlife Refuge. Photo courtesy of the refuge
23. See more Long Island wildlife at the Quogue Wildlife Refuge.
24. A few miles to the east, the Elizabeth A. Morton Wildlife Refuge in Noyac is home to seabirds, amphibians, and more. Take a hike and explore the salt-marsh ecosystem.
25. If you prefer nature at a more comfortable distance, there's always the Long Island Aquarium in Riverhead.
26. Or the South Fork Natural History Museum in Bridgehampton, across from the Children's Museum. SoFo, as it's called, houses a butterfly garden, touch tank, nature trails, wildflower garden, and more.
27. Get into the civic spirit and celebrate with your neighbors at one of the region's many community barbecues, often held by the local fire department or church. Imagine a community-wide tailgate party.
RELATED: Public Pools for Kids on the East End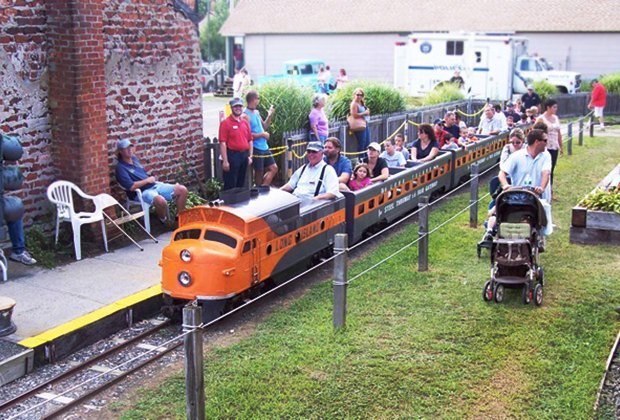 All aboard the mini train at the Railroad Museum of Long Island. Photo courtesy of the museum
28. Speaking of railroads, the Railroad Museum of Long Island in Riverhead hosts its annual festival August 24-25. Kids can get a close-up look at some of Long Island's historical trains.
29. Of course, you can experience the culture of the East End's indigenous people at the Shinnecock Indian powwow, held annually on Labor Day weekend in Southampton.
30. Carnivals and fairs abound on the East End. Why not go along for the rides?
31. Riverhead's Alive on 25 brings together musicians, artists, vendors, food trucks, and, of course, the public in an outdoor celebration of East End life.
32. Speaking of art, why not take a family drip painting class at the former home of LI's great Expressionist painter Jackson Pollock.
RELATED: Bridgehampton With Kids: Top Attractions for Families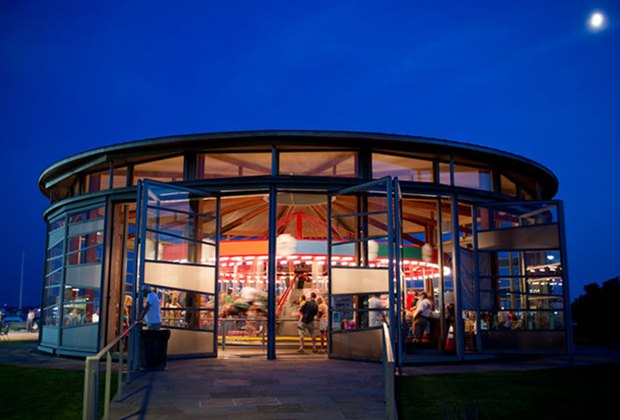 Take a spin —or two — on Greenport's carousel. Photo courtesy of the carousel
33. What trip to the North Fork would be complete without a spin on Greenport's antique carousel?
34. Who said equestrian sports had to be expensive? The Hampton Classic brings the world's top riders and horses to Bridgehampton. It even has a special day dedicated to kids.
35. See amateur baseball at perhaps its highest level. Hamptons Collegiate Baseball plays games through August at fields across both forks.
36. There are five state parks within a few miles of Montauk, including Camp Hero, a former Air Force station that during World War II was disguised as, guess what, a fishing station.
37. While in Montauk, treat the kids to a whale watching cruise and eco tour.
RELATED: Family-Friendly Hotels on Long Island's East End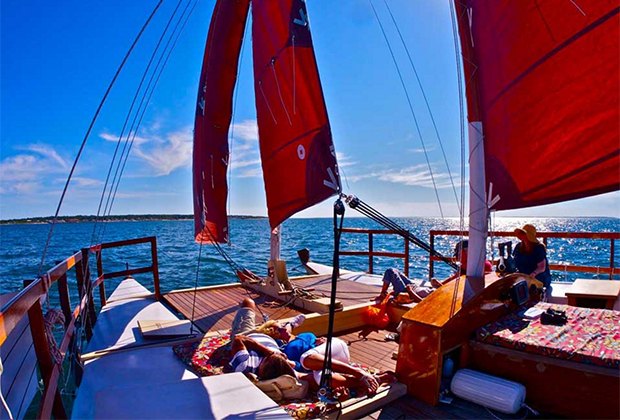 Set sail aboard a classic schooner at Montauk Yacht Club. Photo courtesy of the club
38. Families can hire a sailboat for a daytime cruise through Montauk Harbor and Block Island Sound for as little as $45 per person.
39. If you like sailing, you'll love the Robin's Island racing series in the summer from the New Suffolk beachfront on the North Fork. Your child sailor will love the way these vessels dart through the water never more than a half-mile offshore.
40. Drop a line into the water with your son or daughter in one of the East End's many fishing spots.
41. Technically it's the first weekend of autumn, but kids shouldn't miss the Greenport Maritime Festival in September. Celebrate the village's maritime heritage with parades, story times, classic boat exhibits, and kids' fishing competitions.
42. Got a star-gazer in the family? Visit Custer Observatory in Southold, the region's only planetarium.
43. That reminds us, have you seen Stargazer on Route 111, the gateway to the Hamptons? It's another example of the roadside art that dots the Hamptons landscape.
RELATED: 25 Fun Things to Do in Montauk With Kids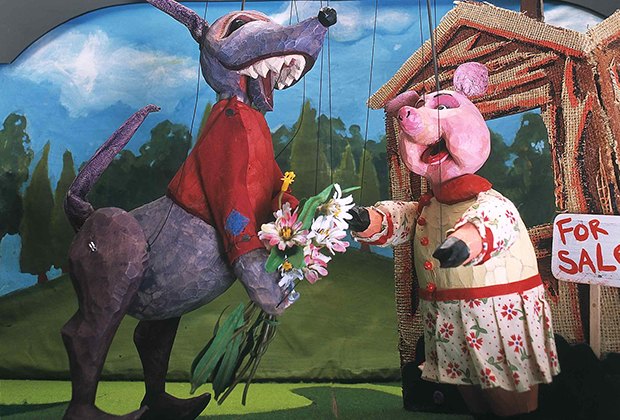 Puppet shows come alive at Goat on a Boat in Sag Harbor. Photo courtesy of the theater
44. Because not every summer day in the Hamptons is sunny, we recommend Goat on a Boat puppet theater for younger kids.
45. What kid doesn't love a bounce house? Safari Adventure in Riverhead has several of them.
46. Knock a few pins down at The All Star in Riverhead, the first bowling alley to open in the region in decades. Kids bowl FREE at times when accompanied by an adult.
47. Don't overlook the Roy K. Lester Carriage House Museum and the Amelia Cottage Museum in Amagansett. What child wouldn't love the collection of horse-drawn carriages and buggies? The museums are on the National Register of Historic Places.
48. For a peek into the East End's agrarian past, visit the Hallockville Museum Farm in Riverhead. The agricultural museum and outdoor classroom also serves as an East End Ellis Island, chronicling the lives of the region's immigrants.
49. Take a trip back to the North Fork's Colonial period at the Cutchogue Green Historic Buildings. Tour the 1740 Wickham Farmhouse and the Old House, a registered national landmark that dates to 1649. The Old House is considered the state's oldest English-type frame house.
50. Lastly, it's never a bad time to take in a movie. The East End boasts vintage movie theaters in East Hampton, Greenport, and Westhampton. More contemporary theaters dot the landscape, too.
BONUS: In case you want to keep your kids thinking this summer, the Hamptons Shakespeare Festival offers live performances of some of the Bard's classic plays at parks in Southampton, Amagansett, and Montauk. Have a performer in the family: Its Camp Shakespeare offers kids 8-15 the chance to work with trained Shakesperean instructors.
A version of this article was first published in June 2014. Writer Rebekah Yahoves contributed additional reporting.