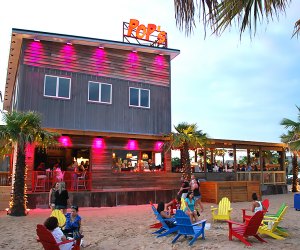 Great Outdoor Dining Spots for Kids on Long Island
What could be nicer during the warm-weather months than taking the kids to a family restaurant with an open-air atmosphere? There's just something about a warm breeze that makes a tasty meal even more delectable.
With that in mind, we've rounded up some of our favorite places to eat with kids in Nassau, Suffolk, and the East End. These family-friendly menus, locations, and attractions make them ideal choices for parents with hungry kids. It's just part of our comprehensive guide to Long Island family-friendly restaurants.
If, after dinner, your kids crave some sweets, why not check out our list of old-time ice cream parlors, or for more outdoor inspiration see our guide to summer fun on Long Island.
Nassau
Louie's Grill & Liquors — Port Washington
​Adults can come for the seafood and exquisite cocktails while kids can enjoy dining on Louie's chicken strips, grilled cheese, and pasta. Kids can, of course, sample the adult menu, which includes lobster rolls, fresh seafood, steaks, burgers, and biscuits. Louie's dessert menu offers both adult and kid-friendly options to suit the whole family. While you dine, soak in the views of Manhasset Bay and the Port Washington harbor.
RELATED: Satisy Your Sweet Tooth at These Long Island Candy Shops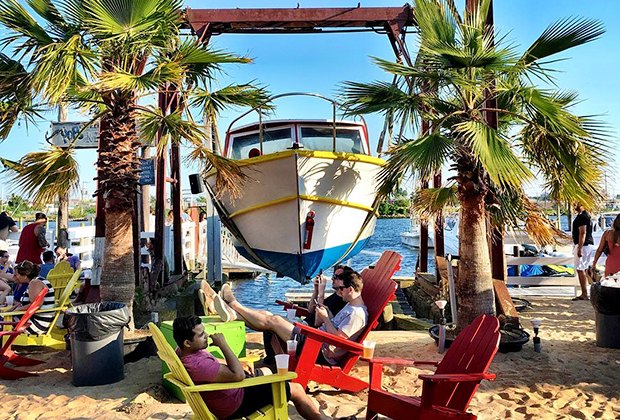 Pop's in Island Park offers a fun, tropical vibe. Photo by bernard121882 via Instagram
Pop's Seafood — Island Park
Pop's offers lunch, dinner, and drinks seven days a week May through September. It's a hotbed of live music and DJs all summer long. In addition to its covered outdoor deck, Pop's also boasts a beach area, dockside view, and a gorgeous fire pit lounge. While the nightlife at Pop's might not be kid-friendly, it's a great place to bring the kids for lunch or an early dinner. With vibrantly lit palm trees and white sand atmosphere, you feel as if you're taking a tropical getaway without having to leave Long Island.
Salt — Merrick
With a marina view like the one at Salt, it's no wonder reservations here fill up fast. Salt has an enticing brunch menu, which is available Sundays from 11am to 3pm. Here, kids can dine on such delicacies as cookies-and-cream pancakes, stuffed French toast, and avocado toast. Salt's dinner menu features its own signature burgers along with fun fare such as soft-shell crab sandwiches, fingerling potatoes, and zucchini noodles.
Swingbelly's Beachside BBQ — Long Beach
If your family loves barbecue, this Long Beach restaurant is the place for you. In addition to Swingbelly's famous pickle chips and house-cured bacon, the menu also includes irresistible cuisine such as bacon-wrapped drumsticks, smokehouse cheese steak, shrimp and avocado BLTs, and much more.
Suffolk
The Lake House – Bay Shore
The Lake House is an upscale seaside restaurant located right on Great South Bay. Like many of the best dining establishments on Long Island, it specializes in seafood, though kid-friendly options such as eggs and burgers are available for little ones.
Mill Pond House Restaurant — Centerport
From delicious sushi to the Monday night lobster bake, Mill Pond's food is as exciting as the views. A heated outdoor patio is open year-round. Mill Pond offers a prix fixe lunch menu and includes dessert. Brunch can be enjoyed on Saturdays and Sundays from noon to 4pm. Mill Pond takes reservations, which is always a plus.
Nantuckets — Port Jefferson
Formerly known as Crazy Fish Bar & Grill, Nantuckets has an extensive menu that includes kid-friendly options such as French toast sticks (which come in different flavors, based on the day), grilled cheese sandwiches, chicken fingers, and sliders. This family restaurant books reservations by phone, online, or in person.
RELATED: Family Restaurants on Long Island With Entertainment for Kids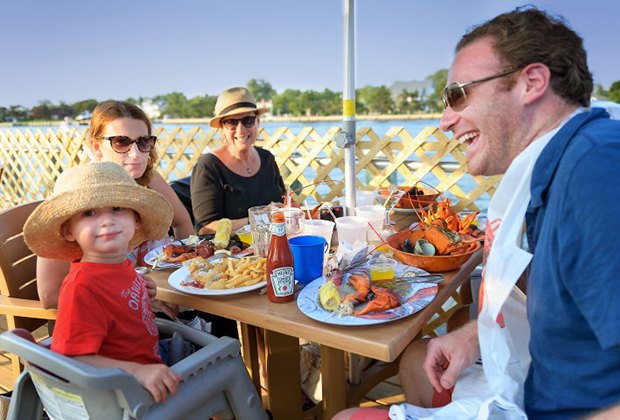 Enjoy the rooftop bar and grand views of Great South Bay from Nicky's on the Bay.
Nicky's on the Bay — Bay Shore
In addition to a deck and rooftop bar, Nicky's has enclosed, climate-controlled dining areas for those days when you want to enjoy the view but the weather is less than agreeable. Enjoy live music Thursdays through Sundays, and there are additional restrooms on the upper level—a godsend when you have little kids. The menu offers mostly seafood, but salads and burgers are available for pickier eaters. Nicky's doesn't take reservations, so arrive early to secure a table.
The East End
A Lure — Southold
A Lure boasts a delightful atmosphere overlooking Port of Egypt Marina and Peconic Bay, and a fun menu that literally offers "chow-dah." For pickier eaters, steak and burgers are available. A Lure, a North Fork institution, features live music throughout the summer.
Crabby Jerry's at Claudio's Clam Bar — Greenport
Part of the famed Claudio's restaurant chain of downtown Greenport, Crabby Jerry's caters to families eager to enjoy harbor views, sunsets, and simple, self-ordered food. As you might expect, the menu is heavy on seafood, but there are landlubber options, including burgers, chicken, fries, and more. Kids love views of the Shelter Island ferry and boaters on Peconic Bay, and the short walk to the carousel and other tourist attractions.
RELATED: Long Island Cafes With Play Spaces for Kids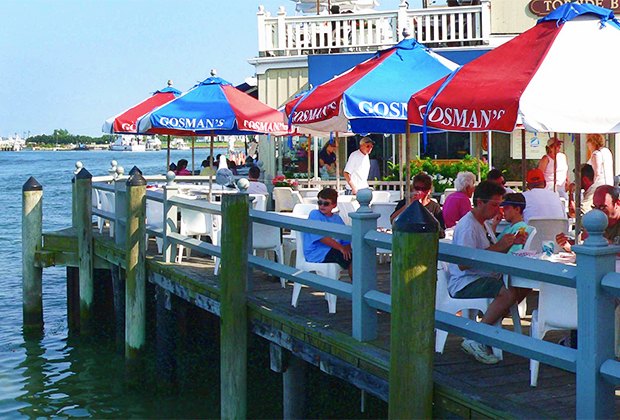 It's seafood and gorgeous sea views at Gosman's Dock in Montauk.
Gosman's Dock — Montauk
If you're in Montauk, you must stop by Gosman's Dock, which is situated at the entrance of Montauk Harbor. Walk-ins are welcome, takeout is available, and, weather permitting, you have the option of topside dining. Additionally, Gosman's features a sushi bar, clam bar, and even a gourmet fish market, where you can purchase and bring home locally caught fish. With kid-approved dishes such as burgers and chicken tenders, this place is sure to please parents and kids alike.
Hellenic Snack Bar — East Marion
This North Fork favorite sits on the Main Road east of Greenport and features a pretty outdoor patio and ample space for kids to play after sampling its Greek specialties. Enjoy traditional Mediterranean dishes, as well as local fish, served in Greek fashion. Afterward, enjoy homemade gelato.
RELATED: Where to Find Decadent Desserts on Long Island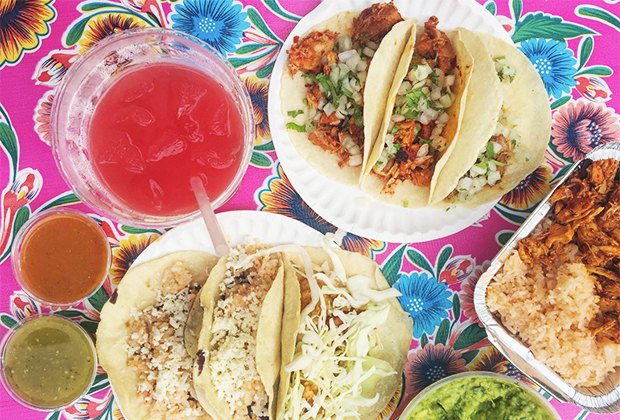 La Fondita offers traditional Mexican food in a picnic-like atmosphere in Amagansett. Photo by Andrew Steinthal via Instagram
La Fondita — Amagansett
La Fondita is an appreciated joint whose Mexican "street food" stands out. Kid favorites, such as tacos and tostadas, are made with the freshest of ingredients. La Fondita gives you the option to take your food to go or eat while relaxing with the family on one of the eatery's picnic tables or Adirondack chairs that overlook the pond in downtown Amagansett.
Love Lane Kitchen — Mattituck
This friendly and laid-back spot is a great place for families. Enjoy homemade baked goods, breakfast, lunch, and dinner. Love Lane Kitchen is known for roasting its own coffee beans on premises. The restaurant has several outdoor tables on the village's quaint Love Lane.
Oakland's and Sunday's on the Bay — Hampton Bays
365 and 369 Dune Road
These related waterfront restaurants offer great food and the gorgeous backdrop of Oakland's Marina. Sunday's on the Bay has a bright and crisp interior appearance. Both establishments offer a kids' menu with a free drink; choices range from fried flounder to kids' steaks. Kids delight in the passing boats at Shinnecock Inlet and the flurry of marina activity at these fun spots.​
Unless noted, photos are courtesy of the restaurants.
A version of this article was first published in 2017. Additional reporting by Lisa Mancuso, Felissa Allard, and James Smith.