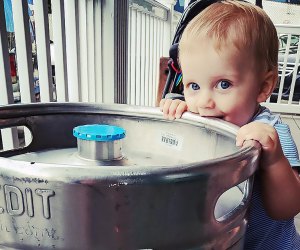 Family-Friendly Beer Gardens and Breweries on Long Island
Sometimes, even the most dedicated parents need a break. Craft beer has become increasingly popular in the past decade, prompting a surge in the opening of local breweries, gastropubs and restaurants. These family-friendly breweries and restaurants are a great compromise. Parents can wind down without having to find a babysitter, and kids can have fun in an exciting, new atmosphere.
At these charming establishments, parents can enjoy a regular beer offering or a seasonal specialty. If wine is your drink of choice, however, don't miss our guide to kid-friendly wineries on the East End.
Nassau
BrewSA — Freeport
BrewSA is a fun stop on your family's journey along Freeport's Miracle mile. While the only food served is pretzels, its location makes it convenient to grab some grub elsewhere. BrewSA is all about the beer. As you grab a drink, kids can enjoy playing a life-size game of Connect Four. BrewSA is also committed to helping the community with 25 percent of all profits donated to veterans groups.
RELATED: Long Island restaurants with fun entertainment for kids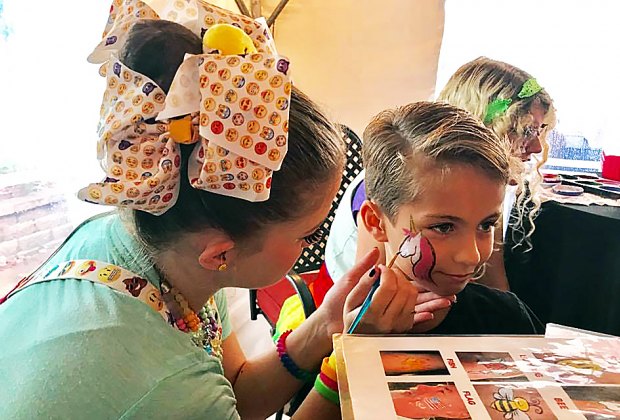 EGP Oceanside offers plenty of entertainment options for kids.
EGP Oceanside — Oceanside
EGP Oceanside makes it easy to dine with the family while enjoying some brews. It offers a kids menu as well as indoor and outdoor patio seating. It also has seasonal events catered to kids, including an autumn pumpkin patch. As for the alcohol, this gastropub offers more than 20 craft beers on tap, featuring both local and national craft brews. For parents and caretakers who aren't a fan of beer, EGP also offers cocktails and wine. On its food menu, you will find an array of burgers, sandwiches and salads.
RELATED: 7 places to have afternoon tea with kids on Long Island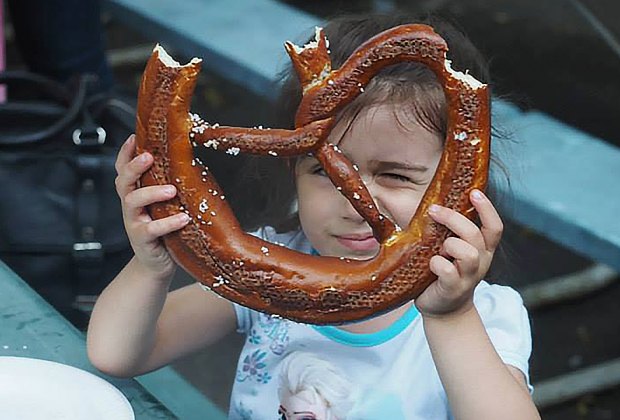 The giant pretzels at Plattdeutsche Park are a fun treat for kids.
Plattdeutsche Park — Franklin Square
Best of Long Island named Plattdeutsche Park its best German restaurant in 2018. While you can visit the restaurant any day of the week, it truly comes alive Friday through Sunday, when its outdoor beer hall opens. The hall features live music, both German and modern, as well as special events throughout the year. Kids will love its huge 10-inch pretzel. The beer selection, which includes both German and local craft beers, is less expansive than other options, and the atmosphere is well worth a trip. You and your family will feel as if you've been transported to a biergarten in Munich.
Prost Grill & Garten — Rockville Centre
German cuisine and beer are the specialties at Prost Grill & Garten. Its food menu includes traditional German dishes such as wienerschnitzel, goulash, and hackbraten. It also offers burgers and grilled cheese for those with less adventurous palates. Its beer selection is a mix of imported German beers on tap and bottled, as well as craft brews. Wine is an option as well.
Suffolk
Black Forest Brew Haus — Farmingdale
Black Forest Brew Haus serves German dishes and brews its own German-style beers. An Easter Bunny visit and brunch with Santa are just some of the kid-friendly events held throughout the year. Oktoberfest is also a huge celebration at the restaurant for adults and children alike. If you're looking for a great deal, on Tuesdays kids eat free from 5pm to 10pm when accompanied by the purchase of an adult entree.
RELATED: Long Island restaurants where kids can eat FREE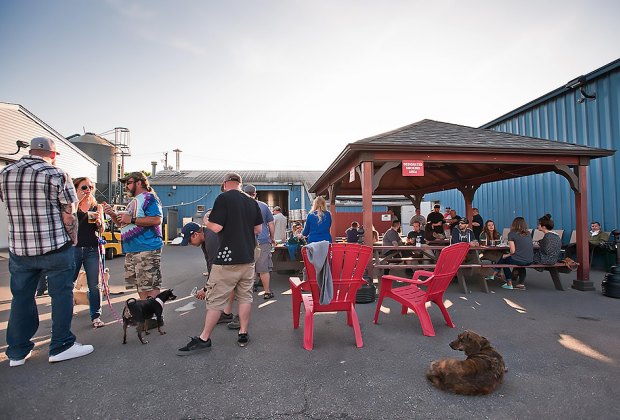 The whole family, including man's best friend, can enjoy the outdoor tasting area at Blue Point Brewery, which moved to a bigger facility in Patchogue in spring 2019.

Blue Point Brewery — Patchogue
Located in the heart of Patchogue, just off main street is Blue Point Brewery, known to be both kid-and dog-friendly. It is also known for brewing accessible beers. In 2019, Blue Point moved to a new state-of-the-art location on Main Street in Patchogue, just a short walk from the original brewery. It features a gastropub with a full menu. Be sure to check its website for current tasting room hours.
Great South Bay Brewery - Bay Shore
Great South Bay has a large taproom, with various food trucks on rotation each day. The front room features darts and cornhole, while the back is a more intimate space with couches and a smaller bar. The brewery also has party rental space; a unique alternative to many other venues for birthdays, baby showers and more.
Harbor Head Brewing Company — Northport
Right on Northport's Main Street, Harbor Head Brewing Company is a convenient stop during a shopping trip. Similar to other breweries, it does not serve food, but there is plenty to choose from along Main Street. It also has a large outdoor space for the family to enjoy while you sip your beer. Hours vary based on season, so check its website for the most updated information.
Jamesport Farm Brewery - Riverhead
Unlike any other brewery you'll find on Long Island, Jamesport Farm Brewery is located on a 43-acre farm, which grows the hops, barley and wheat used in its beers. Depending on the day, different activities are available such as table-top jenga, connect-4 or cornhole. Snacks are available daily, but a catering food truck is there with heartier options weekends in the summer and fall.
Port Jeff Brewing Company - Port Jefferson
Port Jeff Brewing Company is tucked off of Main Street at the end of a small shopping center. The tasting room is small, but there is an outdoor deck area to enjoy your brews. It makes for a great trip during nice weather, with an ice cream shop for little ones just across from the brewery. Adventurous? Consider a ferry trip to Bridgeport. Tasting room hours vary, so check its website or call before heading out.
Photos courtesy of the breweries