Candy Shops on Long Island Where You Can Satisfy Your Sweet Tooth
Nothing is quite like a visit to a local candy shop on Long Island. Whether you are preparing to fill Easter baskets with goodies or just looking for a fun place to satisfy your sweet tooth, feasting your eyes on the vibrant colors, smelling the familiar scent of sugar, and anticipating the first bite of a sweet treat brings out the child in everyone.
A visit to one of these 20-plus Long Island destinations gives yours kids a chance to sample treats, take tours, or even a attend candy-making class. These shops offer everything from hand-dipped truffles to old-fashioned penny candies.
For more tasty treats, see our guide to old-fashioned Long Island ice cream parlors, destinations for decadent desserts, and even Long Island restaurants where kids can eat FREE.
Old-Fashioned Candy Shops Across Long Island​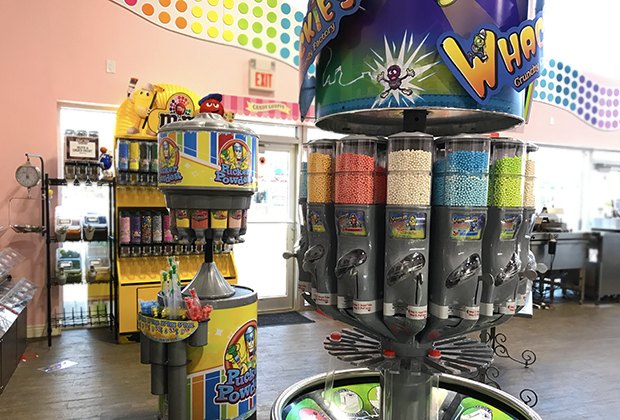 Fill up on assorted candy treats at one of Chocolate Works' six Long Island destinations. Photo by Kimberly Chacon
Chocolate Works — Bellmore, Huntington Station, Manhasset, Plainview, Rockville Centre, Stony Brook
These destinations have it all. The dipped marshmallows and Pucker Powder filling stations are a treat. Candy pretzel pizzas are sold in real pizza boxes and the chocolate fountain flows all day. A mesmerizing selection of gourmet chocolates in unique flavors is available. Make your own goodies at one of the fun classes offered throughout the week. Birthday party and other celebration options are available in one of Chocolate Works' party rooms. For a unique gift or party favor, you can even have a photo of your tot replicated onto Belgian chocolates.
Old-Fashioned Candy Shops in Nassau County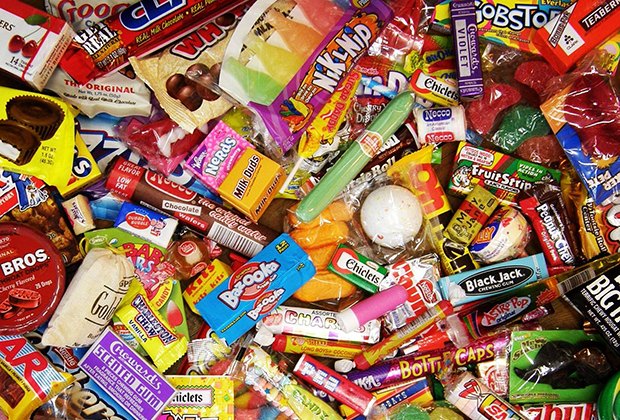 Candy store Bobb Howard's in New Hyde Park specializes in nostalgic candy.
Bobb Howard's General Store — New Hyde Park
​581 Lakeville Rd.
This shop specializes in vintage candy and toys. In fact, it's common to see brands of candy popular in the 1920s or 1930s. Turkish Taffy and Astro Pops are some of the available classics. Novelty candies such as siren whistle rings and chocolate spaghetti are sure to please. Once inside, feel the old-time nostalgia that brings out the candy lover in everyone.
Chocolate Duck — Farmingdale
310 Main Street
For those eager for a real hands-on experience, The Chocolate Duck in Farmingdale offers classes for both novice and professional chocolatiers. Check out courses in chocolate molding or rolled fondant designs while your littles enjoy cupcake and cookie-decorating fun. The shop hosts kids' birthday parties and parents' night-out events. It is also a great place to pick up novelty cakes, cake pops, and gift baskets for our next event.
Chocolicious Chocolatier — Locust Valley
74 Birch Hill Road
Chocolicious Chocolatier caters to the chocolate lover. Take a walk through Truffles, classic filled chocolates, and dipped fruit available a la carte or as part of gift baskets. The shop will come to your child's birthday party with candy crafts or chocolate tastings.
RELATED: Great Outdoor Dining Spots for Kids on Long Island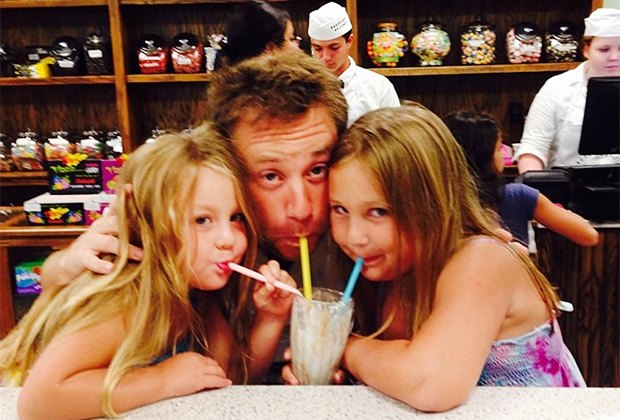 Share a milkshake as a family at Hope's Land of Candy. Photo by Andrew Berman via Instagram
Hope's Land of Candy — Island Park
3951 Long Beach Rd.
Step into this shop and return to the 19th century. Kids can play with the antique typewriter and piano, then sit at the old-fashioned counter and order milkshakes and sodas. On your way out, make sure to pick up some homemade fudge or classic candy. Check out the Penny Candy, which is different each month, or have a custom candy basket designed and shipped to your home.
RELATED: Great Ice Cream Shops Near Playgrounds on Long Island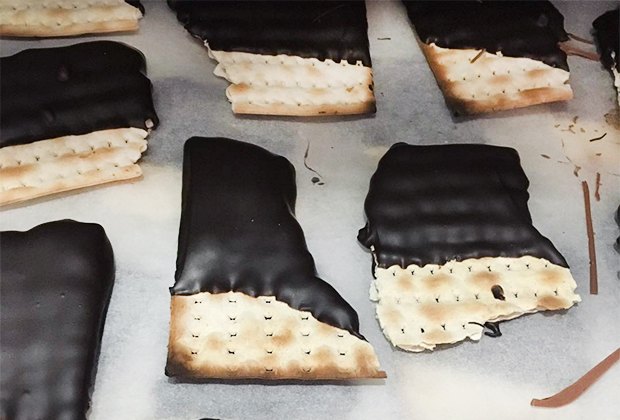 Candy fans: We dare you to pass on a chocolate-dipped matzo from Kron's in Great Neck.
Kron Chocolatier — Great Neck
24 Middle Neck Road
Specializing in gift baskets and personalized treats, Kron Chocolatier has something special for your special someone. Pick up a chocolate pizza with toppings such as popcorn and Oreo cookies. Visit the shop and watch the treats as they are made. Favorite snacks such as pretzels, graham crackers, and marshmallows are all dipped in your favorite decadent bark.
Manny's Sweet Treats — Mineola
Tasty candies are available in traditional containers with a sparkling silver spoon at this sweet shop. The best part, however, is how the candies are incorporated into a fantastic sit-down menu. Enjoy milkshakes garnished with cotton candy, Captain Crunch cereal, or Nerds. Or check out a Funfetti Waffle or Rainbow Grilled Cheese. Moms and dads will appreciate the slightly more grown-up options, such as savory crepes and bagels. Manny's also hosts closed-store parties and hangout parties for kids and teens.
Rocket Fizz: A Soda Pop and Candy Shop — Levittown
3517 Hempstead Turnpike
With tin signs lining the walls, Rocket Fizz is reminiscent of an old-fashioned penny candy store. The Long Island destination of this franchise has a huge selection of sweets, including hard-to-find specialties such as Kinder Joy eggs and Broadway strawberry rolls. However, its real claim to fame is the soda selection. This store has more than 500 flavors of soda pop and 60 different flavors of root beer. Specialty gift baskets and personalized soda bottle wrappers are available.
The Sweet Spot Shoppe — Plainview
128 Manetto Hill Rd.
The Sweet Spot Shoppe is known for its variety of candy and personalized creations. Popular items include the "Make Your Own S'mores" kit and "Unicorn Poop." In addition to sweets, this shop features a broad selection of gifts. Create a special gift basket with a combination of candy and unique surprises.
The Tulip Sweet Shoppe — Floral Park
Grab a bag and fill it up with your favorite sticky treats at this old-fashioned sweet shop in downtown Floral Park. The destination is also known for its scrumptious ice cream cones and chocolate-dipped pretzels. Continue strolling down the block for more old-fashioned shops, parks, and restaurants.
Old-Fashioned Candy Shops in Suffolk County
Bon Bons Chocolatier — Huntington
319 Main Street
Bon Bons Chocolatier is a locally owned shop serving award-winning chocolates and confections. Its owner began her career 30 years ago as the store's chocolate dipper. Today, you can find special confections like hand-dipped almond bark and peanut brittle. Call ahead to arrange a tour of its glass-enclosed kitchen and watch the chocolatiers at work.
Bridgehampton Candy Kitchen — Bridgehampton
2391 Montauk Highway
Seasonal visitors and year-round residents appreciate this time-honored candy shop in the heart of the Hamptons, where breakfast and custom sweets rule. The old-time diner design only adds to the charm. Treat yourself to the homemade ice cream.
Candy Man — Orient
22350 Main Road
Less than five miles from the ferry to New London, Connecticut sits The Candy Man, a family-owned candy shop that has used the same recipes since opening 75 years ago. The shop specializes in custom chocolates with an emphasis on caramels, marzipans, and butter crunches. Also enjoy truffles, jellies and chocolate-covered fruit. The store is open seven days a week and has an active mail-order clientele.
North Fork Chocolate Company — Aquebogue
740 Main Road
North Fork Chocolate Company focuses on artisanal chocolates made from locally sourced products. Ice cream is made using cream from an East End farm, and the store supports local artisans by carrying handmade soaps, teas, and jewelry. Every Friday is Fondue Friday, where kids and adults can dip to their hearts' content.
RELATED: Kid-Friendly Wineries on Long Island's East End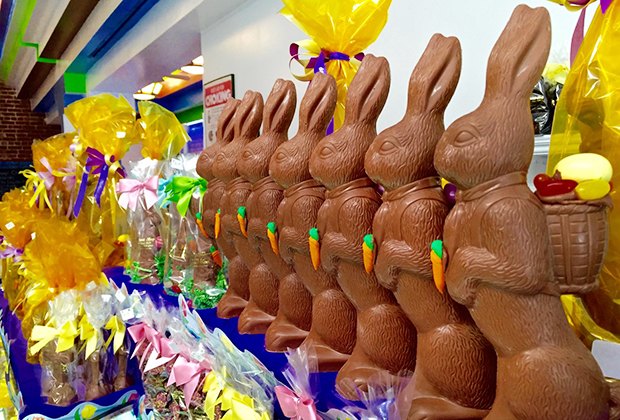 Hop over to Northport Sweet Shop and Luncheonette for a seasonal chocolate bunny during Easter.
Northport Sweet Shop and Luncheonette — Northport
55 Main Street
Stop by this shop for lunch and stay for an ice cream sundae. With a large selection of chocolates and candies, you can create your own gift basket for Easter. The Sweet Shop hosts ice cream parties using its handmade ice cream and confections.
Ralph Rotten's Candy & Nut Shoppe — Centereach
2425 Middle Country Road
Ralph Rotten's Candy & Nut Shoppe is known for its gift baskets and trays, but it also has a great candy store. It offers an array of candies, including sugar-free, bulk, and old-fashioned candy, as well as novelty items.
Sensationally Sweet — Patchogue
18 East Main Street
This shop has a full selection of gourmet chocolates, candies by the barrel, novelty items, and gift baskets. International candies from Japan to Britain are on the shelves next to local favorites. The store is operated by a nonprofit, the Economic Opportunity Council of Suffolk Inc. All proceeds assist needy individuals and families on Long Island.
Sweeties Candy Cottage — Huntington
142 East Main Street
Packed with sweets from floor to ceiling, Sweeties Candy Cottage seemingly has whatever you're looking for. Pizzas here don't come topped with cheese, but marshmallows, caramels, peanut butter cups, or your choice of custom toppings.
A version of this article was posted in 2017. It was updated in 2019 with additional reporting by Rebekah Yahoves.
Unless noted, photos are courtesy of the candy shops.