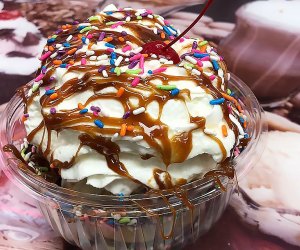 The Best Ice Cream Shops Near Playgrounds on Long Island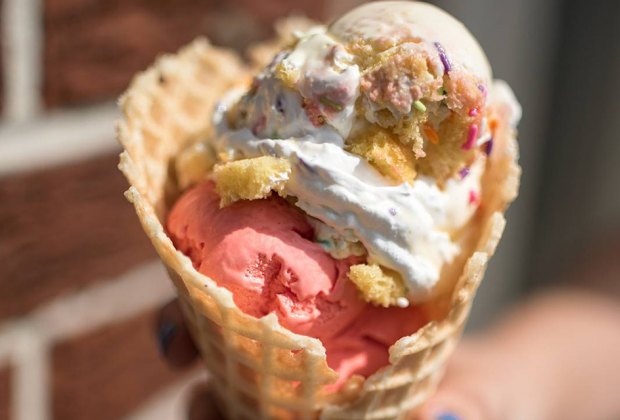 Tempt yourself with a fresh waffle cone at Five Pennies Creamery.
Nassau
Five Pennies Creamery — Rockville Centre
Named after the 1959 film starring Danny Kaye, this South Shore gem aims to be "low in pretension, high in quality, and rich in love." Its menu features more than 130 convivial flavors, including cinnamon bun, French pastry cheesecake, and Smurf. Each flavor can also be fashioned as a sundae, milkshake, malted, egg cream, or banana split. Try a giant waffle cone or custom-made ice cream pie, but be sure to call three days ahead for a specialty order. Five Pennies Creamery is just a stone's throw away from Hempstead Lake State Park, which provides playgrounds, hiking trails, picnic areas, and even a hand-carved wooden carousel. This park also has three excellent ponds for kids who love to fish.
Hildebrandt's — Williston Park
Featured on the Food Network's Diners, Drive-Ins and Dives, this classic soda-counter eatery has comfy round stools and a daily selection of homemade ice creams that can also be served as floats or with a warm slice of pie. Stop by for lunch and kids can chow down on humble but delectable favorites such as mozzarella sticks or French bread pizza. Hildebrandt's is located down the street from Mineola's proud Memorial Park, which boasts a breezy playground and tennis courts in the heart of the humming village.
RELATED: Where to find decadent desserts on Long Island

Marvel whips up amazing ice cream treats not far from the Lido Beach playground.
Marvel Frozen Dairy — Lido Beach
Nothing is more summery than swinging by the sea and watching the waves clap on to the sand as you sweep up to the spumoni clouds and drop back down to earth. And right near the swing set at Lido Beach is Marvel Frozen Dairy, a modest-looking ice cream stand with surprisingly fabulous confections. Ice cream flavors can be swirled with others or dipped in chocolate, cherry, or birthday-cake icings, as well as smothered in sprinkles. Parking at Lido Beach is $10 for residents of the Town of Hempstead and $25 for nonresidents.
RELATED: LI restaurants with entertainment for kids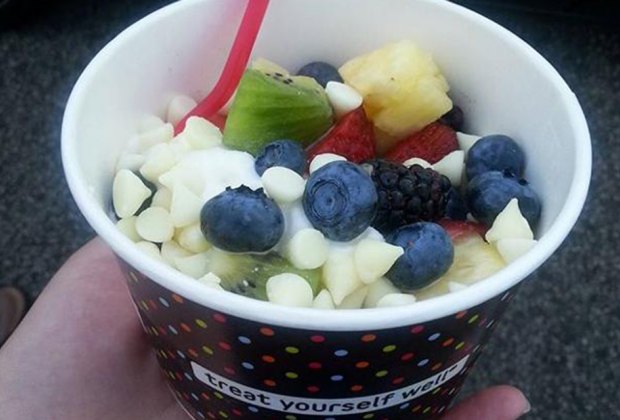 Head over to Ridder's Pond Park in New Hyde Park with a sweet treat from Red Mango.
Red Mango — New Hyde Park
A staple in the summertime, this Red Mango destination is a short stroll from the amicable playground at the Town of North Hempstead's Ridder's Pond Park, where picnic tables skirt the duck pond and endless laps are encouraged. Red Mango's more than 200 locations offer all of its sweet and wholesome yogurts, smoothies, skinny sorbettos, and acai bowls.
YOLO Yogurt and Desserts — Roslyn
Health-conscious mamas and papas will appreciate the low-fat and nonfat frozen yogurt flavors such as Snickerdoodle and Banana Nut Bread at this North Shore gelateria. Also enticing are smoothies such as Oreo Nutella Java and Marshmallow Coconut, and gelato in quirky tones such as Panna Cotta. Located on the antique waterfront of the North Shore's Roslyn Village, YOLO is a short distance from Christopher Morley Park, a Nassau County facility with playgrounds, hiking trails, and basketball courts that are ideal for filling up lazy summer afternoons.
Suffolk
Coyle's Homemade Ice Cream — Bay Shore
Enjoy a colossal banana split piled high with whipped cream and sprinkles while bopping to some awesome oldies from the jukebox at this retro cafe that is checkered in white, black, and red tones. Flavors such as Elvis Peanut, Salted Caramel, and Cherry Garcia can also be served as egg creams, malteds, and ice cream sodas. Coyle's is just minutes from Bay Shore's Shipwreck Cove Spray Park, whose sprinklers, slides, and splash pools are the perfect way to spritz off on a sweltering day. Coyle's also has an Islip village location, on Main Street.
RELATED: Long Island restaurants where kids can eat FREE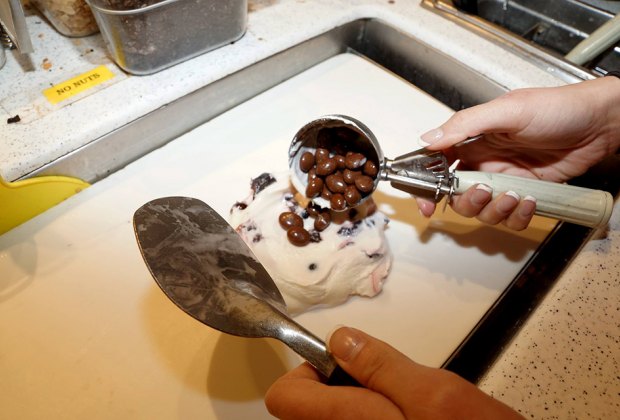 Try a Smoosh at Herrell's Ice Cream, if you dare.
Herrell's Ice Cream — Huntington
Herrell's was founded by Steve Herrell, the first person to grind up cookies and candy and put them in ice cream, giving birth to now-classic flavors such as cookies 'n cream and Heath Bar crunch. Stop by its Huntington shop to sample one of more than 300 flavors of ice cream, including Burnt Sugar and Butter, Apples and Honey, and Lemon Sponge Cake Cream. While you're savoring your treat, saunter over to Heckscher Park, where kids will jump for the pristine jungle gym, jogging path, and model sail-boating pond.
RELATED: LI cafes with play spaces for kids

Stoehrer's Old Fashioned Ice Cream serves up sweet treats minutes from Belmont Lake State Park.
Stoehrer's Old Fashioned Ice Cream — West Babylon
Soft-serve ice cream is the most popular variety with kids at this local custard corner, but they also love candy-crowded flavors such as cookie dough, cake batter, and chocolate fudge brownie. Old Fashioned Ice Cream is two minutes away from Belmont Lake State Park, which features playgrounds, hiking trails, and picnic pavilions. There are also pedal boats and rowboats available for rent on the lake throughout the summer.
Sandpiper — Greenport
Homemade flavors are pretty swell at this waterfront ice cream shop, known to have been visited by Billy Joel, Harrison Ford, and Brad Pitt. Sandpiper is also a short harborfront walk from MItchell Park and the Greenport antique carousel, which is open daily during the summer season for $2 a ride.
Photos courtesy of the shops