Greenport with Kids: Fun Things to Do in this North Fork Village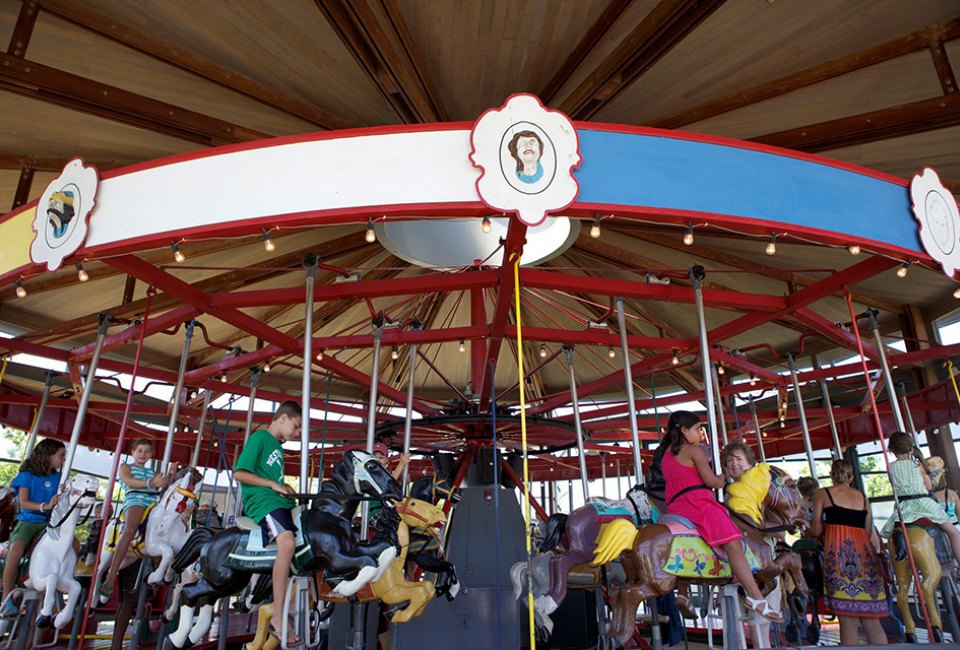 6/26/18
- By
Lisa Mancuso
If your family is looking for a fun place on Long Island to explore this summer, look no further than Greenport. Located on the North Fork, it is one of the East End's most charming and historic communities, complete with a walkable Main Street, beautiful harbor, and tons of things to do for the entire family.
From local museums and gorgeous beaches to kid-friendly restaurants and unique shops, Greenport has much to offer families in the summertime. So, whether you decide to spend the day, enjoy a long weekend, or stay for the week, we've put together a list of things to do and see while you're there.
Need more suggestions for things to do this summer? Check out our Summer Fun Guide and Long Island Events Calendar. For more out-east fun, take a look at our guide to the Hamptons and North Fork and our list of 50 must-do summer activities with kids on the East End.
1. Go for a ride. One of Greenport's oldest and most popular destinations is its antique carousel, housed in a glass building in Mitchell Park. Whoever grabs a brass ring while riding one of its 36 horses or two sleighs, wins a free ride. Open daily in season.
2. Picnic, swim, or play ball at Mitchell Park. Considered the gathering place of the village, this four-acre, waterfront park is perfect for picnicking, walking along the harbor, swimming at the small beach, or just playing on the lawn. Activities abound throughout the summer, including concerts, art shows, and more.
3. Do some shopping. Downtown Greenport is filled with shops of all shapes and sizes. A favorite for kids (and plenty of adults as well) is Goldsmith's Toys and Electronics, which has a great selection of beach toys, art supplies, and more. Flying Point Surf & Sport carries everything you'll need for a day at the beach, including suits and surf boards. Pick up some books for the whole family at Burton's Bookstore, and something special for Fido at Harbor Pet.
RELATED: Family-friendly hotels on Long Island's East End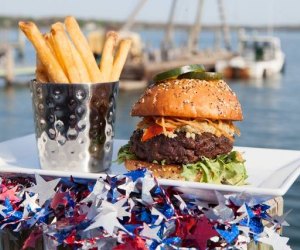 What's more American than a burger and fries on the water at Claudio's Restaurant. Photo courtesy of the restaurant
4. And some eating. Greenport's downtown boasts a great selection of family-friendly restaurants. Try Claudio's Crabby Jerry's, located on the 300-foot pier that belongs to Claudio's Restaurant, a national historic landmark that's been in Greenport since 1870. Order at the self-serve window, then enjoy your food at the restaurant's tiki bar. If you prefer to be served, try the full-service restaurant or the more casual Claudio's Clam Bar. Is your family crazy about oysters? Then definitely stop at the Little Creek Oyster Farm, where one of the adults can shuck oysters for the whole clan. For pizza and pasta, try 1943 Pizza Bar or Emilio's of Greenport.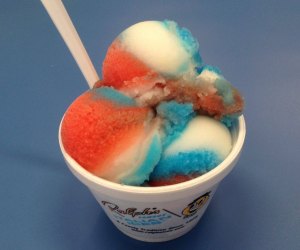 An Italian ice from Ralph's Famous is sure to hit the spot. Photo courtesy of Ralph's Famous Italian Ice
5. Stop for something sweet. There's no shortage of spots where the whole family can satisfy their sweet tooth, including Sweet Indulgences, a candy store and gift shop; Sandpiper Ice Cream, a Greenport staple since 1979; Ralph's Famous Italian Ices, which also has ice cream, shakes and smoothies; and Hampton Chocolate Factory, for artisanal chocolate treats.
6. All aboard. If trains get your little ones excited, stop by the Railroad Museum of Long Island. Inside an historic 1892 LIRR freight house, you'll find railroad relics, model trains, and an 80-foot turntable that once was used to turn around steam engines. In season on weekends, you can ride from Riverhead (the museum's second site) to Greenport on the "Greenport Scoot."
RELATED: The best beach playgrounds in the Hamptons and North Fork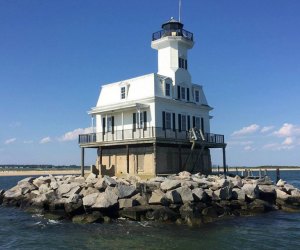 Explore the history of beloved "Bug Light." Photo courtesy of the East End Seaport Museum
7. Discover Greenport's maritime heritage. The East End Seaport Museum has a bounty of fascinating exhibits, including artifacts from a 1918 ferry sinking and models of small ships, plus a 750-gallon saltwater aquarium. There's also a blacksmith shop, where you can watch live demonstrations and an historic exhibit about the Long Beach Bar "Bug" Lighthouse, which has been welcoming sailors to Peconic Bay since 1870. Family-friendly cruises to the lighthouse, which include a tour guide and the chance to explore the lighthouse, run regularly. While you're in the harbor, why not take a ferry ride to Shelter Island? Pedestrians are only $2 and kids younger than 9 ride for FREE.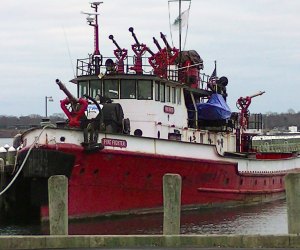 Tour the Fireboat Fire Fighter, a floating museum ship docked in Greenport Harbor. Photo courtesy of the museum
8. More museums. Other quirky local museums you might want to check out include the 1840 Schoolhouse Museum, Greenport's first schoolhouse; the Fireboat Fire Fighter, a floating museum ship and memorial; the Greenport Jail and Police Museum, which tells the history of the Greenport Police Department; and the Stirling Historical Society Museum-Ireland House, where you can tour an original early-1830s Greenport home.
RELATED: The best things to do with kids in Riverhead

Tee it up at Tick Tock's 18-hole mini-golf course. Photo courtesy of Tick Tock Miniature Golf
9. Go golfing. Nothing says summer better than a round of miniature golf, and you'll find the perfect 18-hole course at at Tick Tock Minaturei Golf at Drossos Motel. There's also a family arcade and snack bar on the premises.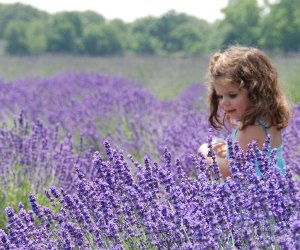 Walk through fields of gorgeous purple at Lavender by the Bay in nearby East Marion. Photo courtesy of Lavender by the Bay
10. Ahh, that smell. Although it's located outside of Greenport in the nearby community of East Marion, Lavender by the Bay, a family-operated lavender farm, is worth the trip. Walk through the fields, take in the intoxicating aroma and be sure to snap some photos. There's an on-site gift shop that sells everything lavender. Peak blooming season is mid-late June through early July, so hurry.
RELATED: Kid-friendly nature walks on the East End

Grab your swimsuit and a picnic table and spend the day at Fifth Street Beach and Park. Photo courtesy of Greenport Village
11. Swim, kayak, hike. There are a number of beaches in Greenport and the nearby communities of Southold and Mattituck that welcome locals and visitors. The water is calm and the playground is almost always filled with happy kids at Greenport's Fifth Street Beach and Park. Goose Creek Beach in Southold is great for swimming and kayaking, while at Kenney's Beach in Southold there's swimming, fishing, kayaking and canoeing, and a boardwalk. There are no restrooms at Kenney's and nonresidents of Southold Town pay $25 daily to park. Hiking is popular along Mill Road Preserve in Mattituck, where there are two main trails, both well marked and groomed.
12. Do a wheelie. Best for the older kids, Greenport's Skate Park is an all-concrete street course with a 40-foot wide mini-ramp and a 40-foot-wide-by-12-foot-high vertical ramp. Helmets and pads are required.
13. Visit a kid-friendly winery. Who says kids get to have all the fun? Parents need some fun, too, so stop by one of a number of wineries near Greenport that welcome kids and pets. Suggestions include The Old Field in Southold; Pugliese Vineyards, Bedell Cellars, and Lieb Cellars in Cutchogue; and Harbes Family Farm and Vineyard and Macari Vineyards in Mattituck.
RELATED: The best Long Island beaches for families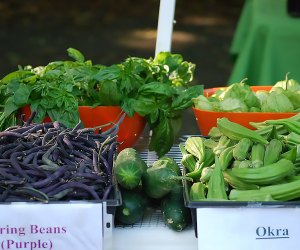 Add some beautiful veggies from the Greenport Farmers' Market to your weekend barbecue. Photo courtesy of the market
14. Farm to Table. Every Saturday from June 23 to October 27, farmers, fishermen, and other artisans bring their bounties to the Greenport Farmers' Market, making it the perfect time to stock up on local fare.This year's vendors include 63 South Chill Street, Alice's Fish Market, Catapano Farms and Dairy, Chaga Island, Jerky Company, Surrey Lane Vineyard, Suhru Wines, Wake and Bake, and more.

"Mermaids" add to the pageantry of the Greenport Maritime Festival in September. Photo courtesy of the Suffolk Times/Karen Schroeder
15. Greenport's Annual Maritime Festival. Even when summer is technically over, there's still reason to visit Greenport. Hosted by the East End Seaport Museum & Marine Foundation, this annual weekend celebration takes place September 21-23 this year. It includes a parade down Main Street, maritime displays and demonstrations, children's activities, food vendors, music, dancing, fishing contests, and much more. On Sunday, there's a children's breakfast, complete with mermaids and pirates, plus other family-friendly events, including old-fashioned games in Mitchell Park.
A version of this article was originally published in 2014. It was revised in June 2018. Writer Jaime Sumersille contributed additional reporting.