Stunning Long Island Lighthouses Worth Visiting with Kids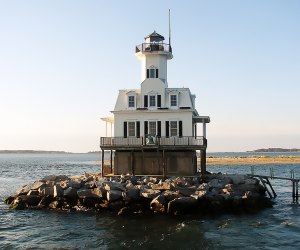 Long Island lighthouses are a beacon into the past. To explore them is to immerse yourself in the history of the region, from the Revolutionary War to the whaling age, and the great steamship era of the 19th century.
There are about 20 lighthouses on Long Island, from New York Harbor to Montauk and the North Fork. Four—Bug Light, Fire Island, Horton Point, and Montauk Point—are open for public exploration. A fifth, Huntington Harbor Lighthouse, has been undergoing major renovations and plans are underway to reopen to the public at the end of June 2018.
In the meantime, check out our guide to these incredible lighthouses your family can visit. A word of advice before you go: Limber up, as some of these lighthouses boast steep climbs although we think you'll agree the panoramic views are definitely worth the effort. Have fun exploring.
Got the travel itch? Check out our guide to popular Long Island family day trips.
Bug Light — Greenport
"Bug Light," formally called the Long Beach Bar Light Station, is one of only a handful of offshore lighthouses in the United States that admits visitors. First lit in 1871, in 1963 it burned down and in 1990 was fully restored as a private aid to navigation. Today, it is owned and maintained by the East End Seaport Museum, which offers a limited series of trips via boat. As you travel, you'll also see the Orient Point (Plum Gut) Lighthouse, Plum Island Lighthouse, and Little Gull Light. Note: These cruises are not appropriate for children younger than 10, who are not permitted to visit Bug Light. There are no changing facilities nor any room to play aboard the ship. Greenport, however, is full of family-friendly fun. Check out our day-tripper's guide to the village.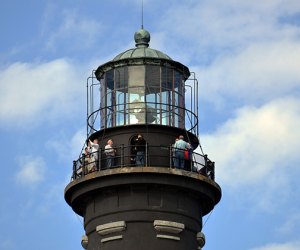 At 168 feet, Fire Island Lighthouse is the tallest such structure on Long Island. Photo by Harvey Barrison/CC BY-SA 2.0.
Fire Island Lighthouse — Fire Island
Fire Island Light Station, set among sandy dunes at the western tip of Fire Island, was one of the first landmarks visitors saw when arriving by ship from Europe. It guides ships safely into Great South Bay on their way to New York City. Park at Robert Moses Field 5 and enjoy a mile-long flat boardwalk trek to the buildings. Curious deer will not hesitate to approach you, but it's best not to feed them. Learn about history and peruse the gift shop for a treasure to mark your trip. Take in sights from the bay on one side and the ocean on the other. The calm, flat bay side is perfect for barefoot exploration. Call ahead to see if volunteers are available for mid-week hikes. It is Long Island's tallest lighthouse tower at 168 feet tall (about 16 stories) with 182 steps to the top. You can, however, climb only to the lower balcony and the service room. Note: Children must be at least 42 inches tall to climb the tower. In addition to the tower and keeper's house, visit the new Lens Building, which has a collection of lighthouse lenses and an explanation of how these magnify and focus the small lights used. On the second floor see interesting exhibits on navigation techniques, shipwrecks, and life-saving. Open year round, weekends only December to March.
RELATED: Long Island boardwalks perfect for a family stroll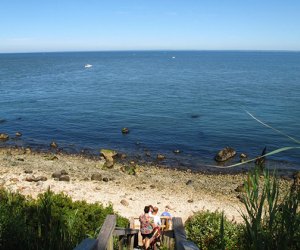 Climb down the stairs from Horton Point Lighthouse to the Long Island Sound. Photo by the author.
Horton Point Lighthouse — Southold
The deadly waters off Horton Point in Southold were known as "Dead Man's Cove." Today, an automated metal tower just offshore has replaced the lighthouse. The 58-foot-tall lighthouse, commissioned by President George Washington in 1790 and constructed in 1857, houses a maritime museum operated by the Southold Historical Society. The museum houses logbooks, paintings, whaling tools, and more. A lush green lawn and picnic tables provide a great afternoon of exploring and sun basking. From the grounds, enjoy panoramic views of Long Island Sound or take a steep set of stairs down to the rocky beach. There are no age or height restrictions to climb the lighthouse. Open weekends Memorial Day to Columbus Day.
RELATED: The best beaches for families on Long Island

Montauk Point Lighthouse sits on the easternmost tip of Long Island. Next stop: New England. Photo by Lucas Klappas/CC BY 2.0.
Montauk Point Lighthouse — Montauk
Montauk Point Lighthouse, on the eastern tip of Long Island, is the oldest lighthouse in the state and the fourth oldest in the country. Commissioned by President George Washington in 1792, construction was completed four years later. Climb the tower and peek at the light, then step outside onto a small balcony and wave to people below. A visitor favorite is the map of Long Island with tiny models of every lighthouse from Montauk to New York City. Push-buttons make each lighthouse light up with its own signature color and blinking pattern. Once you have viewed the interior, play outside and admire the incredible views of Block Island Sound. The lighthouse is set atop a steep hill perfect to roll along or run down. If children are too small to climb, let them play outside and wave to climbers. Benches and boulders are available to climb or sit on. Note: Children must be at least 41 inches tall to climb the tower. Afterward, walk to the park lodge next door and take the path down the bluffs to the rocky beach. You cannot swim, but it is still fun to explore. On clear days, you can see all the way to Connecticut and Rhode Island. The 2018 Lighthouse Weekend is Saturday, August 18-Sunday, August 19, featuring Colonial-era games for children, as well as costumed "pirates," and "militia." The lighthouse is open daily May 12-September 1, and weekends and occasional weekdays from Labor Day through Thanksgiving weekend.
Check back with us for information on the reopening of Huntington Harbor Lighthouse, including details on family-friendly events in the summer and other seasonal activities.
A version of this article was first published in 2012. It was updated in May 2018.