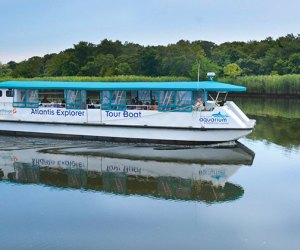 Riverhead Day Trip: The Best of This East End Town for Kids
Whether you're day tripping or hunkering down for a few days, Riverhead, on Long Island's East End, offers plenty to do and see for all. From farms to sporting venues, visitors can enjoy a quaint Main Street feel or a rustic farm experience to a gorgeous and kid-centric aquarium.
Located at the end of the Long Island Expressway, the community of Riverhead boasts family-friendly wineries, vintage ice cream parlors, Long Island Sound beaches, and plenty more to entertain your kids. Long Island's largest water park, Splish Splash, is technically in Calverton, part of the larger town of Riverhead, but not a part of the village.
For more fun expeditions, check out our guide to day trips on Long Island. Keep up to date with East End happenings with our Hamptons & North Fork Guide.
Attractions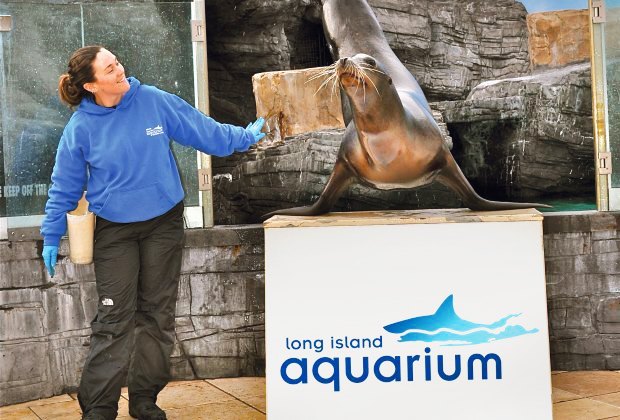 Don't miss the sea lion show at the Long Island Aquarium.
Long Island Aquarium
431 East Main Street
Head over to Main Street's main attraction—Long Island's only aquarium. Feed turtles and sting rays, and even sharks from a cage if you dare. In the summer, snorkle in a makeshift pirate wreck site or just get your feet wet in the interactive salt marsh. Board its boat for a tour of Peconic Bay or take in the sights from atop Discovery Tower, a 110-foot-high ride. Settle in for engaging and entertaining shows with sea lions, penguins, otters, and more. But there's more: Flutter over to the Butterflies, Birds & Bees exhibit and be transported to an enchanting rainforest setting. Step carefully; these beauties have been known to land on visitors frequently, drawn to colorful and floral patterns. Walk through the glass doors to hand-feed more than 40 exotic parrots. ​
The All Star
96 Main Road
This ultra-modern and sleek-looking alley will bowl you over with fun. Shooting and driving games, prize games, basketball, and skee ball are just some of the options at this arcade. Compete in air hockey or air hockey extreme, which drops several pucks at a time for super scoring. The arcade offers redemption games that issue e-tickets saved on little ones' game cards. No more counting (or carrying) wadded-up paper tickets.
Garden of Eve
4558 Sound Avenue
Kids can interact with chickens, sheep, and other animals at this organic farm. Friendly farmhands take animals out for kids to pet and help feed. There is a large children's play area with a wooden castle and a giant spider web. Stop by the organic market for a snack or take-home groceries or other delicacies. Check out its calendar for festivals and summer courses for kids.
Hallockville Museum Farm
6038 Sound Avenue
This sizeable property, for decades a working farm, is now an agricultural museum and outdoor classroom. Its buildings also serve as an East End Ellis Island, chronicling the lives of the region's immigrants, especially those from Eastern Europe. Kids are encouraged to interact with the museum's friendly cows, sheep and chickens.
Martha Clara Vineyards
6025 Sound Avenue
Owned by the Entenmann family, famous for its baked goods, Martha Clara is perhaps the most family-friendly vineyard on Long Island. Enjoy its petting zoo, horse-and-carriage rides, picnic tables, open spaces, and, for mom and dad, award-winning wine. Leashed dogs are allowed, and kids must be supervised.
RELATED: 100 Things to Do With Kids on Long Island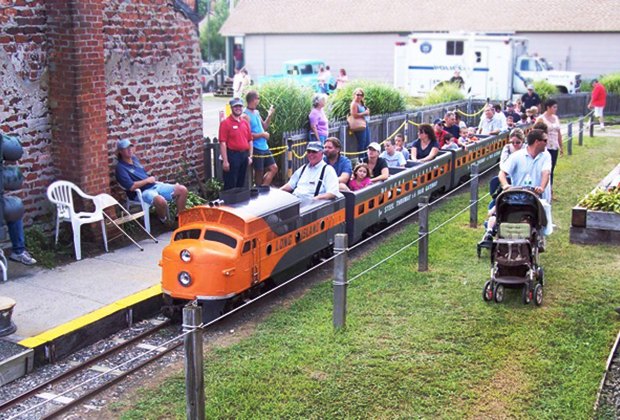 Ride the mini-train at the Railroad Museum of Long Island.
Railroad Museum of Long Island
Griffing Avenue
Full-steam ahead to the Railroad Museum for the little train enthusiast in your family. Enjoy authentic and restored railroad cars, including several from the Long Island Rail Road. Its model railroading exhibit just might introduce your child to a new hobby. Admission includes a ride on its miniature World's Fair train, located outdoors. On weekends, hop on a full-sized train for a ride out to its location in Greenport.
Riverhead Raceway
1797 Old Country Road
Rev up for some roaring family fun at this outdoor raceway. Check out some of the country's oldest stock car tracks, with a 1¼-mile, high-banked oval course that is home to NASCAR racing, demolition derbies, pro trucks, and more. Races are featured every Saturday night from May to September. It gets loud, so perhaps invest in some protective ear gear for little ones.
Safari Adventure
​1074 Pulaski Street
If the weather isn't cooperating or you're just looking for some indoor fun, Safari Adventure might be your best bet. Enjoy bounce houses and slides and a multi-tier climbing structure for exploring. Don't worry about needing to be in two places at once as the attractions and arcade are located in the same area. Race rubber duckies or knock down the clowns in a carnival-style atmosphere. Ride a "motorcycle" or try your hand at skee ball. Enter the Jurassic Park game or compete in glow-in-the-dark air hockey. There are also interactive floor games, motion-sensored for children's movements. Points accumulate on your pre-paid card so you can save or spend as you go.
Sandy Pond Golf Course

1495 Roanoke Avenue
Upgrade from mini-golf to this par-3 course. Reconstructed in 2012, Sandy Pond is so old-school that players often pay greens fees via the honor system. The course, not far from Tanger Outlets for post-round shopping, totals about 1,100 yards.
RELATED: Summer Fun for LI Families
By the water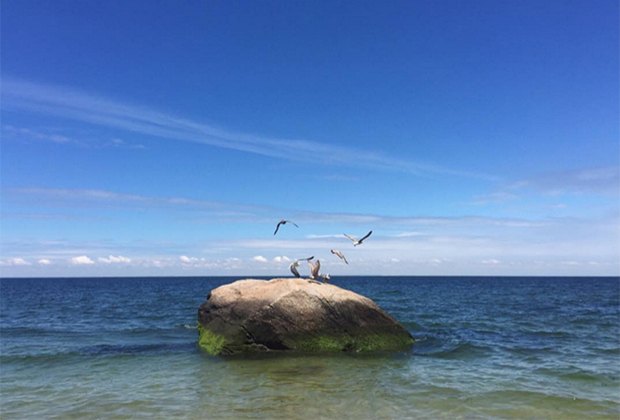 Reeves Beach is a serene spot on the Long Island Sound. Photo by fayepoe via Instagram.
Reeves Beach Park
Park Road
Riverhead's most accessible beach to out-of-towners, Reeves Beach Park overlooks Long Island Sound and offers lifeguarded swimming all summer. Nonresidents can access the beach and park for $35 per car daily.
Family-friendly restaurants
Jerry & the Mermaid Clam Bar and Grill
469 East Main Street
Located next to the aquarium, this is a great option for an end-of day meal. Dine on the water with sweeping views of the Peconic River. The restaurant has an affordable kids' menu and offers patio seating. Be sure to ask for the catch of the day.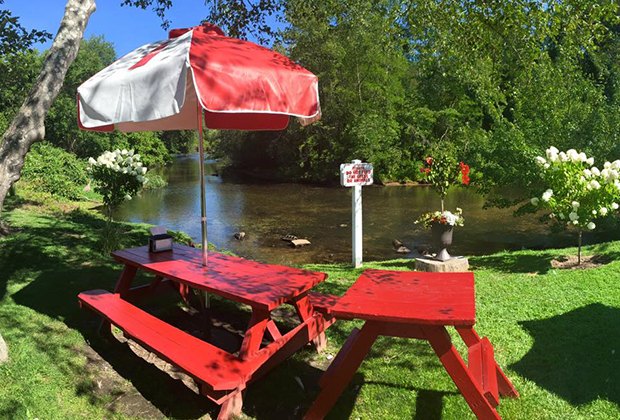 Dine along the Peconic River at Roadhouse Brick Oven Pizza. Photo courtesy of the restaurant.
Roadhouse Brick Oven Pizza
​1111 West Main Street
Eat counter-serve, sit down or opt for picnic tables outside under a canopy of trees along Peconic River. The specialty slices such as mac and cheese and Greek salad are good options. It also serves salads, heroes, pastas, and more. Don't let your pizza out of your sight, as some of the river's resident ducks might grab a bite.
Star Confectionery
​4 East Main Street
You'll feel nostalgia sweep over you as soon as you step into this 1920s luncheonette with a checkered floor. It serves simple American fare, hearty breakfasts, and house-made ice cream.
Sweet treats and more
Blue Duck Bakery Cafe
309 East Main Street
This artisanal bakery offers delectable breads, pastries, cakes, pies, and its signature cookies. The Riverhead destination, one of four on the East End, hosts poetry nights throughout the summer.
Gingerbread University
3225 Sound Avenue
Messy is welcome at this DIY food decorating spot. Kids and adults can create their own edible art project in the form of gingerbread cookies, houses, and specialty pieces. The scent of gingerbread wafting in the air is sure to lure you from Sound Avenue.
RELATED: The Best Play Cafes on Long Island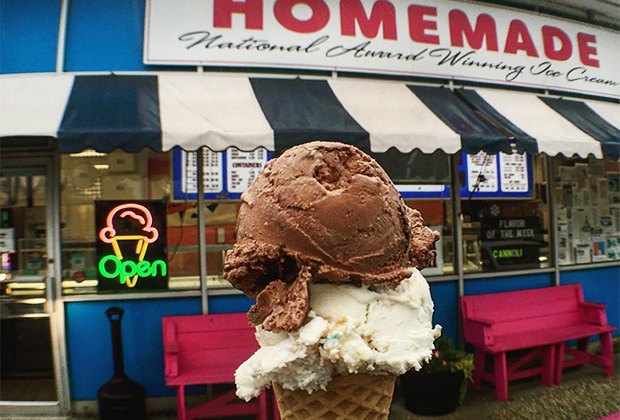 Get a scoop (or two) at Snowflake Ice Cream Shoppe. Photo by robboe via Instagram
Snowflake Ice Cream Shoppe
​1148 West Main Street
​An addition to dinner or instead of, this retro scoop shop is a can't-miss on your way home from Riverhead. Serving up soft and hard ice cream in homemade flavors, Snowflake is both a tourist and resident destination. Peconic Swamp Thing tops customer faves, but it rotates specialties such as pumpkin in the fall and eggnog in the winter.
Summer nights
Alive on 25
Along Main Street
On four Thursday nights during the summer, Riverhead's Main Street, also known as Route 25, shuts down for a festival of music, arts, farm-to-table food, craft beer, and wine. Kids can enjoy food trucks, costumed characters, face painting, games, including bubblepalooza, and more. 2017 dates are July 13 and 27 and August 10 and 24, with a rain date of August 31.
Top photo: The Long Island Aquarium's tour boat offers hands-on lessons in the marine biology of Peconic Bay. Photo courtesy of the aquarium.