3 Days on Long Island with Kids: Ultimate Itinerary by a Local Dad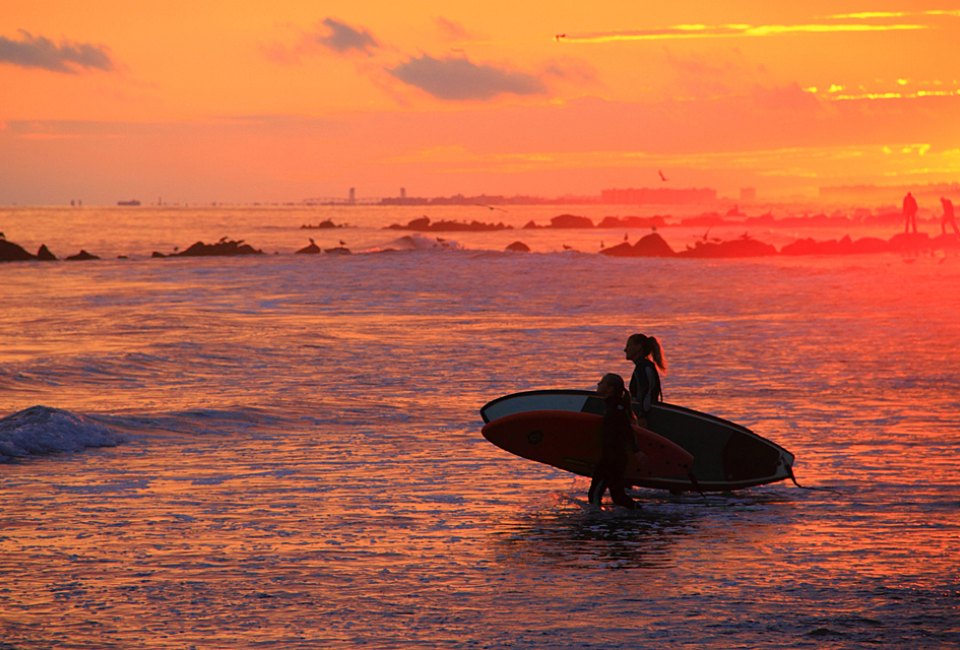 1/27/23
- By
James Smith
Few places offer as many things to do as Long Island. In what other region of the country, for example, can you treat your kids to a morning museum visit in Nassau County, then whisk them off later to one of the most talked-about beaches in the Hamptons?
For the record, yours truly is a Long Island native with roots on the East End. I've lived in all three sections of Long Island before settling in central Suffolk, where I am raising my kids. Much as I struggle with the winter snowstorms, summer humidity, Long Island Rail Road delays, and seemingly endless parkway traffic, I'd never live anywhere else.
No, you won't suffer from a shortage of things to do here, and I've put together a 3-day itinerary showcasing some of the area's riches, which include pro sports, state parks, seasonal celebrations, amusement parks, farm fun, and plenty more. And if you like sand on your toes, Long Island has some of the finest and most kid-friendly beaches in the Northeast. So the plan here is to introduce you to a number of must-do things when visiting Long Island.
Subscribe to our newsletters to get more stories like this delivered straight to your inbox.
The region is, of course, bordered to the north by Long Island Sound and to the south by the Atlantic Ocean. Iwill include some kid-friendly things to do in Nassau County, a densely populated and multicultural section that runs from the border of New York City 30 miles east; continue with central Suffolk County, rich in history and dotted with farm stands and Christmas tree farms; and finish with the East End. (For the uninitiated, the East End is more than just the tony Hamptons. The North Fork has a character all its own, full of family-friendly wineries and farm-to-table restaurants.)
Pick and choose from this list to enjoy your three-day visit to Long Island. I've even included a few kid-friendly restaurants and an ice cream parlor or two, because what's a day trip without dessert, right?
So let's start the journey across Long Island with a half-dozen things to do with kids in Nassau County, beginning with the museums that make that part of Long Island its educational showcase.
RELATED: The Best Bruch Spots for Families on LI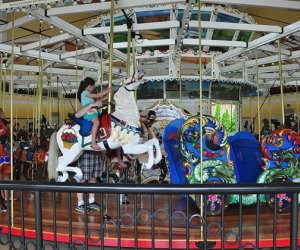 Hop on one of the 30 jumping horses at Nunley's Carousel. Photo courtesy of the Long Island Children's Museum
Day 1: Things to Do in Nassau County With Kids
Garden City museums
Nassau County has so many museums and cultural institutions that to hit them all would require a 6-month visit instead of, say, one day. But the good news for parents is that the major kid-friendly museums are located in a stretch of Garden City known as Museum Row. Housed in near-adjoining buildings are the Nassau County Firefighters Museum and Education Center, the Cradle of Aviation Museum, dedicated to LI's rich aviation and space-exploration history, and the unrivaled Long Island Children's Museum. In the summertime, enjoy a stop at Nunley's Carousel for a ride back in time. Less than a mile away from Museum Row, is the Roosevelt Field mall, Nassau's largest shopping venue with a mammoth food court, glow-in-the-dark mini-golf, and Long Island's lone Lego store.
RELATED: Stunning Lighthouses on LI Worth Visiting With Kids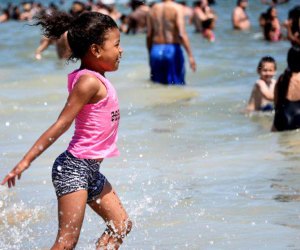 Head to beautiful Jones Beach for fun in the sun. Photo courtesy of Jones Beach
Jones Beach
What makes Long Island beaches so special? No doubt it's the diversity of things to do. And nowhere is that better seen than in the crown jewel of Nassau County state parks, Jones Beach. On the south shore in Wantagh, Jones Beach offers more than 6 miles of white-sand beachfront and ocean waves. Swimmers can enjoy ocean breakers or the calmer waters of Zach's Bay. Of course, there are also two pools, a charming boardwalk, mini-golf, a 4-mile bike path, basketball courts, pickleball, beach volleyball, a band shell, and larger concert venue. From late spring through early autumn top-tier acts, including Jimmy Buffett, the Zac Brown Band, and Matchbox 20, make sure to stop at the Northwell Health at Jones Beach Theater. Thrill-seekers will delight in the WildPlay adventure park that features ropes, bridges, and tunnels, as well as a 700-foot zip line that runs parallel to the Atlantic Ocean. Jones Beach hosts the annual Bethpage Air Show each Memorial Day weekend and fireworks show each July Fourth. Jones Beach is open to the public with parking fees in place from April through early November.

Stroll the grounds of Sagamore Hill. Photo courtesy of the National Park Service
Embrace History in Oyster Bay, Old Bethpage
Nassau County is home to the legendary Theodore Roosevelt, and tributes to the nation's 26th president adorn nearly all of Oyster Bay, from his home in Sagamore Hill, a national historic site; to his gravesite in Youngs Memorial Cemetery; and even Theodore Roosevelt Park on the waterfront. Visitors can tour Sagamore Hill as well as the expansive grounds that include forested areas, meadows, a salt marsh, a beach, and a nature trail. For another trip back in time, consider a visit to nearby Old Bethpage Village Restoration, Nassau County's best living history museum and home to more than 30 buildings ranging in date from 1765 to 1865. In the summer, catch a few innings of old-time baseball, where players compete in vintage uniforms, without baseball gloves, and using rules from the mid-19th century.
Kid-Friendly Restaurants in Nassau County
Long Island has so many family-friendly restaurants that Mommy Poppins has dedicated an entire section of the website to detailing them. The guide to kid-friendly eateries includes the skinny on restaurants where kids can eat free, those with live entertainment for kids, outdoor dining possibilities, brunch options, and more. Here are a few of our recommendations for Nassau County. FYI: Most of the Nassau museums we've mentioned have dining options on-site should your kids be too engaged to leave. However, if you have young and curious kids, these play spaces offer a chance to dine and explore:
If your kids have aged out of the play space scene, there is always Shake Shack in Westbury for burgers, hot dogs, and chicken fingers near Roosevelt Field. Mac & Melts in Plainview offers a selection of grilled cheeses and a variety of vibrant mac-and-cheese dishes. And pizza? Well, there are so many excellent kid-friendly pizzerias in Nassau County, it would be a challenge to list them all. Bon appetit.
Ice Cream Parlors and Dessert Destinations in Nassau County
After a full day exploring the best of Nassau, what could be better than a sweet treat? Here are a few recommendations for an old-fashioned ice cream parlor experience from our list of LI's best ice cream parlors.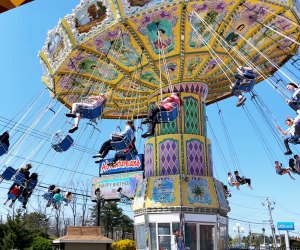 Spend a day enjoying the thrilling rides at Adventureland. Photo courtesy of the park
Day 2: Things to Do in Central Suffolk with Kids
Moving east, you can head to central Suffolk County, a lengthy expanse from the Nassau border to the twin forks on the East End. Folks who live here, like me, appreciate its suburban quaintness and its proximity to Manhattan.
Amusement adventures
Long Island's most celebrated amusement park, Adventureland, sits right across from Nassau County on the east side of Route 110. Get ready for some adrenaline-pumping fun on its three roller coasters and water rides. But don't worry: If your kids are not quite at daredevil age yet, there are a host of kiddie rides from which to choose. Adventureland's newest attraction, the FireBall coaster, gives riders a complete free-fall sensation for more than a minute. Five scream-inducing turns are endured before the car returns to the launch station.
Cold Spring Harbor
Two centuries ago, Cold Spring Harbor was the epicenter of central Suffolk's whaling industry. Kids eager to embrace Long Island's past will appreciate a visit to the Whaling Museum & Education Center, whose artifacts include a 30-foot long, fully equipped 19th-century whaleboat and an extensive scrimshaw collection. The Cold Spring Harbor Laboratory is a treasure trove for science-minded kids while the Cold Spring Harbor Fish Hatchery & Aquarium houses the largest living collection of New York State freshwater reptiles, fishes and amphibians. Visitors can tour two aquariums and eight outdoor ponds, feed the hungry trout, and even try their hand at fishing.
Two More North Shore Villages
Step out of Long Island and into a bit of New England charm in Stony Brook and Port Jefferson villages, about 6 miles apart and bordering on the Sound. Stony Brook is Suffolk's version of Museum Row, with the Long Island Museum, Stony Brook Grist Mill, and the newly opened Long Island Music and Entertainment Hall of Fame. To the east, charming Port Jeff is home to the annual Charles Dickens Festival in December and one of LI's great children's playgrounds, Rocketship Park. Don't forget the Long Island Explorium, where young kids can learn about nautical science with hands-on activities and exhibits. There is also an outdoor ice rink in the winter and a lovely harborfront.

Meet the local wildlife as you wander the boardwalks on Fire Island. Photo by Anne Grego
Fire Island
There is an unmatched charm to this car-free barrier island, reachable by ferry from a series of harbors along Great South Bay. (The extreme west end can be accessed via the Robert Moses Causeway Bridge, but cars must be left at the state park.) By far, the most family-friendly community is Ocean Beach, reachable via ferry from Bay Shore. Warm ocean currents there make the water swimmable as early as mid-May and into October. The beach is radio- and alcohol-free. A few miles to the east is Sunken Forest, a rare assemblage of plants and trees growing behind the sand dunes and a joy to explore. Access the Sunken Forest via ferry from Sayville to Sailors Haven.
Family-Friendly Restaurants and Ice Cream Parlors in Central Suffolk
Wherever your travels take you in Central Suffolk, you're bound to find high-quality, kid-friendly dining. Here are a few of favorite destinations from Melville in the west to Manorville in the east. More information on these and other recommendations can be found in Mommy Poppins' Suffolk County Family Guide:
These four ice cream parlors will help you cool off on a hot (or cold) day exploring Suffolk County:
RELATED: Family-Friendly Breweries and Beer Gardens on Long Island

Wölffer Estate Vineyard in Sagaponack is one of only three vineyards on the South Fork. Photo courtesy of the vineyard
Day 3: Things to Do in the Hamptons and North Fork with Kids
You're exhausted from exploring all Nassau and central Suffolk have to offer, and just want to relax. Whether you crave a day by the waves or an afternoon at the winery, the East End has turned unwinding with kids into an art form.
Raise a glass
Long Island's wine industry is a mere half-century old. But don't mention that to the scores of supporters who regularly visit the 40-plus wineries from Riverhead to Greenport. Fertile soil and an abundance of sunshine combine to make the North Fork vineyards ripe with family fun. Though fewer in number, South Fork wineries are equally accessible to tourists via car and the Long Island Rail Road. Kids and pets are welcome at many wineries, and live music, especially in summer and fall, adds to the ambiance. See Mommy Poppins' list of family-friendly wineries here.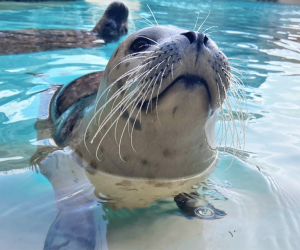 Nose around with the residents of the Long Island Aquarium. Photo courtesy of the aquarium
Long Island Aquarium
No visit to the East End should miss the Long Island Aquarium, one of my favorite spots on all of Long Island. More than 100 exhibits guarantee a fun day admiring sea life from all across the globe. By far, the stars of the show are the three California sea lions, who perform several times a day for audiences in the aquarium's outdoor theater. But kids also will delight in the ray bay, and touch tank, and coming nose to nose with apex predators in the shark habitat. (Well, not really; there is a glass partition.) The aquarium also houses more than a dozen South African penguins, who perform during feeding sessions several times a day.
Farm fun
The East End is dotted with family farms, and come the autumn they open their gates to apple and pumpkin pickers, hayriders, and city residents craving some fresh air. You can pick your own produce from May to November, but the most fun is had in the fall, when kids and adults alike lose themselves in corn mazes, petting zoos, mini-tractor races, haunted houses, and more. Seasonal picking includes strawberries (spring), blueberries (mid-summer) apples (late summer and fall), pumpkins (fall) and more. Some advice: Wear appropriate footwear (it can get muddy) and call ahead or check online for potential weather closures.
RELATED: Hamptons and North Fork Family Guide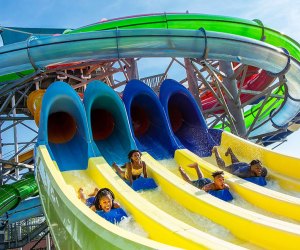 Catch some speed on the waterslides at Splish Splash. Photo courtesy of the park
Make a (Splish) Splash
Long Island's most celebrated water park, Splish Splash, is located at the entrance to the East End, at Long Island Expressway Exit 72 in Riverhead. Open from May through early September, the park features 20 water slides, two wave pools, a lazy river, an expansive little kids' area, and even a tropical bird theater scattered over 96 acres. Out of season? Visitors to Riverhead can check out Riverhead Raceway or the Safari Adventure indoor play space.
3 Charming Villages
There are a host of seaside communities to visit on the East End, but three favorites are Greenport, Sag Harbor, and Montauk. Greenport, on the eastern end of the North Fork, is a step back in time, with its delightful waterfront, roller and ice rinks, and 1920s-era carousel. Sag Harbor is the former whaling capital of the East End and boasts a rich maritime museum and historic Whaling Museum. Montauk is home to surfing and fishing, but also one of the nation's oldest lighthouses. Montauk Point Lighthouse was commissioned by President George Washington in 1792.
Family-Friendly Restaurants and Ice Cream Parlors on the East End
The East End is known for the diversity of its restaurants. A few that are recommended for busy families include:
Mommy Poppins' roundup of Long Island ice cream establishments includes three East End headliners. Each is noted for its flavor creativity and is open year-round:
Sign up for the Mommy Poppins Newsletter today!
i